A panoply of diverse art forms
Siddhartha Art Gallery's recent exhibition incorporates a myriad of artistic visions—unbounded and unrestricted.

Hemanta Shrestha/TKP
bookmark
Published at : August 19, 2023
Updated at : August 20, 2023 07:32
Kathmandu
Art is dynamic. It's ever-changing. It reflects the stories of eras—artists are driven by their acute scrutiny of everyday occurrences and experiences, and they remain inspired by the antecedents set by their similarly innovative forebears. Diverse thoughts, artistic values, and expressions have always been at the core of human origin. Siddhartha Art Gallery's annual exhibition Amalgam displays this diversity of thoughts and mediums through its exhibition—showcasing a myriad of artists and their visions, unbounded and unrestricted by thematics.
At first glance, the interior of the Siddhartha Art Gallery looks unassuming. But as I walked through the room, taking in all of the exhibits, I realised that the intention behind this simplicity is quite noble; the white walls and the clever spacing between the artworks add focus and space for audiences to take a breather.
Amalgam 2023 doesn't have a theme per se. It's an opportunity for artists of all mediums to showcase their best. The artworks form a kaleidoscope of diverse thoughts and passions—the combination or 'amalgamation' of optimism in some, and scepticism and bleak dystopias in others, the heartbreak of cynical realities in some, and the intense absurdity of existentialism in others bring forth a memorable visual and even soul-searching experience.
Amalgam 2023 looks for originality and uniqueness from its exhibiting artists. Sangeeta Thapa, the founder and director of Siddhartha Art Gallery, searches for the best new and young artists based on the merit of their artwork. Thapa also places meticulous value on cohesive curation. She believes in the infinitude of art and every year tries to bring a new and different medium to the spotlight. "Our vision for Amalgam is to always bring a multitude of fascinating voices in the artistic world to one platform," she says. She believes in embracing the new, unheard voices of art.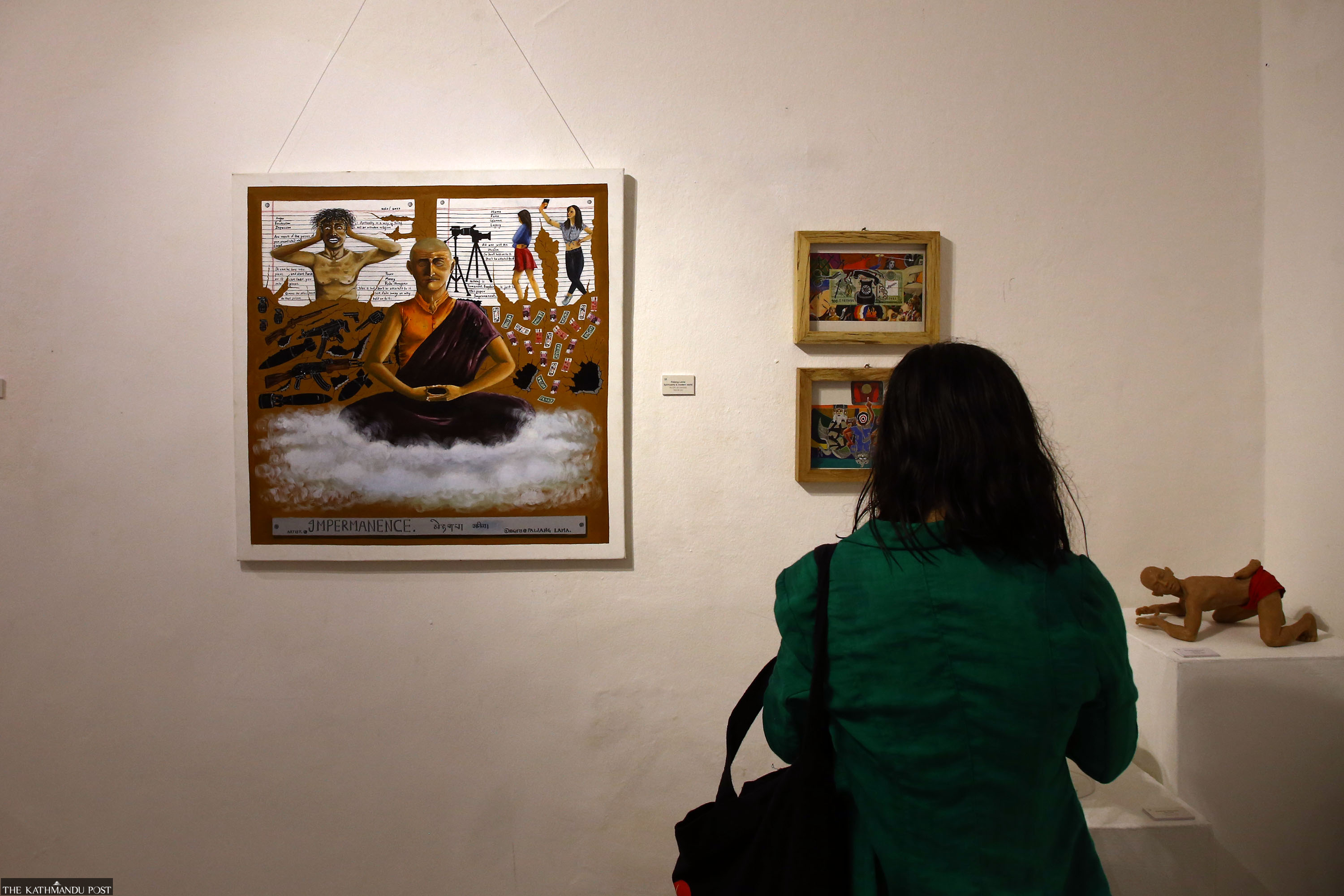 Hemanta Shrestha/TKP
The strategic curation of the artwork works intrinsically on many of the walls, emphasising each of the artists' visions without taking away from the emotional value and interpretation by its viewers. Most of the second floor in the main gallery building had a darker tone—Teesha Shrestha's etching 'Beauty and the Beast I and II' are exquisite examples. Her commentary on the dying architecture of Nepal bursts through the frames in an impression of a concrete pillar violently pushing through the roots of a pagoda-styled temple. While in part II, the cables and wires of electric poles swarm the skies, taking over the beauty of our cultural artefacts.
The annexe (a second section of the gallery) was draped in lighter colours, which gave my eyes a much-needed reprieve from the heavier themes of the previous artworks. Sofiya Maharjan's intricate stitchings on local fabrics, titled 'Maana' and 'Daala', were a visual treat. The first floor also boasts a spry and bright ambience, emphasised by Deepmala Maharjan's 'Motherhood I, II, and III', all livening up the gallery with vibrant colours of orange, yellow, blue and red. Contemplative pieces also make their presence known on this floor with Uddab Raj Rimal's 'Conflict of Thoughts', which presents a mystifying image of the confounding human psyche.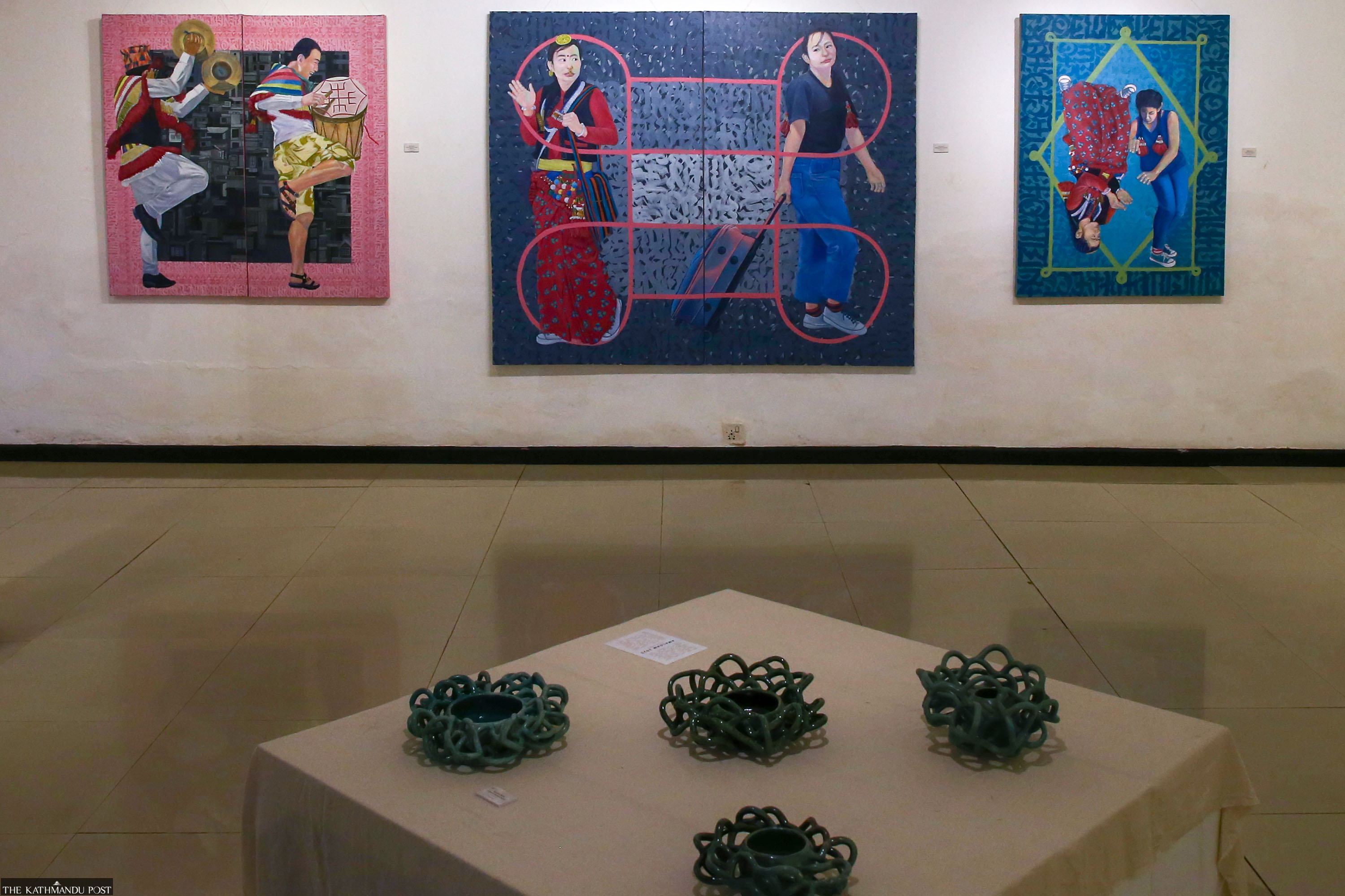 Hemanta Shrestha/TKP
I gravitated towards Muna Bhadel's painting titled 'Correlation between Us.' The tone of the artwork is ambiguous, but its message is subtle enough to pick on from its attention to detail. Bhadel implements a myriad of textiles to construct a flowy, colourful and majestic-looking strapless dress that treads the line between modern and traditional wear. The painting also draws inspiration from Indian mural art forms, showing two women, one of whom is caressing their shawl, and the other is staring at her reflection in a hand mirror. "Ever since we were little, we've placed so much value on our clothes. There is this intrinsic, undeniable emotional connection between ourselves and our attire, and I wanted to translate that into my painting," says Bhadel.
Despite placing value on all kinds of art forms, Amalgam 2023 trips a little with sculptures. Most of the sculptures are warmly tucked in the corners, and it's just too easy to walk right past them. While some sculptures were given the centre stage, like Pujan Khatiwada's bronze display 'Souls,' the exhibition still could've done more with sculptural works.
Photography—as an art form—was also missing from the exhibition. Only one series of photographs made the cut in Amalgam 2023, undeniably one of the most unique artworks in the gallery. Jagdish Upadhyay's analogue photographs of shamans and spiritual healers in Kathmandu are rich and vibrant, even in monotone (or perhaps because of it). "It's a long process, but the patience pays off," says Upadhyay.
Overall, Amalgam 2023 brings out unique perspectives and diverse art mediums. With thoughtful curation, each section of the exhibition balances itself out without taking away from the artists' vision for their work.
Amalgam 2023
Where: Siddhartha Art Gallery, Babarmahal, Kathmandu
When: Till August 27
Time: 11:00 am - 5:00 pm (Sunday to Friday), 12:00 pm - 5:00 pm (on Saturdays)
---
---
Most Read from Arts
E-PAPER | December 06, 2023