This self-taught artist turns cement into statues
Tapendra DC defied his parents' demands and pursued his love for art. Now, his efforts are paying off.

Tapendra DC of Bagchaur, Salyan, gives finishing touches to a Hanuman statue. Biplab Maharjan/TKP
bookmark
Published at : July 13, 2023
Updated at : July 14, 2023 08:24
Salyan
Tapendra DC has loved art from a young age. A resident of Bagchaur municipality, ward 2 in Salyan, he recalls doodling and drawing things in his notebook during his classes while in school.

Now, DC is a sculptor. Despite trying his hands at different jobs (as art wasn't considered an ideal profession), life eventually brought him back to art. He's become somewhat of a celebrity in his district, known for sculpting sizable busts or full-body statues of gods and goddesses.
DC claims that he earns over Rs200,000 annually, thanks to his skills. In the few years he has been sculpting, DC revealed that he earned enough to build a new house for his family of six and buy some land in his neighbourhood. "These days, thanks to word-of-mouth, people from the neighbouring districts come to get statues and sculptures made," he says.
Going back to his childhood, he remembers being fascinated with the pictures in his school books ever since the third grade. "I often wondered who made those illustrations and how they could draw so beautifully. So, I began copying those sketches in my notebooks whenever I could," he says, adding that he was often reprimanded and even beaten up by his parents for spending too much time doodling instead of studying. However, DC continued sketching when his parents weren't home or when he was out herding cattle.
He jokingly refers to his first few sketches as "horrendous." However, he improved over time and moved on to painting with colours and drawing realistic sketches. Finally, he tried his hand at sculpting with clay. After about two years, DC became good enough at sculpting to make human-like statues.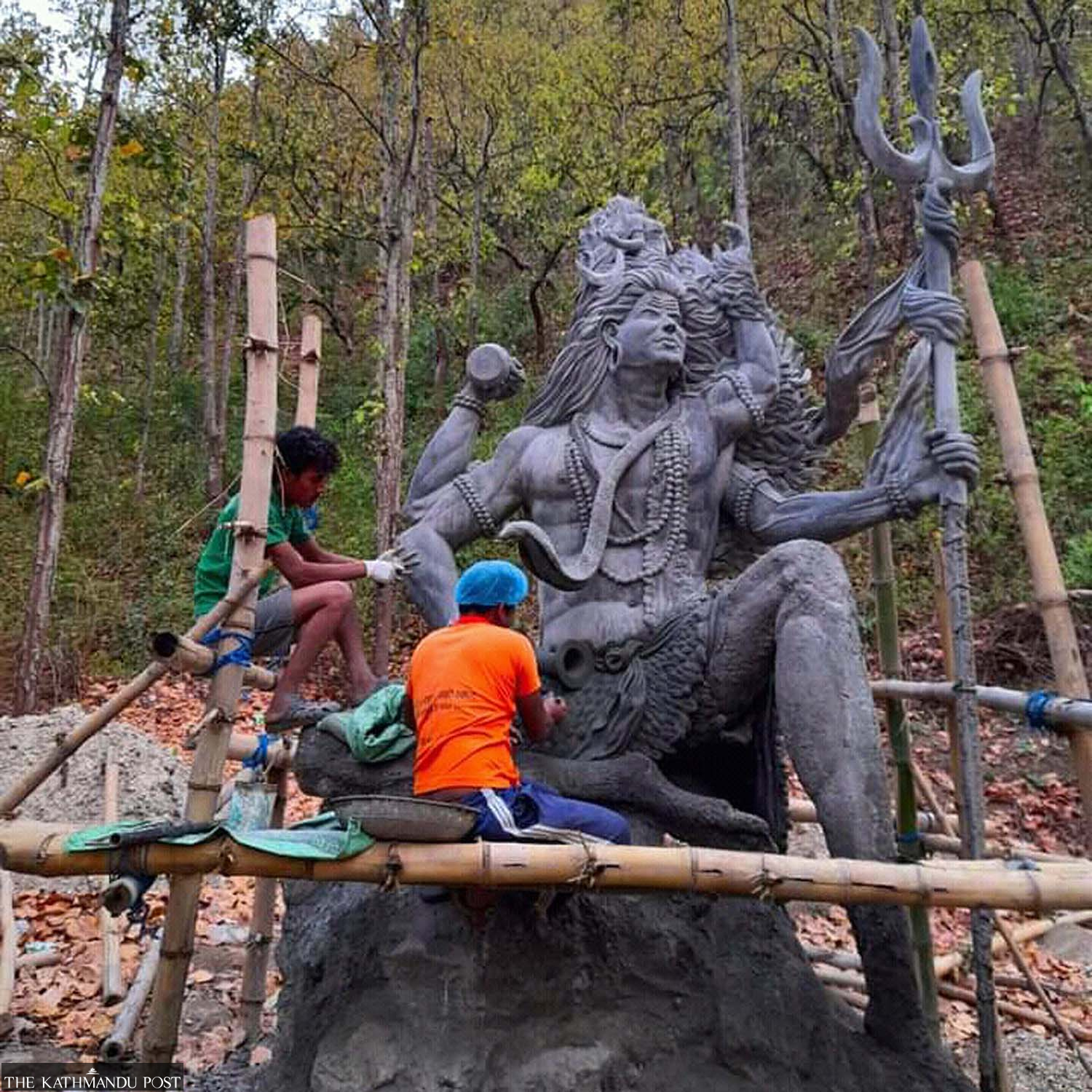 DC is one of the few examples in Salyan of individuals living well by doing things they enjoy as a profession. Biplab Maharjan/TKP
"Whatever I have learned to date has been through trial and error. Nobody taught me sculpting, I spent hours daily learning the trade and sharpening my skills," says DC.
Before becoming a full-time sculptor, he worked as a teacher at Suryaprakash Aadharbhut School in Bagchaur. However, the days spent there limited the time he could spend honing his craft. So shortly afterwards, he took a leap of faith and left his job to focus entirely on sculpting.
DC is one of the few examples in Salyan of individuals living well by doing things they enjoy as a profession. The villagers who know him revealed that he has inspired young individuals to stay back in Nepal and work here instead of flying abroad for work.
Nowadays, DC has moved on from clay and makes statues out of cement. He charges between Rs10,000 to Rs100,000 for a sculpture or a human-like statue. According to him, making a human-sized sculpture takes 10 to 15 days. However, if the sculpture is half the size, it only takes about three days.
DC reveals he has made about 400 statues and sculptures so far. His sculptures—especially the ones of goddesses—have been sold in Salyan, Rukum, Rolpa, Jajarkot, Dang, and several other nearby districts.
---
---
Most Read from Arts
E-PAPER | December 08, 2023