From home service to luxury salons, these Thakurs of Rautahat have mastered them all
The hair-cutting profession has seen a wave of modernisation, as hair salons now have swivel chairs, posters of famous actors and even air conditioning.

Three generations of barbers: Grandson Ramesh Kumar (left), grandfather Ramchandra and son Nagendra. Shiva Puri/TKP
bookmark
Published at : July 23, 2023
Updated at : July 23, 2023 07:38
Rautahat
In Chandrapur municipality, Ward 7, near the Gaur-Garuda road section, there is Basantapur Chowk. It is a newly built settlement. 62-year-old Ramchandra Thakur lives on the outskirts of the settlement which is a mix of huts and concrete houses. For many years, he was the community's resident barber. Though he hasn't kept count, he has provided services to numerous people, visiting households door-to-door for haircuts.
Recently, however, he has left the profession of being a barber and has ventured into politics. Despite leaving the profession and becoming the chairman of the ward committee of the Unified Socialist party, he isn't especially worried because his son, Nagendra, and his 21-year-old grandson Ramesh Kumar have continued the profession.
The 'Ramesh Kumar Salon' (named after the grandson) lies in Basantapur Chowk. The father, Nagendra, worked as a barber in the Nepali Army for several years. But for the past two years, he has been working in the Army's disaster section.
The Thakur family is not small; they have a total of 58 members. Among them, approximately half of them are engaged in the barber profession. In Ramchandra's family, jobs are of great value. Why wouldn't it be? Their family relies on the long-standing tradition of barber livelihood for their sustenance.
Ramchandra took up hair-cutting back in 1978. He started by visiting the homes of wealthy individuals in the village, offering his services. The price for a haircut and a shave was fixed at 50 paisa. However, he would never get paid on time. In fact, Ramchandra would receive wages only once a year. And that, too, not in cash but in the form of grains. According to Ramchandra, depending on the number of family members, the Sahus (landlords) used to provide 20-30 mana (a unit of measurement for rice) of rice annually. Some individuals would happily add extra grains if crops were plentiful. He worked for about 20 years in the same manner. "There were no other salons in the village like today," he exclaimed excitedly, "At the time, I was the tycoon of the hair-cutting business."
Nowadays, salons are opening up in every corner of the village. They have installed rotating chairs and large mirrors. They have posters of popular actors. Ramchandra mentioned, "Nowadays, the trend is more towards trendy hairstyles. But in our time, we focused solely on providing the best haircuts using razors."
He used to wander from village to village while carrying his bag. People would call him over, saying, "The barber has arrived!" He had scissors, razors, a small mirror, and fitkiri (aluminium sulfate) in his bag. "Nowadays, a single salon offers a wide range of services, from cutting hair and massaging to facials and colouring. They charge a couple of thousand rupees easily for such services."
His work as a barber was not easy. He would leave home early in the morning and visit his clients' houses. After completing the work, he would have his meal there and then continue his day, wandering from village to village. He would return home in the evening, tired of travelling through the villages.
Eventually, he taught his eldest son, Nagendra, the art of barbering. Nagendra, in turn, pursued a career in the Nepali Army as a barber. Before that, he had been working with his father in the salon since 1999. After entering the army in 2006, his grandson Ramesh took over managing the salon.
Ramchandra was not able to receive an education as he was busy travelling from house to house for his barbering work. However, he ensured that his son Nagendra received an education up to the SLC (now SEE) level.
After Nagendra took up a job in the army, Ramesh transformed their traditional-style salon into a modern one. He introduced swivel chairs and large mirrors and offered services beyond hair cutting, such as facials, bleaching, face massages, and hair colouring. They stocked various branded cosmetics in their shop. Ramesh mentioned, "I charge anywhere from Rs500 to Rs3,000 from a single customer." In addition to that, he also provides makeup services for grooms during the wedding season, which brings in substantial additional income.
After subtracting his monthly expenses, Ramesh generates a net income of between Rs20,000 to Rs27,000 rupees per month.
Within the Thakur population of Rautahat, the barber profession continues, spanning from the third to the fourth generation. The modernisation and minimal investment needed in this profession, along with its decent income, have also attracted the younger generation of the Thakur community to sustain the tradition and follow in the footsteps of their ancestors.
The old market in Chandrapur, Ward 5, hosts the barbershop 'Devendra Hair Cutting.' In the shop, barber Nemilal Thakur, 48, never has a moment of leisure. Nemilal chose this profession because of his now 70-year-old father, Sukh Lal Thakur, who was a barber himself.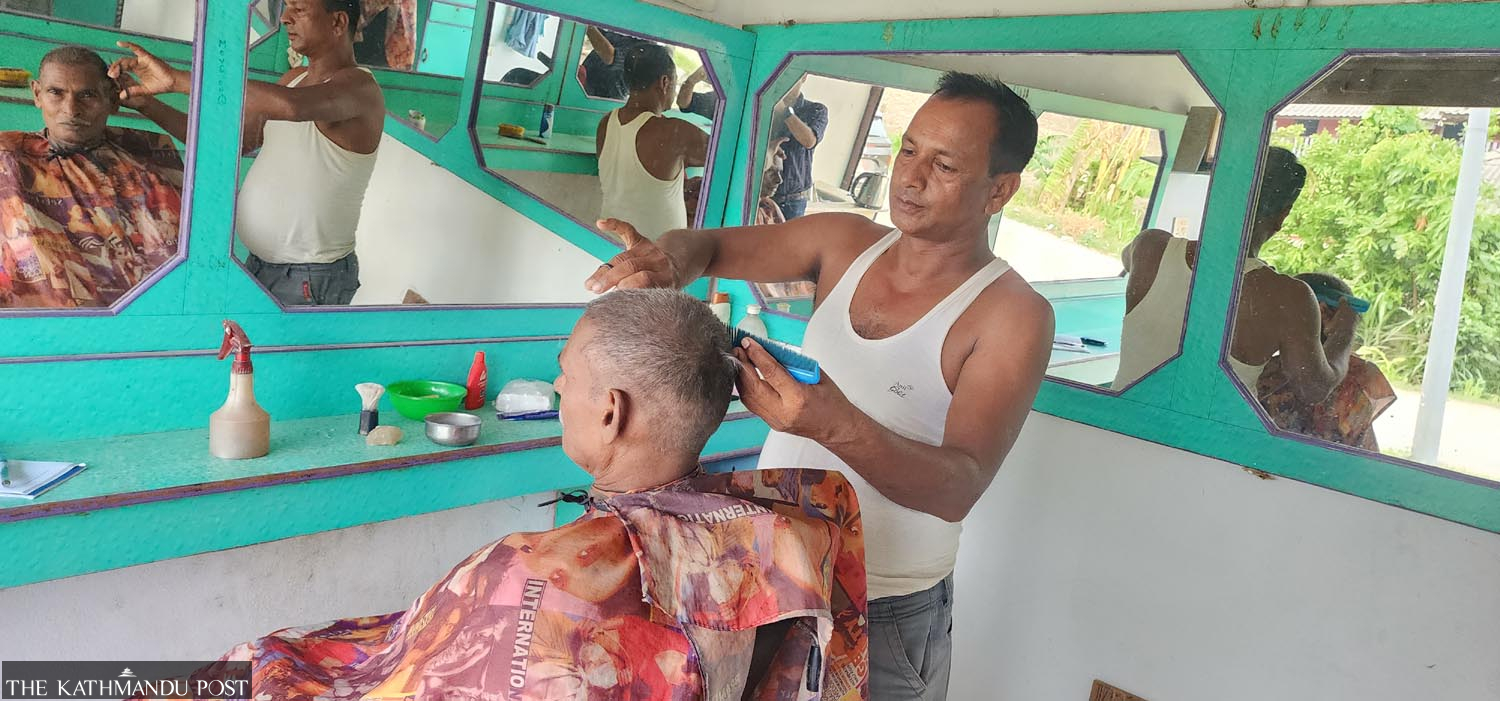 Nemilal Thakur works at his barbershop in Rautahat. Shiva Puri/TKP
Like Ramchandra, even Sukh Lal, from Hareiya village, used to travel from house to house cutting hair. His payment was also not in cash but in the form of grains like rice, wheat, and maise. He carried his equipment in a bag and a small wooden stool. "Back then, we were called stool barbers." In 2003, he suddenly suffered from paralysis, and after that, he was forced to take a break after working for 35 years. After Sukh Lal's departure, his son Nemilal took over the profession and continued the family legacy.
After working as a temporary teacher at a school in Chativan, Makwanpur, Nemilal was not satisfied with his salary. As his father was ill and there was a lack of financial support at home, he left his teaching job and returned to his village.
Nemilal earned more as a barber than as a teacher. So, he is even more ecstatic as his 15-year-old son Bijay has also begun learning hair-cutting. He attends school during the day and helps his father at the salon in the afternoons. Nemilal mentioned, "We have produced three generations of barbers. But I don't know what the fourth generation will do."
Nemilal's monthly expenses, including the rent and other costs for his salon, add up to around Rs10,000. In return, he earns a net income of approximately Rs15,000 to Rs22,000 rupees monthly. He finds content in his work as it not only provides for his household expenses but also allows him to spend time with his family.
Bhushan Thakur, the president of Nepal Barber's Trade Union in Rautahat, revealed that there are over 100 barbers practising the profession in the district.
Bhushan says the cost of opening a regular salon can range from Rs70,000 to Rs100,000. However, for those who aim to modernise and upgrade their salon with air conditioning and other modern amenities, the cost can go up to Rs500,000 to Rs700,000.
---
---