Nepal's literature doesn't have to be in Nepali. We have other languages too
Using local texts for education and formal discourses encourages future generations to learn more about the marginalised languages.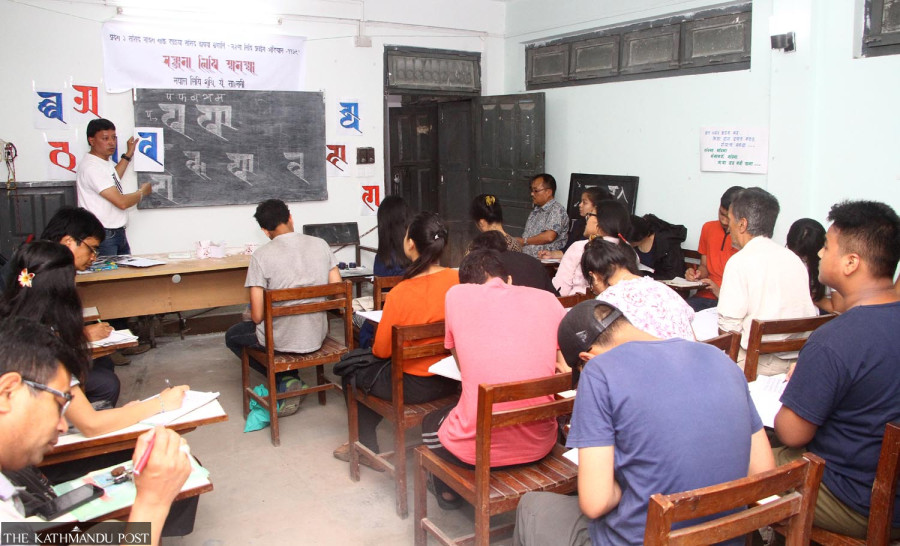 Post File Photo
bookmark
Published at : May 30, 2023
Updated at : May 30, 2023 08:15
Kathmandu
Last summer, I was looking for old Maithili literary texts in the sweltering heat of Janakpurdham for internship work. To my dismay, many local publishers confessed that they did not know what to do with old literary texts and ended up throwing them or using them as scrap paper.

I soon discovered that marginalised languages do not get enough recognition by the federal state, especially compared to Nepali. The situation is concerning for many authors from marginalised lingual backgrounds.
Roshan Gurung, a prominent practitioner in Gurung language and literature, says that distinguished texts in his language, predominantly of oral form, have yet to receive the proper preservation they deserve. Kailash Rai and Dhirendra Premarshi, literary figures who use Rai and Maithili languages, agree. "No language, even those widely spoken like Maithili and Newa, is treated equal to Nepali in the country," says Premarshi.
Marginalised literature is just as important in Nepal's literary history. It also allows the catalogue of texts and the genres discussed within Nepali educational spheres to expand beyond the mainstream.
Premarshi reminisces how Maithili literature has always talked about different but much-needed matters compared to its Nepali counterparts. "Even back then, our struggle against discrimination meant our literature was more self-reflective, focused on highlighting our culture. We wanted to reinforce our identity through our writings," he says.
Gurung agrees with this sentiment and adds, "The mainstream Nepali literature predominantly revolves around Hindu philosophy," while Gurung-language oral texts "centre around the profound significance of nature, ancestral connections, gender equality."
While Nepali literature can be restrictive in its issues, texts from other local languages have, time and again, offered new avenues of discussion. This inclusivity allows for freshness and continued innovation in the national literary wealth.
Even in the matter of ensuring representation, the promotion of local literature goes a long way. Using local texts for education and in more formal discourses encourages future generations to learn more about the language itself. Such representation also deters marginalised youth from abandoning said mother tongues in favour of Nepali or English. "The promotion of local literature deconstructs the emphasis on English and Nepali, allowing for a grounded, more deep-rooted connection to their community," says Rai. "No one else can give the same authentic information about my community as I can."
Despite the clear need to preserve marginalised literature, many such texts remain unknown. A common consensus suggests governmental disinterest as the major cause.
While the federal education system has ensured languages other than Nepali are taught at a provincial level, implementing this is difficult with very few organisational setups. "In education, media, and all sectors, the Nepali language has funds, commissions, and establishments regularly working for its promotion. For other languages, any such work is merely decorative, just for a show," says Premarshi.
Historically, King Mahendra's drive towards a Nepali-based education system in the Panchayat era discouraged education in other tongues. As a result, the literary environment in Nepal is largely associated with Nepali, and prominent texts of other tongues are rarely heard of.
Due to this, even the market and big publishers are dissuaded from promoting local texts. "The publishers know that even theoretically, Nepali writings can be read by 50-60 percent of the population. That is impossible for other marginalised literature," says Rai. With books increasingly getting commercial and large-scale, a lack of substantial backing will only hurt any promotion of local literature.
Despite this institutional disinterest, work has been done from behind the scenes by communities and individuals interested in preserving their cultural heritage. Premarshi talks about how the Madheshi community abroad have created a separate space for Maithili poetry and fiction, with a focus on migrant workers and their families. People with a personal affinity for these languages have set up local libraries and kept records in their capacity.
Yet, there is only so much a few individuals can do. "My Dungmali language within the Rai group has only 6,200 speakers per the latest census. We do not have enough manpower and resources to preserve and create Dungmali literature without institutional support," says Rai. Governmental support is essential to make indigenous literature mainstream, as even for willing individuals, working without support becomes impossible.
The significance of literature to a language is immense. Not preserving it properly means losing many key elements of said marginalised culture. Gurung laments, "The mythological texts of the Gurung people, containing millennia of Gurung skills, knowledge, and experiences, face the risk of disappearance alongside the language." In this case, unique elements and perspectives provided by marginalised languages are also lost.
The local languages themselves suffer as well. There is no purpose for learning your mother tongue if one can't use it for academic or intellectual purposes. "If the state doesn't create space for using these languages, they become decorative, and their preservation seems futile, only for nostalgia," says Rai. Even individuals eager to work on conserving these texts become hopeless. Resources with such historical and academic value will be buried deeper and deeper, fading into memory.
The ultimate tragedy is the devaluation of the language itself. A language associated only with repression, underrepresentation, and societal poverty creates a negative perception among everyone speaking the language. "Even during my time, speaking in Maithili was seen as uncivilised, something a gawar would do. The situation has gotten much worse among kids nowadays," laments Premarshi.
---
---