A symphony of folk music
At 'Echoes in the Valley' music festival, the unnoticed, unrecognised, and underrepresented voices find a platform.

(From left) Pasang Nima Baijee, Yungdrung Sangmo Lama, and Sonam Lhamu Baijee singing melodies from Dolpo during the Sharbo dance. Sarah Shamim/TKP
bookmark
Published at : March 21, 2023
Updated at : March 21, 2023 15:59
Kathmandu
Traditional music does not just honour an individual artist, but it represents a community. It allows for collaboration of musicians from different geographies, genres, and generations. Echoes in the Valley (EITV) is one such initiative that aims at preserving, promoting and developing local music.

This year marked the seventh iteration of the festival, which took place on March 17 and 18 in Teku and Asan, respectively. The festival began in 2017 with EITV Kathmandu. Since then, the annual musical fiesta has spread to various cities across the country. EITV 2018 in Banepa, EITV 2019 in Kathmandu, EITV 2021 online, and EITV 2022 in Kirtipur and Bungmati are all part of the festival's history.
"If any musician from any country truly wants to become a world-renowned musician, they need to carry their identity with them," said Rizu Tuladhar, co-founder of EITV and member of Kanta dAb dAb. "Our ethnic groups and their traditional and folk music are central to our identity." Tuladhar was involved in the pedagogy of music at Sibelius Academy, Finland. He currently teaches at Kathmandu University's Department of Music. According to him, incorporating traditional and folk music into a performing arts setting would be a watershed moment for Nepali musicians, students, and enthusiasts all over the world.
"When I travel around the world to present papers on music education at music conferences, I tend to look back at the music in our part of the world," Tuladhar said. "There is always a void of Nepali music representation. We kept wondering why Nepal wasn't there. And it is in response to these questions that Echoes in the Valley was born."
"We are lucky that our ancestors built stages (dablis) for artistic expression way back in the 6th century. Western musicians busk on streets and walking paths. For us, dablis have always been designed as our local stages," Tuladhar said, adding that connecting everything to the heritage sites is an ode to the past's proactive imagination and contributions. EITV recognises the importance of these local spaces and how music adds life to them.
"Temples, monuments, and artefacts are all examples of tangible heritage," Tuladhar said, explaining how the tangible heritage is left meaningless if there is no intangible heritage of cultural significance attached. "Music is the connecting thread."
Contemporising the roots
Since 2019, the EITV Festival of Music has hosted Confluence, a music conference with a specific theme. It focuses on various aspects of the country's music scene. The conference has previously addressed issues such as music education, intellectual property rights, and accessibility.
The aim of these conferences is to bring different stakeholders including educators, researchers, and students to collectively discuss the status quo and the possibilities of music. The theme of this year's Confluence was, 'Contemporising the Roots' and it was inaugurated by a keynote presentation by Vilma Timonen, researcher and lecturer at the Sibelius Academy. Timonen spoke about the need to further the work around intangible cultural heritage. She emphasised the significance of being mindful of cultural sustainability in conjecture with preserving heritage.
Confluence featured three sessions: 'The use of folk elements in contemporary music', 'Research and writings on folk music: what is happening and what should happen?', and 'The challenges of reviving folk and traditional music'.
The first session on using folk elements in contemporary music had Pavit Maharjan, Kali Prasad Banskota and Smarika Phuyal in the panel. The session was moderated by Prabhakar Gautam. Maharjan, who is part of the popular band Kutumba, talked about how the group has played a role in introducing instrumental folk music to Nepali audiences. "The band was formed in 2004 to connect folk music to Nepali listeners. It was an adventure as well as a challenge," he said.
Phuyal is a music student at Kathmandu University's Department of Music who also has experience working in theatre. "Folk music has so much to teach us. I get to work with local musicians in theatre spaces," she said. "As a vocalist, the main challenge is finding credible sources to learn the melodies. To learn the local bhakas, I currently have to rely on the internet. There's always the fear that I'm misinterpreting a song."
Banskota discussed the use of folk elements in Nepali cinema's contemporary music. He believed that cinema defines the type of music that a large audience in South Asia listens to. According to him, it is critical for filmmakers and musicians to recognise the impact of cinema in promoting folk music and the direction it is taking.
Bulu Mukarung, Dhrubesh Chandra Regmi, and Pushpa Palanchoke served on the panel for the second session on research and writing on folk music. The session was moderated by Sewa Bhattarai. The discussion centred on the significance of music archiving, academic writings, and research on music, as well as its dissemination to the next generation. The panellists discussed the history of music education and music publications. "You will find books written on madal (a traditional drum) published back in 2031 B.S," Mukarung said. "If you look for materials on music and musical instruments, you will find plenty, but they are insufficient."
There was also a discussion on the need to improve the curriculum of music education in the country. There have been efforts made by different organisations like the Nepal Folklore Society to archive and preserve music, yet there is a long way to go. Regmi said, "There is still a wrong notion existing in the society limiting music to just casual performance. Academic responsibilities for music education have long been neglected and must be prioritised."
Palanchoke highlighted the importance of representation in music. "We have been working towards the preservation of folk and traditional music. But we need to promote and develop them further," she said. "You also need to create literature methodologically based on what background you come from so that the musical history is handed down to the next generation is inclusive."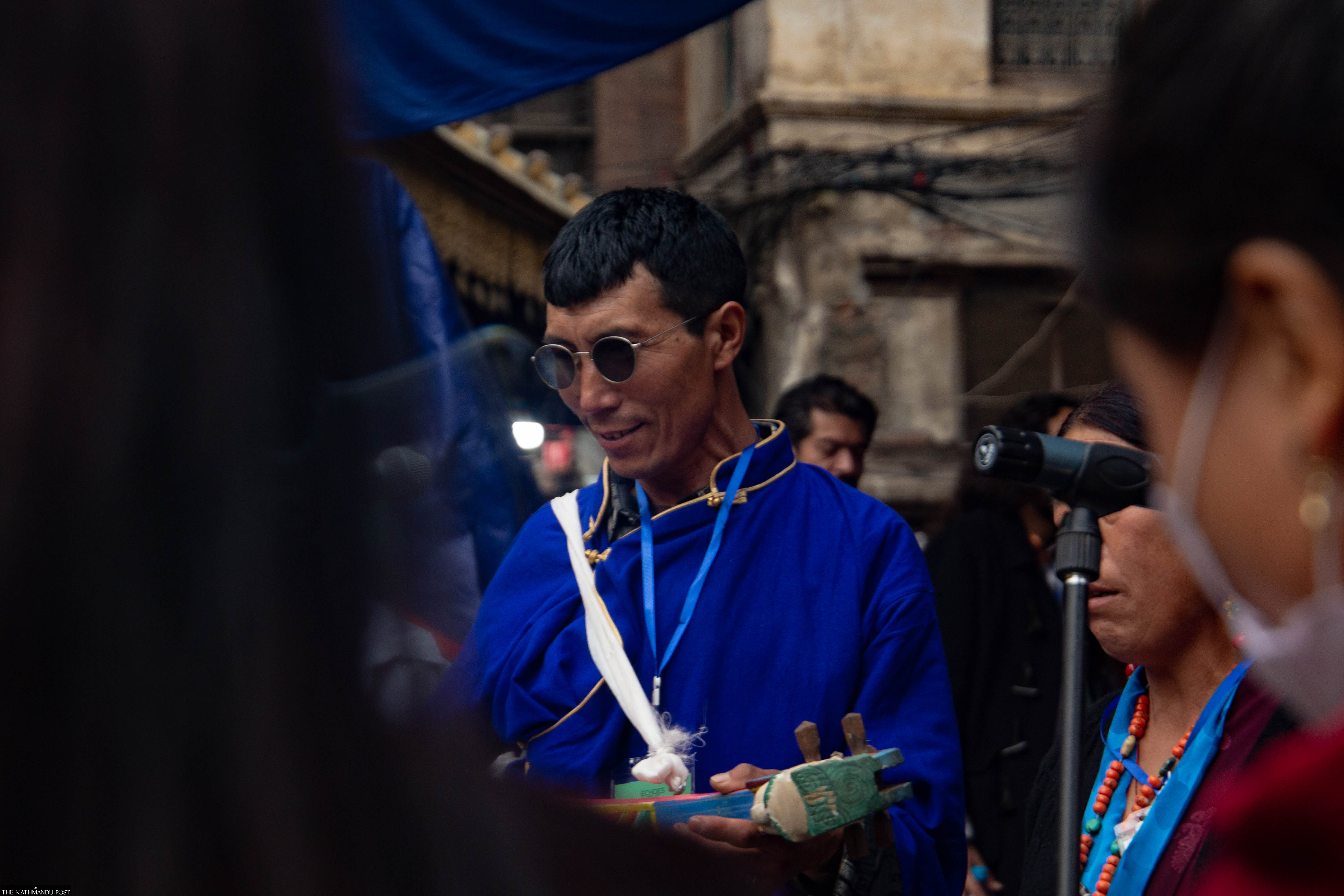 Pemba Tashi Lama from Dolpo came together with international artists to preserve and contemporise traditional music and dance. Sarah Shamim/TKP
Confluence's third session featured panellists from all over Nepal. Basanti Chaudhary, Sarada Dangol, Semduk Lama, and Tshering Dolma Lama were among the panellists. The session was moderated by Prasun Sangroula. The discussion centred on the various challenges of revitalising folk and traditional music.
"The biggest barrier is people's generalised opinion and attitude towards folk music. Their reaction to music is crucial in reviving it. For example, people nowadays widely prefer drums to madal, which is a sad reality," Dangol said. The panellists also discussed the role of representation of women, youth and the marginalised communities to preserve and promote the traditional music of Nepal. The discussion focused on how it is important for musicians and enthusiasts to come together to help, teach and support each other without any sort of discrimination or biases.
Tuladhar, speaking on behalf of the organisers, stated, "It is important for all of us to cowork and present our music to the world as if it were our country."
Melodies in Asan and Teku
The first day of the festival was set in the valley's spiritual heart, Teku. A lineup of many women artists and groups, the likes of Barta Gandharba and Tirtha Kumari Thapa performed. Festival attendee Sweta Gurung was particularly thrilled about the female representation in EITV. "Growing up as girls, we didn't have the opportunity to play any instruments or be part of bands," she explained. Hence, she was amazed to see all-female bands and young women play different kinds of traditional instruments. Āmā Yāngrī band, the all-female folk ensemble featuring artists from Nepal and the U.S., was a particular favourite among Gurung and her friends. The bansuri (flute) and bass came together as the band reimagined classics and contemporary sounds alike, drawing inspiration from bluegrass, jazz, and rock sounds.
Not long into the first day, it began to rain and the concerts were rearranged. The audience's investment in the festival was reflected in the fact that the crowd remained at the venue and adapted to the weather conditions.
On the second day of the festival, a stage with a tarp was set up in Asan Bazaar. A crowd of umbrella-carrying, passionate festival-goers gathered around. The usual spluttering of motorbikes and marketplace cacophony melted into the background against assuring, yet potent flute and drum sounds.
As music enveloped the air, visitors lined up to taste traditional Newa victuals, particularly the Yomari. However, music took centre stage as Asan's alleys, marked by temples and tea shops converged into a melodious centre. The performances began with Viplob Pratik's poetry which quickly captured the crowd's attention. The festival gained momentum when the attendees joined the Sharbo dance in the late afternoon. Asan's proximity to the tourist hub, Thamel, is possibly what yielded a mix of locals and tourists in the square, who collectively celebrated the rich intangible heritage that is traditional music and dance.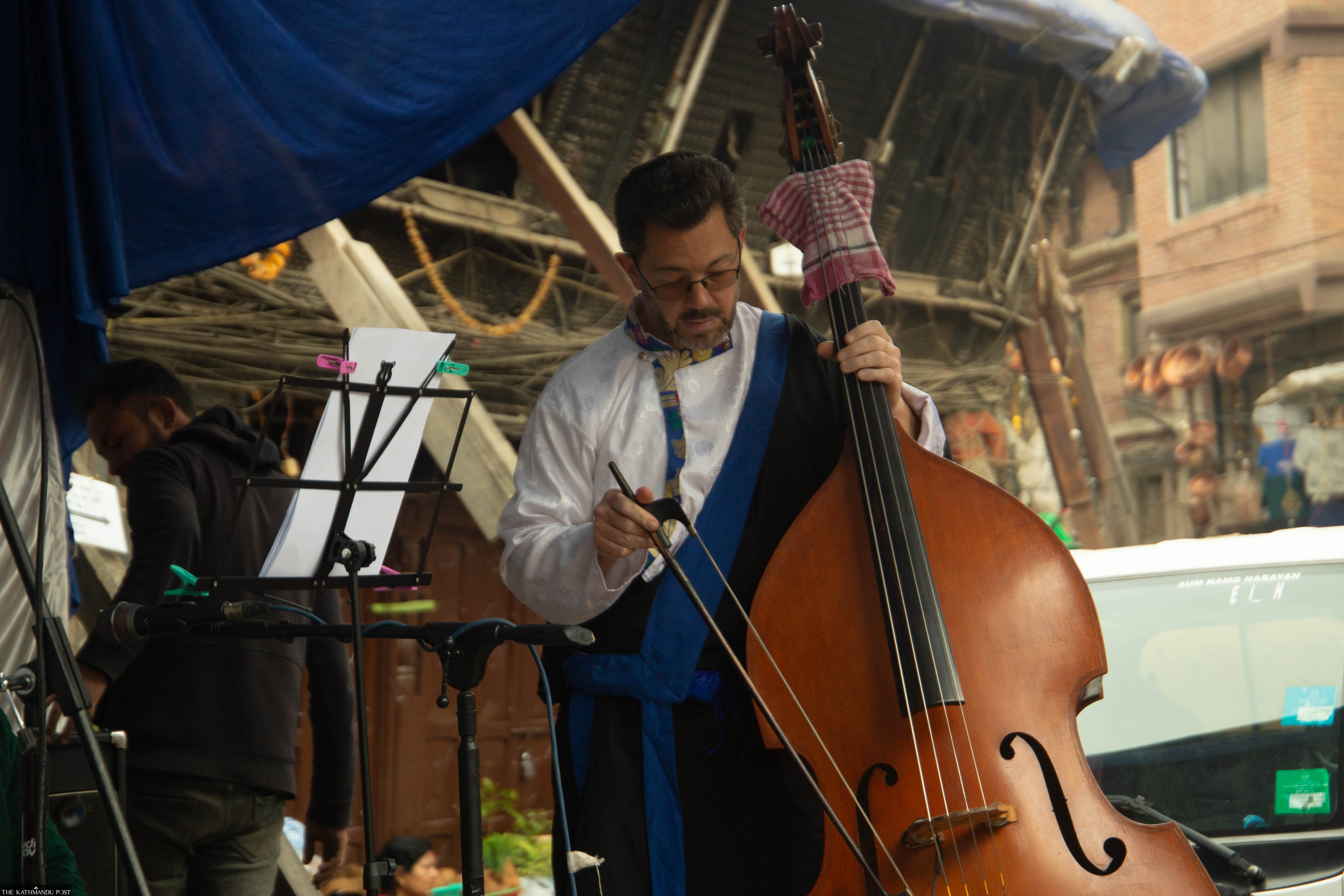 Miguel Saway presents a contemporary take on traditional music with Pungmo Khung Lu. Sarah Shamim/TKP
EITV's efforts to contemporise indigenous Nepali music were seen in several performances. One, in particular, was Pungmo Khung Lu, which is a nexus of musicians from Nepal, Chile, and the United States. Pungmo, a village in Dolpo continues to preserve ancient, traditional music that is forgotten elsewhere. This music was brought to EITV as four musicians from Dolpo came together with the Chile-based duo, Ser ó Duo and USA-based Miguel Saway. They presented a contemporary take on the tunes from Dolpo, pairing them with traditional western musical instruments.
This intermixing of cultural music was seen throughout the performances. A short walk from Ason brought the visitors to Santaneshwar temple, where Mason Brown performed. Originally from the USA, Brown has been living and studying traditional Nepali, particularly Tibetan music in Kathmandu. "He sang a song in Nepali, he also sang a song in Tibetan, then he sang some traditional Irish songs," recounted Adrian Smith, who was attending the festival with Gurung and Doma Bajracharya. The three of them were beaming with inquisitorial excitement, voicing questions and comments about the musicians and instruments.
"Echoes has done a really good job. This is a really crowded place," said Bajracharya. Gurung further expanded by explaining how the choice of venue "puts it on the map" which is significant for Asan and Teku which are areas with very rich cultural heritage. Smith added that Teku has recently undergone heritage conservation efforts which came to light because Teku was a festival venue.
Hence, the notion of heritage conservation transcended the sonic realm and discourse about art and architecture was dominant in the festival. "I was very happy to see how culture and art is being showcased," said Ashish Maharjan who performed a solo flute set on the second day of the festival. Maharjan has been involved in EITV since 2019 where he performed a fusion act with an Egyptian musician. Maharjan enjoyed the environment and the fact that people of all ages came to experience his set. He hopes to continue working with EITV in the future. "I am really looking forward to reviving some of the old beautiful tunes and handing them over to younger generations," said Maharjan.
'Echoes in the Valley' is a collective attempt to give musical performances a cultural context. "When we showcase our music, it is not just the work of a single artist. It is a reverberation of time, community, and context," says Prabhakar Gautam, vice president of Raithane, a group of musicians and journalists dedicated to the promotion of folk music and culture. "At EITV, the unnoticed, unrecognised, underrepresented, and underappreciated voices find a platform," he concluded.
---
---