'Female bodybuilders are still an anomaly'
Jasmine Lama found her passion for bodybuilding in her late teens, and it was her dedication, discipline, and grit that has made her one of the most respected female bodybuilders in the country.

Jasmine Lama, 25, is the winner of 'Women's Physique' category at the 16th Dharmashree Bodybuilding Championship. Sanjog Manandhar/ TKP
bookmark
Published at : May 24, 2022
Lalitpur
On May 7, when Jasmine Lama won the 'Women's Physique Championship' title at the 16th Dharmashree Bodybuilding Championship, it was the culmination of seven years of hard work, dedication, discipline, and sacrifices.

Lama is not new to Nepal's bodybuilding championship competitions. In 2019, she won the title of first runner-up in the 'Women's Physique' title at Mr Bhaktapur. In the same year, she also won the third position in the 'Women's Physique' category at Mr Kathmandu and fifth position in the same category at Gorkha Classics in Pokhara.
"After participating in several regional-level bodybuilding competitions in the country over the years, I decided to compete for the most important building title that there is in the country and I ended up winning," says 25-year-old Lama. "It feels amazing to be rewarded for all my hardwork and dedication."
Lama was 16-year-old when she left her village in Sindhupalchowk and came to Kathmandu to pursue higher studies. At 19, she fell in love with bodybuilding and set her mind on becoming an elite bodybuilder in the country.
A few days ago, the Post's Pinki Sris Rana met Lama to talk about her experience as one of Nepal's few professional female bodybuilders, what it means to win the most prestigious title for female Nepali bodybuilders, and the challenges she had to overcome to reach where she is, and her future goals.
How and when did you get interested in bodybuilding?
It was in 2015 when I first began going to the gym. I had just completed my higher secondary education, and at the time, I wanted to apply for an officer cadet position in the Nepal Army. To prepare for the selection process in Nepal Army, my mother enrolled me in a gym. I passed physical and written tests but got rejected in the interview round. I was so disappointed with the whole selection process that I decided not to make a second attempt.
While my dream of becoming an army officer never materialised, the good thing that happened from the whole process was that I started enjoying working out in the gym. After months of working out in the gym, people started complimenting my physique, which motivated me to push myself further. Once I started gaining muscles, I knew that I could achieve the physique I wanted for myself and thus began my obsession with bodybuilding.
Nepali society typically expects women to be feminine, and a muscular female goes against this very notion. Did you ever have to battle this stigma?
It is true that our society doesn't really consider bodybuilding as a domain for women. When I first joined a gym back in 2015, I was the only female member. There were a lot of instances where I felt uncomfortable working out in a room filled with men. But over the years, the number of women going to the gym has increased, and there are more women than ever in bodybuilding. But that being said, female bodybuilders are still an anomaly.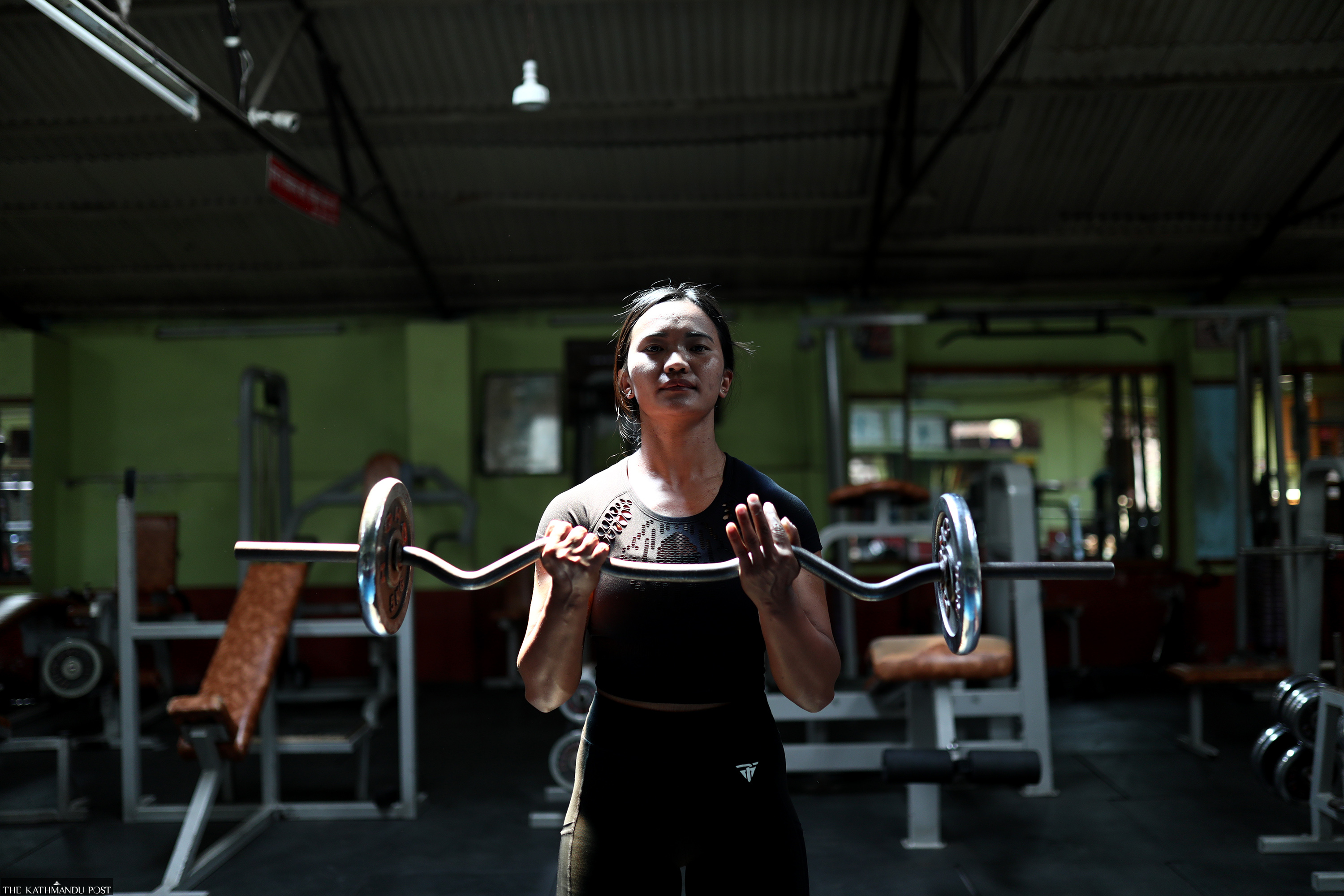 Sanjog Manandhar/ TKP
How did your parents react when you told them that you want to pursue bodybuilding?
Like I said before, getting enrolled in a gym was my mother's idea. I am fortunate that my parents have both been very supportive in my bodybuilding journey and never once asked me to leave bodybuilding. But like any other parents, they also wanted me to not lose focus on my studies. I graduated with a degree in ICT, and during my college years, I managed both my studies and bodybuilding. After completing college, I started working as a gym trainer.
As a sport, bodybuilding demands people to be dedicated, disciplined, and make a lot of sacrifices. How challenging has this journey been?
The journey has been anything but easy. In order to maintain the body I have, I have to turn my back on foods that I love and maintain a strict dietary regimen.
While preparing for Dharmashree, I followed a strict exercise and diet plan for four months, without even a single cheat day. In those four months, my cousin got married, another cousin threw a baby shower party, and there were several birthday celebrations. I didn't even attend a single social function because I didn't want to put myself in situations where I might be tempted to break my dietary regimen. A month before the competition, I stopped my salt intake and started working out for two hours daily. A week before the competition, I started drinking only distilled water. And for two days during the competition, I stuck to strict carb cycles. Following such a strict regimen tests you both physically and mentally and makes you very moody.
But even when you are not preparing for any competitions, you still have to maintain a strict diet. Every day I consume around 20 eggs, around two kgs of chicken breast, and different types of vegetables.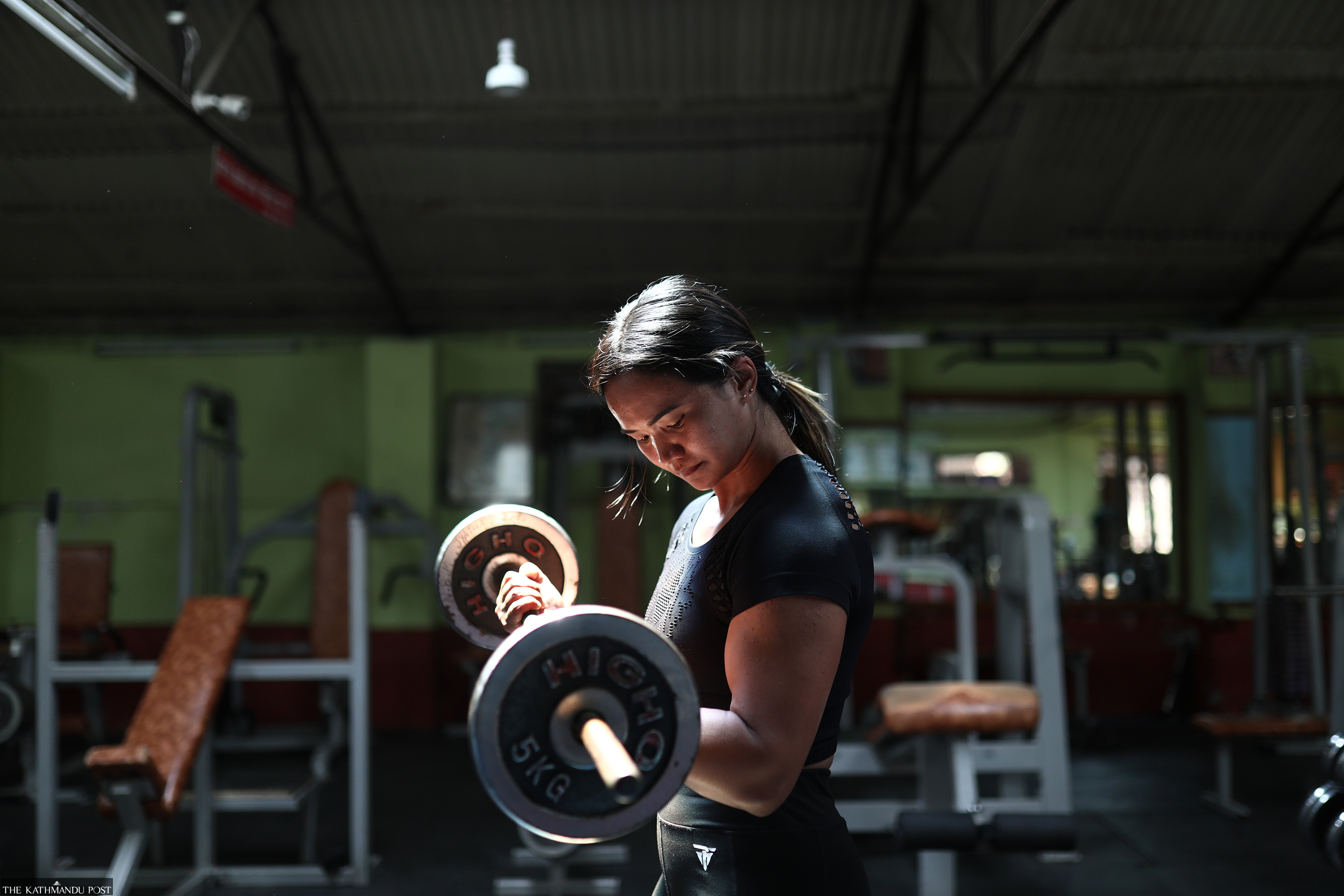 Sanjog Manandhar/ TKP
Maintaining such a strict dietary regimen must be very expensive.
It is quite expensive, and it is very tough for bodybuilders who do not have sponsors to maintain this lifestyle. I am fortunate that my mother, who works abroad, sends me money. But asking her money all the time isn't a viable option. Whatever I earn as a gym trainer goes just into buying food. I think I spend around Rs 1500-2000 daily just on food.
Now that you have won the most coveted title a female bodybuilder can win in Nepal, what are your plans?
After reaching a certain level of success, many bodybuilders tend to get into weightlifting, but I do not have any such plans. I did try weightlifting, but I didn't really enjoy it. I intend to stick to bodybuilding and continue working as a personal trainer. Back in 2020, my UK-based brother and I started a gym wear business called Prafit Wears. I plan to take this venture to greater heights.
---
---