How the young see the world
Gallery Mcube's latest exhibition, 'Young Artists Show 2022', reflects the concerns of youth, while also highlighting how these young people are trying to explore themselves as artists.

'Young Artists Show 2022' is a part of Gallery Mcube's ongoing attempt to provide young emerging artists with a platform to share their works with people. Elite Joshi/ TKP
bookmark
Published at : March 14, 2022
Updated at : March 14, 2022 19:15
There is a part of us that will, in time, always yearn for our youth. A period in our lives when we are trying to discover the world around and within us. Youth is when we are both afraid and unafraid to take chances in life.
And it's also during our youth that we feel the tormenting weight of our emotions. We are either too detached or deeply entwined to discover who we are (or to do something) that we oftentimes become frustrated with the uncertainty of our journey. We are eager for answers, and we are willing to explore the breadth and length of our ideas and realisations.
At the Gallery Mcube's latest exhibition, 'Young Artists Show 2022', it's our youth that we are thinking about as we pace through the 34 artworks of ten young artists. In December last year, the gallery, through its social media page, made an open call for young artists to send their artworks for the exhibition. Of the 42 young artists who sent their ideas and works, 10 were selected and they were guided by curator Manish Lal Shrestha.
'Young Artists Show 2022' is part of the gallery's ongoing attempt to provide young emerging artists with a platform to share their works with people.
As a result, the show has no discernible theme. Some artists dwell in the ordinariness of their surroundings; some look into their own community to identify their belongingness; one artist tries to express melancholia; and many of these youth also look into social and cultural issues of safe space, urbanisation, and heritage preservation.
And though unintentional, it is visible that the subjects the exhibition brings forward are topics the young artists are currently coming to terms with. And they all thread together in their experience as a youth. But you could even see the works as expressions of their urge to transform the things they have experienced, seen, and heard of.
For example, in Prakash Pun Magar's sculpted fibre resin artwork, 'Modern Puppet', the artist depicts human figures as puppets moving around as per the directives of an invisible higher one. In the artwork, he also engraves the letters, 'IF YOU DON'T UNDERSTAND THE CONCEPT, YOU'LL FOREVER BE IT'S PUPPET'. Magar's works in the same puppet series are perhaps his interpretation of the society we live in, and how important it is to understand the systems that govern our world, question them, and forge our own path in life. The dark bronze colour palette of his work intones his idea as a creed that one must come to adhere to.
What's interesting to deconstruct with the idea is that we become pawns even when we understand the concept of things, and that is a reality that we constantly confront.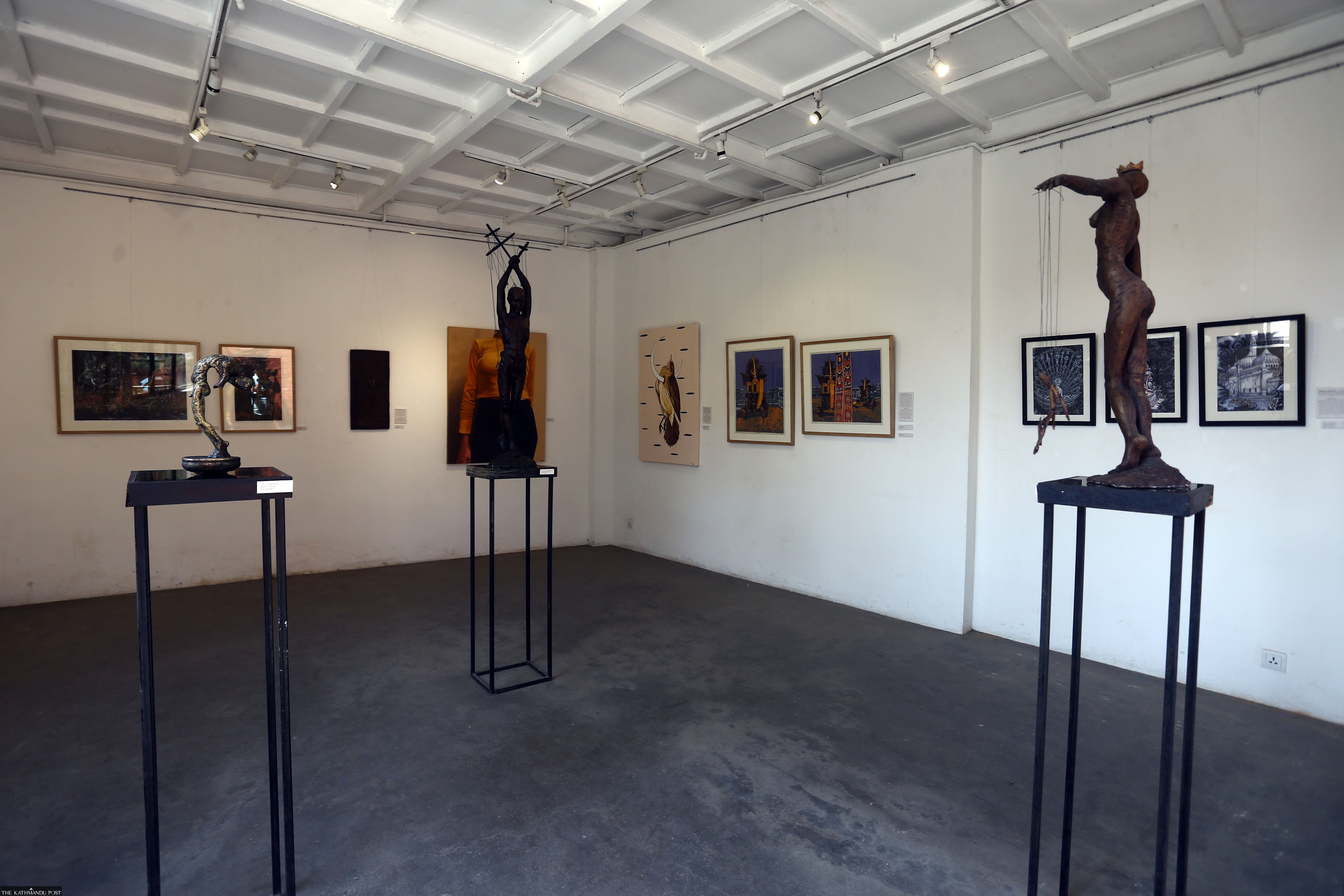 Manisha Shah's installation artwork, 'Vision', is raw, uncomfortable, and has an impactful gaze. Her large artwork is made up of several A4 sheets with images of eyes printed on them. A white drape covered with red handprints hangs in one section of the artwork. The work appears to be a commentary on the role our patriarchal society continues to play in confining women. Personally, the work would have been more effective if the images of the eyes had been of diverse people instead of just one person. This could have shown the dexterity of the photographer or the artist behind the work.
Priyanka Singh Maharjan's pen and ink series, 'Somewhere I come from', evokes the joy of observing life from a distance although her series is about the neighbourhoods she is familiar with. In the series, we see Newa women sitting, working together, and enjoying what is perhaps a lazy afternoon; her artworks immediately transport us to old Newa neighbourhoods in the Valley. Perhaps Priyanka is romanticising intimate but fleeting moments of life's beauty in her community's neighbourhoods.
Priyanka is known for her art series, 'In the Realm of Recollections,' in which she embroidered distinct elements of her family's personal pictures in fabrics to emphasise the family's history, their values, and her emotions. However, this time, she chooses to deviate from her personal family history and the usual technique of her art: embroidery. Regardless, people who have known her work before will see how she still carries the traits of her previous series in technique and the idea of bringing a tangible understanding to the relationships she knows and values.
Sofia Maharjan's embroidered artworks of the humdrum of neighbourhood marketplaces are also interesting. Sofia's art series reflects her understanding of life—of how our lives become common in the process of living and surviving in this world. We are all rushing towards our goals and purposes. But instead of dwelling in the dullness of the grind, she captures these moments to admire the beauty of living a common story in a busy world.
Sabin Acharya's artworks about how human activities are affecting nature and wildlife are also intriguing. Although we have already seen many works that discuss the Anthropocene, seeing young artists raise the issue of human impact on the planet reflects the concern many young people share about living in a world heading towards climate change catastrophe.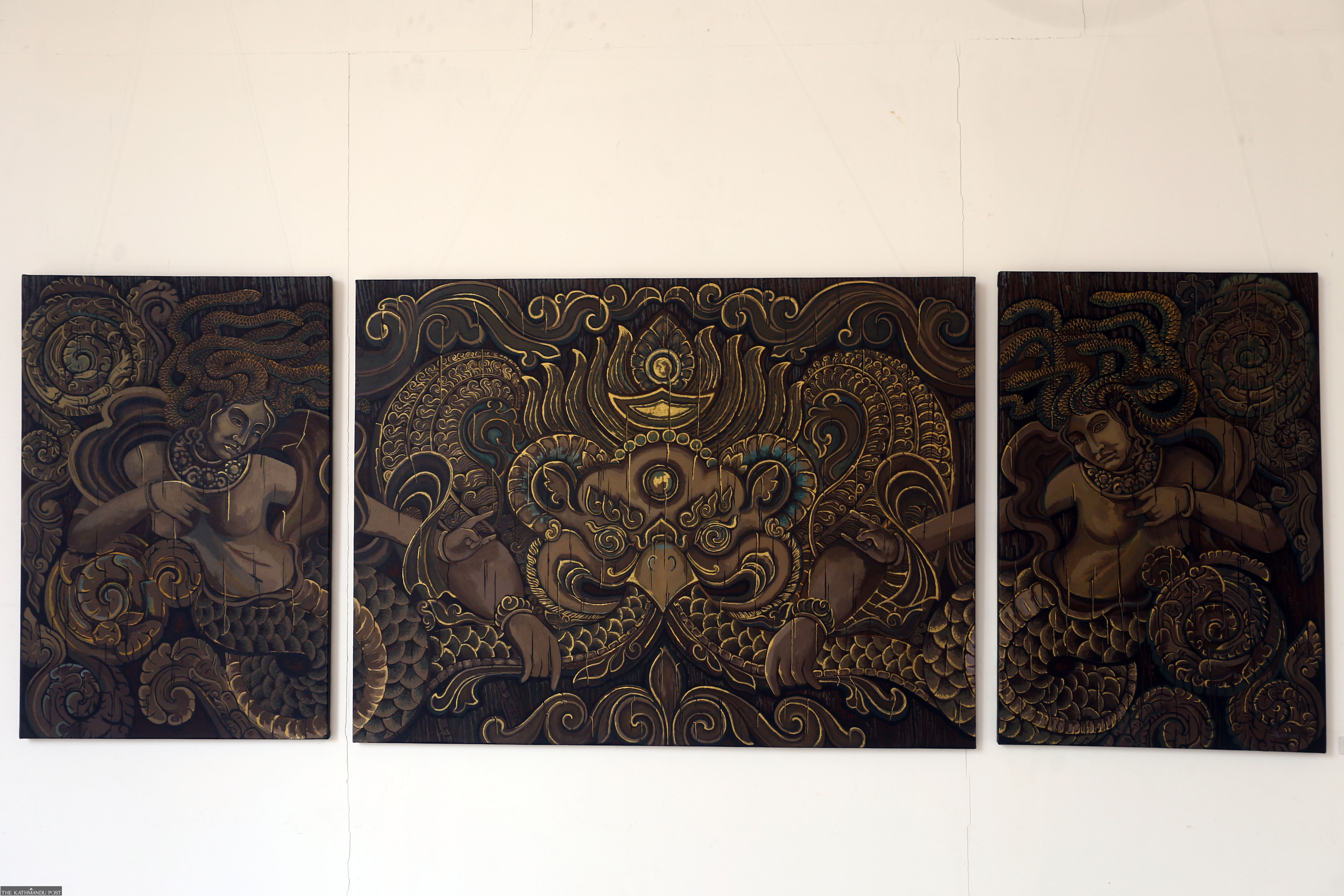 Artist Bishal Maharjan's 'Toran' series on display at Gallery Mcube's 'Youth Artists Show 2022.' Elite Joshi/ TKP
'Young Artists Show 2022' unknowingly covers a lot of pertinent issues that the youth are passionate about.
But the credit of why this exhibition works also goes to the young artists themselves for bringing works that speak to youths like them. Given that the open call had not limited itself to just one topic, the variety of subjects the artists bring forward is praiseworthy. The exhibition reflects the concerns of the youth while also highlighting how these young people are trying to explore themselves as artists.
The exhibition feels beautiful because we are reflecting on our own youth as we observe the works. We find ourselves brooding over the efforts we are making in the world.
When walking around the gallery, one is not that awestruck by the line-up of works, and we just simply admire the artists' works for what they are.
The exhibition lives up to its name justifiably in the spirit of young artists. And what makes this exhibition worthwhile is the sense of youthful challenge. A lot of us will leave the exhibition on a hopeful note with the realisation that these artists will have grown the next time we see their new works.
After all, youth is the time of transformation.
'Young Artists Show 2022' will be on display until March 31 at Gallery Mcube, Chakupat.
---
---