A test of patience
Buddhist communities whose monasteries were damaged by the 2015 earthquakes express frustration at the delay in reconstruction.

Community members discuss reconstruction of the monastery. Photo courtesy: Tashi D Hyolmo
bookmark
Published at : December 8, 2021
Updated at : December 9, 2021 08:10
Kathmandu
At his home in Arubari, Bouddha, Tashi D Hyolmo—a heritage activist—has more than hundreds of stamped passes that Singha Durbar issues to visitors. In the last five years, Tashi says he has visited Singha Durbar so many times that he has stopped keeping count.
During the earthquakes of 2015, Sangag Phunstog Urgen Chholing Monastery, which is located in Tashi's native village Tahongsa-Sermathang, Sindhupalchok, was structurally damaged. In his role as the chairperson of the monastery, Tashi was responsible for ensuring that the National Reconstruction Authority(NRA), the government body tasked with undertaking all of the reconstruction projects, fulfils its commitment to aid in the reconstruction work of his village's monastery. In 2020, Tashi stepped down from his role as the monastery's chairperson and assumed an adviser's responsibility.
"Even though seven years have passed since the earthquakes of 2015, our village's monastery is yet to be reconstructed. Despite many attempts to get the attention of the government authorities, we have failed to find anyone willing to listen and help our community build the monastery. Our community is yet to receive a single penny from the government for the monastery's construction," says Tashi.
According to Tashi, his monastery's case is not an outlier and that hundreds of Buddhist monasteries across the country that were damaged by the earthquakes of 2015 are yet to be fully reconstructed.
As per the Buddhist Philosophy Promotion and Monastery Development Committee (BPPMDC), which falls under the Ministry of Federal Affairs and Local Development (MoFALD), a total of 1320 monasteries were damaged by the 2015 earthquakes.
In 2016, BPPMDC wrote to the monasteries damaged by the earthquakes to study the extent of the damage done and come up with an estimated budget required for their reconstruction. After the study, the committee stated that a budget of Rs 8 billion was required for reconstruction purposes. The monasteries were divided into five categories depending on the extent of their damage, as per which category A monasteries were to be given Rs 10.5 million, category B Rs 8.2 million, category C Rs 7.1 million, category D Rs 6.1 million and category E monasteries Rs 5.1 million. And as per the plan, all the monasteries were to be reconstructed within five years.
However, in 2017, NRA scrapped the assessment done by BBMPDC, claiming that the number of monasteries was yet to be verified, and that the estimated budget required for the reconstruction of monasteries was overestimated. It then unveiled its own action plan for the reconstruction of the damaged monasteries and allocated Rs 1 billion for the same.
Tashi speaks on behalf of one of several other communities that have been adversely affected by the NRA's indifference towards these reconstruction projects.
"I am truly baffled at how a budget that has been estimated at Rs 8 billion gets reduced to Rs 1 billion. I believe that the NRA only factored in the costs of the monasteries' exteriors. But without several intricate elements—which include Buddhist mural paintings and wooden carvings—a monastery would completely be deprived of its true essence, and NRA has consistently showcased complete disregard towards this very aspect," says Tashi.
The Post's repeated attempts to speak to Chandra Bahadur Shrestha, one of NRA's executive committee members, went unanswered.
Phupu Dhembe Sherpa—the chairman of BPPMDC—says that once NRA's term ends this month, rebuilding works of monasteries that are older than 100 years will be handed to the Department of Archeology, which falls under the Ministry of Culture, Tourism and Civil Aviation.
Whereas reconstruction works of monasteries less than 100 years old will be overseen by the Department of Local Infrastructure (DoLI), which falls under the Ministry of Federal Affairs and General Administration (MoFAGA), in coordination with the BPPMDC.
This is the factor that has unsettled Tashi the most. He believes that this transition of responsibility comes at further peril of the monasteries that have yet to be reconstructed. "The transition complicates the entire process even more because, first and foremost, we would have to navigate government bureaucracy all over again. To make matters worse, the Department of Archeology has absolutely no regard for the details that go into reconstructing these monasteries. Without its interior features such as Buddhist wall mural paintings and statues, the monasteries would be just like any other building, and that would defeat the entire purpose of refurbishing these sacred sites," says Tashi.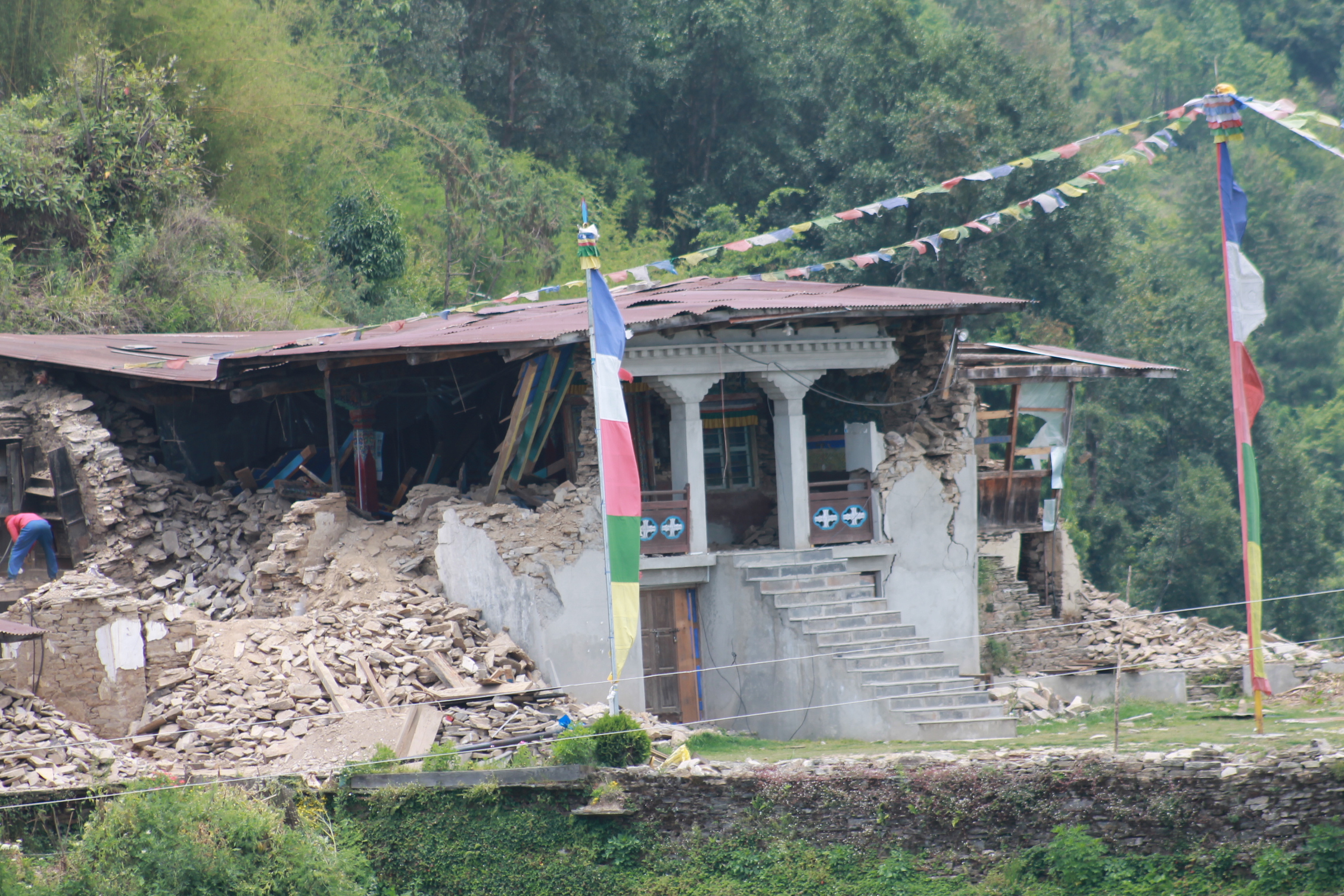 The earthquakes of 2015 did extensive damage to Sangag Phunstog Urgen Chholing Monastery, which is located in Helambu's Tahongsa-Sermathang. Photo courtesy: Tashi D Hyolmo
This is why Tashi believes minority representation in the government is crucial because that would have at least enabled a more nuanced understanding of what those intricate details signify and the kind of value they hold towards the people.
"There's this other misconception among government authorities that monasteries are just religious sites that communities frequent. But this is not the case. Monasteries are the nerve centre of many Buddhist communities where locals congregate for festivals and celebrations, as well as a site to kindle community spirit, discuss community issues, and develop plans to move forward," says Tashi, stressing how authorities have a rather skewed perspective on the significance of these monasteries. "When people in authority have no ground-level understanding of our communities, why should it be them dictating the terms and conditions for us? These officials have repeatedly trivialised this issue to the point where it has become tantamount to a children's game."
In 2017, monks from various earthquakes-damaged monasteries formed a committee to pressure the authorities to speed up the reconstruction work of their monasteries.
Phurpa Singi Hyolmo, a monk from Tashi Choeuling Chhukla Khaang Monastery, based in the Thangpal Panch Pokhari Rural Municipality, echoes the same sentiment. The bureaucracy in local government has left him at his wits' end. "We have been trying to get in touch with the government authorities for years now, but have been repeatedly turned away. The officials usually claim that the reconstruction process will commence but, over the years, I have come to learn that they have only been buttering us up with empty promises. These monasteries play a vital role in the overall functioning of our villages, which the authorities clearly have failed to even comprehend. They have never made an effort to understand the important role these monasteries play for each community. We are, quite frankly, at the brink of losing all hope that the monasteries will ever be rebuilt," says Phurpa.
The importance of these monasteries goes beyond just the communities as Tashi emphasises how these sites can actually become a tourist attraction in these rural villages, which, ultimately, would benefit the local economy.
"The same authorities who are being dismissive of our issues are symbolic of a population that only boasts about this country being the birthplace of Buddha with no regard to the communities that actually practice Buddhism. We feel as though they have only ever valued Buddhist communities when it has catered to their organisational or individual interests," Tashi argues.
While being adamantly vocal about the issue, Tashi still tries to hold back from being excessively pedantic. "I do not condone religious extremism, and nor am I here to be a flagbearer of Buddhism. But to openly disregard economically vulnerable ethnic communities who have been relentlessly reaching out to authorities with this issue is something that needs to be addressed," says Tashi. "My only hope is that the concerned authorities do not get away with evading their responsibilities, and nor should they be undermining the socio-cultural significance of the monasteries for the communities. Our collective aim is for the monasteries to be rebuilt so that the communities can function the way they always have."
---
---