Virtual tours: Travelling in the time of Covid-19
Saurav Dhakal, the founder and curator of StoryCycle, on the importance of effective storytelling and how his organisation is making use of technology to offer virtual tours for a society under lockdown.

Photo Courtesy: StoryCycle
bookmark
Published at : April 24, 2020
Updated at : April 24, 2020 11:02
Kathmandu
For centuries, humans have relied on storytelling as a powerful medium to understand the world around them and to impart knowledge, social norms and philosophies. How effectively stories deliver the message embedded in them depends on how compellingly they are crafted, told, and in today's technologically advanced world, developed with the use of different technologies. A lot of what StoryCycle, an organisation founded by Dhakal, engages in revolves around providing youth with the tools needed for effective storytelling in a rapidly modernising world.

In an interview with the Post's Tsering Ngodup Lama, Dhakal talks about how technology can help tell effective stories and about Virtual Heritage Tour, an initiative by StoryCycle to give people under lockdown a virtual, cultural tour of different corners of Nepal—like Barpak, Lumbini and the Khumbu region. Excerpts:

Making use of technology to tell stories is central to what StoryCycle does. Why do you think this is particularly important in a diverse country like Nepal?

Every place has a story and the story is what gives the place and its people their unique identity. If you look at our country's history, a lot of it hasn't been documented properly. This lack of documentation is one of the main reasons behind many gaps in our history. But in today's world, with all the technological tools that we have at our disposal, it has become possible to record and document many narratives and stories. One of the ways we do that is by making use of map-based storytelling techniques and promoting those stories to enhance the digital footprint of that particular location.

A few weeks after the government announced the lockdown on March 24, StoryCycle announced the launch of Virtual Heritage Tour. What is the main idea behind the project?

Before the Covid-19 lockdown, we had already made a plan to organise the Bagmati Promenade tour on the occasion of World Heritage Day. But the lockdown meant that we could no longer go ahead with the tour. Then we came up with the idea of organising Virtual Heritage Tour, a multimedia tour where the tour's walk leader makes use of images, videos, texts, map points, to provide viewers with an in-depth cultural, social knowledge of the place. We held our first Virtual Heritage Tour on April 17 with a virtual tour of Bagmati Promenade with Sanjib Chaudhary as our walk leader.

We have three more such tours lined up as part of our Virtual Heritage Tour. The next one is on Barpark and is going to be held on April 24 [today] with Bir Bahadur Ghale as the walk leader. The Barpark tour will be followed by Lumbini (May 7) with Anil Chitrakar as the walk leader, and then on May 29, we have Everest (Khumbu) virtual tour with Apa Sherpa as the walk leader.

The idea behind Virtual Heritage Tour is to give people who are staying indoors during the lockdown the opportunity to take part in socially, historically and culturally immersive virtual tours. Those interested to take part in the tours can do so by visiting our website storycycle.com and registering for Virtual Heritage Tour.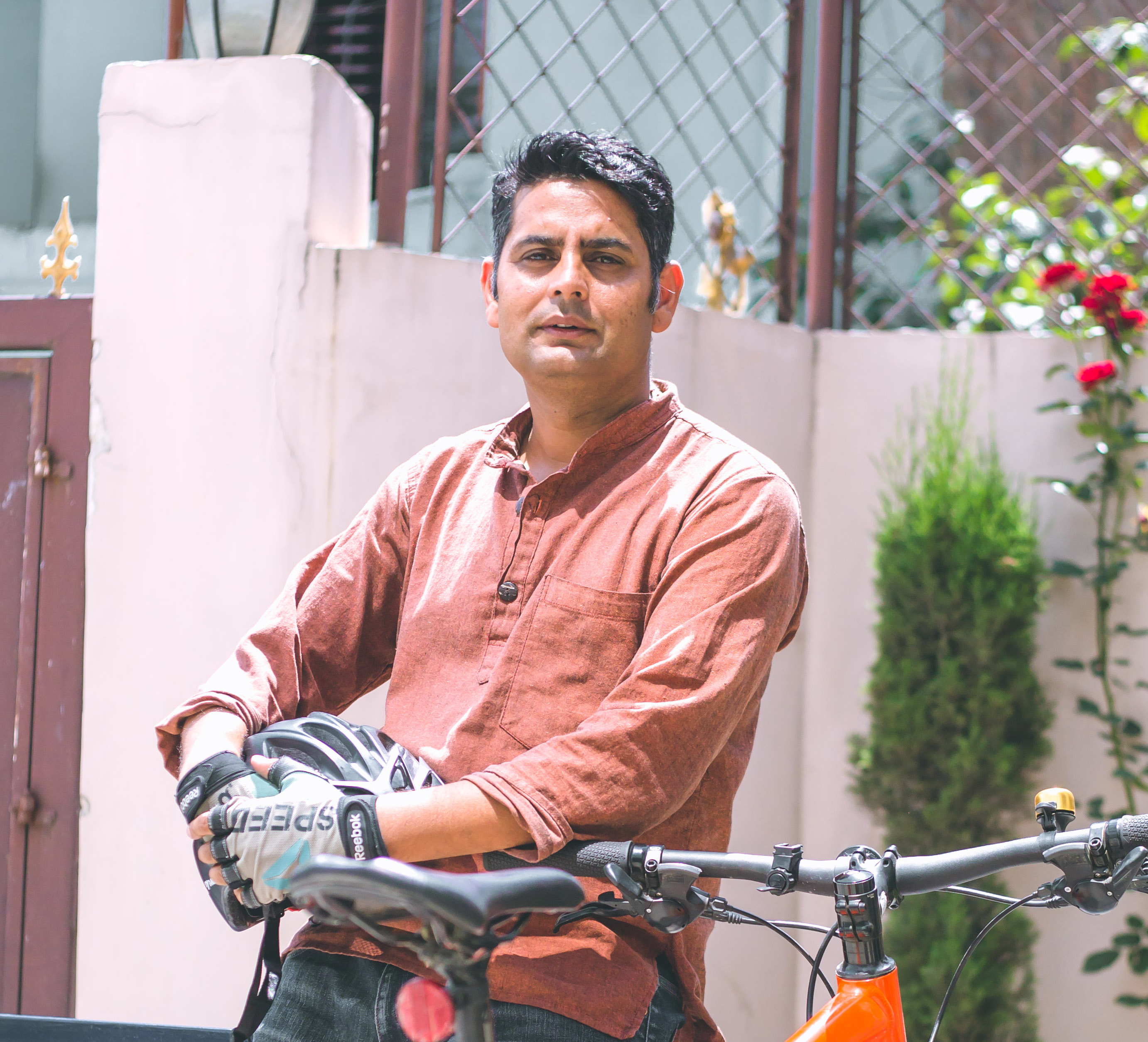 Saurav Dhakal is the founder and curator of StoryCycle. Photo Courtesy: StoryCycle
How challenging is it to organise virtual tours given that you have to rely on a lot of multimedia materials?
Getting the required multimedia materials wasn't a problem because we already have most of the materials needed for the places currently listed for the Virtual Heritage Tour. For example, Bagmati Promenade was a part of Our Dream City, a campaign we started last year in collaboration with the British Council, where we helped youths who live and work in the locality or have a special affinity with the place design a heritage walk by combining stories of historical moments, religion and social life and connecting it to modern society. So we just used the materials we already had from the campaign and used them for the Bagmati Promenade virtual tour.
Since we had also already visited Barpark and Khumbu as part of StoryCamps, which is a series of events we organise at various locations to empower media enthusiasts in those locations, we already have plenty of photos, video stories, map points and a 360-degree imagery of the two places.
If there was one challenging part, it was the technical aspect of conducting virtual tours. Doing everything remotely from integrating maps and photos to tell the stories for the places was a little tricky. We conducted several trials to ensure that things go as planned. We are happy with all the positive feedback and appreciation we received from our Bagmati Promenade tour and are now looking forward to upcoming ones.
What do you think about the role of virtual tours in a post-lockdown world?
The lockdown and the need to maintain a social distance has increased people's interest in virtual tours. And I think the interest and the demand for virtual tours will continue when the pandemic subsides because such tours provide people from all over the world an opportunity to know about places without having to travel there.
---
---