Art uncensored: A gift from ancient sculptors
The erotic art carved on the struts of the temples around Kathmandu Valley is fascinating, but its purpose still remains elusive.

Jagannath temple in Basantapur Durbar Square. Ankit Khadgi/TKP
bookmark
Published at : January 11, 2020
Updated at : January 13, 2020 12:44
Kathmandu
On the way to Indrachowk from Gaddi Baithak in Basantapur Durbar Square, Kathmandu, stands a huge idol of Kaal Bhairav. The numerous temples around this idol host a variety of people on their footsteps. From elderly chatting away while basking in the sun, to young couples holding hands, and tourists slowly strolling along these temples, it is a place for all. But on the struts of one of the temples in such a public place are images of men, women and even animals copulating.
But the images aren't just unique to the Jagannath Temple in Basantapur Durbar Square, they are found carved on the struts, known as 'tudal' in the native tongue, of many temples around the Valley.
This peculiar presence of erotic art has been a part of many scholarly discussions. Especially in a society where having conversations about sex or sexuality is still a taboo, to have the act depicted on the temple structures has raised everyone's curiosity.
"They could either have been there as common people believed that carving such symbols will avert natural disaster or just to depict an aspect of life," says Shivaji Das, the author of Sacred Love: Erotic art in the temples of Nepal.
In his book, Das has also implied the existence of a sexually liberated society prior to incursions from Muslim invaders and later from the British. This explanation covers the presence of such images not just in Nepal but also in India. Unlike in Nepal where these sculptures are usually carved on the struts, the Khajuraho temples in India bear such artworks throughout their structures.
Das, however, also makes it clear that there is no specific reason for why such explicit carvings were sculpted in the struts, rather during his research for the book, he found over a dozen of explanations. But he isn't sure about their authenticity.
This has been the recurring roadblock for any researcher who intends to know the veritable reason on how these sculptures found a place in Hindu temples, a holy place of worship. But one of the most commonly accepted explanation is that it was carved as a means of sexual education for the common folks.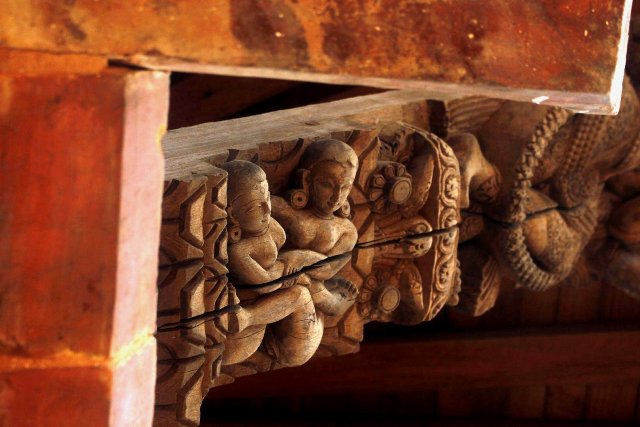 Pashupatinath temple in Bhaktapur Durbar Square. Ankit Khadgi/TKP
Nepal's leading scholar, epigraphist and researcher Kashinath Tamot also believes that this reason is the most plausible one. The motive behind such art was to normalise sex as a part of everyone's lives, he says.
"Back then, sex was considered as a basic human need. The artists carved erotic art in the struts in order to depict the values of the society during Malla period when copulation was treated normally," says Tamot.
Tamot's argument can come across true as the struts of the temples like Jagannath Temple of Basantapur Durbar Square, Char Narayan Temple of Patan Durbar Square, Shiva-Parvati Temple and Pashupatinath Temple of Bhaktapur Durbar Square, which have erotic carving in their struts were all built during the Malla period. Cultural experts believe that the artistic expression was respected during the Malla period, which encouraged the sculptures to be more bold and use their imagination.
In Hinduism, the four 'purusharthas' or qualities; dharma, artha, kama and moksha are considered as the major goals of human life. It is believed that one should strive to achieve these four purusharthas in their life. Kama, which translates to pleasure and sexual gratification, is taken as a necessity according to Tamot.
Many also claim that the influence of the tantric philosophy could have been also one of the reasons for the presence of erotic art in the temples. Once dominated with tantric practises, Newar culture has always encompassed both learnings of Hinduism and Vajrayana Buddhism, which can also be reflected in their art and architecture.
Similar to the four purusharthas in Hinduism, in tantrism, panchamakara is considered as five essentials required to release energy to pursue spiritual liberation. Among the five, one is maithuna, which means sexual intercourse. Tantric philosophy focuses on having sexual intercourse in order to achieve 'mahasukha', which can be roughly translated to great bliss.
"There is also this theory that the carvings depicted this state of maithuna, so the common people could get acquainted with the learnings and attain the mahasukha," says Das.
Another popular myth also connects the carvings with the protection of the temples—not just from the foreign invaders, but from the wrath of the gods. Since all natural phenomena were regarded as god's will, it was believed that Lord Indra, the King of Heaven, was the source of lightning occurrences. People in those times believed that Lord Indra spares temples and houses with erotic carvings from the wrath of his Vajra (thunderbolt).
Mukund Raj Aryal, retired professor from the Department of Culture at Tribhuvan University, however, isn't convinced of this reasoning.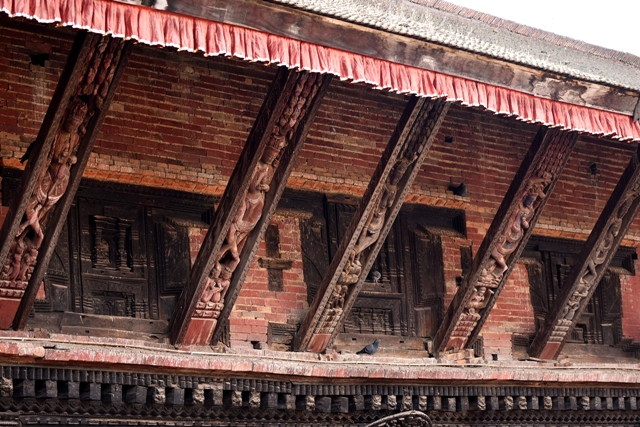 Charnarayan temple in Patan Durbar Square. Post photo
"If you see the erotic images in the struts, they are kept at the eye level of the temples, beneath the roof," he says. "If the purpose of the carvings was to protect from lightning then why aren't they kept at the Gajur of the temples."
He takes the influence of tantrism as one of the more possible motives behind the artists sculpting erotic carvings.
"Deriving any particular conclusion is, however, not easy," Aryal says. "It requires long scientific research."
It is particularly difficult when it isn't just the heterosexual sex acts that are depicted in the carvings. While there is still a huge social, cultural and political resistance towards accepting homosexual and other queer representations, it is important to note that some of these centuries-old erotic carvings showcase intercourse beyond the heterosexual definition of sex.
Men flaunting their phallus along with other men, women deeply engrossed in sexual activity with each other, and multiple participants in a single sexual encounter, are all instances of the wider worldview of the sculpting artists. It is, however, debatable whether they were just the imaginations or a reflection of the society of that period.
According to Tamot, it is the latter. "Sex must have been taken as a natural act, and wasn't boxed into heterosexual or homosexual," he says. "If society had constricted sexual acts, the artists won't be carving it on the temples which are visited by many people".
But it isn't just homosexual intercourse, there are a few carvings even of animals like horses penetrating women. This, some scholars say, challenge Tamot's logic that those artworks only depicted existing social practices of that time.
In Das's book, Dinesh Saru, a sociologist, interprets that depictions of bestiality represents the sexual fantasies of the artists, who were mostly men. Speaking about the presence of erotic art to Das, Saru believes that the women in such art can also reflect their oppressed state—as many men still consider women as an object who should always be dominated.
But like all theories regarding the presence of erotic art in Hindu temples, this is also just a speculation.
"No one knows why the erotic art are there in the struts of the temples. It could be because of all of the reasons I mentioned, which I found during my research for the book. Or it could be none of it," says Das. "That's why the whole topic of why it was carved is fascinating."
---
---