Journeying towards the redolent silence
Sanjeet Maharjan's 'Silence is beautiful' reveals nothing but the ordinary, yet it is alluring and delightful.

The exhibition showcases 29 artworks, based on the artist's experience from 2013-2019. The paintings are exhibited in various series, including power cuts in Kathmandu, random notes, and on silence. Beeju Maharjan/TKP
bookmark
Published at : January 2, 2020
Updated at : January 2, 2020 08:16
Lalitpur
A city filled with light glimmers at night, in the dreams of two people, on an acrylic painting at the Classic Gallery, Chakupat. The art is simple, but renders a poetic nostalgia as this dream portrayed in the painting takes us back to our own memories. We go back in time when blackouts in Kathmandu sent us to bed early, and we often stepped out on our terraces to watch the other side of the town glitter with lights.
For many years, Kathmandu coped with an unforgiving light out. And for many of us, because of that experience, lights are an integral part of our dreams. We hope that light follows us everywhere we go. The painting is a part of artist Sanjeet Maharjan's solo exhibition, 'Silence is beautiful.' And as the title suggests, the silence he reveals in his artworks feels beguiling, in a subtle way.
There is nothing essentially terrific in his paintings and sketch notes, rather they are imperfect and raw. And that is exactly what makes it alluring. Maharjan doesn't try to feign dexterity in his artworks, but what he fills his canvases with is his unsullied feelings and emotions. He pours out his state of mind in the hopes that someone, if not everyone, will relate to his impulse—the need to draft his thoughts while travelling to various places.
'Silence is beautiful' showcases Maharjan's works from 2013 to 2019—a small detail that shows his persistence as an artist. The exhibition includes paintings he made during the blackout years in Kathmandu, and during and after his travels.
Many artists have often painted the places they have travelled to, it isn't original of the ideas. Artists usually paint their travelling experiences, the stories they see out in the communities. And while what they show is still ordinary, their observance is what has always brought people closer to art. And that may be true for Maharjan as well.
The series is orphic, even though what he documents in many of his works is just the ordinary. In some paintings, its only trees and misty air. In one of the white walls of the gallery, two rectangle canvases show nothing but splotches of moss; the green texture that is outlined with a hue that exudes a dead feeling makes you feel the dampness of the fence. And again, this is not a spectacular work of the artist.
Apart from the large colourful canvases, the exhibition also hosts 'Random Notes' series. These pen and ink notes probably show the reality of what he felt, but the silence he draws is redolent and calming.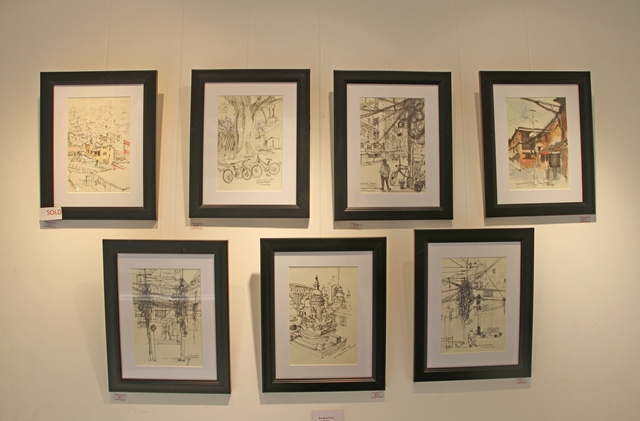 Beeju Maharjan/TKP
His sketches are pictures that we paint in our head when we think of travelling. These sketches are of hills and landscapes that you see on the road; of temples from where you enjoy quiet afternoons away from the bustle of the city; and of a quiet town when everyone is at work or at school studying.
These sketches are raw, as they are swift pen lines that the artist drew, at the very moment, without the need to perfect the balance of his settings. The dabs of paint he uses in the artworks feel urgent as though his actions are tied to his meditative trance of that moment.
In many of his artworks, the artist, himself, is present in the art, expressing his satisfaction of the moment he has captured in the paper. In a random note drawn on a Sea Angel Cruise to Phi Phi island, Phuket, the artist also shows a part of his notebook in which he is sketching this memory. His legs act as a desk, while other travellers enjoy the sea cruise. These sketches also tempt viewers to become an artist themselves during their sojourns: how wonderful it would be to draw so easily what you see and admire.
Many of Maharjan's work has already been sold, particularly more from the 'Random Notes' series, which were priced at Rs5,000. Perhaps, because they feel more intimate to the viewers. But the artwork definitely makes you question, why do we love collecting someone else's prized memories, and why a stranger's feelings seem like our own.
'Silence is beautiful' undoubtedly is successful in showing Maharjan's inspiration for painting: his surroundings while he journeys out in the world and inside himself. His works feel personal and therefore, maybe can speak more to the audience.
"I think I paint more for myself," says the artist. "But over the years, I have come to understand, my artworks can have different meanings to the audience. People who come to observe my art leave with their own memories."
And this is true. In addition to reflecting on our memories, we leave the gallery with the urge to travel soon.
The exhibition will be on display until 31 January 2020, at Classic Gallery, Chakupat.
---
---