Reimagining live music as an intimate, immersive experience
Music series like Sofar Sounds and Yomari sessions are taking live music out of the bars and clubs and putting them outdoors and in people's living rooms.

Photo courtesy: Sofar Sounds
bookmark
Published at : December 6, 2019
Updated at : December 6, 2019 08:20
Kathmandu
Once the amplification equipment is set up and the soundcheck carried out, the host of the evening emerges and announces the first performance of the night. Kelsang Shrestha, a 17-year-old singer-songwriter, now stands before an audience sitting cross-legged at the Taragaon Museum. As he performs his debut song, 'Bijuli Dai', a skittish musical ode to procrastination, the crowd sings along: "Hera bijuli dai, mero dimaag ko batti baalideu".
Shrestha's performance is part of Sofar Sounds, a global music series featuring indie performances in intimate settings in front of small crowds. Ever since Sofar Sounds was first established in London in 2009, it has expanded to cities across the world, including Kathmandu. Last Sunday, Sofar Kathmandu was celebrating its second anniversary with a three-act lineup of Shrestha, Charlotte Jacobs with Raf Vertessen, and The Elements.
But Sofar is not the only musical event of its type. In recent years, a number of live music series are now offering intimate gigs in front of a limited audience. The lure of these shows lies in the fact that they provide a connection with the artist that is almost impossible to get in the raucous concerts that take place in bars and stadiums before a screaming crowd of hundreds.
"When you walk into a Sofar show, you are promised an intimate experience," said Marta Del Grandi, the leader of Sofar Sounds Kathmandu. "You feel more connected, more immersed in the music."
At Sofar's shows, the line-up is unannounced, which adds to expectation and surprise, as you never know which musician is going to show up. Behind the stage, the artists are strategically handpicked—while some reach out to the patrons through social media, others receive invitations.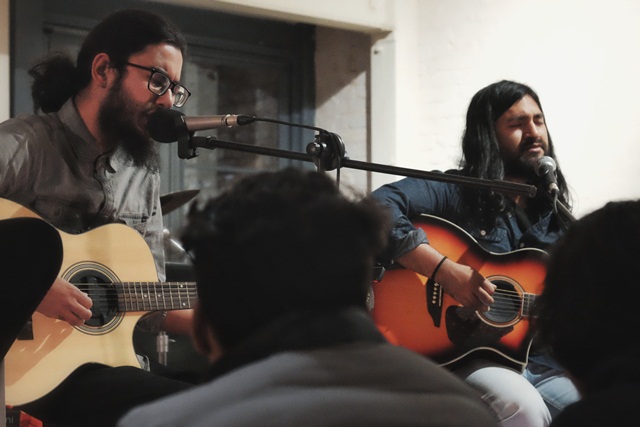 Photo Courtesy: Sofar Sounds
These events also tend to take place in settings that are fashionably off-beat, like someone's living room or balcony, inside an art gallery, or out in the open. The singer-songwriter Bartika Eam Rai's performance for Yomari Sessions takes place at the Chilancho stupa in Kirtipur. In the one-take video, there are unsolicited passersby and barely concealed secondary cameras, leading to a more honest, no-frills performance and video.
"When we place the artist in non-traditional community spaces, the mood is candid and the audience feels more intimate, more honest about the music,'' said Shashank Shrestha of Kathaharu, producers of Yomari Sessions.
According to Binit Bana, another member of the Kathaharu team, intimate, immersive and improvised performances showcase good artists and provide a different experience to the audience.
This is a sentiment that many members of the audience that tends to frequent these shows in Kathmandu echo.
"Unlike most live music experiences, people aren't talking over the music or looking at the artists through their phone screens,'' says Pallavi Gupta, a medical student at KMC. "The whole room is there just to listen to the artist with respect."
Sofar tends to be selective about its audience, where potential audience members have to apply for limited seating. Since the venues are small and private, the size of the audience tends to be around just 50 people. The platform wants to ensure that the audience for each show is a careful mixture of newcomers, returning superfans, followers on social media, and artists who have played Sofar before.
"When we started, there was not much audience targeting. Most of the artists who initially performed were my friends. As time passed, word of mouth played a vital role in attracting new audiences," said Del Grandi.
At Yomari Sessions, the audiences are powered by a community of ambassadors for independent music including social media followers, music enthusiasts and audiences steered via Kathaharu, the company that produces the sessions. Setting their videos in open public spaces have also secured them many organic followers.
But it is not just the audience for whom the experience is a novel one; the artists too tend to contrast the experience of playing at Sofar or Yomari with playing at bars and clubs.
"When you are on stage at a large concert, you can feel the adrenaline from the crowd's energy," said Ishan R Onta, lead vocalist for The Elements. "There's a different experience in playing solo, where you can see the audience crack a little smile, and you can see in their eyes the same emotions that you scribbled into the lyrics."
According to Del Grandi, the popularity of Sofar Sounds has soared in the two years since it was first launched in Kathmandu. There are now hundreds of applicants for seating, she says. This increasing popularity has meant that a number of similar other live music sessions have cropped up, including Junkiri Sessions and Gharma Sessions—all of which promise to introduce up-and-coming indie artists and provide an immersive experience for the audience.
For newcomers and old attendees alike, in the end, every show is about the music, with the setting and the crowd as a conduit to experience the music more closely.
"I never thought I'd end up at this show, but there I was on a Sunday night, sitting on the ground in one of the quietest venues in the town, listening to purposefully anonymous artists," said Barsha Baral, an undergrad student. "It was all about the music."
---
---