How Tesro Aayam shaped Nepali literature
The movement propagated by Indra Bahadur Rai, Ishwar Ballav and Bairagi Kainla was short-lived but it left a significant mark on Nepal's literary world.

Indra Bahadur Rai (second from left) and Bairagi Kainla (right) with family and friends in West Sikkim in 2004. Photo courtesy: Namoti Nembang
bookmark
Published at : November 14, 2019
Kakarbhitta/kathmandu
Nepali literature has always had a warm relationship with the hills of Darjeeling. The open border and the fact that Nepali is lingua franca in Darjeeling has meant that many artists from the region have been instrumental in expanding the horizon of Nepali literature.
One such contribution that came out of Darjeeling was in the 1960s, with a literary movement called Tesro Aayam, or the third dimension. Propagated by writers and poets Indra Bahadur Rai, Ishwar Ballav and Bairagi Kainla, the movement was meant to be a counterpoint to social realism, which was and is the dominant literary genre in the Nepali language. Tesro Aayam, drawing on the postmodernism of thinkers like Jacques Derrida and Jean Baudrillard, sought to provide an antithesis to narrative realism, infusing literature with forms of writing that appeared at odds with established forms of contemporary literary writing.
"Works inspired by naturalism and romanticism were prevalent at that time in Nepali literature. Darjeeling too was gripped by romanticism," recalled 81-year-old Kainla. "But these styles were not able to express the consciousness of a modern person. Like movements in the literature of other languages around the world, Nepali literature needed a new style, and that is how Tesro Aayam was born."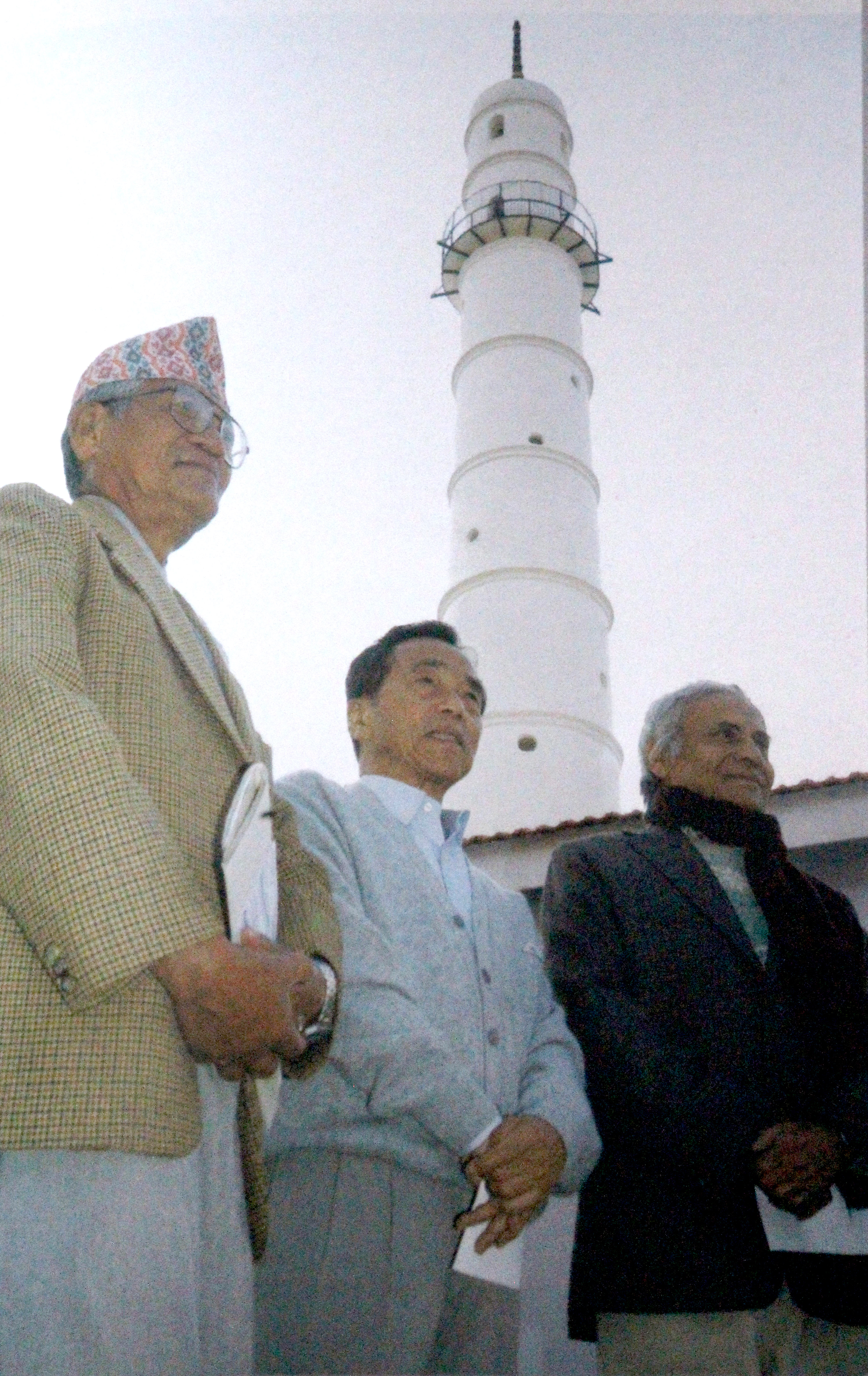 (From left) Bairagi Kainla, Indra Bahadur Rai and Ishwor Ballav, the literary minds behind Tesro Aayam. Photo courtesy: Kumar Ale
Kainla, born Til Bikram Nembang in Panchthar, was in Darjeeling in the 60s to pursue his studies when he was introduced to Rai and Ballav by literary critic Ganesh Bahadur Prasain. Not so keen on literature initially, Kainla eventually got into writing creatively during his college years.
Ballav, a resident of Kathmandu, had also just moved to Darjeeling to teach Sanskrit at Turnbull High School after quitting as a teacher in Sarlahi. Rai, meanwhile, was already an established literary critic and a proponent of the Nepali language in Darjeeling.
After numerous meetings and unending discussions, the trio came up with the idea to start a different style of writing in Nepali literature—something that would encapsulate not just the emotional aspect but the wholeness of the characters, a practice that was already prevalent in literary works from across the world.
"At the very least, a literary work should establish and show relationships that are of the real world and not just those that are from the imaginary realm," said Kainla. "It should stand on the grounds of humanity and be ideologically inspired by the lives of people."
The trio started a literary journal named Tesro Aayam in 1963, with an editorial team led by Kainla himself. The opinions and poems published in the journal soon became the talk of the town, said Kainla. One of Kainla's poems, 'Mateko mancheko bhaashan: Madhyaraat pachhiko sadak sita'—A drunk man's speech to the street after midnight—was the first poem published in the journal, and it remains popular to this day. Ballav and Rai were regular contributors, publishing essays, criticisms, poetry and short stories.
Writer Abhi Subedi remembers the ripples that the literary movement generated during its early days.
"I think of Kainla as a prolific writer and poet, and after the movement, he wrote complex poems, which I would say altered the style of contemporary writing," said Subedi. "At that time, I was pursuing my intermediate level studies when I studied the literary works that emerged from Tesro Aayam, after which I wrote and published an article critiquing the movement."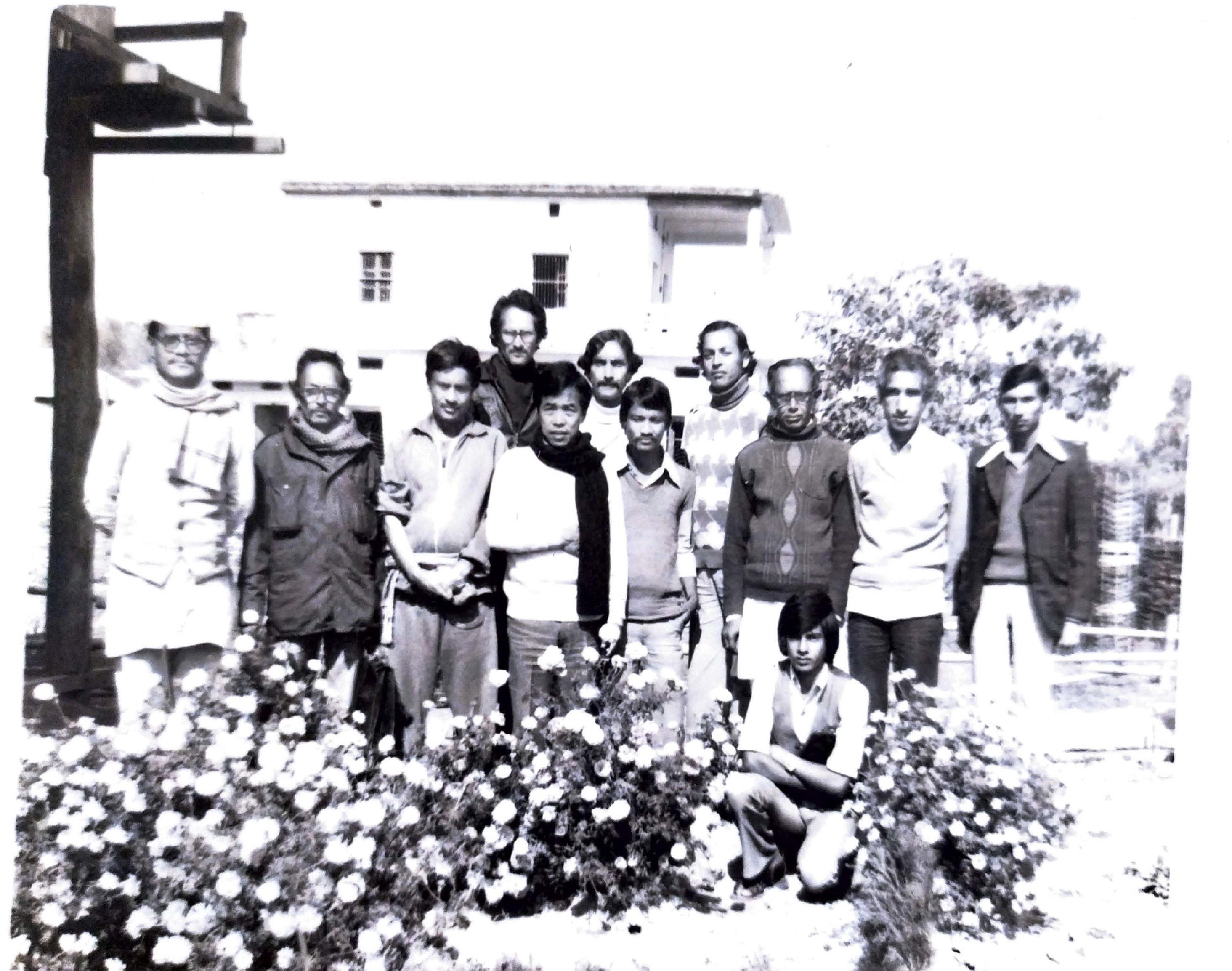 Bairagi Kainla (left), Indra Bahadur Rai (third from left) and Ishwor Ballav (fourth from left) with friends in Dhulabari, Jhapa in 1982. Photo courtesy: Namoti Nembang
According to Subedi, the impact of the movement was significant in Nepali literature, as poems written under this 'experimental' movement were included in an anthology of poems published by the Nepal Academy titled Adhunik Nepali Kabita.
"The use of language and the complexity of the organisation of poetry that came from the Tesro Aayam movement left a mark on Nepali literature," said Subedi.
For Jangab Chauhan, a writer and critic, the movement was a rebellion against tradition, and thus inspired the writing of rebellious artists like Manjul and Parijat.
"The movement became an inspiration for a whole new generation to produce works that moved past the traditional way of writing," said Chauhan. "Although litterateurs including Manjul, Parijat, Kavita Ram Shrestha and Ashesh Malla did not completely agree with the fundamentals of the movement, Tesro Aayam became an instrumental part in giving birth to writers who would challenge the establishment."
Chauhan says that Tesro Aayam gave the next generation of writers the liberty to think outside boundaries, and as a result, a group of rebel writers rose, wrote and fought against the establishment.
"The Aswikrit Sahitya Andolan [Rejected Literary Movement] was started in 1970 by a group of writers, including Kavita Ram Shrestha, under the name Aswikrit Jamat, who protested against the authoritarian monarchy," said Chauhan. "Likewise, in 1979, Nepali poets campaigned for multiparty democracy and took their poems to the people in the form of Sadak Kabita Kranti [Street Poem Revolution] and in 1982, Ashesh Malla, a playwright, formed the Sarwanam Theatre Group after his play Murdabad ma utheka hathharu [Hands raised in protest] was banned from being staged at the Tribhuvan University Auditorium in Kathmandu."
The movement, though exuberant, was not able to get very far, as its propagators splintered and went their separate ways to carve a niche for themselves. Kainla and Ballav returned to Nepal and Tesro Aayam as a movement began to lose momentum. Following the separation, Rai started experimenting with Lila Lekhan, a writing style born out of the movement, according to Chauhan. Lila Lekhan or Lilabad closely relates to the deconstructionist style of writing but Rai's style of postmodern deconstruction was an amalgamation of the postmodern literary traditions of the east and west, said Chauhan.
While Kainla neither protested nor supported Rai's new style of work, traces of Lilabad can be seen in some of his poems, said writer Krishna Baral, who along with Krishna Dharabasi and Ratna Mani Nepal, introduced Rai's style of writing to Nepal.
Kainla, who is the only surviving member of the movement, says that the movement might have lost steam but it remains as relevant today as it did 60 years ago.
"The seed sowed in Darjeeling bore fruit in Jhapa," said Kainla, referring to writers like Baral and Dharabasi. "Now the responsibility to help it grow rests upon these new-age writers."
---
---