K-pop has conquered the world—and Kathmandu with it
Young Nepalis are not only drawn to the glamour of the popular culture but also to the idea of being part of a global phenomenon—of 'belonging' to something bigger than themselves.

Prarthana Shrestha during a BTS concert in Hongkong. Courtesy of Prarthana Shrestha
bookmark
Published at : November 13, 2019
Updated at : November 13, 2019 10:57
Kathmandu
When Imelda Lama was 13 years old, one of her cousins introduced her to K-pop. It was unlike anything she had heard before—the language was alien to her, and the music new—but before she knew it, she was hooked.
Now at 23, her affinity to the genre hasn't faded one bit. In fact, her love for K-pop, or Korean popular music, has introduced her to other aspects of Korean culture. Now she is an avid fan of not just Korean music, but Korean TV serials, movies, food, fashion—or in her words, "everything Korean".
K-pop has become a sensation in many parts of the world, proving that popular music speaks every language, with some Korean artistes amassing enormous fandom among teenagers and young adults. It wouldn't be wrong in suggesting that one of South Korea's best export is its music.
And like most South-Asian countries, Nepal is embracing this global phenomenon of Korean culture, termed as 'Korean wave' or 'Hallyu' in Korean. Korean pop culture has become a subculture in itself, especially among teenagers and youngsters. From its music to its cuisine to its street style, youngsters are fascinated by K-pop, and the reason for this fascination is more than just personal preference, say fans of Korean culture: it gives them a sense of belonging to a growing global phenomenon.
"Individuals from different backgrounds, cultures and parts of the world all coming together and getting connected through a common artform is simply amazing if you think about it," said Prathana Shrestha, who has even attended one of BTS's (a popular K-pop boy band) concerts in Bangkok.
BTS is named 'the most popular boy band in the world' by various media outlets after it became the first South Korean band in history to debut as a No. 1 album on the US Billboard 200 chart as well as the first to have a single land at the top 10 on the Billboard Hot 100 in 2018.
BTS was not the only Korean band that has seen such success. There have been other Korean musicians who have gained massive international popularity. In 2012, 'Gangnam Style', a K-pop single by the South Korean musician Psy, took the internet by storm by becoming the first music video to reach a billion views. The song's music video has since been viewed over 3.4 billion times on YouTube and was the most-viewed video on YouTube up until 2017. But his popularity didn't last long.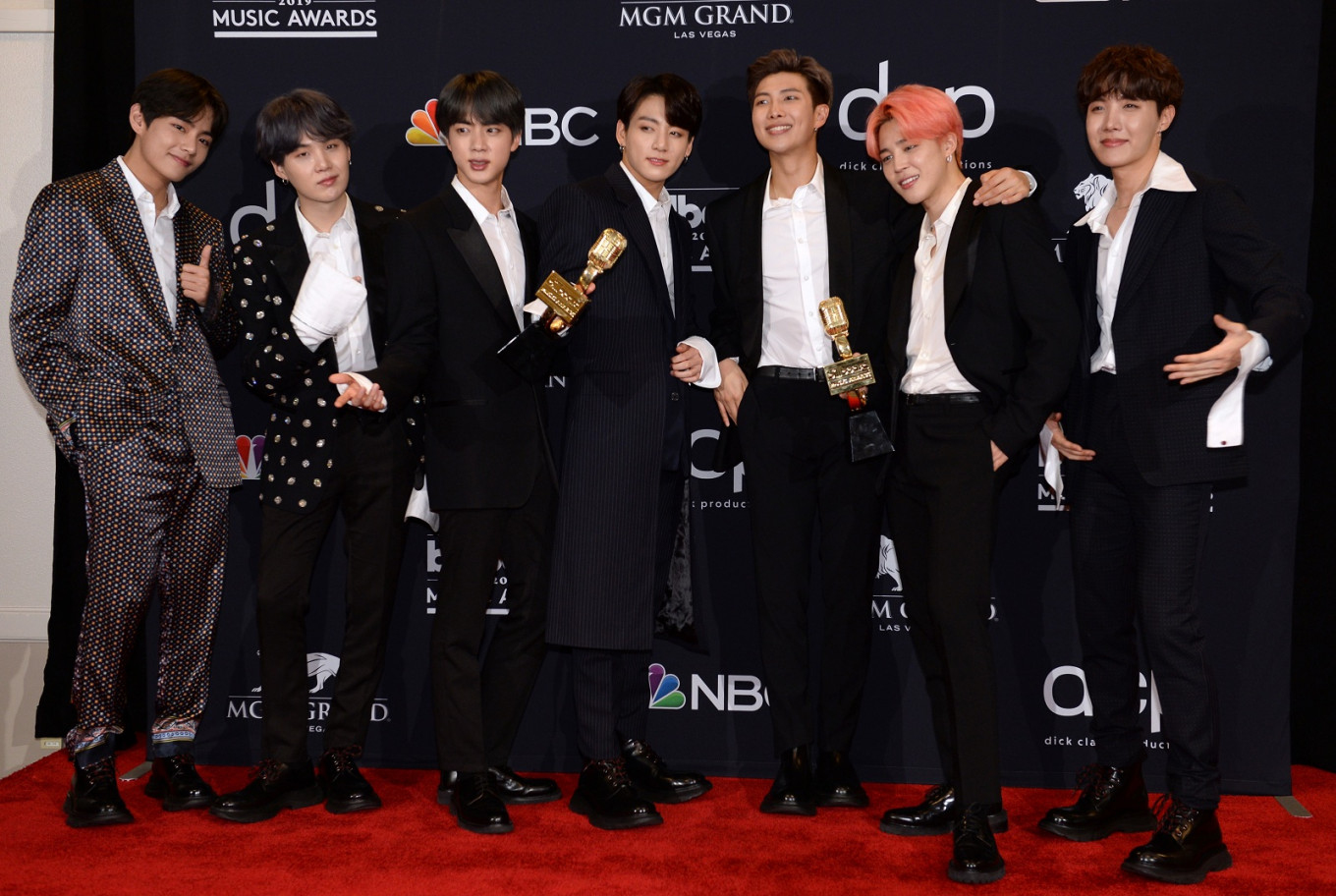 South Korean boy band BTS poses in the press room with their awards during the 2019 Billboard Music Awards. AFP/RSS
Artistes like Psy, regardless of their short stint in the global popularity, has been instrumental in creating momentum and curiosity for Korean music. Although the modern form of K-pop can be traced back to the early 90s, the music started becoming increasingly popular to the global audience from the mid-2000s. Since then, their popularity has only increased.
So much so that bands like BTS have been successful in gaining a large fan following around the globe, who call themselves ARMY. Lama joined the bandwagon in 2016, when she first listened to the music group. "I discovered BTS when I was having a lot of self-doubt and general negative feelings," she said. "Their music preached self-love and it really resonated with me."
Now, other artists like Blackpink, Super Junior, Shinee, Girls Generation, 2NE1 are exploding onto the international scene.
Apart from being an avid follower of Korean music and shows, Lama also follows Korean fashion—from her clothes, accessories, makeup to her hairstyle. According to her, Korean style is comfortable, attractive and most importantly, easy to follow.
"For someone with similar facial and body structure, it is easy to recreate South Korean looks and style," she says.
Another Korean fashion aficionado, Dikshya Tamushyo, says that she copies whatever her favourite artistes are wearing in music videos, TV shows or movies. Both Lama and Tamushyo scour the market to find outfits that closely resemble what they watch on their screens, and most times, they are successful in doing so.
Following the demand of Korean-inspired products, the Nepali market now has abundant Korean products, especially when it comes to beauty and cosmetic goods. Many young people want to emulate Korean celebrities, says Sujata Bajracharya, beauty advisor of Misumi Cosmetics which has been selling Korean cosmetics in Nepal since 2012.
"But it is not as big as it was a few years back," says Bajracharya. But she is unsure whether it is because of the abundance of Korean products even in the mainstream market or just people's interests are declining.
But for people in the food business who are serving Korean cuisine, there isn't the slightest doubt about young people's affinity with the culture, or at least when it comes to satisfying their taste buds with a mouthful of kimbab or a piece of kimchi.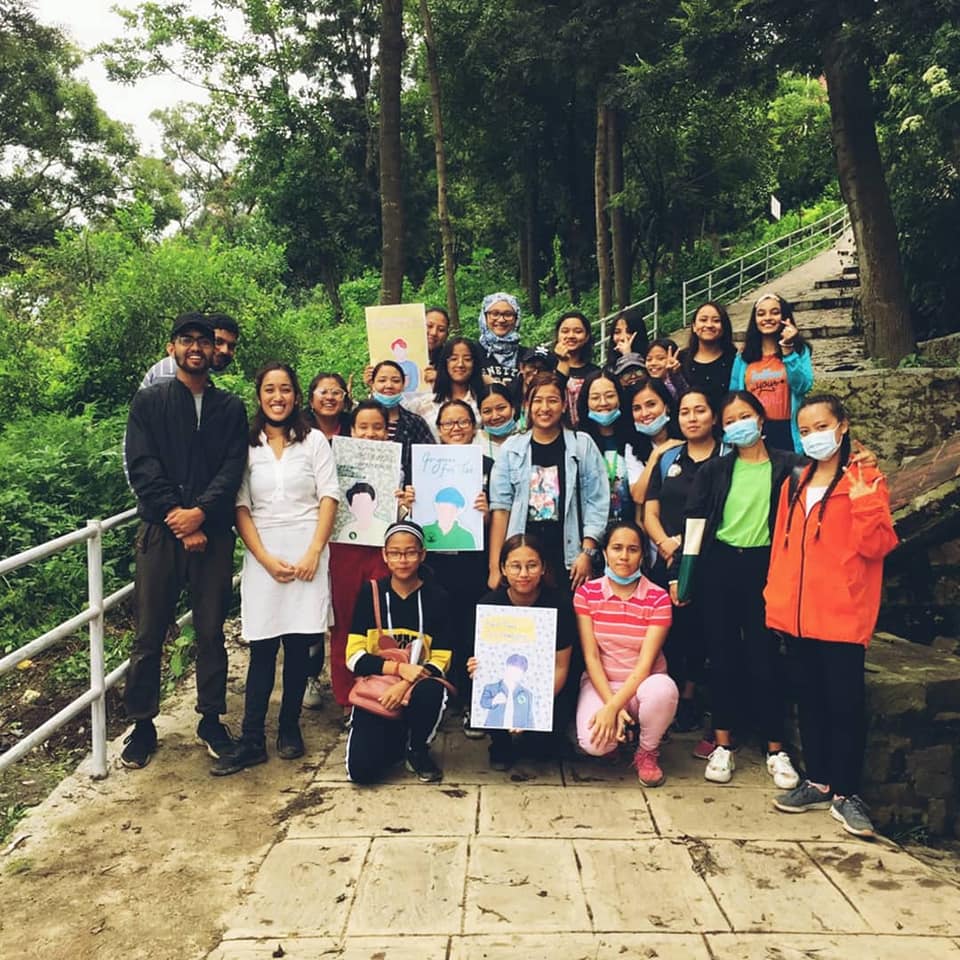 BTSNepal Project, a facebook page for Korean music fans, during one of their community service programmes. Photo Courtesy: BTSNepal Project
"It has been almost five or six years that Korean restaurants have been popular in Kathmandu," says Dawa Sherpa, who works at Korean Taste restaurant in Thamel. "We host almost 30-40 people every day."
But it isn't just limited to personal grooming and experiencing diverse cuisine for young fans of Korean music. Some fans have even formed groups on social media to come together and discuss their love for Korean music and culture. K-pop in Nepal and BTSNepal Project are among the most popular pages.
BTSNepal Project has even gone a step further and organised a number of community service projects celebrating birthdays of their favourite Korean artistes.
"We have conducted programmes like tree plantation, wall paintings, donations to orphanages, that we believe is a positive contribution to the society," says 23-year-old Arati Bista, who runs BTSNepal Project Facebook page.
Bista says their events receive enthusiastic participation from young people. "We are all celebrating art, and at the same time, helping the community through something that binds us together: our fondness for Korean culture," she says.
According to her, them organising communal events also helps to break the misconception that K-pop fans are obsessed with pretty Korean stars and blindly admire the music, movies and stars without a slight grasp of the Korean language. But Bista says there is more to this community of people who admire Korean culture and music.
"It is a universal connection that we have with other people who love the culture," says Bista.
---
---