This is how people spend their day on Kathmandu's overhead bridges
While city life rushes under the overhead bridge stretch from Sundhara to Bhotahiti, some people on the bridge spend their time admiring and observing the hustle of Kathmandu.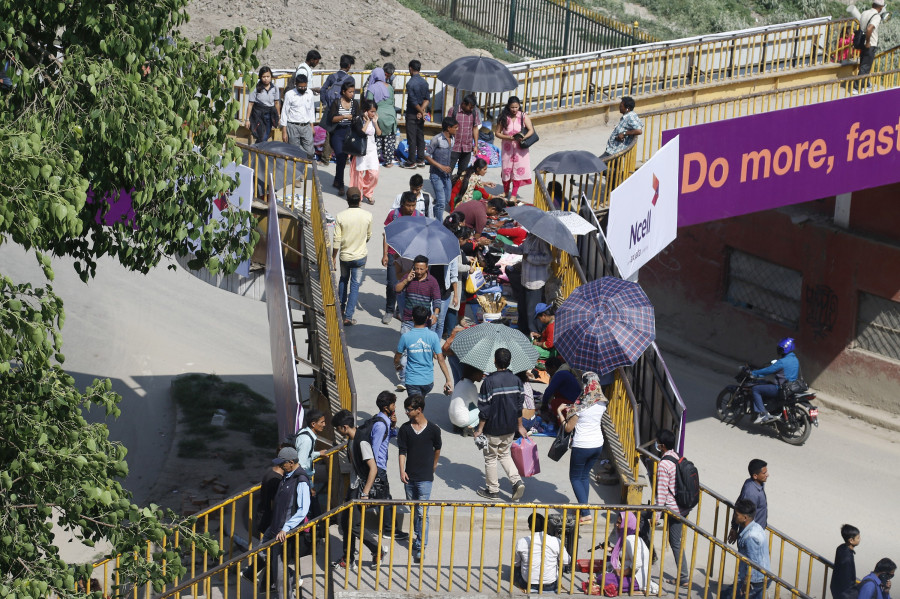 Overhead bridges that are primarily made for pedestrians to cross roads have become a good spot for some people to leisurely watch the city's hustle and bustle. Keshav Thapa/TKP
bookmark
Published at : October 14, 2019
Updated at : October 14, 2019 12:17
Kathmandu
Aslam Ansari leans onto the walls of the overhead bridge, made for pedestrians to cross the one-way road-stretch, just in front of the New Road Gate. He gazes at the vehicles passing swiftly from underneath the bridge, then turns his eyes southwest towards the Kathmandu Mall, observing the hustle and bustle of the city as people take the public buses waiting in a queue in front of the shopping arcade.
"This is my favourite place to pass my time," he says, a truck driver by profession. He drives his truck from Inaruwa, Siraha, to Kathmandu.
Ansari is one of the many people who are part of the crowd on and under such pedestrian overhead bridges in Kathmandu, which otherwise should have been just a transitory bridge. There are people who hurriedly take the bridge to get from one side of the road to the other. These people have little time to waste, but are forced to pause, slow their steps and sometimes even bump into other people who are either making their way to the opposite side or who are just leisurely standing by the fences, people like Ansari. Either way, these bridges are always filled with people from different walks of life.
Standing underneath the bridge, Ansari is least bothered by the hustle and bustle of the city, and the air pollution that seems to have engulfed Kathmandu's sky. On the contrary, he looks calm and composed. He pulls out a cigarette from his pocket, lights it and soon exhales a cloud of smoke that effortlessly mixes with the rest of the dust and smoke in the air.
"I normally spend all my day observing people and their activities from this bridge," he says, while a crowd of people wearing masks walk past him. "There are always new buildings being built, road constructions going on. I like observing these things; it's entertainment for me."
There are eight overhead bridges from the beginning of Sundhara (adjacent to Civil Mall) to the Jamal roundabout—encircling the once majestic Tundhikhel, one of the few open spaces left in the city centre. But that too is being encroached from two sides—there's an army barracks on the south and a newly built buspark on the north, which adds to more crowd spilling into the roads and moving up and down from these bridges.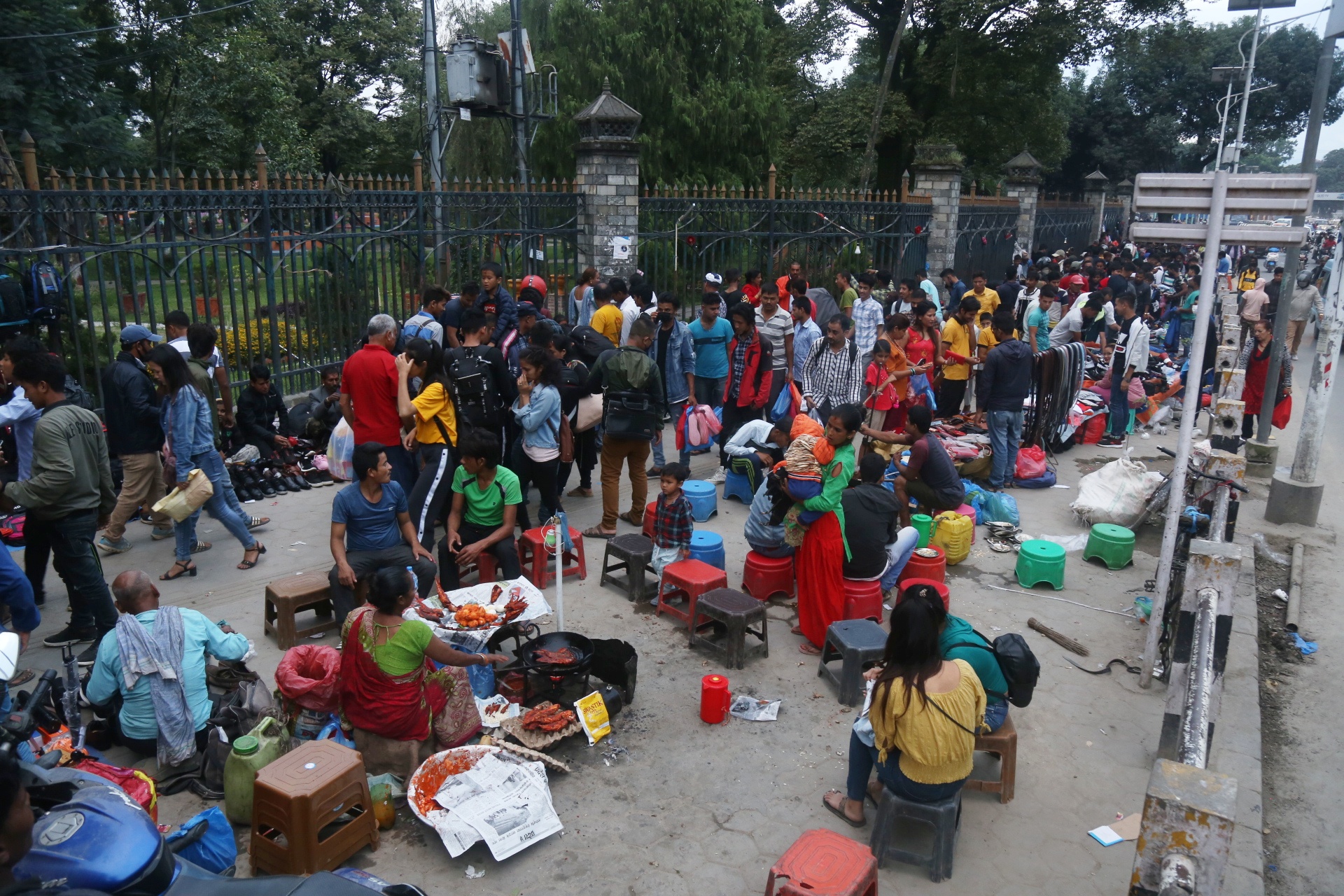 Kabin Adhikari/TKP
The stretch from Sundhara to Bhotahiti, which includes New Road Gate and a line of malls, is arguably the busiest place in Kathmandu. This street is lined with corner shops, offering pedestrians a host of products.
The bridges that exist in the area are also filled with vendors. There are street vendors selling almost everything, from dishwashing bars to baby clothes, even earbuds, both over and under the bridge.
Anju Singh's husband is one such vendor, who sells pineapples in a small basket under the overhead bridge connecting Ratnapark and Baghbazaar. Singh's stall is the only means of survival for her family of three. While her husband sets up the small stall and finds customers in the busy street, Singh stands on the bridge with her two-year-old daughter Sita. Although Sita keeps her occupied, running around barefoot through the stretch of the overhead bridge, Singh is vigilant of what is going on around her surroundings—she is there to spot metropolitan city officers coming towards her husband's stall and warn him ahead of time so that he can quickly pack up and flee to a nearby hiding spot.
"The business is the only way to sustain our living. We normally make around Rs1500-2000 per day if everything goes well, and our belongings don't get confiscated," says Singh.
The Kathmandu Metropolitan City does allow vendors into the streets before 9am and after 6:30pm to hawk their products. If caught, KMC's municipal police reprimand the vendors, hold up their goods for one month, and fine them. This has happened to Singh's husband too; five times, she says.
So, unlike others on these bridges, who are leisurely walking or standing on the bridge, Singh's facial expressions do not exude calmness even for a second. Singh is anxious. She cannot afford their stall getting spotted by the municipal police.
"I have to stand here on the bridge along with my daughter all day to make sure that my husband isn't caught. Of course, I don't like standing here, but I don't have other options," says Singh. "It takes away all the effort we've put in since the morning and are left with no earnings for the day."
Another street vendor Kamala Lokanti, who sells sliced pieces of cucumbers with khursani ko achaar (chilli paste) on the side just beneath a bridge in Sundhara, agrees with Singh.
The 55-year-old seems less bothered about the humdrum of ordinary life of people walking by. With a piece of cloth constantly in her left hand to wipe away drops of sweat off her forehead, Lokanti, originally from Sindhupalchok, has been working as a street vendor for almost a year now.
Settling herself at a corner of the bus station, she asks every passerby if they want a slice of cucumber. A lot of them just walk by, while a few of them stop and get a piece or two. Each slice costs around Rs20 and Lokanti makes around Rs400-500 per day.
Her eyes are constantly scanning the area—either for her customers or for metropolitan city officers. Although she doesn't have anyone like Singh who stands guard on the bridge to spot any police coming towards her, when someone like Singh hollers to their partners from above the bridge, Lokanti takes the cue and bundles up her goods and flees.
Despite the risk, people like Lokanti and Singh have to set up their stalls around the Ratnapark-Sundhara area because the place sees a lot of footfall, much more than any other part of the city. And amidst the increasing crowd, customers are not difficult to find. People from different parts of the country who come to the Capital for various reasons have to flock to the centre of the city, be it for shopping, visiting government offices or family and friends. If not for anything, this core city area is a transit point to get to the other parts of the Capital.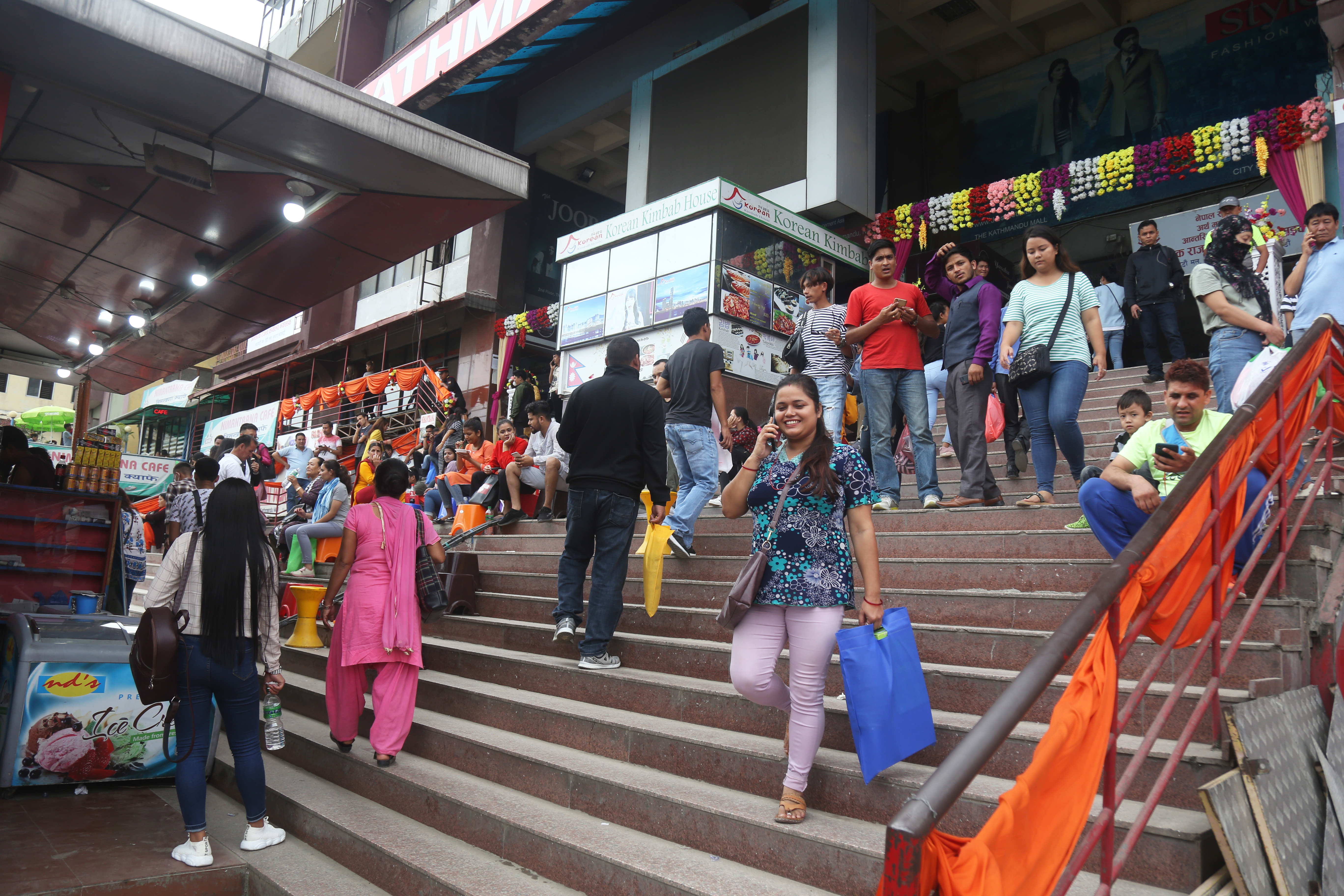 Kabin Adhikari/TKP
While a number of people hastily pass through the footpaths along Sundhara making their way to respective workplaces or educational institutions, Kalpana Gurung and Rubi Magar sit on the stairs at the entrance of Kathmandu Mall in Sundhara.
Gurung and Magar, both in their late 30s, came to Kathmandu from their hometown in Sindhuli to do some shopping. During their two-day stay, they say they plan on scouring the malls and mini-markets around the Sundhara-Ratnapark stretch.
"The malls and overhead bridges intrigue me because I don't see them in my hometown," says Gurung, who owns a grocery store back home. "But we rarely buy anything in malls, instead we go to discounted markets in New Road."
What they do in the malls and overhead bridges is window shop and observe people going about their lives—from mall stairs, public benches and overhead bridges. One might say that there is nothing titillating about the view from those bridges—it's just vehicles and people rushing through the streets, and sometimes a bunch of people crossing the road just beneath those bridges. But for people like Gurung, Magar and truck driver Ansari, it is a means of recreation.
Just across where Gurung and Magar are sitting and chatting, on the overhead bridge in front of the mall, Ansari produces a mobile phone from his pocket and starts taking pictures—a couple of selfies, and then pictures of vehicles and people below the bridge.
"This helps me relax," says Ansari. "There are other places too, but this is the centre of Kathmandu, and I don't have to pay anything for just sitting here."
---
---