Gunla baja vibrates across time and space with the change of guards
It's the holy month for Newar Buddhists, and young people are taking up traditional instruments—but does the music transcend caste and creed?

At Swayambhu, younger ones from different Newar communities take the centre-stage as they continue the age-long traditions of Gunla, a holy month for Buddhist Newars. Elite Joshi/ TKP
bookmark
Published at : August 9, 2019
At 5:45 am, the sounds of neku, dhaa baja, nayakhin, taa, bhusya, danga, jhyali, dabadaba reverberate in the periphery of Swayambhunath, one of the most revered Buddhist stupas in Kathmandu. People from the Newar community, young and old, are seen circling the hilltop while playing traditional Newar instruments. The early mornings of monsoon every year imbue a surreal mood with the stirring and compelling Gunla baja.
With the month of Gunla ongoing, a holy month for Buddhist Newars, Swayambhu is filled with throngs of people from different Newar communities keeping at its traditions of prayers and music. While the elders circle the Swayambhu reading tutah, Buddhist prayers, the younger ones—many clad in singular coloured T-shirts representing their khala, community—are absorbed in playing Gunla baja, which is said to be music the Buddha enjoyed listening to.
As the Gunla baja flows beyond the dome, bystanders at Swayambhu can't help but swing to the beats. The dedication of the young performers playing the Gunla baja is endearing. And while they are at the helm of carrying age-old musical traditions forward, the Gunla music in itself hasn't transcended a larger audience. Although many Newars are familiar with the traditional instruments and its music, the same cannot be said for the wider Nepali community.
"It's perhaps because we have been teaching the younger ones only to preserve the tradition that has been going on for more than a millennium. We never taught them to develop it further," says Pragya Ratna Tuladhar, a veteran of Asan Baja Guthi. Tuladhar previously also used to teach dapha baja.
The Gunla baja khalas usually play different musical notes like jati, palimaa, chowh, partaal, graha, lawantah. During Saturdays and on special occasions, they also play gwara, which has more than three variant rhythmic beats, and lasts from 7 to 20 minutes. "It's the same musical pieces that we have been continuing to play for years," says Swatantra Bahadur Tamrakar who teaches dhaa baja at the Tamrakar Gunla Baajan Khala. Today, the Gunla music embodies a homegrown sound that every Newar identifies a belonging with.
Elite Joshi/ TKP
However, there was a time when the community was threatened with the extinction of these traditional artforms.
"During the 70s, young people at the time didn't want to continue old traditions," says Swantantra Tamrakar. But, at Pignani Bahal today, Tamrakar looks assured overlooking his young students in the Gunla ensemble, garnering the vibrant energy. "The younger ones will not stop playing. This is for sure," he says.
But Tamrakar remembers being teased by his friends for participating in Gunla's musical procession to Swayambhu when he was younger. Even among siblings, he recalls fighting and forcing one another to play the gunla baja and making reasons to skip the morning parade at Swayambhu.
However, the age-old culture managed to survive with the determination of the veterans of the time who continued despite the absence of the youth. "I went around playing dhaa baja in Gunla even in my 50s, as they were very few people playing in the ensemble. We thought the tradition would die out but then it sort of revived again when different communities started competing with each other, but that energy too faded out soon," says Tamrakar.
It was in early 2000s, the Gunla ensemble started seeing more participation from the youth again, when women began learning Gunla baja and started participating in the musical procession to Swayambhu. "This time, there was more depth to their pursuits," says Tamrakar.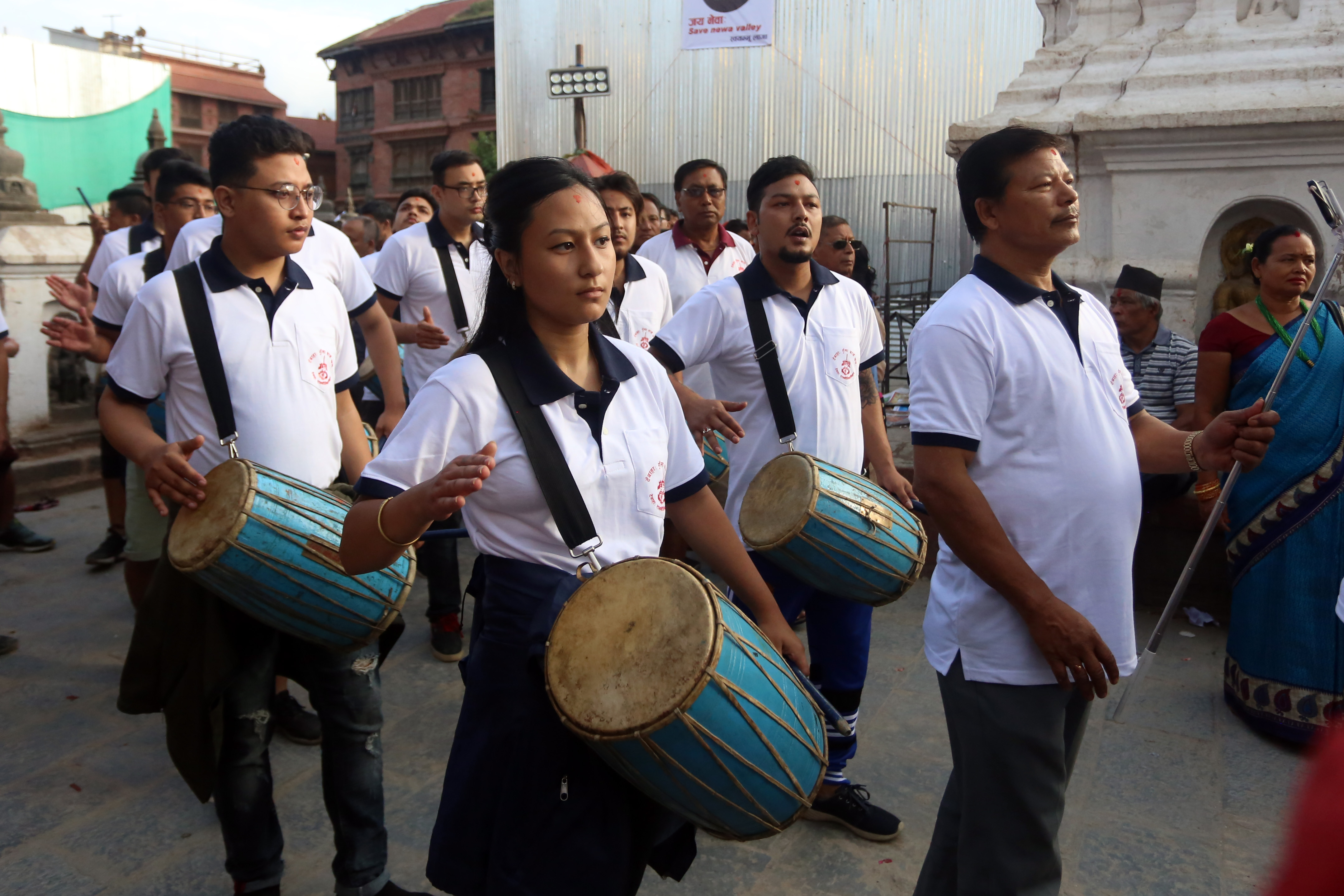 Elite Joshi/ TKP
Santa Man Maharjan, vice chairman of Jyapu Samaj in Patan, also credits the inclusion of women for the practice to gain momentum. "There was a time when we had to look for people to play, but now we have a handful of youth backing us," says Maharjan.
That's because the youngsters are loving pushing tradition forward. "We continue to play the Gunla baja because we enjoy it and we feel it's necessary to take the music to the future. It's not necessary that everything needs to evolve," says Ashish Shakya one of the younger instrumentalists of the Kirtipunya Mahabihar Kohiti Gunla Baja Khala.
"Why would we want to change prayer songs? What we do is more a cultural and emotional pursuit. We are not looking to innovate, we just want to safeguard what's important," says Shakya.
Like Shakya, many youths playing in the Gunla's musical procession believe they are giving continuity to their traditions. They say that the commitment itself makes way for the culture to thrive in the future. Shakya says there is so much they need to learn from the elders of their khala about Gunla music that developing the tradition further has never even crossed their mind.
"I have been playing for almost two years, and I enjoy the experience. The Gunla music is a part of our heritage, and I feel proud to play the instruments for my community," says Shreya Tamrakar, a 15-year-old who plays for the Tamrakar Guthi Khala.
"Transformation is a slow process, and it will take time for people to understand why traditional music needs to evolve," says Dr Lochan Rijal, musician and scholar of ethnomusicology.
Rijal has been documenting various ethnic music and analysing them for application as part of Kathmandu University's ethnomusicology project. "Up until recently, most of our knowledge of traditional music was being transmitted orally, but to really develop it further, we need to document Nepali music makers, their origin, and study their music to learn to make it applicable," says Rijal. "Only then, we will be able to contribute more to the growth of ethnic music."
But transformation in Gunla music hasn't really taken place, says Prayga Ratna Tuladhar. "Because that is how it's supposed to be, traditional music is traditional, it's not meant to be pop songs, it's soothing and therefore classic and maybe not for everyone," says Tuladhar.
But Suyogya Ratna Tamrakar believes that their khala is slowly expanding their horizons. A year back, youths of the Tamrakar Gunla Baajan Khala had performed with Kutumba, a popular Nepali folk band in a Jamarko programme organised in Ason as part of a heritage drive. "It was a surreal experience performing alongside the traditional group. They brought a different energy to the stage," says Rubin Kumar Shrestha, one of the band members of Kutumba.
Various Gunla baja khalas have also started playing their music in different Newar festivals like: Nhu Daya ( Nepal Sambat New Year's day), Seto Machhindranath Jatra and others. "Earlier, our elders thought how we do things should be a secret to others, and hence, even traditional instruments used to be hidden but now they understand that our music needs to be heard and needs more recognition," says Tamrakar.
Along with playing in festivals, the Gunla baja khalas have also opened their training for a wider public. "Learning Gunla baja is no longer limited to just a caste; anybody who wants to learn and be a part of the festival is welcomed to join," says Shakya.
Although the evolution of the Gunla music hasn't been intentional, transformation possibly has already seeped in through the participation of these young performers. People have described the vibrancy of their ensemble as intense and evolved.
"Each individual brings something of their own to the music, regardless of whether people are aware of the music's evolution," says Shrestha. "However, people need to understand traditional music to grasp a larger audience, as its scaling is different than that of western instruments."
While Gunla music has made the Newar culture more distinct, it hasn't been long since the teaching methodology of Gunla music became more well-organised and accessible.
"The teaching methods used to be oral; there were no notes. We followed the teachers' instructions, and it used to take forever to play the instrument—but it's different now," says Tamrakar. Today, young learners are provided with musical notes along with a description of the origin of the particular music they are learning.
"Because things have changed, maybe in the future the youths will make new music, but they still need to hone their skills. They are not experts yet and that's still a long way to go," says Tamrakar.
---
---