Once gushing with water, Nepal's springs are rapidly drying up
Springs across the mid-hills have been losing water for decades, but things have gotten worse since the twin earthquakes four years ago.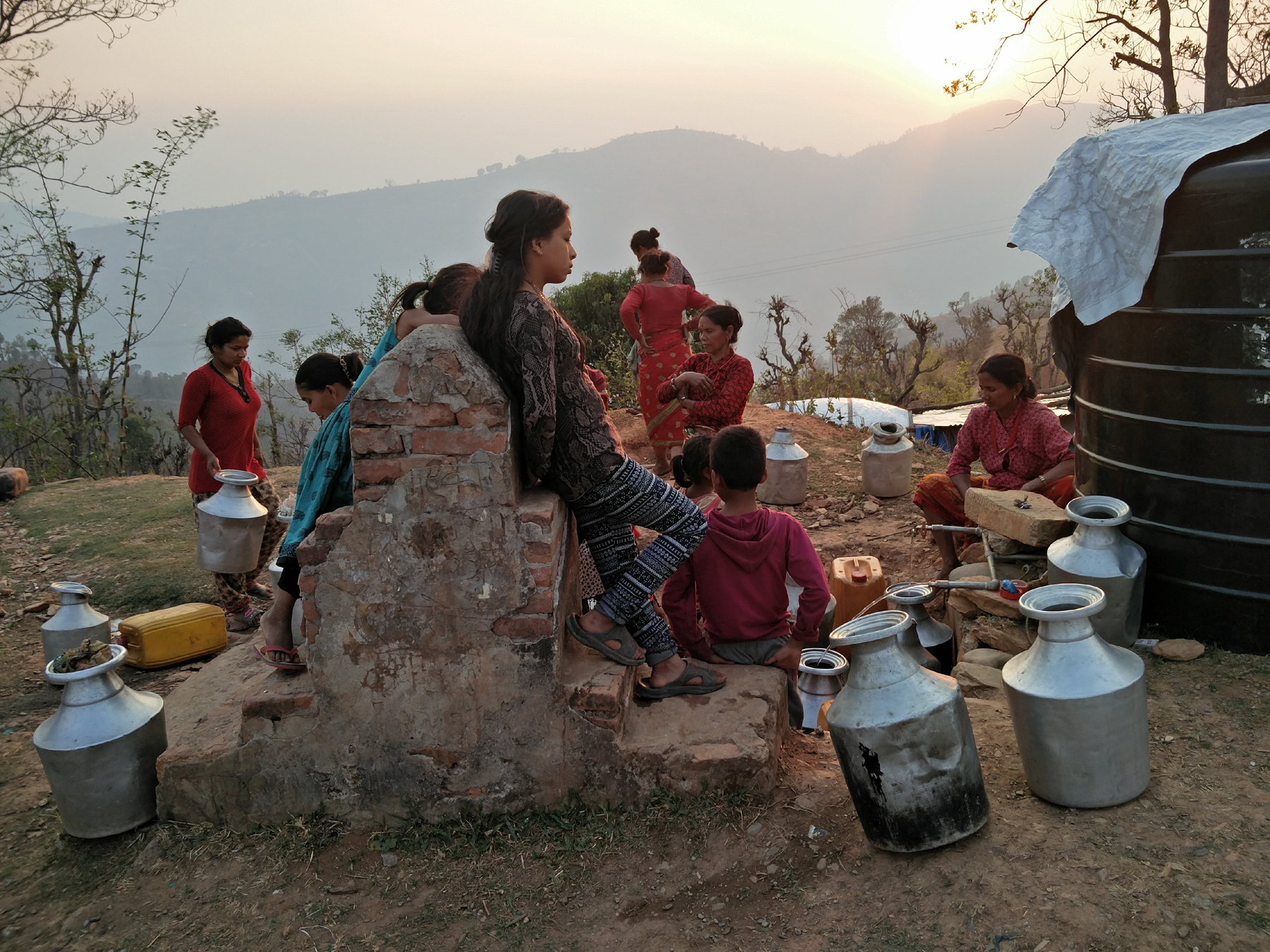 Women and children spend hours every day filling their jars with water in Sangachok, Sindhupalchok. Arpan Shrestha/TKP
Published at : November 29, 2019
Updated at : December 9, 2019 11:15
Padam Bahadur BK has been farming his whole life. In the monsoons, his paddy and maize fields would be lush green. The rainwater was enough and the springs emerged duly. His harvest would be sufficient to feed his family and his livestock, and for him to save.

Today, his fields are failing.
"Water started becoming scarce a long time ago here but it's been more severe in the last three years," said BK, a resident of Korthok, a Dalit community in Sindhupalchok. "My fields are so dry that it has developed deep cracks. But there's no water; the nearest river is at least a few hours' walk away."
In these dry fields, BK has now planted millet, as the crop does not need much water or tending to. To make ends meet, BK, now 78, welds iron all day despite his aging body and cloudy eyes.
Korthok is a small hamlet just 10 minutes from the main bazaar in Sangachowk. Like BK, many of the residents are subsistence farmers. But fields have been lying barren for lack of water for years, locals say. In villages like Korthok, which are perched high in the mid-hills, stories like these are an everyday reality—but even more so in remote districts like Sindhupalchok. The big rivers are far away at the bottom of deep valleys and springs become their only lifeline.
Despite their importance, the springs across the country's mid-hills are drying and disappearing, causing distress to people and geographical regions, and forcing some villages to relocate entirely. Experts believe haphazard road development, increasing population, and erratic rainfall patterns influenced by climate change are adding stress to groundwater reserves, causing springs to dry—a phenomenon that could destabilise the country, even the entire Himalayan region. Yet, springs are insufficiently mapped and hardly researched, and there are few efforts to understand and address the issue.
"The drying of springs signals a much larger problem: a natural system that's failing," said Madhukar Upadhya, a watershed management expert who has been researching springs in the hills for more than three decades. "Right now, the problem is not affecting larger communities, only small pockets, and that is why it's not becoming more visible."
Upadhya says because the springs have been drying rapidly for the past two decades, the sooner we can give the issue our attention, the better. "Because springs are connected with everything: the economy, agricultural production, sanitation, health, and development," he said.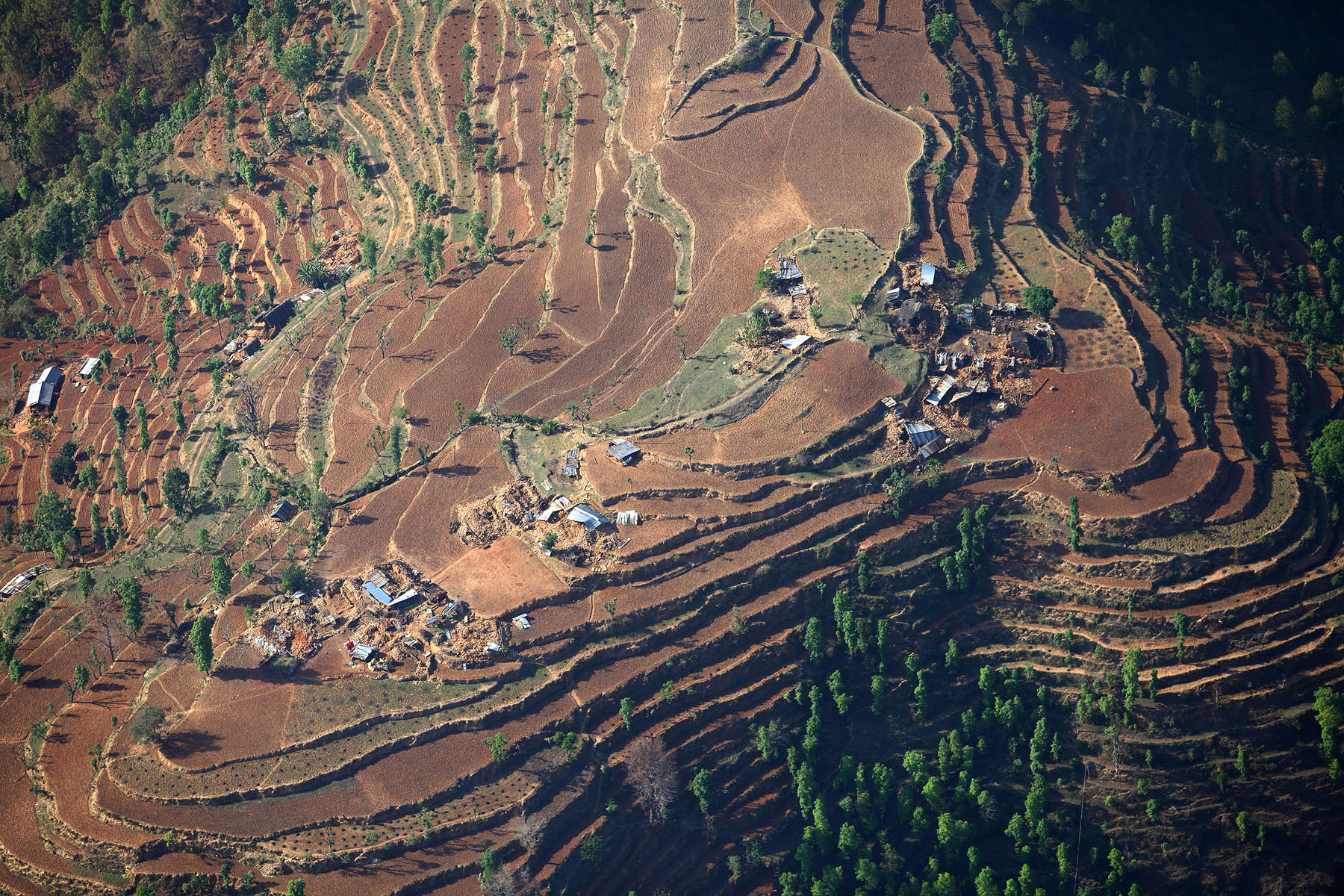 Immediately after the quakes, survivors faced a new problem as springs dried and disappeared across the mid-hills. In Sindhupalchok alone, 150 water sources were reported to have vanished. Post File Photo
The effects of drying springs
To understand just how important springs are and how much of an impact they have on the lives of the people in the mid-hills, Korthok can be taken as a case in point.
Here, villagers have access to just one communal tap, which almost 80 families rely on. But as winter begins to set in, the tap starts drying.
"When the tap dries up in peak winter, we have to get up all night and queue in front of it," said 32-year-old Laxmi BK. Neighbours stop speaking to each other and fights break out for water, she said.
In past winters, this source of water has dried up completely, said Laxmi. At times like these, she has to walk at least two hours to bring home one jar of water from a spring in Thulo Danda, Korthok, or down from the Bhadaure river.
The situation is so dire that a majority of people in Korthok say they have stopped keeping livestock due to a lack of water.
"After the earthquakes, the shortage of water became more acute. Until then, I was feeding my cattle the water I would save from washing vegetables and clothes," said Sunita Giri, a 41-year-old resident. "But it became too tough to sustain doing even that: it was either use the water in the vegetable garden to feed my family or use it to feed the cattle."
Others have tried adapting by adopting measures like harvesting rainwater. "But this only works when it rains," said Sita BK, who has built a system that collects rainwater from the roof into a water drum, and which can last her at least a week to feed her family of four.
This is not the only community suffering from water scarcity. Four years ago, after the earthquakes struck, in Gaurigaun at Bahrabise, 30 km further north on the Araniko Highway, 12 springs dried up and another two moved.
"Before the quakes, we could fill a 9,000 litre tank with water from two springs every day," said Ram Chandra Basnet, a local resident. "But now, one has dried and the other barely gives water. Suddenly, we have no water."
The National Climate Change Impact Survey 2016, submitted by the National Planning Commission of Nepal to the Intergovernmental Panel on Climate Change, states that 74.29 percent of total households across the mid-hills have observed changes in water sources and 84.47 percent observed a decrease in the amount of surface water. Almost all households (99.33 percent) reported that they have observed an increase in drought as a "climate induced disaster" in the past 25 years.
According to a 2013 report by the National Planning Commission, water sources in Panchthar district, an eastern hilly region in Province 1, and Gulmi district, in Province 5 in the west, have been drying up rapidly in the past decade. The government report had also declared 11 villages in Kavre drought-affected.
In some areas, the problem is so acute that people have abandoned or moved their villages. According to the same report, over the last 10 years, more than 850 households in Panchthar and 180 families in Gulmi have relocated. More alarming examples of relocation can be found in Upper Mustang, where a deepening water crisis pushed two villages—Dhey and Samnjong—to uproot themselves and move in search of water.
Then there are some villages that have enough water but inefficient management, like Kalleri and Bhudungey in Balephi, 13km north of Sangachok, in Sindhupalchok.
"The water source in Kalleri, which has around 40 families, is around two kilometres away from the settlement area," said Chabilal Neupane, chairman of Ward No.2 in Balephi. "Then there is Bhudungey, where the case is similar. There is enough water there too, but not enough budget to purchase pipes to supply water from the sources."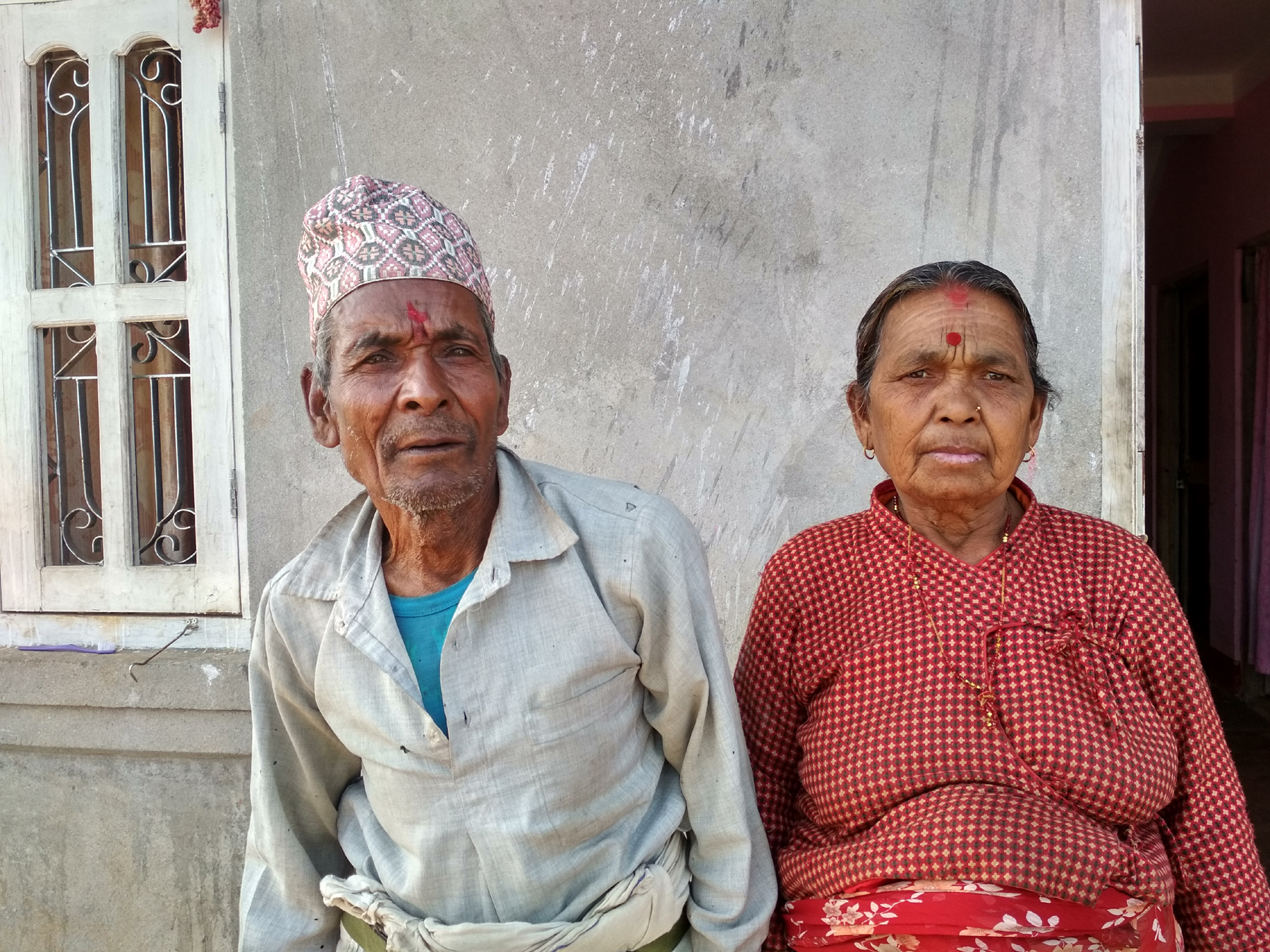 Padam Bahadur BK (left) says his fields have deep cracks due to water scarcity. Marissa Taylor/TKP
Why are the springs drying
A 2016 report by ICIMOD says an approximate 80 percent of the 13 million people who live in the hills and mountains of Nepal depend on springs as their primary source of water. These springs, according to water experts, are largely fed by groundwater that accumulates in underground aquifers during the monsoon. When the rain falls in the monsoon, the landmass of any watershed area collects the water. The water is gradually released in the form of springs and seepage, which then add up to become streams, which fall into rivers.
"The ultimate source of the springs is rainwater, which infiltrates the soil and seeps through cracks in the rocks before accumulating underground. Water is stored both in the soil and in the rock fissures, making a hill a 'water tower'," said Upadhya. But this water takes years to make it down to the rock fissures to become reserves, and whatever ends up making it down is just a fraction of the rain that falls; most of the rainfall escapes as surface runoff. All of this makes spring water very precious.
But as rainfall pattern continues to fluctuate, water retention has become more problematic.
"Rain that would fall over a week's time now could fall in a day. There's only so much water a watershed area can retain at a time, and when it receives more than it can absorb, most of the water does not get infiltrated," says Archana Shrestha, senior meteorologist at the Department of Meteorology and Hydrology. The rate of retention of any watershed area depends on factors like soil type, forest cover and road mapping, she says.
Also, the exact connection between precipitation and recharge, and actual extraction rates, remain unknown across Nepal. "The problem of over-extraction and failure to recharge groundwater appears to be almost completely overlooked, which is very concerning. None of the institutions involved in water supply in Nepal are concerned with the problem of groundwater in the hills—whether it is the government, the non-government sector, or development agencies," said Upadhya.
There are other factors that have exacerbated the drying of springs, like the increase in population and unsustainable land use. The biggest factor, however, has been road development, according to experts.
"The haphazard construction of roads has disrupted the preferential path of groundwater flow and lopsided the natural drainage channels on slopes," said Narendra Shakya, a professor of water resource management at the Pulchowk Institute of Engineering.
All this has affected springs, multiple researches show, lessening their flow, turning the perennial springs into seasonal, and forcing the seasonal springs to dry up completely.
"Traditionally, Nepalis have names for three types of springs in the mountains: the more or less permanent muls are at the foot of the hills, the one that emerge in July called asaare mul and then the shrawane mul that bursts in August," said Upadhya. "The timing of the springs indicates the extent to which the monsoon has replenished groundwater reserves in the hills. But in many parts of the hills, this shrawane mul has not emerged for the past two decades."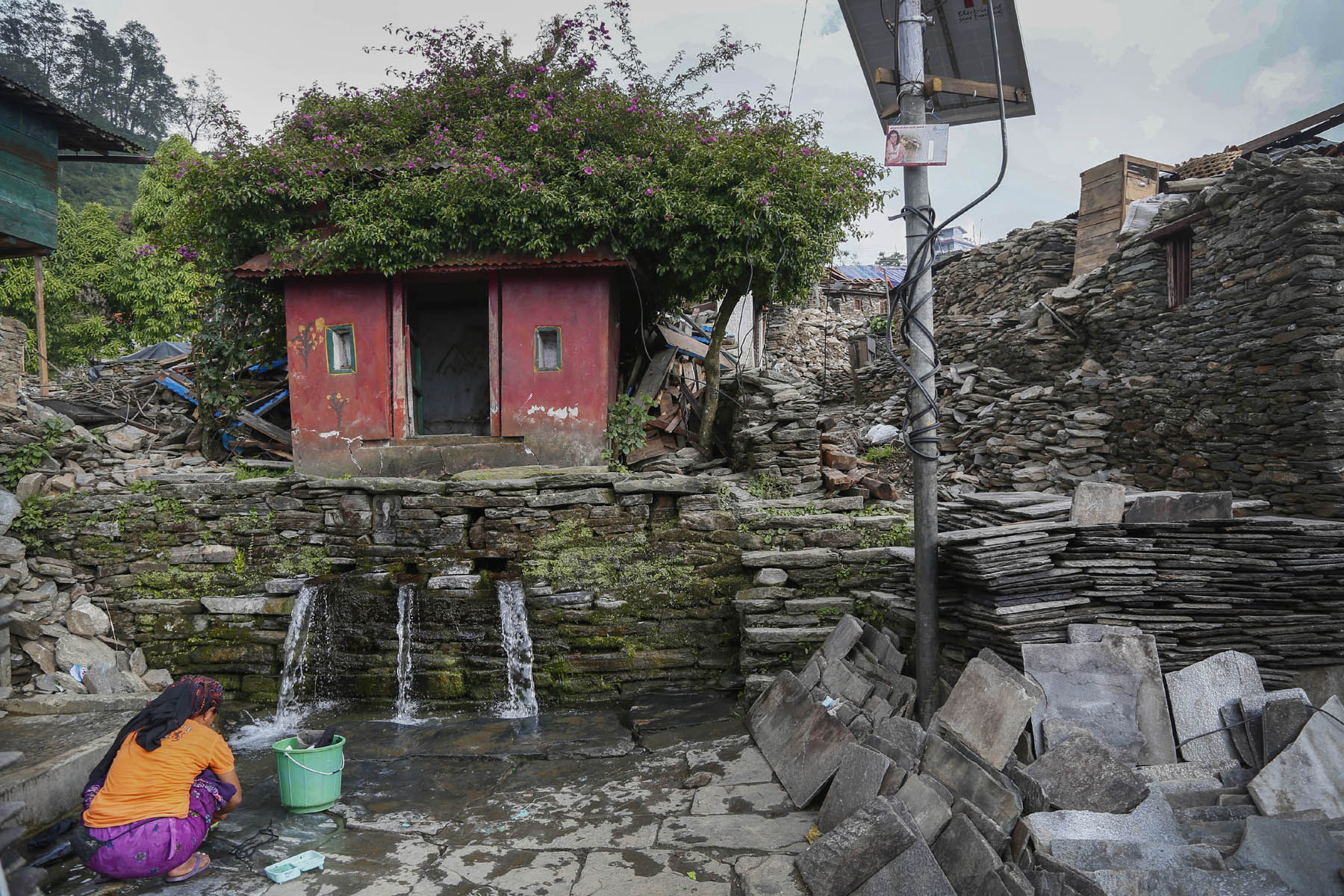 Even in places that do have water, there is lack of proper management. Post File Photo
Lack of focus on preservation
Immediately after the earthquakes, springs received a lot of attention, particularly in the 14 districts, including Sindhupalchok, that were worst hit by the disaster and witnessed acute water shortage. But four years later, this awareness too has disappeared. Over the years, many small projects have been undertaken by the government and non-governmental organisations, but not much progress has been made in terms of reviving springs.
"Every year, people come, take our pictures, make promises," said Sita, from Korthok. "But we still don't have water in our homes. The government should supply water to all its people—even if it is by drawing it from rivers down below the valley."
But conservationists, like Upadhya, say that focusing on short-term stopgaps is not a solution.
"That will be another mistake. We draw water from the springs; then we draw water from the rivers. In trying to find a short-term solution, we forget that we are missing out on the bigger picture," he said.
The questions Upadhya says people ought to ask are simple: Why are the springs drying and where did the water go?
"The problem is that our environmental problems are not defined by us; they are defined by the West," he said. "Problems that affect people in this part of the world are not considered problems unless they are legitimised by developed countries."
Across the mid-hills, there are approximately 60 climatological observatories maintained by the Department of Hydrology and Meteorology that collect information on localised rainfall patterns. This information is used to get a preliminary understanding of spring systems, but these systems are very complex; just the sheer number of springs--estimates say there are around five to seven springs per square kilometre across the mid-hills--is overwhelming.
Experts say the system that is in place is not enough. "We have data of up to 30 years or so, but not beyond that. To establish anything that could be of statistical significance from that information would just be speculation," says Shrestha, who works at the department.
This means the possibility of developing a springs revival plan with such limited information is bleak, especially when there are so many variables that come into play.
"Only after a nationwide thorough study of the water table is carried out and the path of groundwater flow is mapped can an approach towards conservation and revival of springs be decided," said Shakya.
Upadhya says there's a simpler solution, but it requires whole communities to come together. "You have to pepper these hills with ponds. The ponds will collect the water that would otherwise flush down hills as runoff and over a duration of time refill the groundwater reserves," he said.
Back in Korthok, Laxmi sits out in front of her two-room house, constructed from government aid after hers collapsed during the quake. She is drying her hair in the sun. Winter hasn't set in completely, and the communal tap near her home is not dry—yet. Bathing, for now, is not an issue.
"Everyone says the world is changing by the minute. Every time I go to Kathmandu, it is a different city, always changing, developing," she said. "And here we are in this corner, where some days it's tough to bring back home even one jar of water."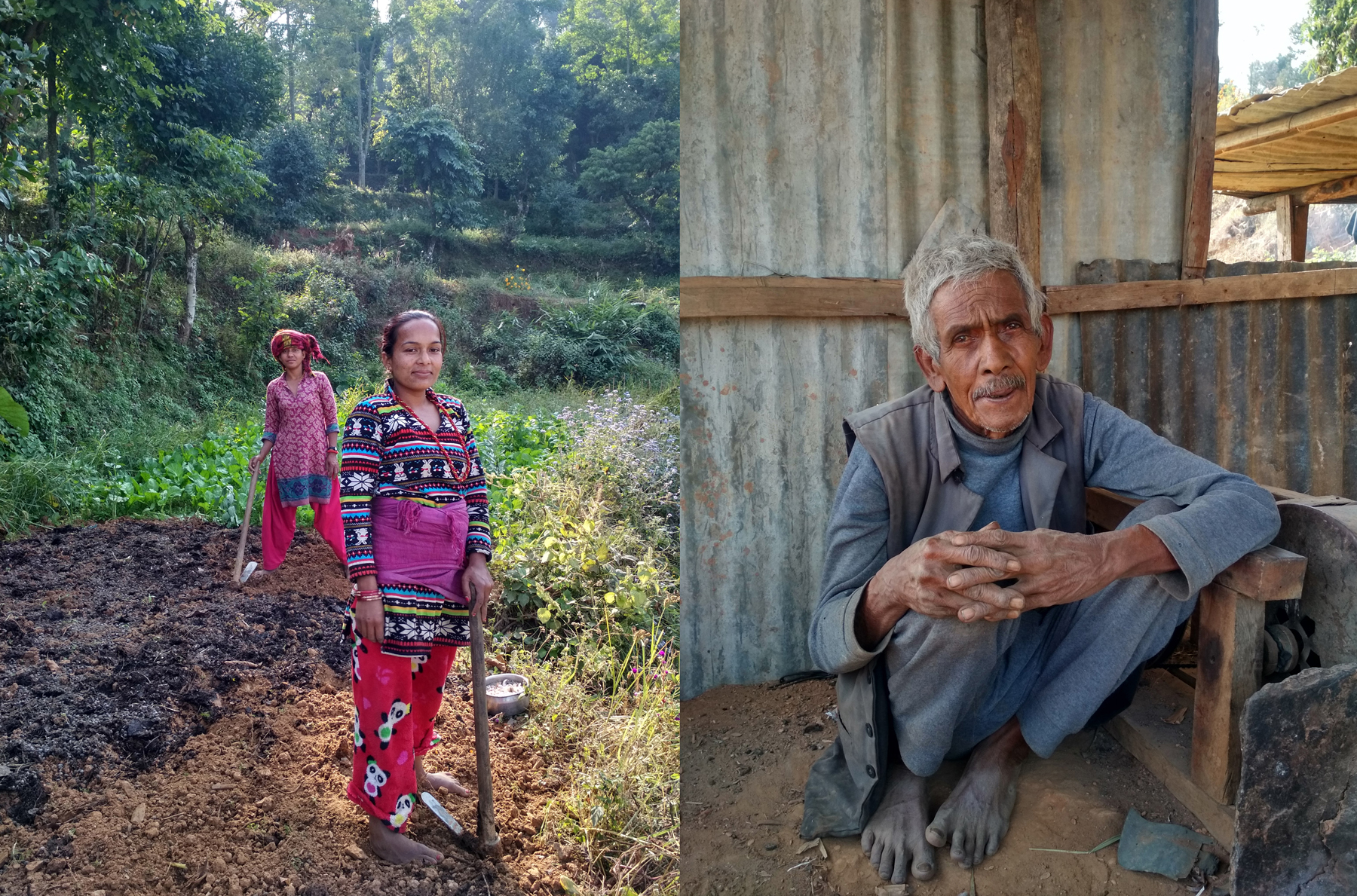 In Korthok, where Laxmi BK (front left) lives, scarcity of water affects agriculture. 80 years old Palman BK, from the same village, tells the same story of water scarcity. Marissa Taylor/TKP
Dear reader, we'd like to hear from you. We regularly publish letters to the editor on contemporary issues or direct responses to something the Post has recently published. Please send your letters to [email protected] with "Letter to the Editor" in the subject line. Please include your name, location, and a contact address so one of our editors can reach out to you.
---