Three regional parties join hands. Many see it as an alliance against Yadav
With their 14 seats in the House in total, against the JSP's 12, the three parties expect to have more bargaining power.

(From left) Mahantha Thakur, Ranjita Shrestha, and CK Raut Post Photo
bookmark
Published at : March 13, 2023
Updated at : March 13, 2023 07:57
Kathmandu
On Saturday, three parties based in the Tarai—Mahantha Thakur-led Loktantrik Samajbadi Party, CK Raut's Janamat Party and Nagarik Unmukti Party of Ranjita Shrestha—forged a working alliance vowing to press ahead with their common agenda.

To start with, they have fielded their own candidate for the Vice President election. This pits Mamata Jha against the ruling coalition's official candidate in which they are also the constituents and threaten to rupture in the emerging 10-party alliance.
However, many leaders and observers believe that the sub-alliance was an attempt to hold back the dominant leader of Madhesh– Upendra Yadav, who leads the Janata Samajbadi Party (JSP) having 12 seats in the House of Representatives. The three parties jointly hold 14 seats in the House.
Janamat's Jha has filed her candidacy against Ram Sahay Prasad Yadav—a senior JSP leader and member of parliament from Bara-2. From the JSP, Pramila Yadav is also in the Vice President fray. With the election office retaining Ram Sahay's candidacy, her candidacy has been redundant. The party had fielded both the candidates due to a dispute over the required gender of the vice-presidential candidate.
"We could not withdraw the candidacy of Pramila ji today [Sunday] due to our hectic schedule but our official candidate is Ram Sahay Prasad Yadav," said Manish Suman, spokesperson for the JSP. "The ruling coalition will convince Mamata Jha to withdraw from the race by issuing a statement soon."
Asked about the candidacy of Jha, Suman claimed that coalition leaders will convince them to take her out of the race.
The three-party alliance is said to be focussed on the possible by-election in Bara-2, to be vacated in the event of Ram Sahay's victory, where JSP's Yadav is expected to file his candidacy. The sub-alliance wants to stop Yadav, who lost to Janamat's CK Raut in Saptari-2.
"Upendra Yadav managed to get all the opportunities from the coalition," said a senior leader of Loktantrik Samajbadi Party. "The JSP, having its chief minister in Madhesh Province, got Vice President from the coalition. Now Yadav is putting all efforts to enter the House."
LSP chair Mahantha Thakur aspired to become the President or Vice President and lobbied for that. However, due to his party's poor show in the November elections, he could not muster enough support in Kathmandu politics for his bid.
With their 14 seats in the House in total, against the JSP's 12, the three parties expect to have more bargaining power. The Janamat Party has six seats while Nagarik Unmukti and Loktantrik Samajbadi parties have four seats each in the lower house.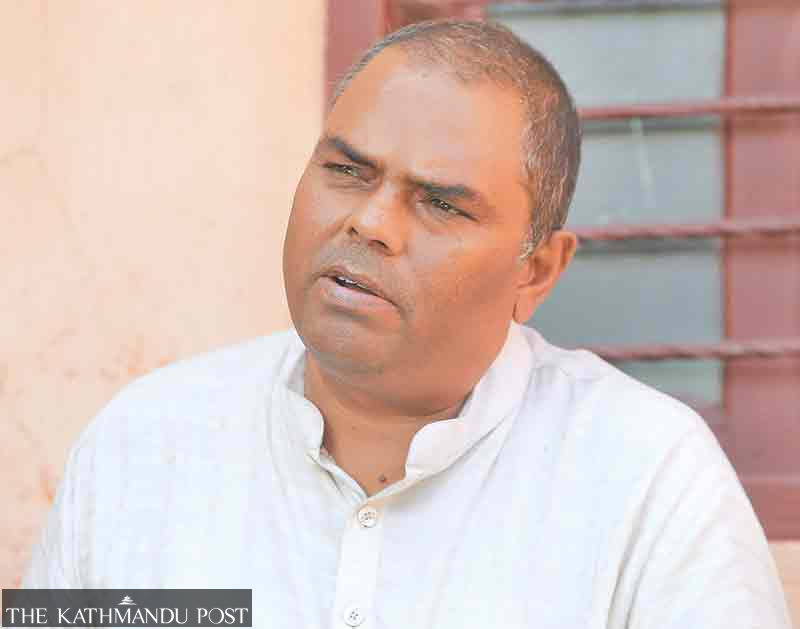 Post File Photo
Earlier Janamat Party and Nagarik Unmukti Party had forged a working alliance but Loktantrik Samajbadi joined them issuing a statement on Saturday as they forged an agreement to field their own common candidate.
"Since there was no agreement as such to award the vice-presidency to JSP, we have also fielded our candidate," said Chandan Kumar Singh, general secretary of Janamat Party. "We had earlier told the top leaders of the coalition about our claim."
Also because of JSP chair Yadav's personal ambitions and his "intolerant attitude" towards others makes him the target, according to Singh. "In terms of popular votes, we fare better than the JSP in Madhesh. And the party getting all the opportunities is unacceptable."
Yadav's wish to enter Parliament from Bara-2 by electing its lawmaker Ram Sahay as Vice President could be hard to fulfil as the three parties vow to check him. "Obviously, we will counter Upendra Yadav, who was defeated by our party chair and has no moral ground to enter Parliament immediately," said Singh.
Yadav, who shot to prominence after spearheading the Madhesh movement, lost to Raut in Saptari-2 with more than 18,000.
Analysts who follow Madhesh politics say the sub-alliance looks poised to last.
It is basically an anti-Upendra Yadav alliance, aimed at curbing his prospects in Kathmandu politics, said Tula Narayan Shah, a Madhesh observer. "They felt neglected by the top leaders in Kathmandu."
Shah said the alliance could even affect the by-election. "It would be too early to speculate but it won't be easy for Upendra Yadav to win in Bara-2," Shah said.
Some even believe this development may have an external influence since Yadav never had cosy relations with the southern neighbour while many leaders and cadres from his party were seen visiting China.
"In the past 15 years, we never found his relations with India good. That's because of his dual character—seeking India's support for politics in Madhesh and changing his stance in national politics," said Shah. "He has a good rapport with China as many leaders from his party have been junketing to China."
---
---