"I am the one leading the party" and six other newsworthy quotes from Prime Minister Oli's interview with Kantipur TV
Despite handing over the reigns of the ruling party to Dahal last week, Oli appeared to claim that he was still the one with the final say.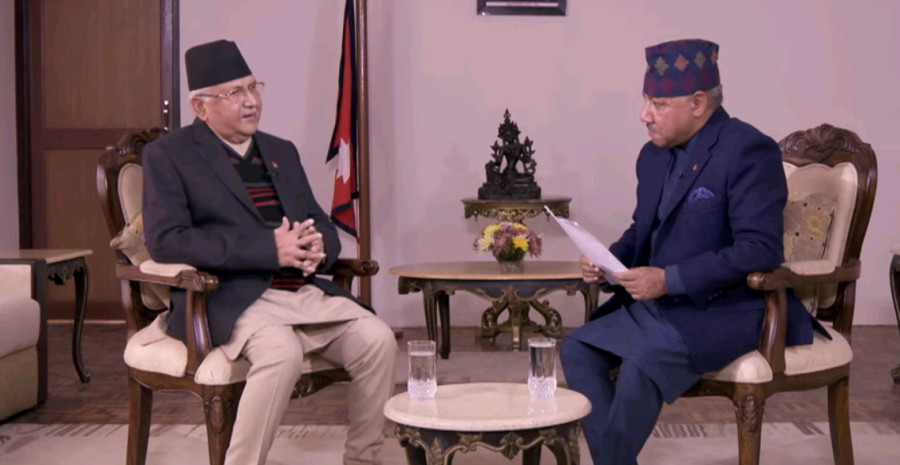 Screengrab via Youtube
bookmark
Published at : November 26, 2019
Updated at : November 26, 2019 16:22
Kathmandu
By now, it's no surprise to anyone that Prime Minister KP Sharma Oli doesn't shy away from telling exactly what he thinks. So when he sat down for an interview with Kantipur TV on Monday, Oli once again dived right in, addressing topics ranging from the ongoing furore over the Kalapani border dispute with India, last week's cabinet reshuffle, and his chemistry with Pushpa Kamal Dahal (Prachanda), NCP's newly appointed executive chair.

Here are seven things Oli said last night that are newsworthy:
On the ruling party leadership:
"I am the senior chairperson of Nepal Communist Party. There are two chairmen in our party. But I am the one leading it. [Prachanda and I] both are executive heads. Prachanda was a chairman and he continues to remain one."
On issues about his health and fitness to govern:
"You can see me right now. I have a problem with my kidney. I have had several dialyses. I might have to undergo a kidney transplant, too. Finding a match is difficult but the second transplant is not an issue to worry about."
On the ongoing protests over medical college fees:
"Medical college owners have been charging exorbitant fees for a long period of time; they must return the extra fees and should not take a penny more than what's been determined by the government."
On the Kalapani border dispute:
"The border issue is not new. The border was not encroached just yesterday. We have been reading and seeing the map of Nepal without our encroached territory [in the past as well]. This is a national problem, and it should not be seen as an issue to defame me. The issue should have been raised before."
We have enough evidence to prove that the disputed territory belongs to Nepal, such as old maps, tax receipts and previous census in those territories. So, there is no need to need to engage in provocative arguments."
On the division of authority with Dahal:
"Giving prime-ministership to Prachanda could have put brakes on unity and stability within the party. There was a tension in the party which we have finally resolved. I wanted to be more focused on the Cabinet. No prime minister has completed his five-year term in Nepal."
On nepotism and favouritism (particularly regarding Water Supply Minister Bina Magar):
"That question should be asked to the concerned party" [hinting at Dahal, who is Magar's father-in-law]
On concerns over President Bidya Devi Bhandari's involvement in Cabinet reshuffle:
"The president has not interfered in my Cabinet. Meeting with the president was a routine briefing. It is the responsibility of the Prime Minister to brief the President."
Watch the full interview below:
---
---