Gokul Baskota contradicts PM Oli and himself in Parliament
The government spokesperson asserts Monday's gathering was not a teleconference Cabinet meeting, but Oli's and his own tweets say otherwise.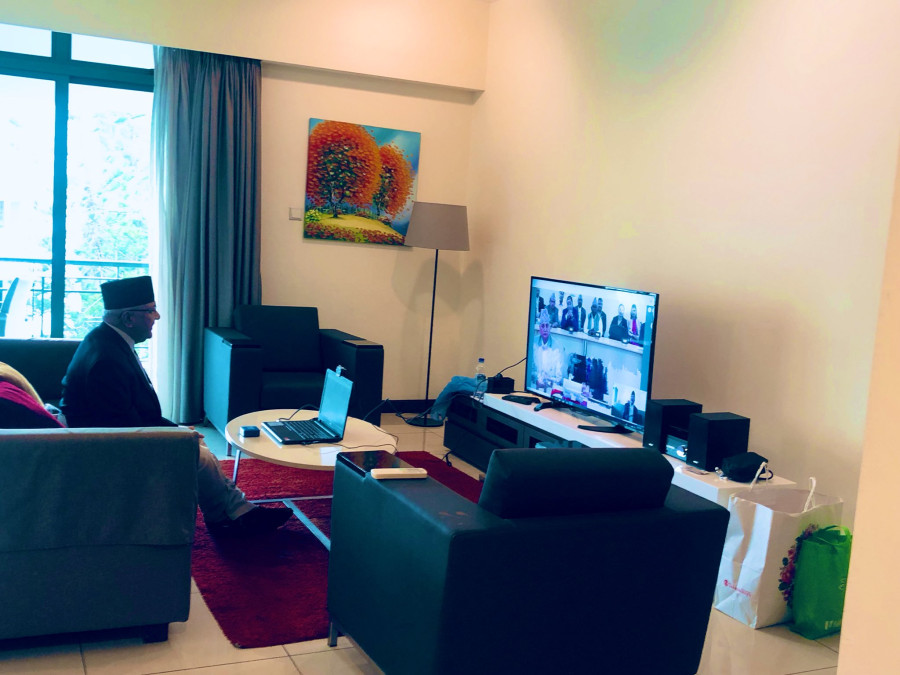 Photo: Twitter via @kpsharmaoli
bookmark
Published at : August 30, 2019
Updated at : August 30, 2019 19:18
Kathmandu
Minister for Communication and Information Technology Gokul Baskota, who is also the government's spokesperson, on Thursday told the House of Representatives of the Federal Parliament that the government had not convened its Cabinet meeting on Monday through video conferencing.

But Baskota's denial invited criticism from lawmakers, opposition party and the media. Criticism began when tweets from Prime Minister KP Sharma Oli and his chief advisor Bishnu Rimal started to circulate, indicating that teleconferencing had indeed been used for the meeting.
Critics are questioning the legality of such a meeting and the data security implications posed by it.
Oli and Rimal both tweeted photos of the meeting, with tweets that stated that the Cabinet's first teleconference meeting had successfully been conducted from Singapore. "I would like to thank technology and technicians. For the first time, we could hold the cabinet meeting from Singapore through telepresence. Thank you to all the members of the cabinet and all the helping hands of the secretariat of the office of the prime minister and council of ministers," Oli tweeted.
While Rimal tweeted, with some photos, "From Singapore to Kathmandu: For the first time Cabinet meeting is sitting through teleconference."
However, Baskota outrightly denied to the federal parliament that the Cabinet meeting was held through video conferencing. He insisted that the prime minister was just saying hello to his ministers from Singapore.
However, many lawmakers including Pushpa Bhusal, Prakash Rasaili Snehi and Prem Suwal are unconvinced. Lawmakers are also questioning the legality of the presence of the acting Prime Minister Ishwor Pokhrel in the meeting. "How can a cabinet meeting have two prime ministers?" said Rasaili in Parliament.
Baskota, however, reiterated that the meeting was not a Cabinet meeting and Pokhrel's position as acting prime minister would not remain once Oli returns home.
Despite Baskota's denial, his own tweet, on Thursday, seemed to confirm that Monday's meeting was indeed a Cabinet meeting.
"This is to inform all that today's press meet has been stalled because the last Cabinet meeting did not take any decision after last week's press meet," Baskota tweeted.
Following Tuesday's parliamentary meeting, Nepali Congress leader and former minister Gagan Thapa questioned who was saying the truth: Prime Minister Oli or Minister Baskota. "Dear PM, spokesperson Gokul Baskota has claimed that Monday's meeting was not a Cabinet meeting. Who among you two is the liar?" Thapa posted a tweet, retweeting the prime minister's tweet from Monday.
A lawmaker representing Nepal Workers and Peasants Party Prem Suwal said that lying in Parliament was a serious betrayal to the people. "It's a serious betrayal to the people's verdict with which government has been formed," Suwal told the Post.
Read: 'Don't party on Constitution Day' and seven other outrageous remarks by Communications Minister Gokul Baskota
---
---