Tharu community stresses reconciliation but will not give up on its demands
Participants at a conference marking four years of the Tikapur incident said that they would launch a decisive movement for a Tharuhat province.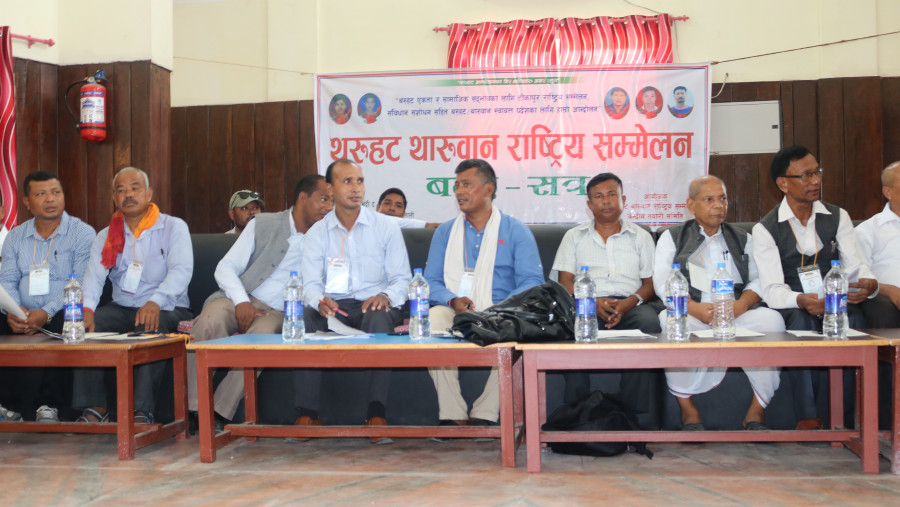 Leaders aligned with Tharuhat/Tharuwan attend the conference in Tikapur. Thakur Singh Tharu /TKP
bookmark
Published at : August 26, 2019
Updated at : August 26, 2019 12:45
Tikapur
Four years after the Tikapur incident, Tharu leaders have decided to continue the fight for their rights. The Tikapur incident, which occurred on August 24, 2015, was the deadliest in a series of demonstrations that were held along the plains in the run-up to the constitution promulgation. Nine people, including a toddler, were killed in the violence.
At an ongoing three-day Tharuhat/Tharuwan conference in Tikapur marking four years since the incident, Tharu leaders said there is a need to launch a decisive movement to press the government for a Tharuhat province.
A proposal was also tabled at the conference to demand the unconditional release of Tharu people who are serving jail terms for their alleged involvement in the Tikapur incident.
"Innocent people were jailed for demanding their rights. There is no alternative to a movement demanding an amendment to the constitution," Udaya Chaudhary, a participant from Udayapur, told the conference.
[Read: Resham Chaudhary and ten others sentenced to life for 2015 violence in Tikapur]
In the aftermath of the incident, Tikapur was under curfew for weeks. Tharu people were forced to flee as their houses were attacked and burned down.
While opinions were divided with local Tharus saying the deadly incident took place spontaneously, others said it was premeditated, deepening animosity between the Tharus and other communities.
Four years since the Tikapur incident, a semblance of calm has returned to Tikapur with locals gradually coming to terms with what happened that day and in its aftermath. Tharu leaders stress the need to move on and maintain social harmony, but they do not want to give up on their demands.
The police had filed cases against 58 Tharu activists, charging them with murder. The district court on March 6 convicted 24 of them. Eleven of them, including Resham Chaudhary, are currently serving jail terms. Resham won the parliamentary elections on the Rastriya Janata Party ticket.
"All Tharu people across the country are united in our struggle for dignity. We are ready to make any contribution to the cause," said Baliram Chaudhary from Sarlahi. "We should chart out a strategy and launch a movement."
Leaders of the Rastriya Janata Party and the Samajbadi Party Nepal as well as writers, including Yug Pathak and Khagendra Sangraula, were in Tikapur on Saturday to express their solidarity with Tharus and their cause.
Speaking at the inaugural session on Saturday, Sanghiya Samajbadi Party Nepal leader Baburam Bhattarai said that the Tikapur incident was purely political in nature and it happened during a struggle for rights. "It cannot be termed a criminal act," said Bhattarai. "If the Jhapa rebellion and the 'people's war' are political events, then the Tikapur incident also needs to be treated similarly."
The clash on August 24, 2015 was a result of simmering discontent among Tharus against a campaign called 'Akhanda Sudurpaschim', or Undivided Farwest, which was backed by the leaders of the major parties.
Two years after the Tikapur incident and eight months before the parliamentary elections, the government in May 2017 had decided to withdraw cases against all those who were in police detention. This decision was criticised by some sections as an "attempt to grant amnesty", forcing the government to backtrack.
After weeks of curfew and incidents of arson and indiscriminate arrests of Tharus, the Tharu movement gradually lost steam. The major parties pushed through a constitution a month later on September 20, 2015.
"The upcoming movement should be a decisive one. We should move forward cautiously. The mistakes that occurred during the protests should not be repeated," said Mohan Chaudhary, another participant from Bardiya.
Thakur Singh Tharu contributed reporting from Tikapur.
Dear reader, we'd like to hear from you. We regularly publish letters to the editor on contemporary issues or direct responses to something the Post has recently published. Please send your letters to [email protected] with "Letter to the Editor" in the subject line. Please include your name, location, and a contact address so one of our editors can reach out to you.
---
---