Earthquake wreaks havoc in Jajarkot, Rukum West
As of Saturday night, 157 were confirmed killed and 375 injured in the quake with the epicentre at Barekot Rural Municipality of Jajarkot.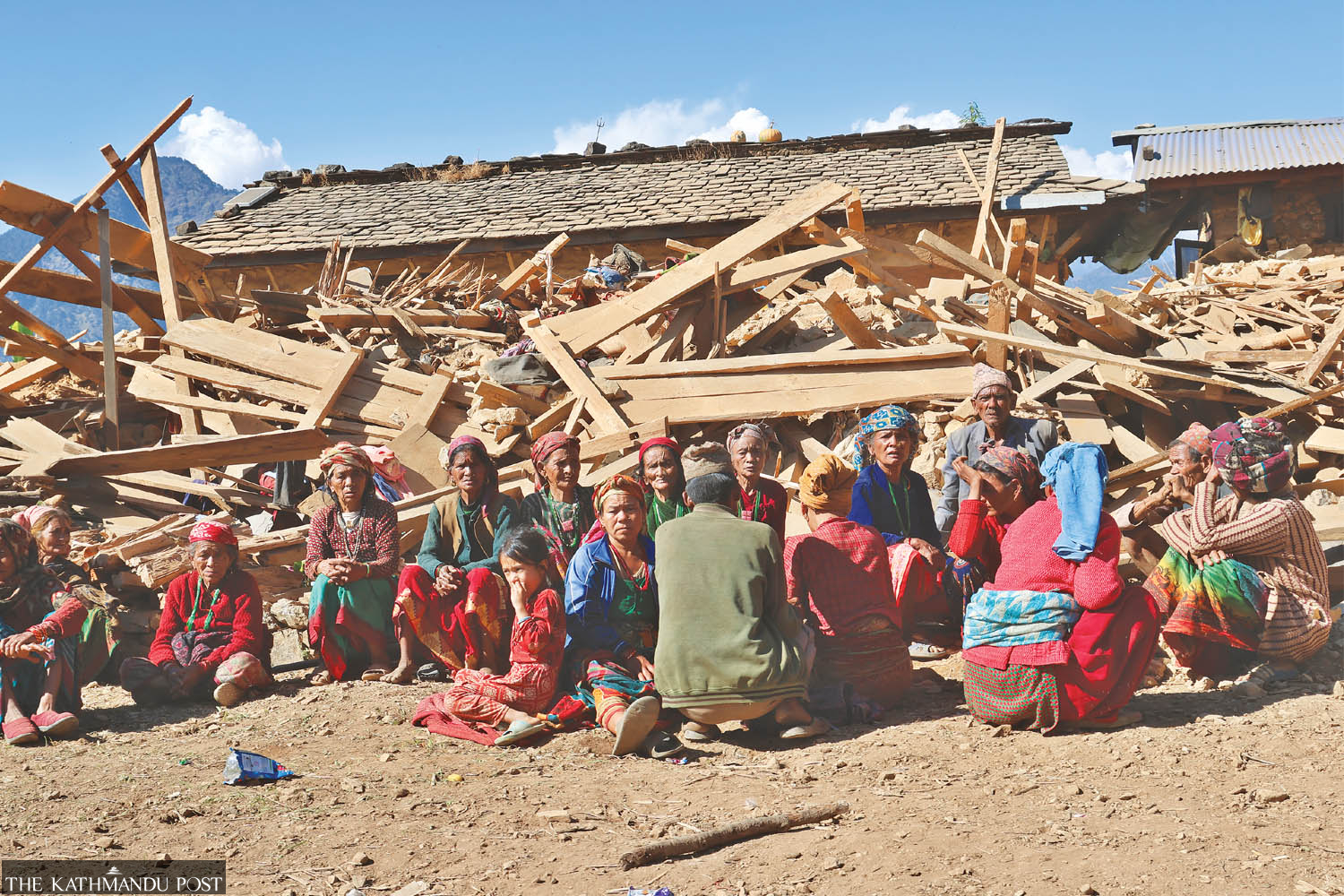 Survivors pictured near houses destroyed in Friday's earthquake at Aathbiskot Ward 14 in Rukum West on Saturday. As many as 27 people died in the ward. Up to five members of a family were killed there, according to police. Mahesh KC/TKP
Published at : November 5, 2023
Updated at : November 5, 2023 07:11
Pampha Rawat, a resident of Bheri Municipality-1 in Jajarkot, was speaking to her eldest son in India over the phone when the 6.4 magnitude earthquake rocked the district at 11:47 pm on Friday.
The land beneath her suddenly shook violently and she was flummoxed. The house collapsed and all four members of Pampha's family, including her husband and their two sons, were trapped inside.
"Our neighbours pulled us out of the debris at around 8 am on Saturday. God saved us," Pampha told the Post on Saturday. The family members, who sustained minor injuries, are undergoing treatment at the district hospital. Six members of another family died in the earthquake at Rawatgaun of Bheri Municipality-1.
Hardly any house remains intact in Khalanga, the district headquarters of Jajarkot, or the entire district. The authorities are yet to assess the total damage.
The devastating earthquake has caused huge losses, mainly in Jajarkot and Rukum West districts of Nepal.
As of Saturday night, at least 157 were confirmed killed while over 375 have sustained injuries in the earthquake with its epicentre at Barekot Rural Municipality of Jajarkot.
"The entire district lies in ruins," said Deputy Superintendent of Police Santosh Roka. "We have prioritised rescue work. We are yet to ascertain the number of houses and public buildings that were destroyed."
According to Roka, 105 people died and around 350 others were injured in Jajarkot, a hill district of Karnali Province. Other 52 people were killed in the neighbouring district of Rukum West.
Around 100 injured are receiving treatment at the district hospital. Chief District Officer (CDO) of Jajarkot Suresh Sunar said that treatment of the injured was hampered by the lack of health workers, equipment and medicines at the hospital. "We have asked for more doctors and medicines from Surkhet and Nepalgunj," said Sunar.
The district hospital has 50 beds. "We are compelled to treat the injured on the floor and out on the veranda," said Dambar Bahadur Singh, chairman of the hospital management committee. As many as 10 injured persons brought to the district hospital had died without treatment. Dambar said that the situation eased somewhat with the arrival of health workers from Nepalgunj, Surkhet and Kathmandu.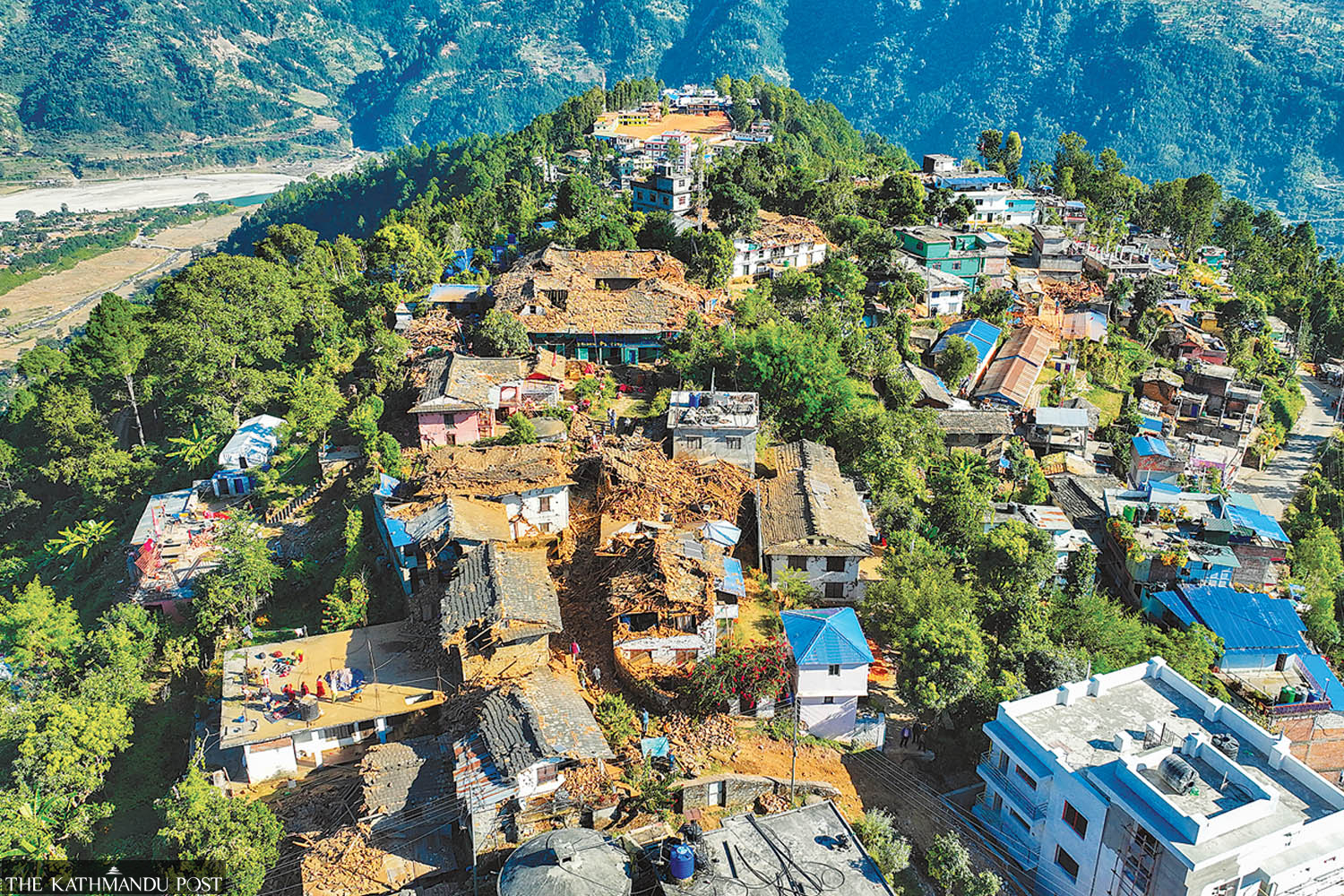 This photo taken with a drone shows the site of three centuries-old Charnal palace in Jajarkot in ruins. Harihar Singh Rathore/TKP
According to CDO Sunar, almost all of the stone-and-mud houses in the district have been damaged. "We are still working on rescue and relief. The exact extent of death and destruction has yet to be assessed," he said.
Sunar added that more than 50 public buildings, including the historic Jajarkot Palace, have been damaged. "The district administration office, the district land revenue office and the district survey office were destroyed," he added.
Meanwhile, in the neighbouring Rukum West, at least 52 people have been confirmed dead in the disaster. According to the District Police Office, the quake hit the Aathbiskot Municipality and Sanibheri Rural Municipality the hardest.
As many as 27 people died in Ward 14 of Aathbiskot Municipality. Up to five members of a family were killed and many houses were destroyed in the disaster, police said.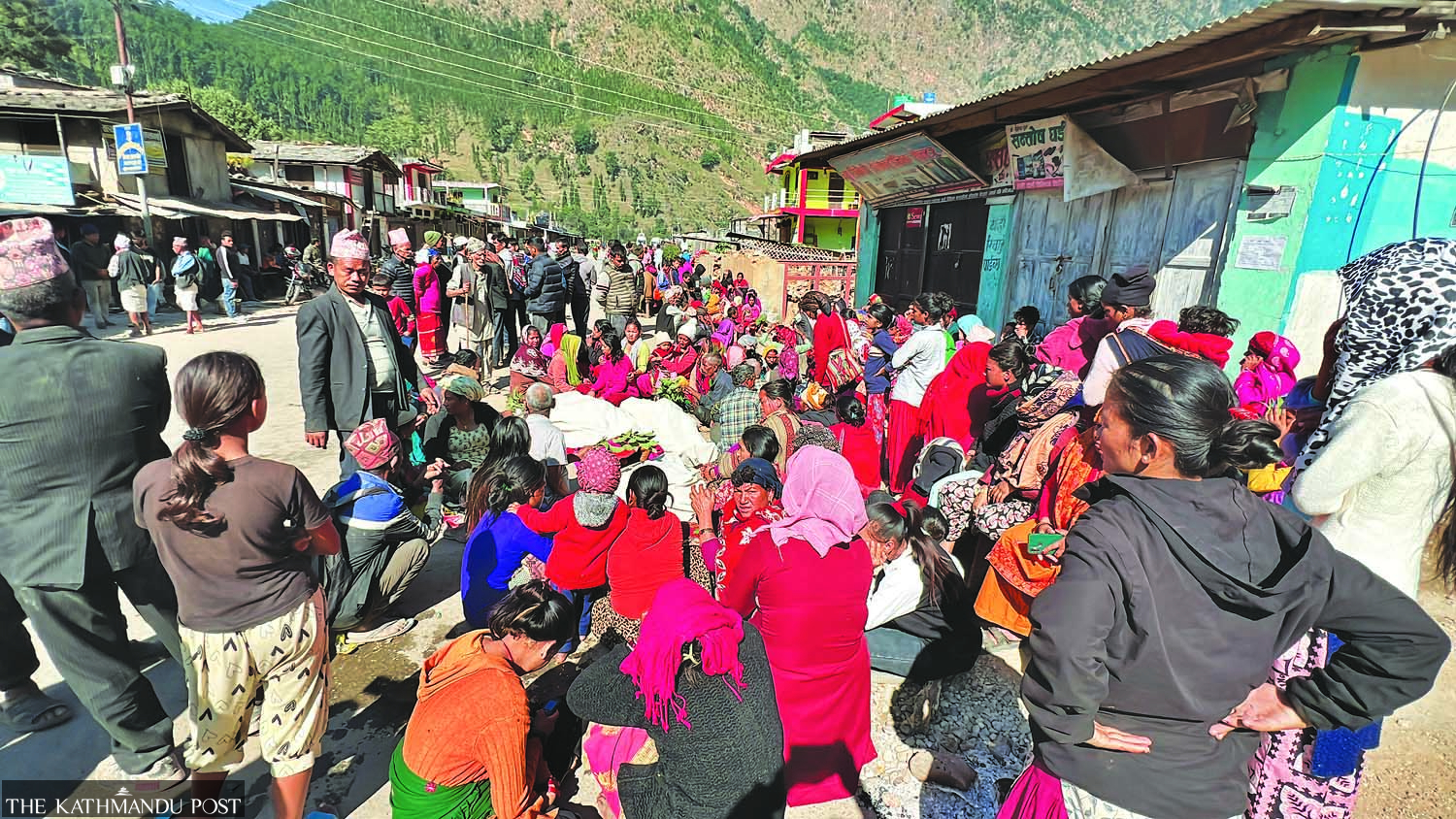 Locals gather around the dead bodies in Aathbiskot-14, Rukum West on Saturday afternoon. Mahesh KC/TKP
According to Ganesh Malla, a local, Amrita Malla of Jyamirekot of Aathbiskot-14 and four of her guests died in the earthquake. Saraswati Jaisi of Chhepare settlement of the same ward has a similar ordeal. Her house now lies in ruins. She lost her daughter-in-law Amrita, aged 30, and three grandchildren—Nisha, 8, Bhagawati, 6, and Dipesh, 2.
"I was trapped and fell unconscious after the house collapsed. I found my daughter-in-law and grandchildren dead when I regained consciousness a few hours later," said Saraswati, tears welling in her eyes.
Almost all the houses in Aathbiskot Municipality and Sanibheri Rural Municipality have developed cracks. Half of the damaged houses are unsafe to stay in. Residents complained that they had no place to stay, nor food to eat. "My house has been damaged. The building of a local school that could have been a possible shelter has also developed cracks. Where should we take shelter now and what shall we eat?" said Maiti Chand of Aathbiskot-13.
Meanwhile, three people including two children from Salyan died in the earthquake in Rukum West. According to Salyan CDO Bed Prasad Kharel, three-year-old Basudev Budha of Kupinde Municipality-4, Bhumika Malla, 25, of Darma Rural Municipality-6 and her four-year-old son Lekhnath died in the quake. They had gone to their relatives' home in Rukum West.
Yadav Mahara of Nalagad Municipality-1 was at home when the earthquake struck the district. Luckily, he was awake even at 11:47pm. He quickly took his wife and children out of his stone-and-mud house even as the shaking continued.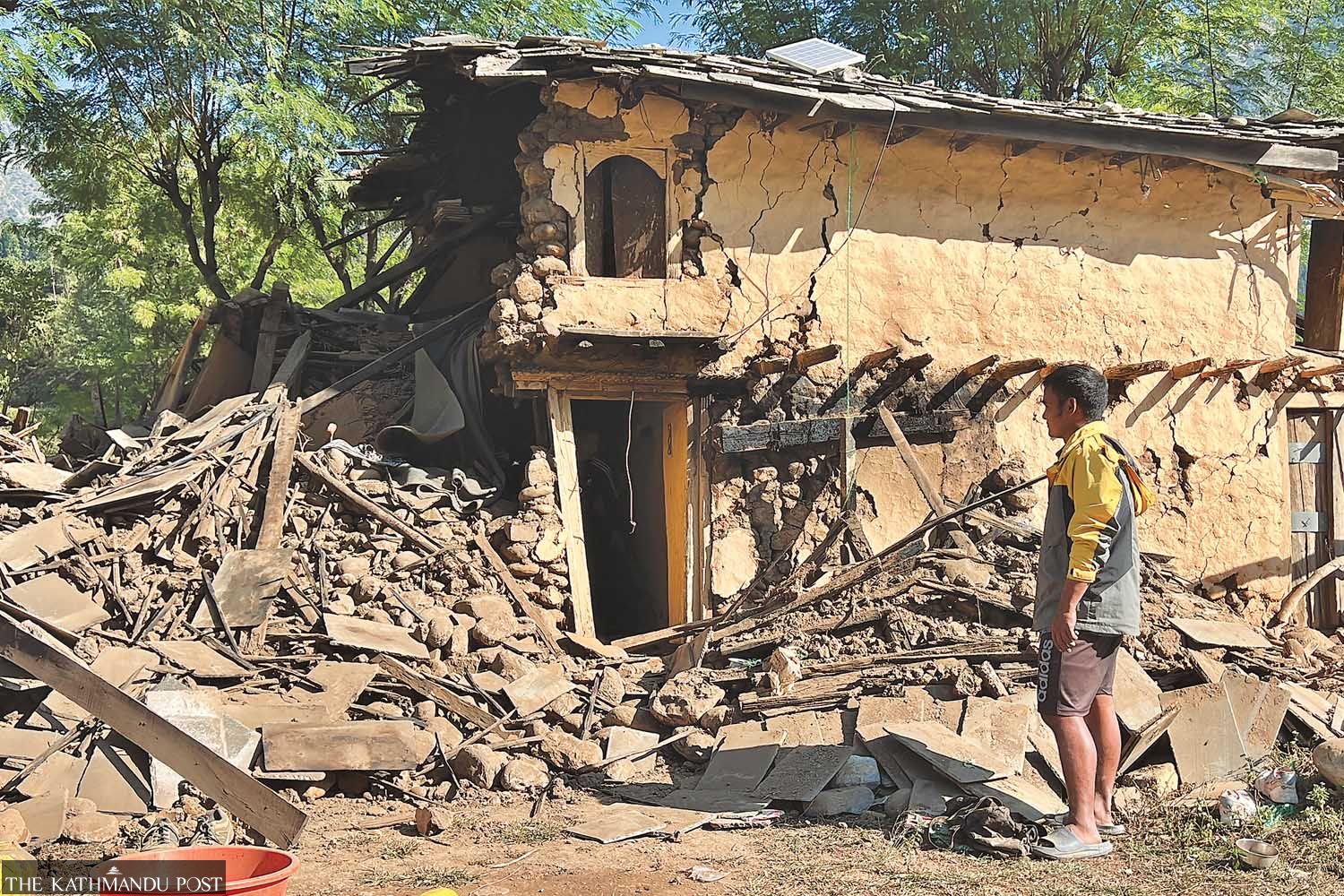 A man inspects the remains of a house destroyed by the quake in Aathbiskot-14 on Saturday. MAHESH KC/TKP
"I thought I had to take my family members out quickly," said Yadav. However, the flying debris hit his son's head. The three-and-a-half-year-old boy was rushed to Nepalgunj, where he is receiving care at Bheri Hospital.
Yamuna Rawat of Rawatgaun in Bheri Municipality-1 sustained injuries in her head and waist. Her husband was badly injured when he was trapped in the debris of their collapsed house. She saved her three-year-old son. "We survived. My husband was rescued after two hours and brought here [to Nepalgunj]," said Yamuna.
A total of 33 injured were taken from Jajarkot to Nepalgunj. According to Shrawan Kumar Pokharel, the chief district officer of Banke, one of the injured died in the course of treatment on Saturday evening while 32 are still being treated at Bheri Hospital. Eight of the injured were reportedly in critical condition.
Deputy Mayor of Nalagad Municipality in Jajarkot Sarita Singh died in the disaster. According to the District Police Office, she died when the house she was staying in collapsed at Khalanga.
Critically injured Singh was rescued and rushed to the hospital but she died en route, said police. According to the deputy mayor's family, she had gone to the district headquarters the previous day to attend an event.
Singh was elected deputy mayor for the Nepali Congress in the local level elections last year. The 38-year-old was an emerging leader, having worked on the party's district committee.
(Rupa Gahatraj in Nepalgunj and Biplab Maharjan in Salyan contributed reporting.)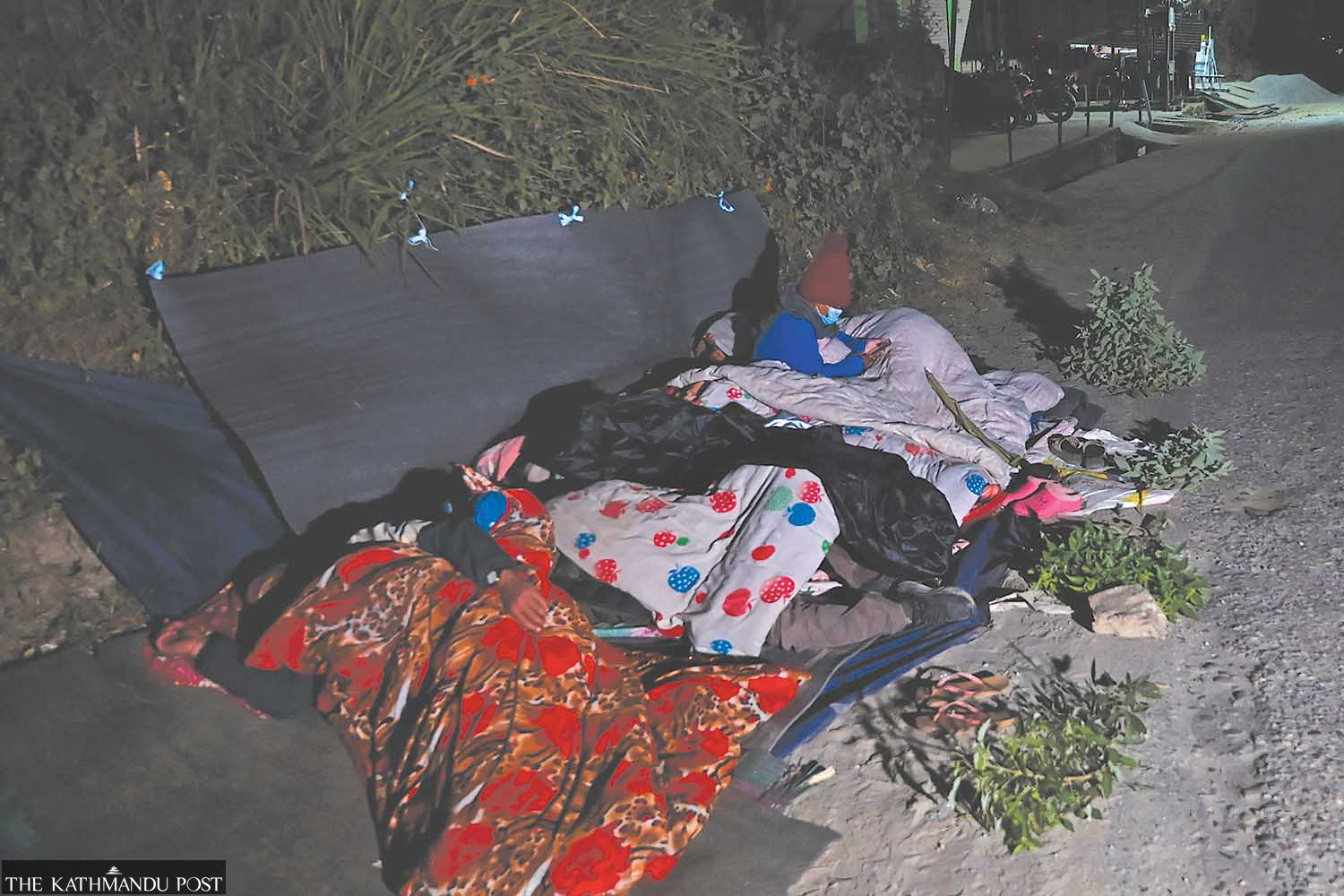 Locals sleep at the roadside under the open sky fearing aftershocks of the devastating 6.4 magnitude earthquake inKhalanga, the district headquarters of Jajarkot, on Saturday evening. Angad Dhakal/TKP
---