Rampant use of minors in election campaigning reported
Authorised monitoring teams have reported as many as 165 incidents of use of minors in poll-related activities.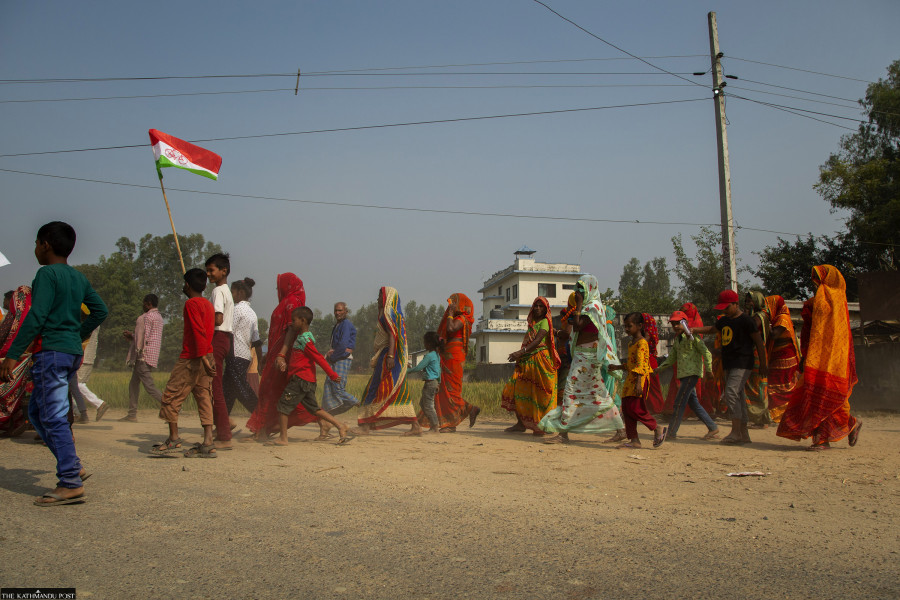 Section 66 of the Act prohibits organising children for political purposes or using them during a strike, shutdown, transportation strike, sit-ins or rallies. Prakash Chandra Timilsena/TKP
bookmark
Published at : November 20, 2022
Updated at : November 20, 2022 07:02
Kathmandu
Using children below 18 years of age in political activities is a criminal offence according to the Act Relating to Children. Mobilising children in election-related activities is liable to fines and imprisonment.
Yet political parties and candidates contesting Sunday's election have been found using minors in publicity campaigns, election monitoring by different organisations suggests. Moreover, the parties and the candidates have been using schools for mass meetings.
The monitoring teams from the National Human Rights Commission have reported 165 incidents of use of minors by the candidates and their parties. They have been used in door-to-door campaigns, rallies, cultural programmes, on Tik Tok videos and in pamphlets distribution, according to the constitutional human rights watchdog. The commission has mobilised 32 High Level Monitoring Teams in 67 districts for election monitoring.
"Candidates from major political parties are ahead in using children in election campaigning," said Tika Ram Pokharel, spokesperson at the commission. Child rights activists say that despite repeated commitments from the political parties, the use of children in election and party activities has continued unabated ahead of Sunday's election.
Monitoring by the "Children as Zone of Peace National Campaign", an umbrella body of the non-government organisations working on child rights, has recorded up to 204 incidents of use of children since the nominations last month. As many as 25 incidents of use of schools for election-related activities by the parties were reported during the same period.
"Based on our monitoring, we report to the Election Commission on a daily basis, requesting action," Rajesh Sharma, chairperson of the campaign, told the Post. "The commission, however, hasn't taken any stern measures, except seeking clarifications."
Those violating the law related to children include Minister for Industry, Commerce and Supplies Dilendra Prasad Badu, who organised a mass demonstration at a school in Darchula, and the former member of the National Assembly and CPN-UML leader Komal Oli, who held an election campaigning event at a school in Dang.
Sharma said the campaign was expecting the commission to at least fine those who are found to have used children or used schools for election-related activities. The commission, however, has only sought clarifications in around 2o of such incidents.
Section 66 of the Act prohibits organising children for political purposes or using them during a strike, shutdown, transportation strike, sit-ins or rallies. Similarly, Section 71 says one found involved in such activities is liable to a fine of up to 75 thousand rupees and imprisonment for up to three years.
In addition, the use of children in election campaigning and the use of schools is tantamount to violation of the election code of conduct. The commission can fine the violators up to Rs100,000 or even scrap their candidacy. The commission can itself take actions in cases of code of conduct violations; when the activities are against the Act, it can write to the respective district police offices to take action. It is the district court that takes a decision, based on the police investigation.
"While it is prohibited by the law, most of the parties expressed their commitment to respect children and schools as a zone of peace, in writing," said Sharma. "However, neither the law is followed nor do the parties abide by their written commitments."
Following intense lobbying by various non-governmental agencies and stakeholders, the government had, on May 25, 2011, declared the academic sector as a zone of peace and barred all kinds of political activities in academic institutions. A dozen of major and fringe political parties also made a joint commitment to keeping schools and colleges and children free from political activities and not hampering the teaching-learning processes at the educational institutions.
"I would like to remind the parties to recall their own written commitments while urging the election commission to set a precedent by taking stern actions in such incidents," Sharma said.
---
---