People vote with hope and fervour even as they resent politicians, parties
There are some reports of violence in different parts of the country, but the vote was largely peaceful.

Keshav Thapa/TKP
bookmark
Published at : May 14, 2022
Updated at : May 15, 2022 11:53
Kathmandu
"I am a bit nervous but excited too," said Anurag Timilsina as he stood in a line to cast his vote on Friday morning at a polling centre at Bhadrakali Adharshila School in Budhanilkantha Municipality, north of Kathmandu.
Timilsina, 21, from Sheraphant of Budhanilkantha Municipality was voting for the first time.
A student of BSC (Hons) Computing at Softwarica College in Dillibazar, Kathmandu, Timilsina is one of the 3,659,299 new voters for the local elections that were held across the country on Friday.
A total of 17,733,723 voters were registered for the polls.
"I will cast my ballot for the candidates based on their qualities and potential," Timilsina told the Post before voting.
Young people like Timilsina the Post spoke to said that they preferred individuals over the parties.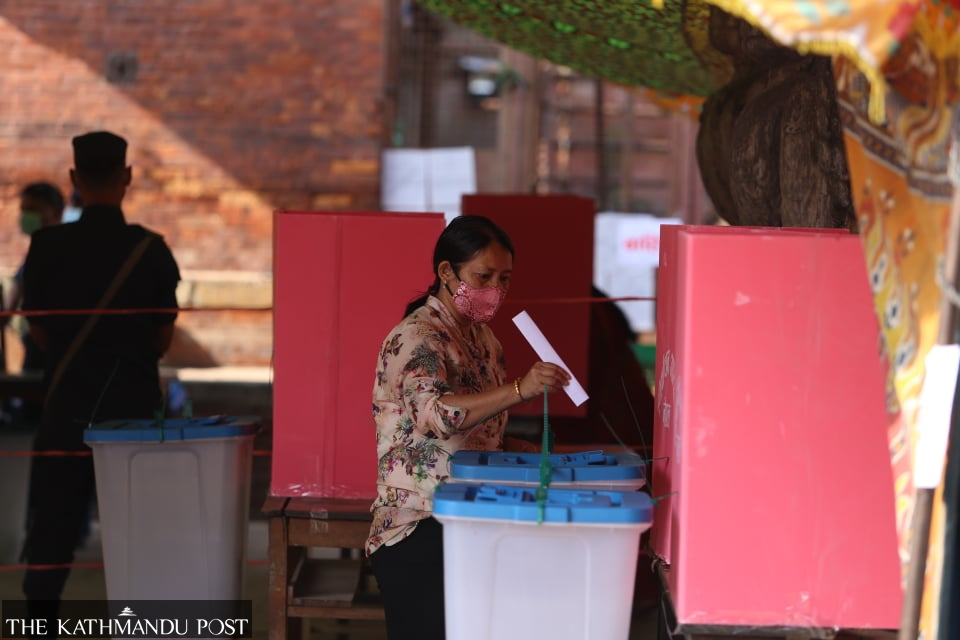 Hemanta Shrestha/TKP
"I voted after assessing the background of the candidates. I don't have any preference for any parties," said Nirajan Mainali, 22, who is also a first time voter from Basundhara, Kathmandu.
Mainali, who is a student of chartered accountancy, voted for the candidates of the Kathmandu Metropolitan City from a polling booth at Bansbari Club, Maharajgunj. He believes choosing the right candidate is more important than choosing a political party.
As many as 79 parties were registered with the Election Commission for local polls and there are 145,011 candidates for various positions in 753 local governments.
A total of 35,298 representatives of the 35,221 posts up for grabs will be elected from the local elections, as no candidates were fielded for 123 seats reserved for woman Dalit ward members.
Though political parties have made national level promises, voters said the focus should have been on local issues and that local elections are meant for addressing local needs.
For Mainali, the problem of inundation by streams at Basundhara in the rainy season is pressing.
"I want the new leadership of our local government to address this issue," he said.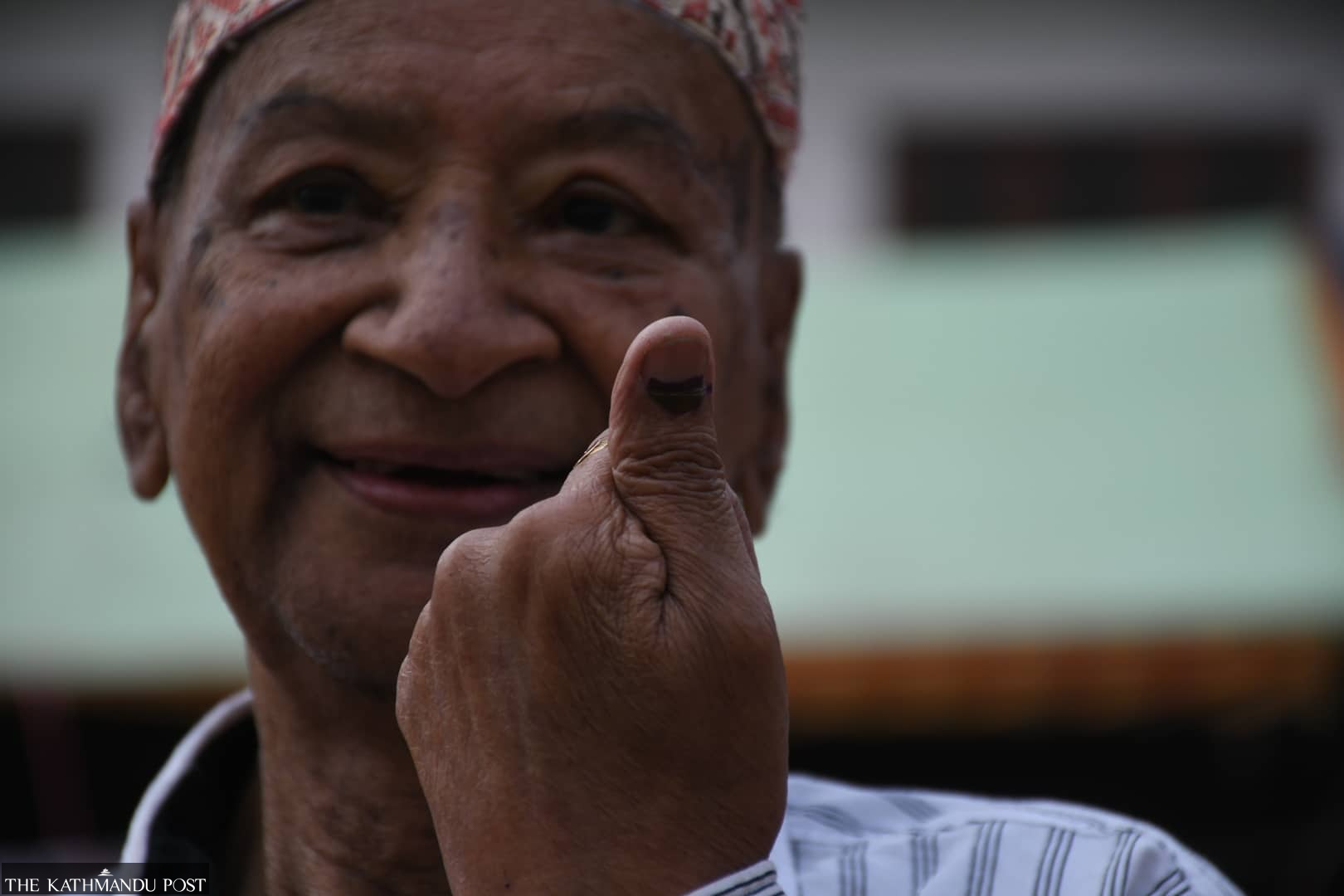 Anish Regmi/TKP
For Kamala Khadka, 53, a resident of Ward 6 in Budhanilkantha, lack of water supply at her home and the surrounding areas is the main concern.
Though she has had a piped water connection to home for two decades, she receives no supply of drinking water. "I rely on underground water for most household uses," she said. "I buy bottled water for cooking and drinking."
According to voters, the candidates have made sweet and lofty promises this time too. Many voters are sceptical about whether the candidates, if elected, would fulfil their promises.
From young voters like Timilsina and Mainali to those as old as 104 years participated in the Friday elections, second since the promulgation of the constitution in 2015.
Even though Nepalis constantly gripe about non-performance by politicians and elected representatives, they love to vote, and it is evident from the voter turnouts in the past.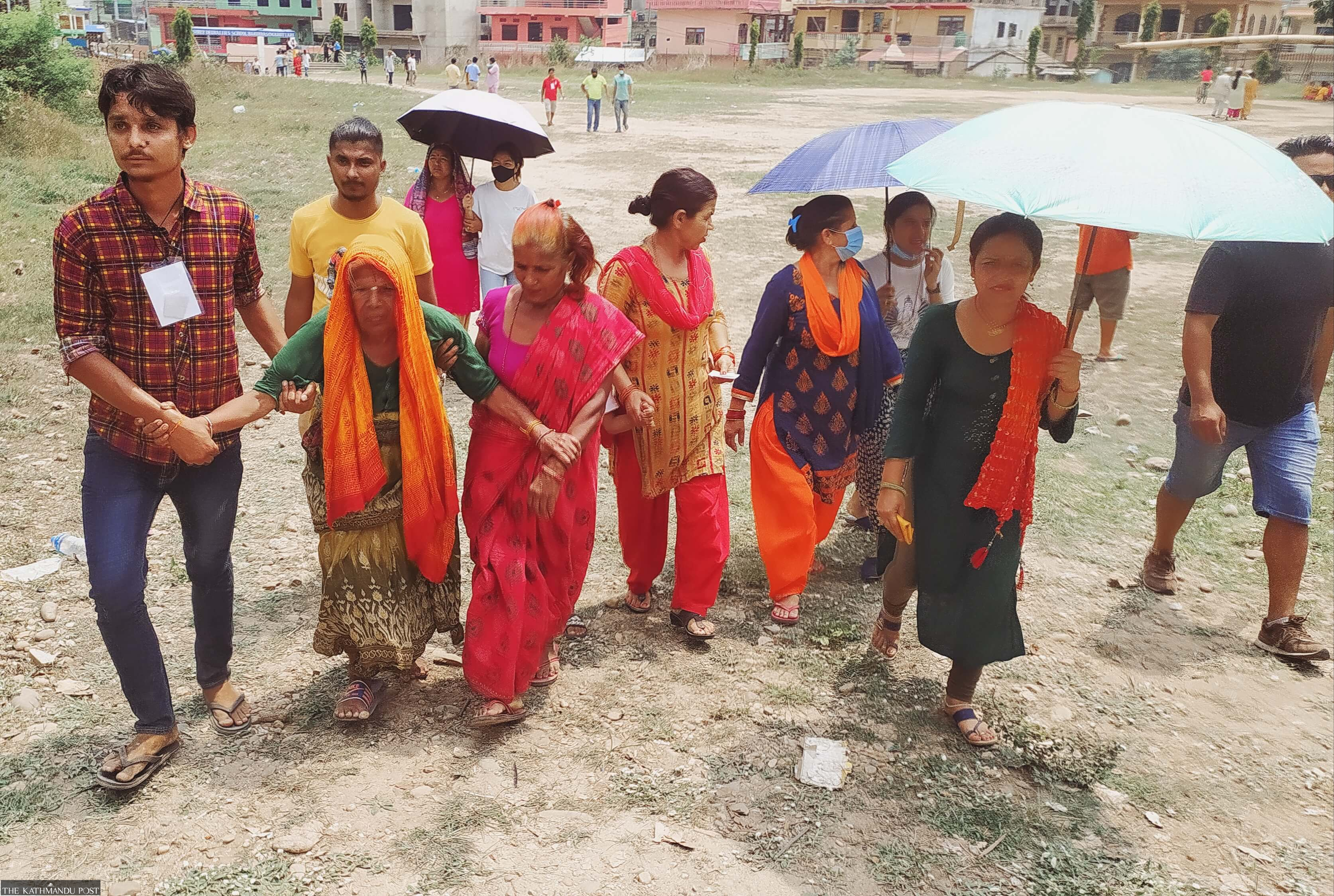 Suneeta Baral/TKP
According to the Election Commission, voter turnouts since 1991, the first elections after the restoration of democracy in 1990, have remained above 65 percent.
In the second Constituent Assembly elections in 2013, the voter turnout was as high as 78.74 percent. In the last local elections in 2017, the voter turnout was 74.16 percent and in the parliamentary and provincial polls that year, it stood above 67 percent.
According to Chief Election Commissioner Dinesh Thapaliya, the preliminary report of the commission suggests 64 percent turnout in the local polls, which is far less than the election body's expectation.
"Turnout in places like Kathmandu Metropolitan City where there is a large number of voters remained low," he said. "Turnout in Kathmandu Metropolitan City was only 52 percent."
Ram Krishna Shrestha, 67, from Ward 3 of Madhyapur Thimi Municipality, said he has exercised his franchise but he does not trust the parties.
"Voting is a citizen's right and responsibility," said Shrestha, a farmer. "I don't have much expectations even from the candidates I have voted for. Yet, I believe in elections and voting strengthens democracy."
According to Shrestha, who cast his ballot at Jana Premi School in Kaushaltar, he did cross-voting looking at the candidates, not the parties.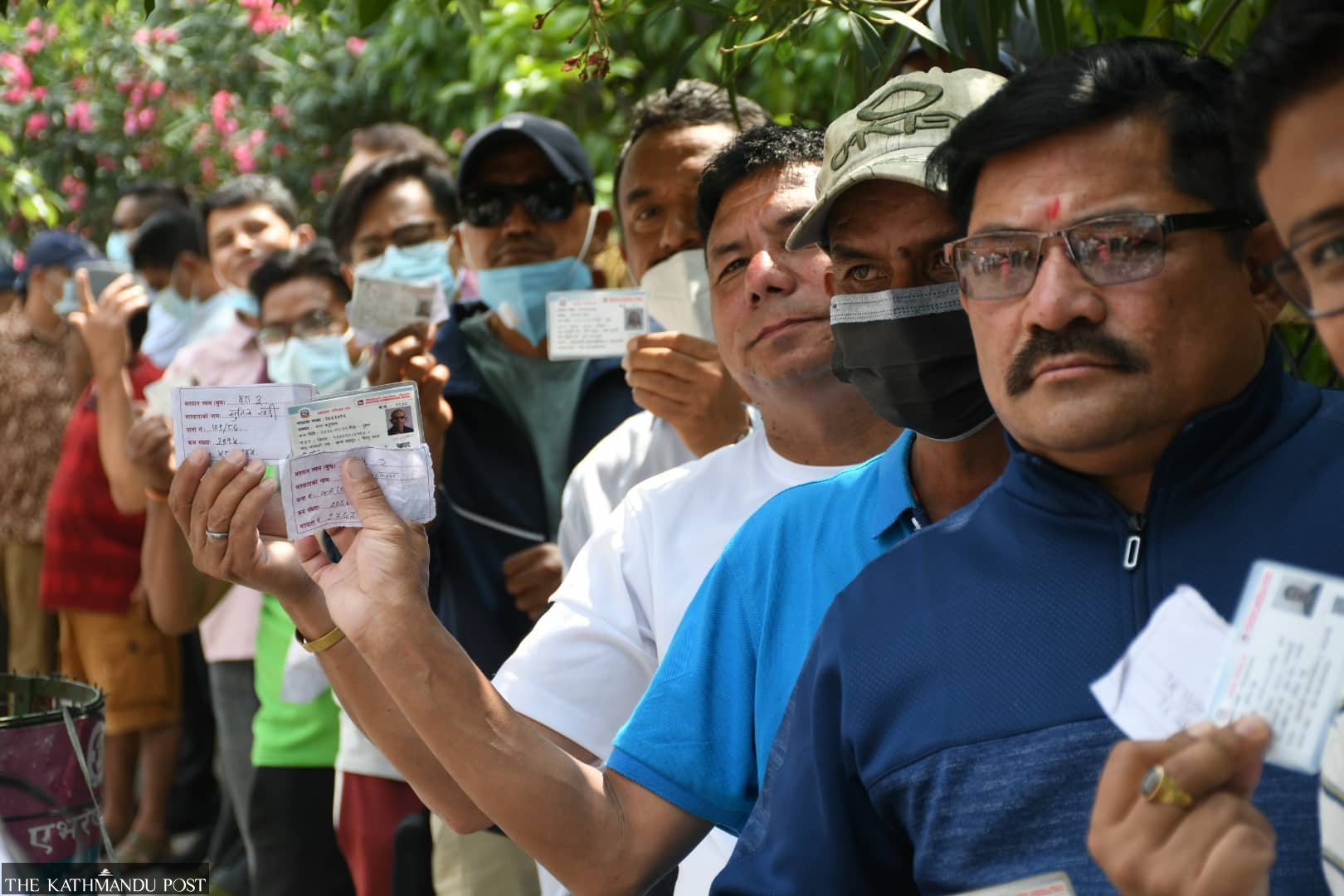 Anish Regmi/TKP
Ramila Karki, 52, from Ward 3 of Suryabinayak Municipality in Bhaktapur, said she cast her vote hoping that the new leadership will work in the larger interest of the people.
"We get to vote once every five years. Voting is also our right," she said. "I am hopeful that the candidates I have chosen will win to work for the people."
Ashta Narayan Maharjan, 90, who cast his vote at the polling centre at Saraswati Secondary School in Ward 3 of Tokha Municipality, said he expects that the new team of leaders of his municipality would make his place better.
"It is good to have polls but the problem is people who get elected do not work honestly," Maharjan told the Post. "Earlier also we voted for them but cannot remember anything notable about their tenure." According to him, politicians make promises but rarely fulfil them after getting elected, but people should not stop voting.
Despite their disgust for parties and candidates, people still participate in elections for some basic reasons. Voters believe there is always a hope that the elected representatives and political forces will "at least do something" even if they don't fulfil all the promises. Elections also give the people a sense of pride, a sense of equality.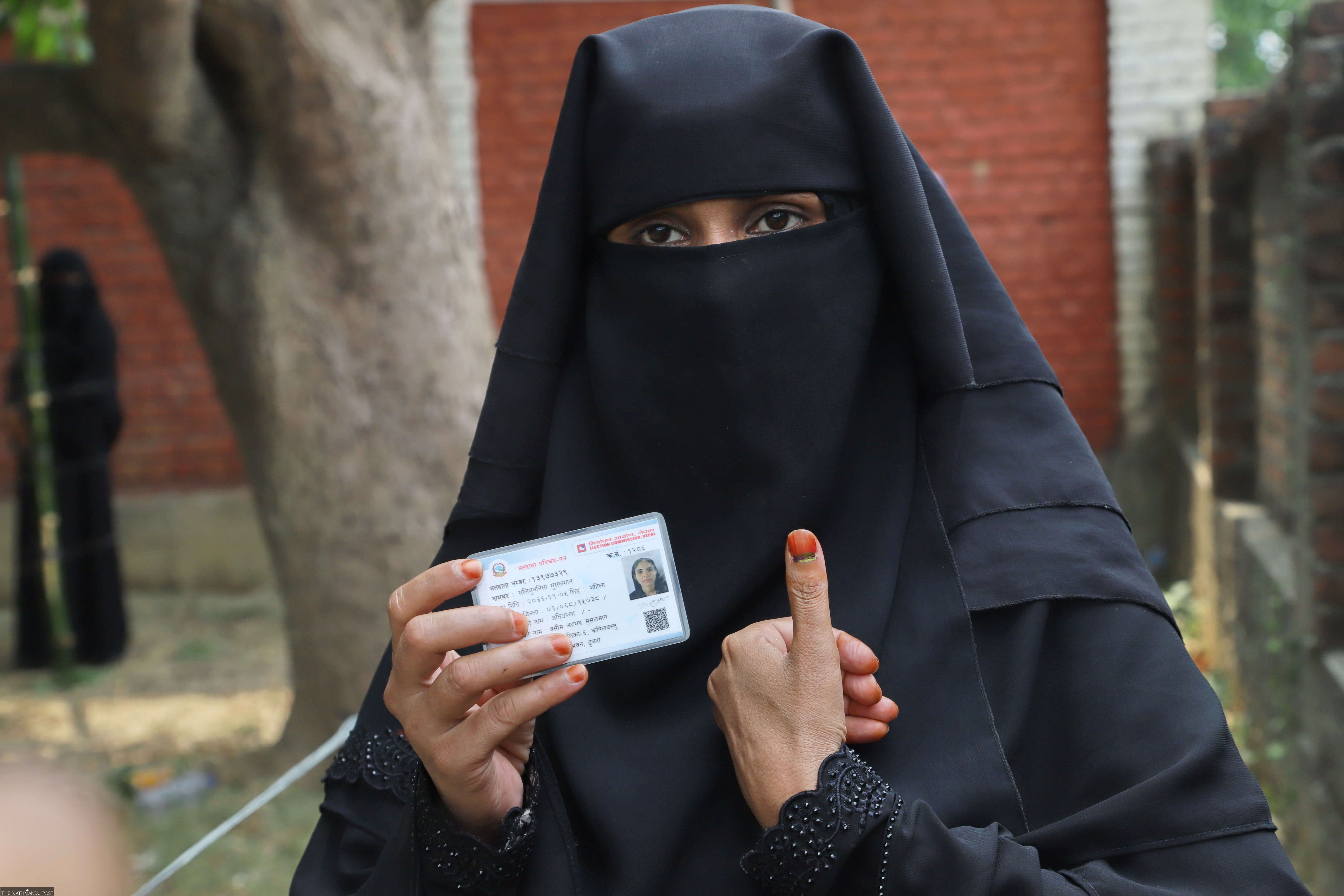 Manoj Paudel/TKP
Shanti Rana Magar, 70, of Ward 3 at Ranibari of Kathmandu Metropolitan City said polls are necessary to elect people to develop the locality.
"I have expectations from leaders but I'm not sure they would make me happy by developing our locality," Magar said. "Since the older leaders have failed to perform, younger people should be elected."
There were reports of violence in some parts of the country. The National Human Rights Commission said on Friday after the conclusion of voting that elections could not become peaceful as expected.
According to Thapaliya, voting at 28 polling stations and 44 booths of the 17 local units in 14 districts were stalled because of incidents of clashes and rainfall.
"We are preparing for re-polling in those places at the earliest," Thapaliya said at a press conference organised after the voting was concluded. "As the conflict on small issues happened to magnify, police had to use force to control them at some places."
He said counting at those local units will only begin after re-polling.
In Rautahat, some local youths looted a ballot box of the Bhediyahi polling centre in Yamunamai Rural Municipality but it was later recovered by security forces.
Thapaliya said security of ballot papers was a major challenge as elections were held in a single phase.
(Tika R Pradhan and Binod Ghimire contributed reporting.)
---
---