Kathmandu is most populous district. But it comes third in voter numbers
Officials, experts see national Capital hosting more migrants than permanent dwellers and lack of interest among youths in politics as possible reasons for lower voter count.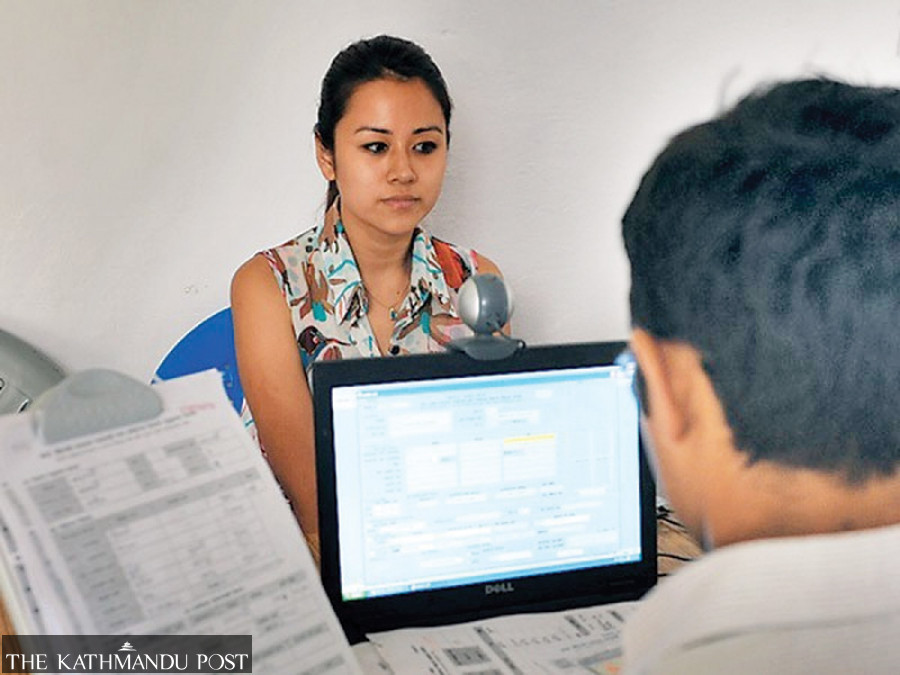 Kathmandu is behind Morang and Jhapa in terms of voter numbers. Post File Photo
bookmark
Published at : March 31, 2022
Updated at : March 31, 2022 12:12
Kathmandu
The Kathmandu District Election Office at Bijulibazar used to see long queues of people seeking to register themselves as voters before local elections were announced on February 7. But a majority of them were temporary residents of Kathmandu.

"In fact, most of them were permanent residents of other districts," said Thakur Prasad Bhattarai, chief of the Kathmandu District Election Office.
In a "special voters registration campaign" launched in December, which continued through February until the local polls were announced, the commission had asked people to register themselves with their nearest election offices.
"More than half of the people who got registered in Kathmandu were people from outside the district," said Bhattarai. "Since January 20 last year, we registered around 25,000 voters in Kathmandu, while enrolling more people from outside Kathmandu."
That a majority of them were from outside Kathmandu was reflected on the voter list that the commission published on March 27 for local elections slated for May 13.
Despite being the most populous district, Kathmandu is behind Morang and Jhapa in terms of voter numbers.
According to the Election Commission, the number of voters in Morang stands at 715,283, followed by 646,234 in Jhapa. Kathmandu, whose population is 2,017,532 as per the new census, has 637,775 registered voters.
Morang, Rupandehi and Jhapa are the three most populous districts after Kathmandu.
Officials and experts say since the migrated population is high in Kathmandu, the number of voters in the district is comparatively less. But there could be some other factors too, according to them.
Rishiram Bhusal, an under-secretary at the election body, said Kathmandu's population is big because of the migrant population and such people may have registered themselves for voting in their home districts.
"A person who does not have a citizenship certificate issued by the District Administration Office, Kathmandu, or a woman who has married a permanent resident of Kathmandu but doesn't have a marriage certificate cannot be registered as a voter in Kathmandu," said Bhusal. "Even the migrant families from other districts should produce a migration certificate to be registered as a voter of Kathmandu."
Another reason, according to Bhusal, is that permanent residents of Kathmandu might have shown little interest in registering to vote.
"But this is just a guesswork. We cannot say for sure that people were not willing to get registered to vote," he said.
Kathmandu is the most populous district in the country simply because it is the national capital where people from across the country migrate to—for studies, work and various other purposes including business and economic opportunities. By area, Kathmandu, however, is among the smallest districts.
All those people living in Kathmandu were counted during the census and made part of the district's population.
This, however, is not the first time that Kathmandu has fallen behind in terms of voter numbers. In the 2017 local elections, Morang had more voters than Kathmandu, according to the commission. There were 574,499 voters in Morang and 559,396 in Kathmandu in 2017.
Jhapa was third with 510,213 voters during the local elections in 2017, according to the election body.

Source: Central Bureau of Statistics & Election Commission
Former chief election commissioner Neil Kantha Uprety says the number of voters in Kathmandu, however, is far lower compared to its population.
"At least half the population should have been voters in Kathmandu," he said.
In the case of both Morang and Jhapa, the number of voters is around two thirds of the total population of the two districts. The number of voters in Morang stands at 62.35 percent of the total population (114,7186) while the number of voters in Jhapa is 65 percent of the total population (994,090). The number of voters in Kathmandu stands at just 31.61 percent of its population, according to the commission data.
According to the commission, the total number of voters in the country stands at 17,733,723, which is 60.74 percent of the total population. Nepal's total population stands at 29,192,480, according to the preliminary report of the population census conducted in 2021.
Uprety agrees that the one obvious reason for Kathmandu having less number of voters is because its population constitutes a large number of migrants.
"But it is not the only reason. My impression is that a significant section of the population of Kathmandu has little interest in politics and voting," said Uprety.
According to him, many people in Kathmandu, mainly the teenage population, consider politics a "dirty game" which might have made them stay away from registering their names in the voter roll.
In Nepal, all those registered as voters, however, cannot exercise their franchise.
As per the law, one can get registered as a voter if they are above 16 years of age, but for one to be eligible to cast a vote, they have to be 18 years of age.
"As people have to reach the voter registration centre to get their names registered, many young people who have little interest in politics might have avoided visiting the registration centres," said Uprety.
Experts say that the migration of a large number of Kathmandu's young population for studies abroad might have also contributed to the relatively lower number of voters against the population.
"Kathmandu's houses are occupied mostly by migrant tenants as the children of most of the residents/landlords are abroad either for study or work," said Former Chief Election Commissioner Ayodhi Prasad Yadav.
He, however, feels that more people would register to vote if the Election Commission provided an online voter registration option.
"Kathmandu's people who are relatively well-off perhaps don't like to wait in long queues to get registered," said Yadav. "So providing an online registration option could have attracted more people."
He said he had tried to introduce such an online system before the 2017 elections but it couldn't happen due to time and resource constraints.
"There won't be any duplication of voters under an online registration system as the system itself removes any duplication," said Yadav.
---
---