Two weeks after launching e-passport, government goes on issuing machine-readable ones
With districts 'temporarily' halting applications, people crowd the Passport Department.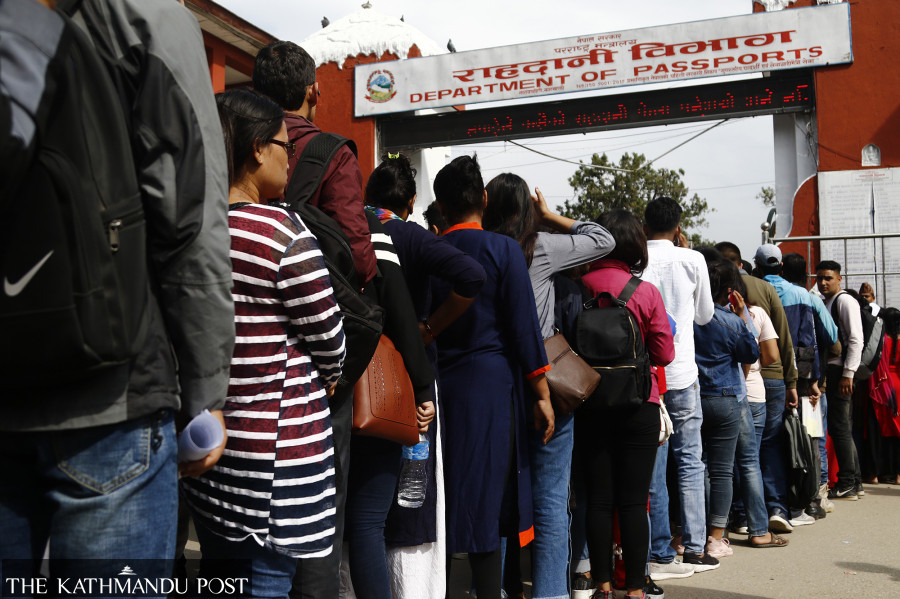 Post File Photo
bookmark
Published at : November 29, 2021
Updated at : November 29, 2021 07:52
Kathmandu
On Sunday noon, it had been eight hours since Bikash Shrestha stood in a queue at the Department of Passports at the western gate of the Narayanhiti Palace Museum to renew his passport.
"I came here at 4am, and stood in the queue. Until now I haven't eaten anything except a packet of dry instant noodles and some water that I bought from a hawker," said Shrestha, 42, who came from Itahari for the passport.
He said he returned to Nepal in August 2019 during a break after working for a decade in Saudi Arabia, but could not go back due to the pandemic. In the meantime his passport expired. "Recently I received a call from my past employer, a scaffolding company, so I am planning to go back to Saudi Arabia," he said.
He said he had come for passport also on Friday but had to return empty-handed because he could not get a coupon from the department officials, who distribute a set number of tokens every morning on weekdays to those in the queue on a first-come-first-served basis.
He had tried to apply for passport renewal from his home district Sunsari itself but officials at the District Administration Office told him that they have temporarily stopped issuing passports since the government started issuing e-passport earlier this month.
Although the government from November 17 started issuing e-passports instead of the existing machine-readable passports with much fanfare, it continues to issue machine-readable passports citing 'technical issues'. Officials said currently they have been issuing just around 100 e-passports per day from the department's new office at Tripureshwar while the office at Narayanhiti continues to issue machine-readable ones—around 800 per day.
The queue was over a kilometer long and the last people in the queue were standing near the northern gate of the Narayanhiti Museum.
Another service seeker, Mira Sapkota, 27, from Sindupalchok, sat on the pavement railing near Lazimpat while her husband Rudra stood in the queue on her behalf. "We came at 7 and it is already five hours. My husband had to skip office today but we are not sure if we will be able to apply today," Mira said. Both of them said they plan to go to Australia for further studies.
When asked about the huge crowds outside his office, Dornath Aryal, director general at the Department said people might have come from across the country as the district administrations have temporarily stopped issuing passports.
Department officials also attributed the crowding to the end of the festive season and a gradual return of pre-Covid normalcy.
On November 17, the department had inagurated biometric passport giving it to 102 -year-old historian Satya Mohan Joshi. Foreign Minister Narayan Khadka had issued the passport to Johsi at a function at the department's new building in Tripureshwar.
"With regard to e-passports, we are still in a trial phase, so we have been issuing around 100 per day, but soon we will be issuing e-passports on a mass scale," said Aryal.
According to him, the department plans to start distributing e-passports through the district administration offices in Bhaktapur and Lalitpur from the first week of December.
"And in the next 15 days, they will be distributed from all district administration offices across the country and people will stop crowding here," said Aryal. He said the department is currently training officials to handle the e-passport software.
Nepal departed from decade-long handwritten passport to machine-readable passport in 2010, and after 11 years, as per the guidelines of the International Civil Aviation Organisation has issued the second generation e-passport.
As of now, more than 120 countries have issued e-passports in the world.
The report published in The Henley Passport Index, Nepal ranks a lowly 110th in global rankings, alongside Palestine and lower than North Korea, and has access to a mere 37 countries.
Earlier, in the third week of September, the passports department saw big crowds of passport applicants who wanted to apply for the US diversity visa lottery programme. In recent years the US has made passports mandatory to apply for the diversity visa lottery programme. Those wishing to participate in the lottery needed to apply between September 20 to October 23.
Officials said around 3,000 people applied for new passports during the period.
Director General Aryal, meanwhile, said although they have directed the district administration offices to stop accepting passport applications, the offices have been instructed to accept applications if someone has an emergency. He also assured that in two weeks people will get passports without hassles.
---
---