Thousands of domestic violence cases are registered every year, but almost none go to court
Nepal's law itself favours mediation over prosecution, as domestic violence is regarded to be a family affair, lawyers say.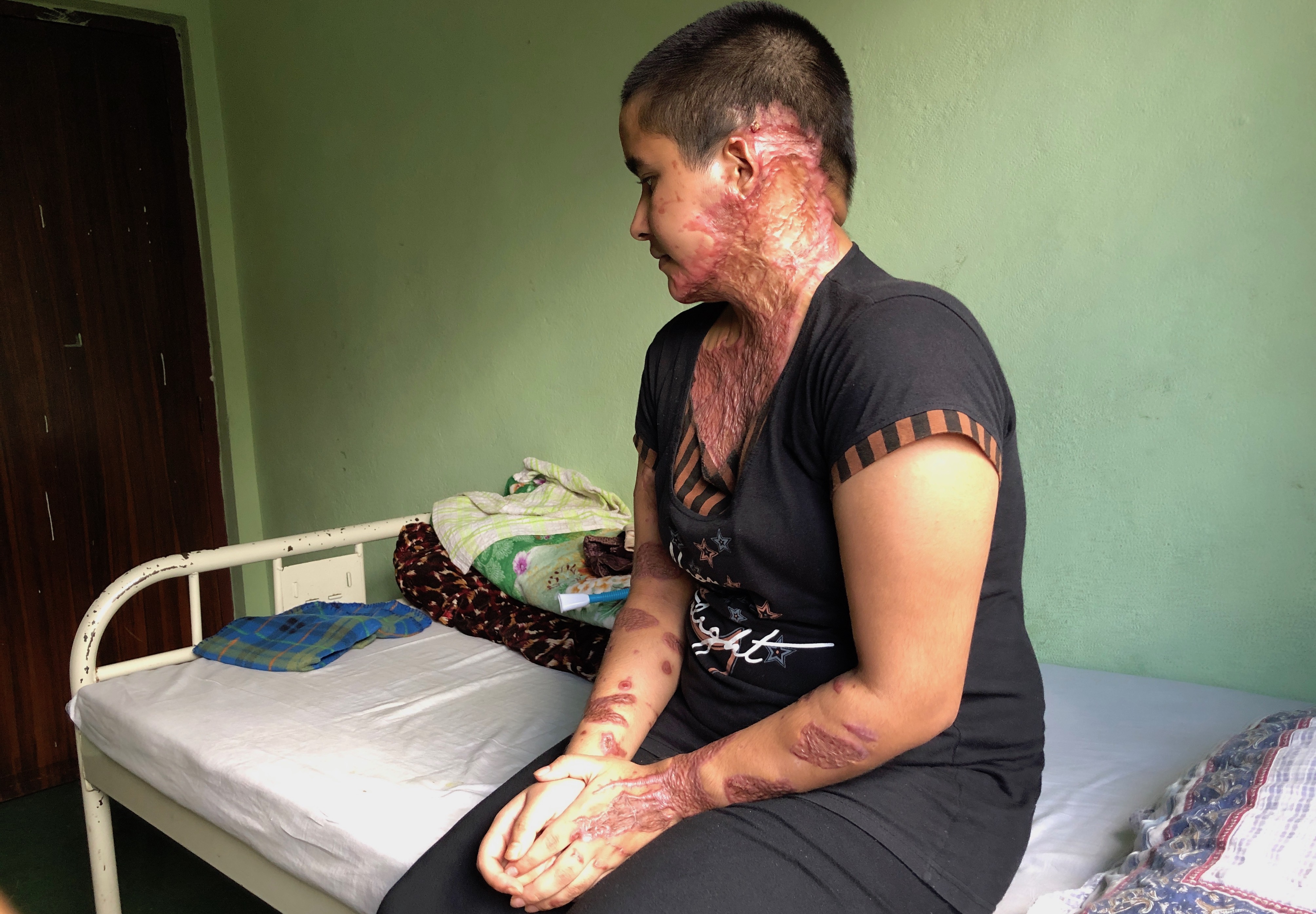 Jenny Khadka was attacked with acid by her husband two months ago. Tsering D Gurung/TKP
Published at : July 18, 2019
Updated at : July 19, 2019 08:52
Earlier this month, film actor Shilpa Pokhrel filed a complaint against her husband Chhabi Raj Ojha, accusing him of assault, torture and intimidation. Pokhrel told police she felt unsafe and feared for her life.
Pokhrel, who married the filmmaker three years ago, said she decided to go to the police after one particular incident in June made her realise that she had had enough.
"I was planning to go for a movie with some friends and then we got into an argument," Pokhrel told the Post. "He then started choking me. While he had done this to me on previous occasions, usually he would release me from his hold after a few seconds, and then apologise profusely. But this time, he just wouldn't let go."
Pokhrel said she kicked him and after he loosened his grip on her, she fled.
Following the complaint, Ojha was summoned to the police station, where he apologised and then signed a letter pledging to never repeat his actions, said Pokhrel.
Pokhrel, who has filed for divorce, withdrew her complaint.
"I just couldn't bring myself to put him behind bars," Pokharel said.
Under the domestic violence act, a perpetrator can be fined between Rs3,000 and Rs25,000, or sentenced to six months imprisonment, or both, depending on the severity of the crime. However, only a handful of victims, who come forward to report incidents of domestic violence, end up choosing to prosecute their perpetrators. As in Pokhrel's case, nearly all incidents of domestic violence reported to the police end up in reconciliation.
Of the 12,000 complaints related to domestic violence registered with the police in the 2017-2018 fiscal year, just four went to court. The numbers are similar for previous years. Lawyers say this is mainly because the law itself emphasises mediation.
"One of the main reasons why women don't go to court is because the police can mediate," said Subin Mulmi, an advocate who was previously associated with the Forum for Law, Women and Development. "And the police usually suggest the couple to resolve the issue among themselves as it's a family affair."
As per the law, a police officer or a local body can facilitate reconciliation between the parties within 30 days of the complaint being registered. While mediation may work in certain types of cases, authorities should not adopt a blanket approach of mediation to handle domestic violence cases, said Mulmi.
"Not all kinds of offences are fit for mediation," said Mulmi. "In cases involving physical altercations or in situations where a person's physical and mental well-being is threatened, police officers and authorities concerned should not choose to mediate."
In some instances, reconciliation can have severe consequences.
Jenny Khadka had gone to the police several times to report her former partner's abusive behaviour.
"I went to the police at least 10 times to complain about his behavior," 20-year-old Khadka told the Post. "But I never received any help."
Bishnu Bhujel, Khadka's partner, attacked her with acid in May, leading to burn injuries over 15 percent of her body. Khadka, who is currently recovering at a rehabilitation centre in Chundevi, was only 15 when she eloped with the much older Bhujel to Okhaldhunga. The abuse began immediately after they began living together, she said. She wanted to leave him desperately.
According to Kamala Khadka, Jenny's mother, the police called her once, informing her about Jenny's situation.
"I was attending to my ailing husband," said Kamala. "So I asked the police if they could help bring her to Kathmandu, but that didn't happen."
It was only after the couple moved to Banepa that Khadka was finally able to escape. At the time of the attack, it had been nearly a year since she left Bhujel. Keen to complete her grade 10, she had also been working two jobs to pay for tuition classes. Now that dream has been put on hold.
The family has been struggling financially. Kamala, who is currently unemployed, said she has been taking up loans to make ends meet. Although acid attack victims are entitled to compensation, they have to wait until a final verdict is issued by the court to receive it.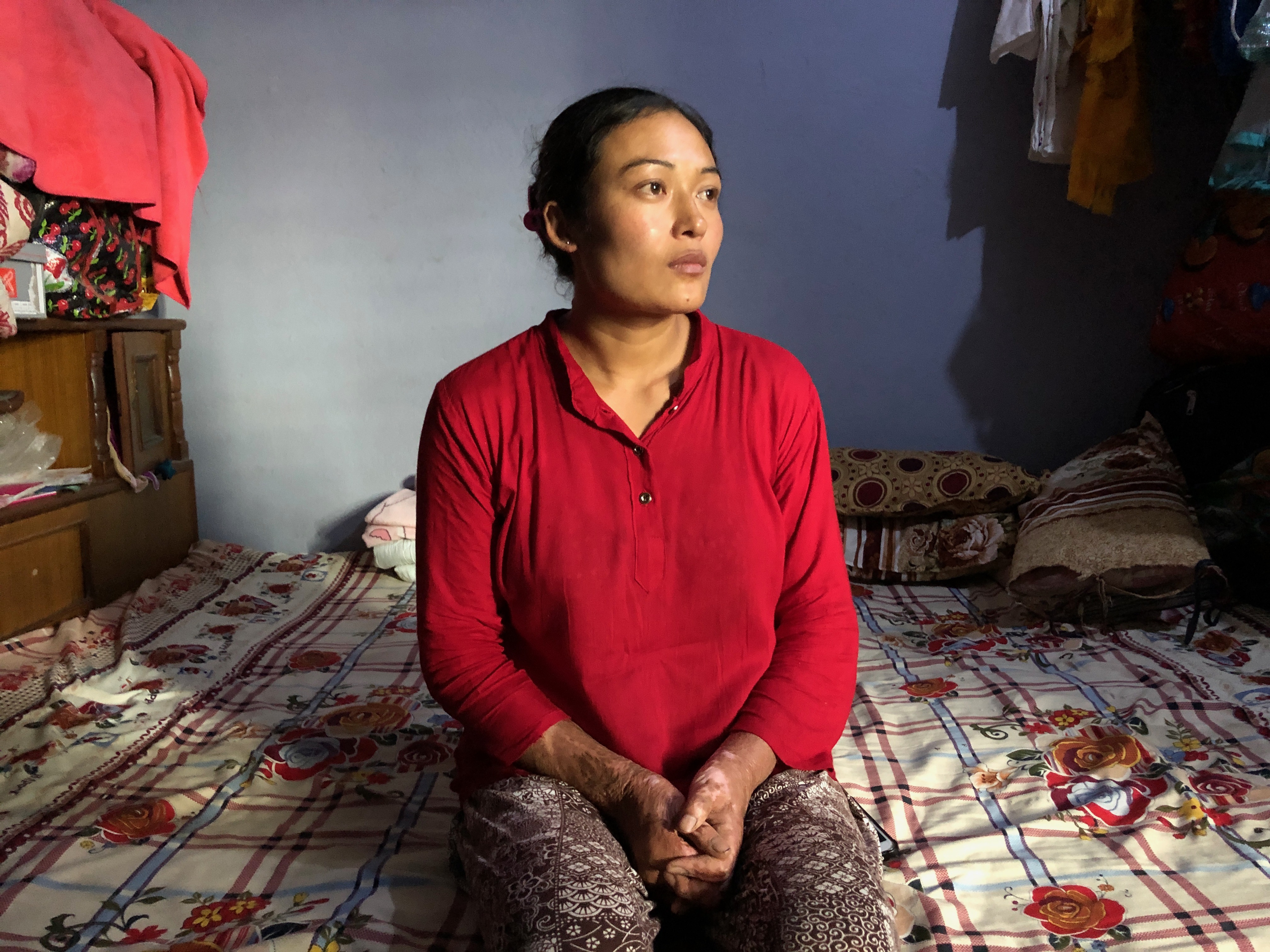 Neeru Tamang never went to the police despite facing years of abuse from her husband. Tsering D Gurung/TKP
Pitambar Adhikari, director of the Women and Children's directorate at Nepal Police, said that the police prioritise mediation because that's what the law states.
"The police has no other alternative beside mediation," Adhikari told the Post. "Domestic violence cases can't be brought to court by police unlike other offences such as rape and murder."
The majority of cases, Adhikari said, involve minor disputes which don't necessarily require court proceedings.
But activists and lawyers say that mediation often fails to acknowledge the power dynamics between the abuser and the abused.
"The mediator needs to consider if the victim is in a position to negotiate. Does she have the skill and capacity to influence the negotiation?" said Pinky Singh Rana, executive director of SAATHI, an organisation that supports survivors of domestic violence. "If the victim doesn't have that power, then the abuser will always benefit from such mediation."
According to Rana, mediation is emphasised in Nepal because women's status and economic situation remains poor. Victims of domestic violence rarely receive support from their families, she said.
"Often, the women don't have any option but to go back to her husband," said Rana. "So in such circumstances, how can a woman go forward with her complaint.'
Nearly a quarter of women aged 15-49 have experienced physical violence, according to the 2016 Nepal Demographic Health Survey. And in a majority of cases, the husbands are the perpetrators. But because of financial constraints and stigma surrounding divorce, women are often forced to reconcile with their abusive partners.
Despite facing years of abuse from her husband, Neeru Tamang never went to the police because she knew what they would tell her.
"The police usually don't take action in such cases as they say it's a couple's issue," said the 29-year-old. "That's why I never went to them."
She shared her ordeals with her friends and family members, Tamang said, but everyone told her to "work it out."
Last year, Tamang attempted to commit suicide by setting herself on fire. Her husband who was at home at the time doused the fire and rushed her to the hospital. Even then, she received no support when she told people that she wanted to leave her husband, she said.
"When I told my friends and family about the abuse, everyone said such kinds of things happen between a husband and wife," said Tamang. "They said I should just learn to deal with it."
Like many other women who continue to stay in abusive relationships, Tamang said financial limitations was one reason why she couldn't bring herself to prosecute him.
"I didn't feel like I had much choice," said Tamang. "As much as I wanted to send my husband to jail, I kept thinking about my son's future. Who would take care of my son if his father is in prison?"
Dear reader, we'd like to hear from you. We regularly publish letters to the editor on contemporary issues or direct responses to something the Post has recently published. Please send your letters to [email protected] with "Letter to the Editor" in the subject line. Please include your name, location, and a contact address so one of our editors can reach out to you.
---