'Bagan': A film full of contradictions
Written and directed by veteran actor Saroj Khanal, the film follows the life of a single mother and her daughter.

Screengrab via Youtube
bookmark
Published at : August 16, 2023
Updated at : August 16, 2023 06:30
I always find it commendable when movies or any art form tries to bring an important social issue to the forefront. Art captures attention; it can visualise the harsh realities in a way that forces the audience to think about difficult truths. When I watched the trailer of 'Bagan,' I was intrigued—excited even—to watch its take on the struggles of single motherhood. And honestly, watching the film did leave me speechless, just in the least desirable way possible.

The main problem with 'Bagan' is that it doesn't know what it wants to be. The movie fails to bring its multiple issues together in a cohesive storyline, making almost every aspect of the plot feel half-baked and incomplete. Instead of showing a nuanced portrayal of the struggles of a single mother, the film relies on misplaced music and preachy dialogues as a form of storytelling, which falls flat regarding the significant issues it's trying to tackle.
'Bagan', directed by Saroj Khanal, insensitively waters down a very serious issue. Akanksha's (played by Karishma Manandhar) husband commits suicide soon after the birth of their daughter, Prapti (played by Pramila Karki). Akanksha, forced to quit her education relatively young to get married, makes the monumental decision to take charge of her life, continue her education and start her career from scratch. Though the premise feels interesting, the movie doesn't further explore Akanksha's struggles as an older woman in a new environment—her school—predominantly filled with adolescents and teenagers. We get little moments here and there, and that's it.
Not to be completely dismissive—the movie does show the hardships of a single woman juggling her school, job and daughter. But instead of taking the opportunity to paint a thought-provoking picture of the life of a single mother, we fast-track through all these significant moments, only to spend a cumbersome amount of time watching Prapti's frivolous meet-cute and meaningless dance number with her meta-love interest Aakash Shrestha, played by Aakash Shrestha.
The screenplay of the movie is messy and lacks finesse. The transition between scenes is haphazard and disorienting; the movie clumsily fast-forwards the daughter's ascent into adolescence and adulthood, with little effort in polishing the timeframe. At a point, I thought I'd zoned out watching the film because that was the only logical explanation I could think of to explain the missing chunks in the movie.
The film doesn't encourage meaningful performance by its cast but instead inserts irrelevant soundtrack and music in an unsuccessful attempt to arouse sympathy with the audience. I have no problem with dramatic musical sequences as long as it's not overdone and fit into the story's theme. However, 'Bagan' cops out from a nuanced portrayal of its issue by pushing and overusing musical numbers that hold no significance except boring the audience.
Another major problem with 'Bagan' is its shallow characters. Aakash appears in the movie with the sole purpose of helping Prapti convince her mother to get married. He is reduced to a plot device and is given the typical love-at-first-sight song and dance montage in the picturesque hills with dresses and hairs billowing every which way, but then he's nowhere to be found the rest of the movie. Prapti's character is entirely too one-dimensional; she goes out of her way to get her mother married while showing little consideration for her mother's wants. The romance between Akanksha and Vijay (played by director Khanal) had a lot of potential if only the director didn't force the message that marriage is the happily-ever-after we all should want.
'Bagan's' messages are contradictory. The movie is supposedly about women's empowerment, and we see Akanksha giving powerful statements about equality and women's rights. The whiplash is real in this one, as the same movie about women's empowerment suffers from tone-deaf dialogues like, "I'm your daughter; one day you're gonna have to fix my marriage and let me go." It's tragically ironic Akanksha suffers from a lack of autonomy in the second half, as it's her daughter and her love interest who drive the decision of her getting married.
There are some saving graces. Karishma Manandhar gives a convincing, poignant portrayal as Akanksha, whose love for her daughter transcends beyond her own happiness. The movie also depicts the beauty of a solid and sincere mother-child relationship—through everyday interactions between them. This also extends to the relationship between Vijay and his mother (Basundhara Bhusal), whose bickering yet loving relationship gives depth and personality to both of the characters.
However, the director's myopic vision for his own movie, the crude script, and its reliance on cliches, completely disrupts what could have been an original and inspiring story. Now I love a good romance as much as the next person, but instead of developing a natural and healthy relationship between the couple, we see Akanksha's uncertainty and struggles overshadowed by the filmmaker's outdated narrative of marriage being the solution to all of life's problems. Akanksha gets married, and Prapti refers to Vijay as a 'saviour' against all her mother's unhappiness, and that's how the movie ends.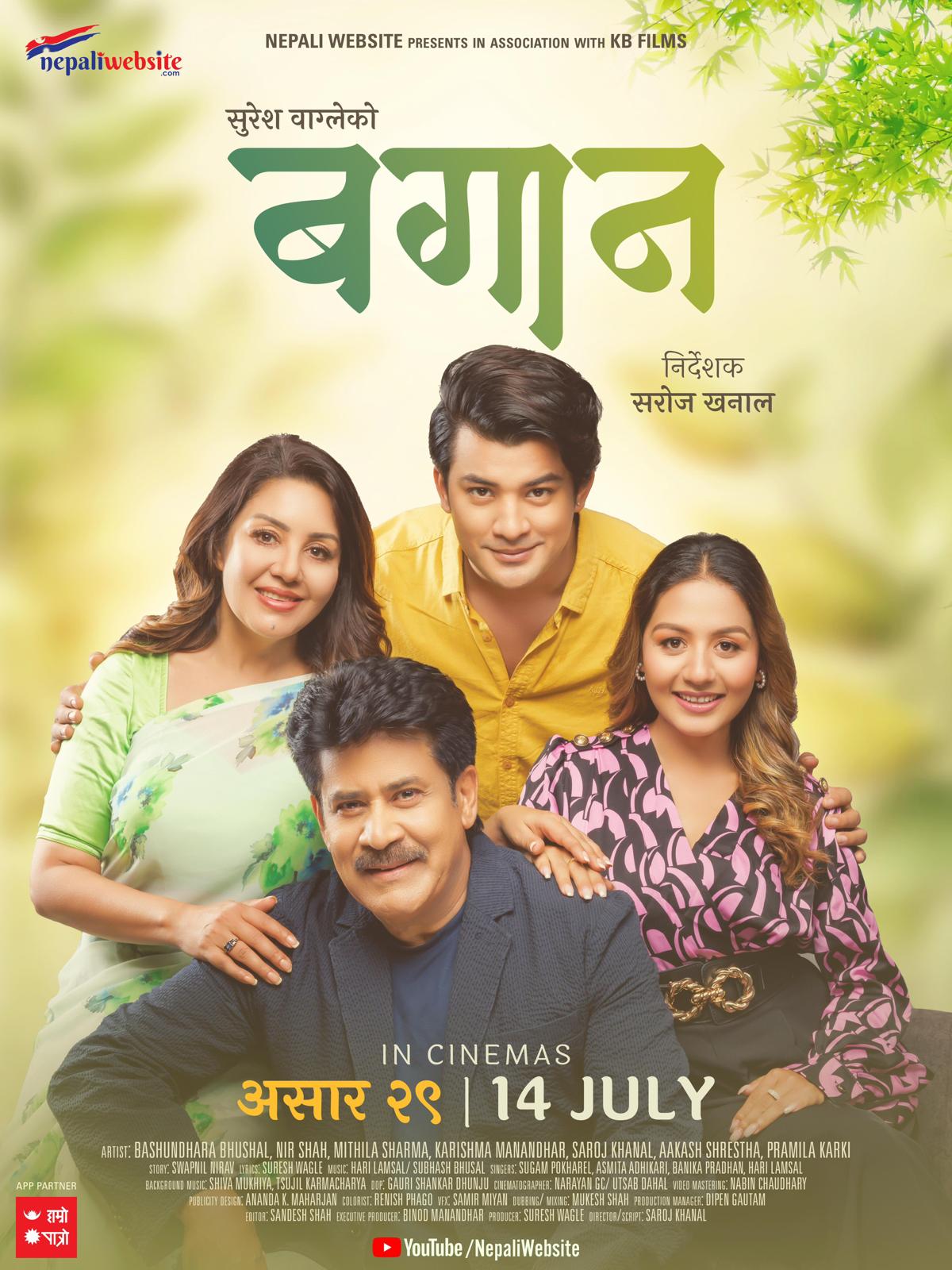 Bagan
Language: Nepali
Duration: 1hr 45 minutes
Director: Saroj Khanal
Cast: Karishma Manandhar, Pramila Karki, Saroj Khanal, Basundhara Bhusal, Aakash Shrestha
Released on: July 14
---
---