Five Nepali movies that will spook you out
The Post brings to you its pick of horror flicks you can watch for an at-home adrenaline rush. Trust us, it's easier than exercising.

bookmark
Published at : April 11, 2023
Updated at : April 12, 2023 08:10
Kathmandu
Horror movies are an acquired taste. Some people love it, while others hate it. But one thing is for sure, horror films have their own niche following. Research has shown that those who have a higher sensation-seeking trait—that is, who have a larger need to feel thrill and excitement—tend to seek out and relish horror-related media more.

As a culture that loves scary stories, myths and legends of ghosts and witches, horror films have the potential to attract Nepali audiences. But horror filmmaking is still an unexplored medium within the local scene. Not many Nepali films have explored the world of ghosts, witches and cults. For now, check out these five Nepali horror films that can make for a scary but fun time. (The best part is they are all available on YouTube.) Are they good? Well, that's for you to decide.
Kagbeni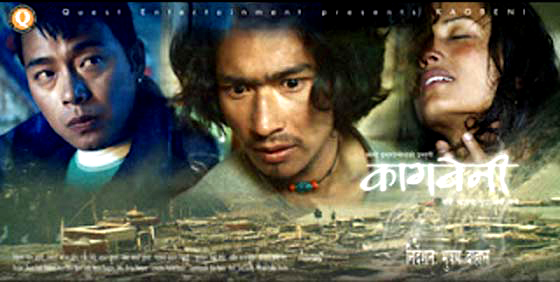 The title, Kagbeni, alone conjures up ominous feelings because it is believed that 'Kaag' is typically present when someone dies. The setting for this film is the village of Kagbeni of Jomsom. Kagbeni tells the story of two friends–Ramesh and Krishna. Ramesh owns a local liquor store in the town; Krishna has recently returned from Malaysia to settle down.
The two men meet a mysterious jogi (ascetic) that gives Krishna a special wish-granting paw on the condition that Krishna should be the only one to use it. Things start unfolding in the film when that single rule is broken.
Adapted from the famous 1902 play titled 'The Monkey's Paw' by WW Jacobs, Kagbeni was a reckoning in Nepali filmmaking. Praised for its cinematography, direction and acting, the film is a must-watch for any film enthusiast, especially those with a knack for horror cinema.
Show time: 1hour, 54minutes
Director: Bhusan Dahal
Cast: Nima Rumba, Saugat Malla, Deeya Maskey, Pooja Gurung
Writer: Prashant Rasaily
Released: 2008
Sunkesari
Sunkesari, a troubled woman, travels to an Australian mansion turned into a boutique hotel to escape her mundane and depressing life for a short while. Yadav, the maid, is the only one resides there. From the outside, the mansion appears normal; however, after Sunkesari arrives and is joined by a couple, Rupen and Emma, the real horror story begins with strange paranormal events.
The big reveal of the plot is at the very end of the movie, so you'll need some patience. But Sunkesari was appreciated for having good cinematography and can be seen as an attempt to add to the growing interest in horror films in Kollywood.
Show time: 1hour, 22minutes
Director: Arpan Thapa
Cast: Richa Sharma, Rabindra Jha, Sunny Dhakal, Yami Parajuli
Writer: Arpan Thapa
Released: 2018
Kathaputali: The Puppet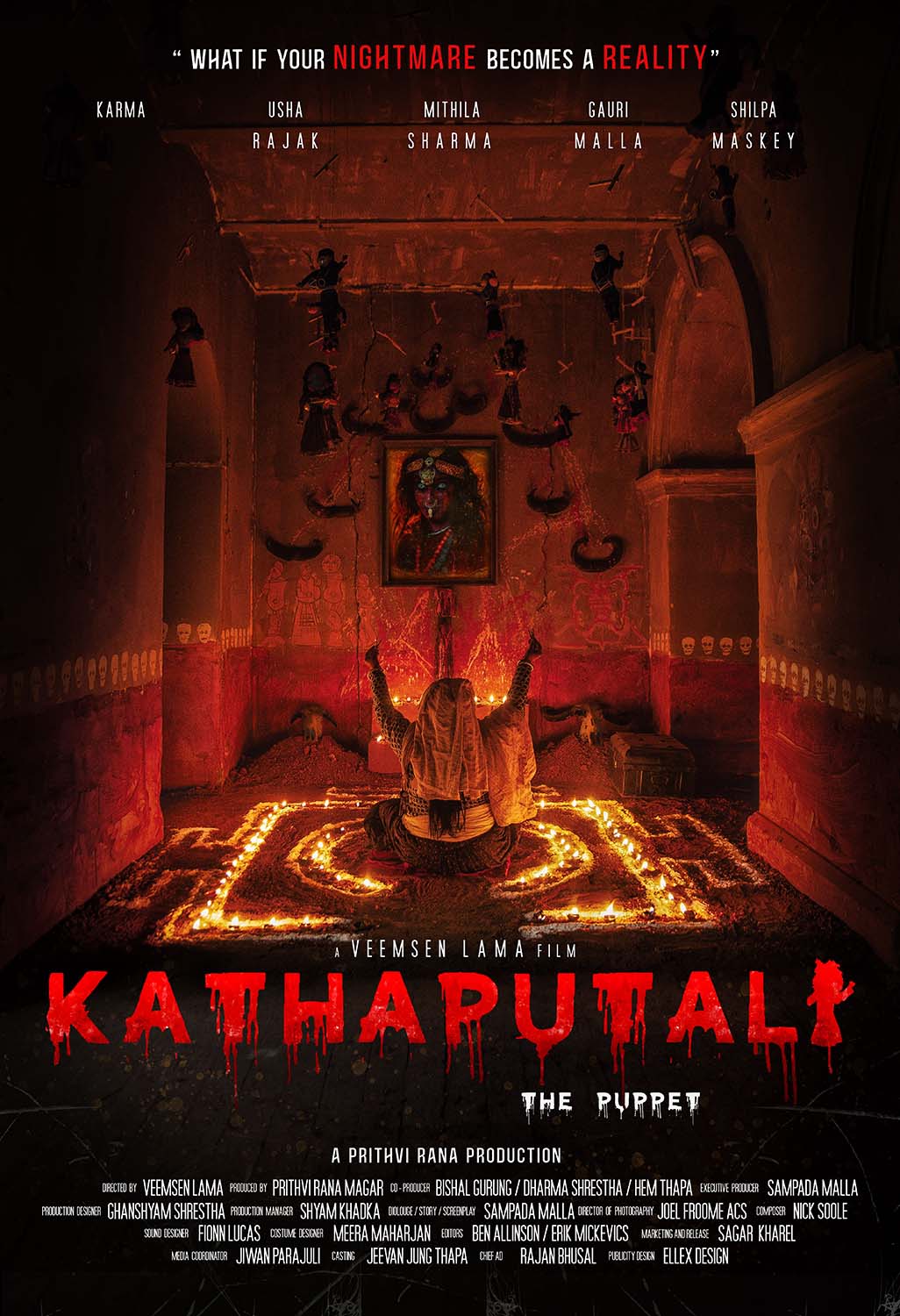 Kathaputali is a film that tells the story of a renegade prince Akash who, due to some circumstances, comes to seek refuge in an abandoned palace. While staying there, he is forced to confront the horrors of his forefathers' actions and battle evil spirits seeking to avenge crimes long buried within its walls. 'Putali' in Nepali means 'doll' and Kathaputali is a Nepali take on the possessed doll narrative that's popular within the horror genre (like Annabelle).
In the film, Prince Akash meets Shova and Budi Aama in the abandoned palace who help him out. But things go south when Akash begins to experience ghostly encounters with the palace. Mithila Sharma's performance as Budi Aama was lauded by critics and audiences alike. The visuals of the film are also genuinely scary. Kathaputali, though a little cliched, comes closest to a typical horror film.
Show time: 1hour, 22minutes
Director: Veemsen Lama
Cast: Karma, Mithila Sharma, Gauri Malla, Usha Rajak
Writer: Sampada Malla
Released: 2021
Ghar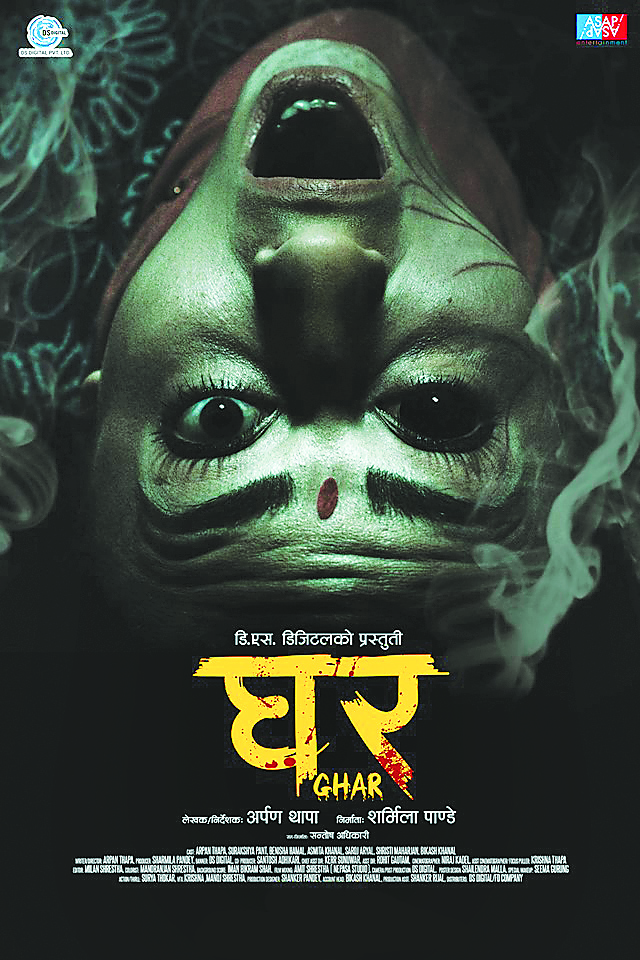 In Ghar, a couple—Shiva and Saru, who is pregnant—move into a new house in Kathmandu. The struggling couple doesn't have the money to buy a brand-new place. So they stick to the next best thing (in a horror film): a house with an unnatural death, which in this case is a woman who had previously committed suicide. Shiva travels to Pokhara for work and Saru's sister Maya stays with her to offer a helping hand. As expected from a haunted house, Saru begins to notice some odd things happening at night. Kitchen items and beds start moving around, and both sisters start experiencing possession during the night. The reasons behind the paranormal activities, as well as veiled problems within the family, come together in the final climax.
Show time: 1hour, 44minutes
Director: Arpan Thapa
Cast: Surakshya Panta, Arpan Thapa, Benisha Hamal, Asmita Dhakal
Writer: Arpan Thapa
Released Date: 2019
Chi Musi Chi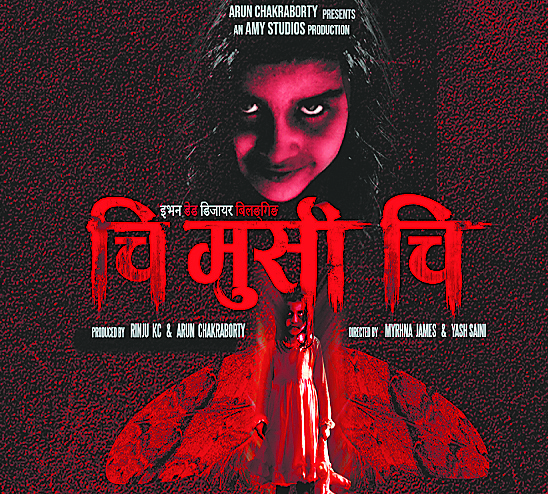 The phrase 'Chi Musi Chi' is derived from the popular Nepali rhyme taught to children. The full title of the film is 'Chi Musi Chi–Even Dead Desire Belonging'. This movie is about the story of a couple with a young son. When they move into a new apartment, the son begins acting unsually. The parents are then left to solve the mystery behind the abnormality and come to terms with cruel experiences of the past.
Show time: 1hour, 58minutes
Director: Myrhna James, Yash Saini
Cast: Priyanka Karki, Reecha Sharma, Benisha Hamal, Aayushman D Joshi
Writer: Myrhna James, Yash Saini
Released Date: 2022
---