Revisiting Soongava: Dance of the Orchids and analysing its queerness in 2021
It is evident that the film was made through a cis male gaze and had no input from queer women.

Screengrab via YouTube
bookmark
Published at : August 7, 2021
Updated at : August 7, 2021 07:10
I first heard about 'Soongava' back in 2012 when it had just been released in the theatres. I was barely a teenager then; therefore, I had very little idea about the movie except that it's centred around a lesbian relationship. At that time, an incessant amount of queerphobia was explicitly normalised with slurs and "jokes", so the idea of a movie that focused on a lesbian relationship seemed like a big deal and a huge step for the Nepali movie industry.

However, it was only in early 2019 that I finally watched the movie for the first time. At that time, I had started to consume and watch a lot of art centred around queer people and the community at large. Even mainstream movies and shows had started centring queer stories: 'Pose', 'Sex Education', 'Call Me By Your Name' and 'Love, Simon' being a few such movies. Seeing representations of queer people in movies made me want to watch something that was closer to home. I began looking for Nepali movies that centred around queer people and relationships. This was the time when I stumbled upon 'Soongava' again. I was excited to watch the movie and was even more pleased to find out that the film was on YouTube.
When I watched the movie then, I did not really analyse it critically because I was yearning for a proper queer representation on the big screens, especially in a Nepali context. Most of what was fed as "representation" in South Asian movies (particularly Hindi and Nepali movies) have always been stereotypes and caricatures of transgender people, gay people, and lesbians. This sort of caricature and using queer people for a movie's comic relief results in prejudice and only harms people with lived experiences from explicit forms of discrimination and microaggressions due to their gender/sexual identity. A movie like 'Soongava' portrayed the characters with dignity and, for the first time, focused on two queer women's lives, and their budding relationship felt like major progress. The bare minimum marker was such a big deal that I failed to assess the movie critically.
This June, when I watched the movie again, I began to see other aspects of it and analyse them. I was left disappointed by the way the movie portrayed queerness and the gaze of the movie (cishet male gaze).
'Soongava: Dance of the Orchids' is a 2012 Nepali film, directed and written by Subarna Thapa. It stars Deeya Maskey and Nisha Adhikari in the lead roles, along with Saugat Malla and Bashundhara Bhushal. The film was selected as Nepal's official entry for the Best Foreign Language Film at the 86th Academy Awards (it did not get nominated). The film begins with Diya (played by Deeya Maskey) getting ready to go to her dance classes, where she is the dance instructor. We learn that Diya comes from a traditional/conservative family, and because of the shifting urbanisation and influence in Kathmandu, she leads dual lives—one, where she is expected to be an ideal daughter with set morals and ethics, and the other in which she can finally be herself and live life according to her rules. Throughout the movie, we can see that a crucial factor shaping Diya's character is this conflict of what she wants out of her life and what she is expected to be due to familial pressure and expectations. On the other hand, we have Kiran (played by Nisha Adhikari), who comes from a liberal and well-off bourgeois family. Both her mother and brother seem to have progressive values and take on life, which might be why Kiran is carefree and mostly does things according to her wishes. This kind of contrast between the lead characters' lives and personalities is one of the film's highlights.
While 'Soongava' attempts to earnestly reflect the hypocrisy of the city and the realities of the urban people trying to be open about their identity while standing against societal norms, it fails to be authentic. The writing and direction only try to explore issues through a very surface level approach. This is one of the reasons why any art that focuses on queer people and their lives must have input from a queer person who has the lived experiences. Only someone with lived experiences can carefully weave the nuances of the characters and everything that follows afterwards. There is little to no chemistry between Diya and Kiran, which is also one of the film's main flaws. This is a flaw in the movie's writing, direction and acting departments. The lack of chemistry between the main characters is evident in many scenes, especially in the ones that require the characters to speak to one another. The scenes that require no conversation are relatively better.
One of the film's biggest flaws is the gaze through which the film was made. It is evident that the film was made through a cis male gaze and had no input from queer women. This lack of input makes the film unsatisfying to watch, especially because the film had so much potential to accurately present the intricacies of two queer women's lives and relationships in urban Nepal.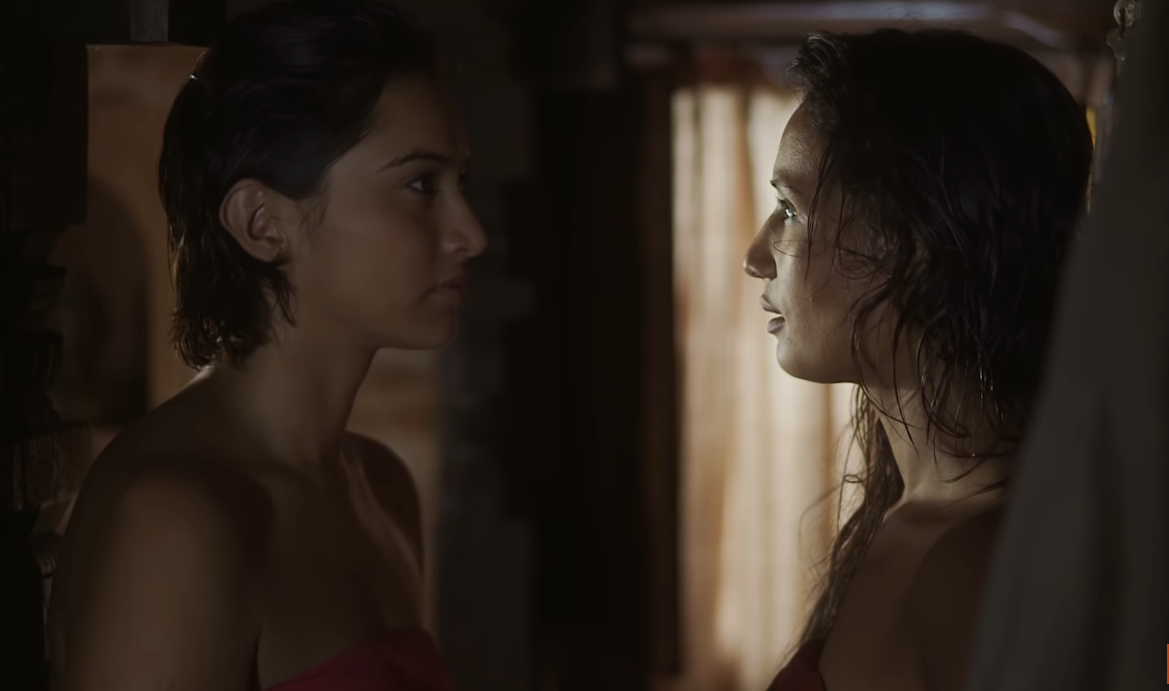 Screengrab via YouTube
The way the lesbian relationship is portrayed in the film is a stereotypical take on lesbians as well. While Maskey does a good job in her role as Diya and in portraying the will to break free from her conservative and traditional family structure and engagement, Kiran's character fails to be real and relatable to the queer audience. Her character was evidently written through a well-known stereotype that lesbians are "tomboyish" in nature.
This kind of stereotype has been going around for ages now, which also tends to put queer women into boxes and invalidate queer women who do not fit certain "criteria" to be seen as queer. Most of the time, queer women are forced to present androgyny to be seen as queer. This is the same case with Kiran, the way the character is written is purely through a stereotypical lens where her androgyny defines her sexual identity. Another problem with Kiran is that Adhikari portrays the character through emulation rather than getting into the character's skin. We see this time and again in the movie when Kiran proclaims that she is just like a guy because she rejects the idea of "femininity". This is also seen in how the relationship is shown in the movie, the idea that a lesbian relationship must have a "man" and a "woman" in a relationship. This kind of propagation is also harmful because people tend to conflate sexual identity with gender identity, which is also very much visible in the public sphere where the Nepali law has boxed all LGBTQIA+ individuals as the third gender.
Subarna Thapa has tried to use humanism in the film to depict the emotions and relationships of the characters. In some scenes, Thapa carries off the humanistic aspect pretty well, particularly in the scene where the two characters share an intimate moment and use their hands to symbolise the dance of the orchids (the title of the movie). Most of the scenes, however, fail to carry off the art form.
The movie's ending feels forced, and Thapa tries too hard to be tragic solely because it is a lesbian relationship, and the sudden tone shift does not feel consistent. However, it is understandable given that it is Subarna Thapa's debut. Humanism as an art form in films takes a long time and practice to ace.
Although I do realise that the movie was made almost a decade ago and maybe at that time, this film was considered a milestone for LGBTQIA+ representation in cinema, it is also time we become critical about movies that claim to uplift and support queer people. Even today, the Nepali film industry still fails to bring forth proper queer representation and stories.
The most recent movie that centres around a trans woman is 'Maruni', starring Samragyee RL Shah. Nepali movies continue to inaccurately portray transwomen and the fact that cisgender people always play the roles that are supposed to go to transgender people.
It is time that the industry becomes more inclusive towards women, transgender people, queer people, and other historically marginalised/oppressed communities. A very recent example our film industry can learn from is 'Geeli Puchhi', a mainstream Bollywood movie starring Konkona Sen Sharma and Aditi Rao Hydari. The movie not just deals with sexuality but also intersects it with caste and how other identities of a person shape their individual experiences under an inherently oppressive system. It is about time the Nepali film industry take notes from such examples.
---
---