'Political intervention and lack of plans are taking a toll on martial arts'
Taekwondo ace Deepak Bista says National Sports Council and the government should set their priorities right and invest in the promotion of contact games.

Deepak Bista monitors a training session of the national Taekwondo team at the Satdobato Taekwondo Academy, in Lalitpur. Post Photo: Prakash Chandra Timilsena
bookmark
Published at : July 23, 2019
Updated at : July 23, 2019 09:57
Kathmandu
With a record four consecutive taekwondo gold medals at South Asian Games, Deepak Bista is arguably the most celebrated Nepali sports personality. He is also the second Nepali athlete after fellow taekwondo star Sangina Baidya to have qualified for the Olympic Games.

Bista started his haul of gold at the South Asian Games in 1999. The last of his four gold medals came in 2010. Bista's glittering playing career also included two bronze medals (2002 in Busan, South Korea, and 2006 in Doha, Qatar) at the Asian Games. After suffering from a knee injury, he called time on his playing career in 2014 and has since been assisting Nepal's South Korean coach Kwon Young Dal.
As the national taekwondo team prepares for the 13th edition of South Asian Games to be held in December on home ground, the Post's Prajwal Oli caught up with Bista to talk about the state of taekwondo in the country.
The following interview has been condensed for clarity.
The 13th edition of the South Asian Games is approaching. What's the status of Nepali taekwondo?
We are currently undergoing a closed camp training for the South Asian Games. The National Sports Council has called up the winners of the National Games, which concluded on April 24, for the training. But we have added the losing finalists as well, as some other promising players unluckily crashed out in the preliminary stages of the National Games. As many as 40 players are undergoing the training conducted by the Korean coach.
We had been a dominant taekwondo force at the South Asian level. But in the last outing, we failed to bag even a single gold medal. Why do you think our performance has not been up to the mark?
Training alone is not sufficient to get the desired outcome. We need to have a systematic plan in place. We need to give competitive exposures to prospective players. It's definitely worrying that our players have failed to fetch medals in recent games. But if we make long-term plans and invest in players, we still stand a fairly good chance.
Moreover, we also need to take stock of what is going around in the world. Our level of competence has not improved over the last decade, while other nations have made huge strides. Other countries are making massive investments in the development of the game and their players. Afghanistan is one good example. They are not just dominating taekwondo in the South Asian Games, but have also struck two bronze medals at the Olympics. The players who earned Olympics bronze medals were the ones we had been defeated in the past. The reason is simple: they prioritised games like taekwondo and cricket and invested massively. The results are there for everyone to see. We need to set our priorities right and invest heavily on those games in which we have the potential to fetch medals.
Most of the national sports associations, including that of taekwondo, are victims of politicisation. Against this backdrop, how can one expect them to give proper direction?
Party politics has long been taking a toll on our sports. Political parties appoint their cadres in sports association. Taekwondo was doing pretty well. But all of a sudden, an ugly political interest resulted in the formation of a parallel taekwondo association. Same is the case with karate for which there are numerous associations. Even volleyball, football and many other sports are plagued by party politics.
Most often, the problems at sports associations surface due to conflict between the National Sports Council and Nepal Olympic Committee, largely because there is some kind of race among political parties to adjust their cadres. There are also problems in coaching. For example, "A" has been assigned to train players throughout the year. But when it comes to leading the team at international meets, someone else gets the opportunity because of his/her allegiance to a certain political party.
After repeated postponement, Nepal has finally fixed the dates for the next South Asian Games. Do you think we will be ready to host the games by that time?
One major concern is whether the Dashrath Stadium will be fully operational by that time. Otherwise, I don't see any problem in terms of infrastructure. The Chinese contractor has been working to get the Dashrath Stadium ready before the games and hopefully it will be ready before the opening ceremony. The show must go on. Another postponement will hit the players hard. I myself am an example of how frequent deferrals can affect a player's career. As the biennial event was not held on a regular basis, I missed out on a chance to add more gold medals at the regional meet. I won the fourth and final South Asian Games gold in 2010 but could not participate in any other event as it took place only after six years in 2016 in India, two years after my retirement. I firmly believe that if a country is not ready, it should hand over the hosting rights to other countries.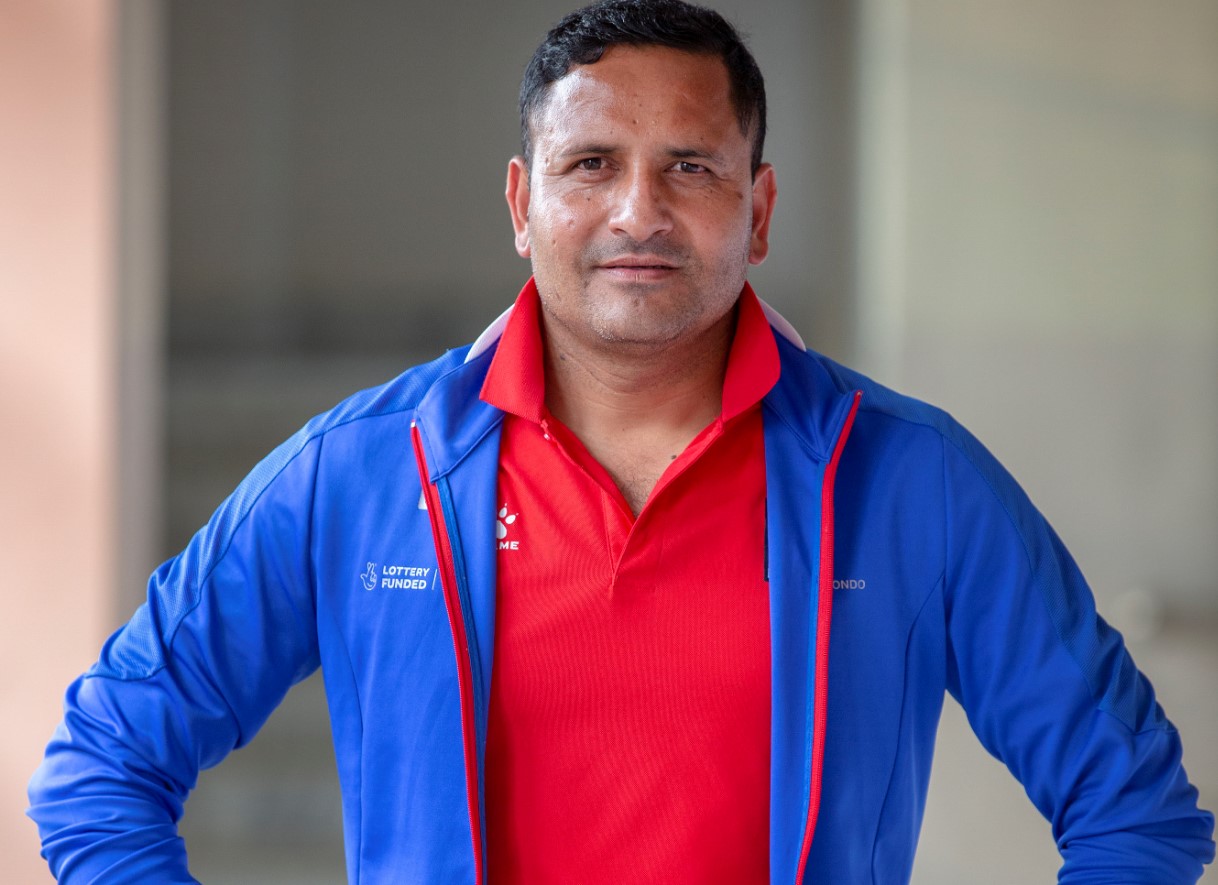 Deepak Bista Prakash Chandra Timilsena /TKP
What are the major challenges for Nepal in the Games?
First and foremost, the challenge is to organise the event without any hiccups. The next challenge as the host country is to perform well or at least match the record of the 1999 edition of the Games when we struck a record 32 gold medals.
Taekwondo bagged a record 14 gold medals which played a big part in Nepal's second-place finish in the 1999 South Asian Games. Do you think taekwondo could help the country achieve the same feat?
It is really tough because other countries like India and Afghanistan have made big strides since 1999. A lot has changed over the years. There was a time when Nepal was considered a taekwondo powerhouse in South Asia. The game was new for countries like India, Bangladesh and Sri Lanka back in 1999. Bangladeshi players used to come to Nepal for training. But while other countries were making progress, we were moving at a snail's pace. One hope, however, is the addition of poomsae category in which Nepal can fare reasonably well.
How can we achieve better results this year?
Improvement in training, better facilities for players and more exposures are key to success. The government and the National Sports Council need to classify the potential medal-oriented games and prioritise them accordingly. Unfortunately, all the games are getting similar treatment. In the case of taekwondo, the National Sports Council and the Ministry of Youth and Sports must ask for plans and roadmaps from the association and create a conducive environment to implement them. The association is worried about the country's failure in the international arena. Everyone wants to see the country win gold medals and it is the responsibility of all the stakeholders to make that happen.
The number of players in contact games like taekwondo and karate are on the decline. Can you explain why?
Youngsters look up to stars but for the past few years, taekwondo or karate has failed to produce that. When we were at our peak and were waving national flags at international meets, we had our fan following. In the case of taekwondo, youngsters were keen to follow the footsteps of Sangina Baidya and Bidhan Lama. But these days there are no such stars in taekwondo and naturally, the youngsters are less inclined to take up the game.
The new generation has found new stars in cricket and football. The money and fame that come with playing cricket or football cannot be matched by any other sports nowadays. Naturally, youngsters tend to take up cricket and football more than any other sports. They idolise cricketers like Paras Khadka and Sandeep Lamichhane or a footballer like Rohit Chand. Moreover, sponsors also like to promote a sport that has a fan base. Educational institutions are providing scholarships to potential cricket and football enthusiasts. But there is no such environment for taekwondo or any other martial arts for that matter. Cricket and football also draw massive fundings from their international federations. This is not the case with taekwondo. We have to depend on a paltry budget allocated by the National Sports Council to run our association. But the (taekwondo) association also must take some blame for not being able to attract players.
In countries like South Korea, which produce world-class players, they take proper care of their stars providing every facility from scholarship to training. In the case of Nepal, players from districts even struggle to pay for their travel to Kathmandu to compete in a tournament. We have failed to take taekwondo to schools and colleges.
***

What do you think?
Dear reader, we'd like to hear from you. We regularly publish letters to the editor on contemporary issues or direct responses to something the Post has recently published. Please send your letters to tkpoped@kmg.com.np with "Letter to the Editor" in the subject line. Please include your name, location, and a contact address so one of our editors can reach out to you.
---
---