Frontliners face hassles for boosters amid mismanagement
A lack of communication and poorly managed vaccination centres lead to crowds, forcing many to stand in line for hours.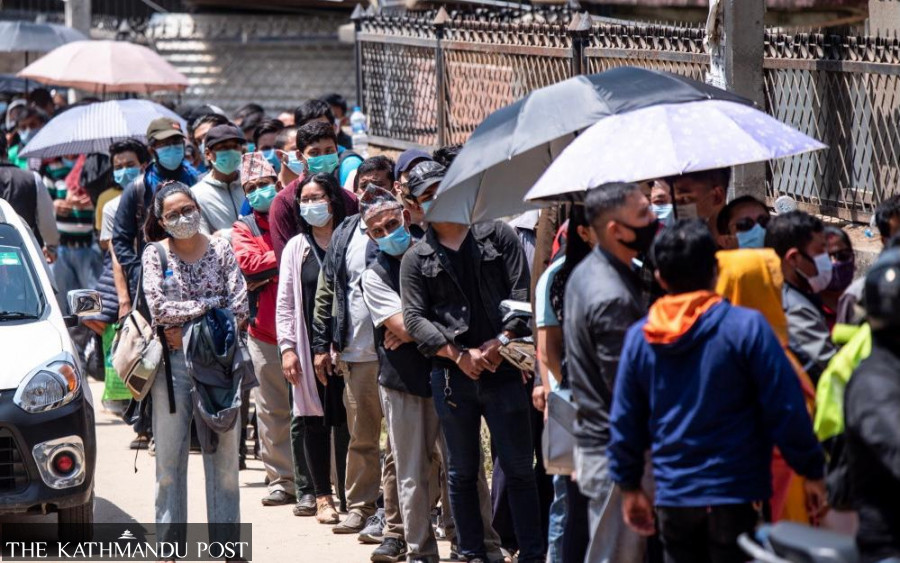 Post File Photo
bookmark
Published at : January 18, 2022
Updated at : January 18, 2022 07:14
Kathmandu
At around ten on Monday morning, Suresh Rijal reached Civil Hospital to get a booster shot against Covid-19.
A line was already forming. He stood in the queue. But an official told him that he needed to get a token first.
He went to get the token.
"The official at the gate said 700 tokens had already been distributed in the morning and asked me to come early on Tuesday," said Rijal from Purano Baneshwor, who had returned from the same hospital on Sunday also after standing in the queue for three hours for the booster.
Rijal, a lab technician, said he failed to get the booster shot on Monday as well.
"This is a great example of mismanagement," said a frustrated Rijal. "Now I will come for booster shots only after the crowd subsides."
Sarita Pokharel, 29, of Sankhamul also returned home from Civil Hospital after she was told the quota for the day was over.
But after one of her relatives told her that she could get the booster shot from Maternity Hospital at Thapathali, she went there.
"I stood in line for nearly two hours. When my turn came, the hospital staff said one needn't wait in line for booster shots," said Pokharel, who works for an insurance company in Naxal.
"My whole day was wasted trying to get a booster shot," said Pokharel.
In a notice on Friday, the Ministry of Health and Population had decided to administer booster shots to all the frontline workers—doctors, nurses, paramedics, lab technicians, hospital staff, female community health volunteers and ambulance drivers.
The government had also announced that the boosters would be given also to journalists, bureaucrats, lawmakers, those serving in diplomatic missions, financial institutions, prisoners, people living in old-age homes, and refugees, who were vaccinated in the first phase of the immunisation campaign that started on January 27 last year.
But authorities failed to provide booster shots on Sunday citing the lack of preparations.
After widespread criticism from the public for its inability to give booster shots on Sunday, the government had assured to give the shots from Monday onwards, but still many frontliners had to face hassles to get the shots.
Officials had said the government could not provide booster shots on Sunday because of the communication gap.
On Monday, it was still a mess at most of the vaccination centres.
Dr Bidhan Nidhi Paudel, executive director at Civil Hospital, said all this hassle has been caused due to the mismanagement of the government agencies.
"On Sunday, after crowds went berserk, the police had to use batons to quell the crowd. It was quite unfortunate. On Monday also tokens were given to only 700 people and many had to return home without getting the jabs," said Paudel.
The hospital has deployed eight of its nurses for vaccination along with 17 volunteers.
"The hospital is running a vaccination centre at the request of the district health office but the health office has done little to facilitate the drive," said Paudel. "The health office has made no provisions even for drinking water for the volunteers and those deployed at the vaccination centre. The mismanagement of the health office has harmed the hospital's reputation," said Paudel.
Paudel said the authorities should have maintained separate queues for those seeking booster shots and those coming in for their first or second doses of the vaccine for better management of the vaccination process.
"It's really sad that many frontline workers had to return without booster shots due to the mismanagement of the government authorities and people are compelled to wait for their turn from 5am in this cold," he said.
Meanwhile, officials at the Sukraraj Tropical and Infectious Disease Hospital also said many people who had reached for booster doses had to return home without getting one, as the centre was overcrowded.
The situation was the same at the Tribhuvan University Teaching Hospital in Maharajgunj and other vaccination centres.
On Sunday hundreds of frontliners had returned home after queuing up for booster shots without getting one due to the government's hurried announcement which had led to overcrowding at almost all vaccination centres.
On Monday the country reported 5,747 new PCR-confirmed coronavirus cases with three fatalities in 24 hours. In a total of 3,451 antigen tests, 987 people tested positive, according to the Health Ministry.
The countrywide death toll has now reached 11,623. The number of active cases stands at 30,877. The daily positivity rate increased to 41 percent on Monday from 3 percent on January 3.
Meanwhile, Kathmandu Valley recorded 3,939 new cases in the past 24 hours, which is nearly 60 percent of the total infection. Of these, 2,943 cases were confirmed in Kathmandu, 795 in Lalitpur and 201 in Bhaktapur.
Shambu Kafle, chief at the Kathmandu Health Office, admitted the office's inability to give booster shots to frontliners as announced.
"In Kathmandu, regular shots and boosters were given from 19 different places. All the centres were crowded. The number of people coming for their first and second doses is already too high and the announcement of booster shots only added to the crowd," said Kafle.
Kafle pointed to the shortage of manpower behind the chaos seen at vaccination centres in the last two days. "The health office could not deploy the required number of health workers to the vaccination centres since most of them are engaged in vaccination drives in different schools for children between 12 and 17-year of age," said Kafle. "The vaccination drive at schools will end on January 21."
At present, the first and second doses of the vaccine, and booster shots are being provided from Birendra Army Hospital, Nepal Police Hospital, Armed Police Force Hospital, Subiksha Hospital in Sitapaila, Peoples Dental Hospital in Samakhusi, Janamaitri Hospital in Balaju, Grande Hospital in Dhapasi, Kathmandu Model Hospital in Bagbazar, Norvic Hospital in Thapathali, Nobel Hospital in Sinamangal, Vayodha Hospital in Balkhu, Sahid Smarak Hospital in Kalanki, Apex Polyclinic in Jadibuti and at a temporary centre set up at New Bus Park.
As of Monday, 122,13032 people, or 40.2 percent of over 30 million population, have been fully vaccinated in Nepal. The country has received 40,388,840 doses of vaccines so far.
There are over five million doses of vaccines in stores throughout the country, which can be used as either first doses or booster shots. The government has more doses in stock, but they have been saved as second doses for those who have already taken their first jabs.
When asked about the present chaos at vaccination centres, Sameer Kumar Adhikari, joint spokesperson for the Health Ministry, said the rise in infections among the health workers has left them short of people, the reason behind the failure to streamline the vaccination drive.
"Also, there has been a noticeable flow of people to the vaccination centres in the last few days, overwhelming the system," he said. "We can't make a separate line for booster doses because we are emphasising vaccination of those who have not received even their first dose of the vaccine," said Adhikari.
He also said the ministry is looking for alternatives to run the vaccination drive more effectively and efficiently. "The present problem is that many unvaccinated people have started to go for jabs and those who need booster doses are also heading to vaccination centres. We, therefore, request people to wait. By next week it will be easier," said Adhikari.
---
---