Covid-19 pandemic pushes provinces to invest in local hospitals
All seven provinces are upgrading existing facilities in anticipation of a Covid-19 outbreak.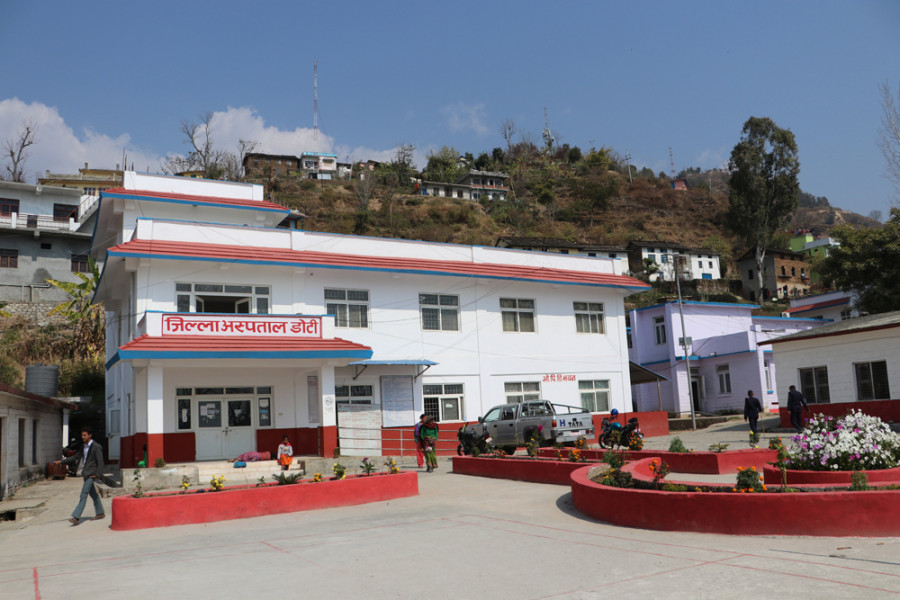 The district hospital in Doti. Post file photo.
bookmark
Published at : April 11, 2020
Updated at : April 11, 2020 09:10
Kathmandu
The government has always neglected areas outside major cities when it comes to development of health facilities. People from outside the Valley still need to travel to Kathmandu for treatment of many diseases.
Development of health facilities was not prioritised even by provincial governments that came into existence two years ago. However, the Covid-19 pandemic has led provincial governments to realise that fighting diseases such as Covid-19 was not possible without well-equipped health services in the provinces and districts.
"The positive side of the pandemic is that it has led to a realisation that the centre alone cannot deal with such diseases," Nawal Kishore Sah, social development minister in Province 2, told the Post.
The province, which fares poorly in health services, is upgrading five of its hospitals, and increasing critical care facilities and beds. Sah said that along with the Janakpur-based provincial hospital, four other district hospitals are being upgraded to treat infections.
He said the government is also planning to upgrade hospitals in Parsa, Mahottari, Dhanusha and Saptari to make provisions for 50-bed wards. The hospitals will have intensive care units and ventilators.
Sah said that his government has released Rs 50 million to each of the hospitals. "Our province is at high risk of Covid-19, yet we have very poor health facilities," he said. "The present crisis has triggered us to upgrade our facilities."
Sudurpaschim Province, which is among the least developed provinces, too is working to upgrade its hospitals. Hari Lamsal, secretary at the social development ministry, said the provincial government was already working to set up a modern lab at the Dhangadhi-based provincial hospital and upgrading hospitals in all 15 districts.
He said the government has already called for bids to upgrade the district hospitals, adding at least one ventilator in each of them. "The pandemic has come with an opportunity to enhance our health services," he told the Post. "It might take time, but the process has begun." With four people tested positive for Covid-19, the province has the highest reported case of the disease at present.
As the influx of the Nepali workers returning home from India continues, it is also at high risk of a possible outbreak.
In the wake of the Covid-19 pandemic, all the provinces are investing in the health sector as the centre has assured them that it will provide the necessary budget.
Dal Rawal, social development minister of Karnali Province, said the current pandemic has taught a lesson that saving lives is the first priority of the state. This cannot be achieved without investing money in the health sector. He said his government plans to allocate up to Rs 10 million to all nine district hospitals.
Currently, there are only 17 intensive care units and 8 ventilators in the province. Both numbers are to be doubled within a few weeks "The present pandemic led us to ponder on the importance of health service," he told the Post. "We will continue to invest in the hospitals even after the pandemic is over."
Frequently asked questions about the coronavirus outbreak
UPDATED as of September 22, 2020
What is Covid-19?
Covid-19, short for coronavirus disease, is an illness caused by the coronavirus SARS-CoV-2, short for severe acute respiratory syndrome coronavirus 2. Common symptoms of the disease include fever, dry cough, fatigue, shortness of breath and breathing difficulties. In severe cases, the infection can cause pneumonia, severe acute respiratory syndrome, kidney failure and even death.
How contagious is Covid-19?
Covid-19 can spread easily from person to person, especially in enclosed spaces. The virus can travel through the air in respiratory droplets produced when a sick person breathes, talks, coughs or sneezes. As the virus can also survive on plastic and steel surfaces for up to 72 hours and on cardboard for up to 24 hours, any contact with such surfaces can also spread the virus. Symptoms take between two to 14 days to appear, during which time the carrier is believed to be contagious.
Where did the virus come from?
The virus was first identified in Wuhan, China in late December. The coronavirus is a large family of viruses that is responsible for everything from the common cold to Middle East Respiratory Syndrome (MERS) and Severe Acute Respiratory Syndrome (SARS). After an initial outbreak in Wuhan that spread across Hubei province, eventually infecting over 80,000 and killing more than 3,000, new infection rates in mainland China have dropped. However, the disease has since spread across the world at an alarming rate.
What is the current status of Covid-19?
The World Health Organisation has called the ongoing outbreak a "pandemic" and urged countries across the world to take precautionary measures. Covid-19 has spread to 213 countries and territories around the world and infected more than 31,405,983 people with 967,505 deaths and 22,990,260 recoveries. In South Asia, India has reported the highest number of infections at 5,557,573 with 88,943 deaths. While Pakistan has reported 306,304 confirmed cases with 6,420 deaths. Nepal has so far reported 65,276 cases with 427 deaths.
How dangerous is the disease?
The mortality rate for Covid-19 is estimated to be 3.6 percent, but new studies have put the rate slightly higher at 5.7 percent. Although Covid-19 is not too dangerous to young healthy people, older individuals and those with immune-compromised systems are at greater risk of death. People with chronic medical conditions like heart disease, diabetes and lung disease, or those who've recently undergone serious medical procedures, are also at risk.
How do I keep myself safe?
The WHO advises that the most important thing you can do is wash your hands frequently with soap and water for at least 20 seconds or use hand sanitizers with at least 60 percent alcohol content. Avoid touching your eyes, nose and mouth with unclean hands. Clean and disinfect frequently used surfaces like your computers and phones. Avoid large crowds of people. Seek medical attention if symptoms persist for longer than a few days.
Is it time to panic?
No. The government has imposed a lockdown to limit the spread of the virus. There is no need to begin stockpiling food, cooking gas or hand sanitizers. However, it is always prudent to take sensible precautions like the ones identified above.
---
---