A private hospital's negligence has an infant on the verge of death
A string of errors and oversights by doctors at Grande International Hospital has destroyed a 15-month-old child beyond repair, his parents allege.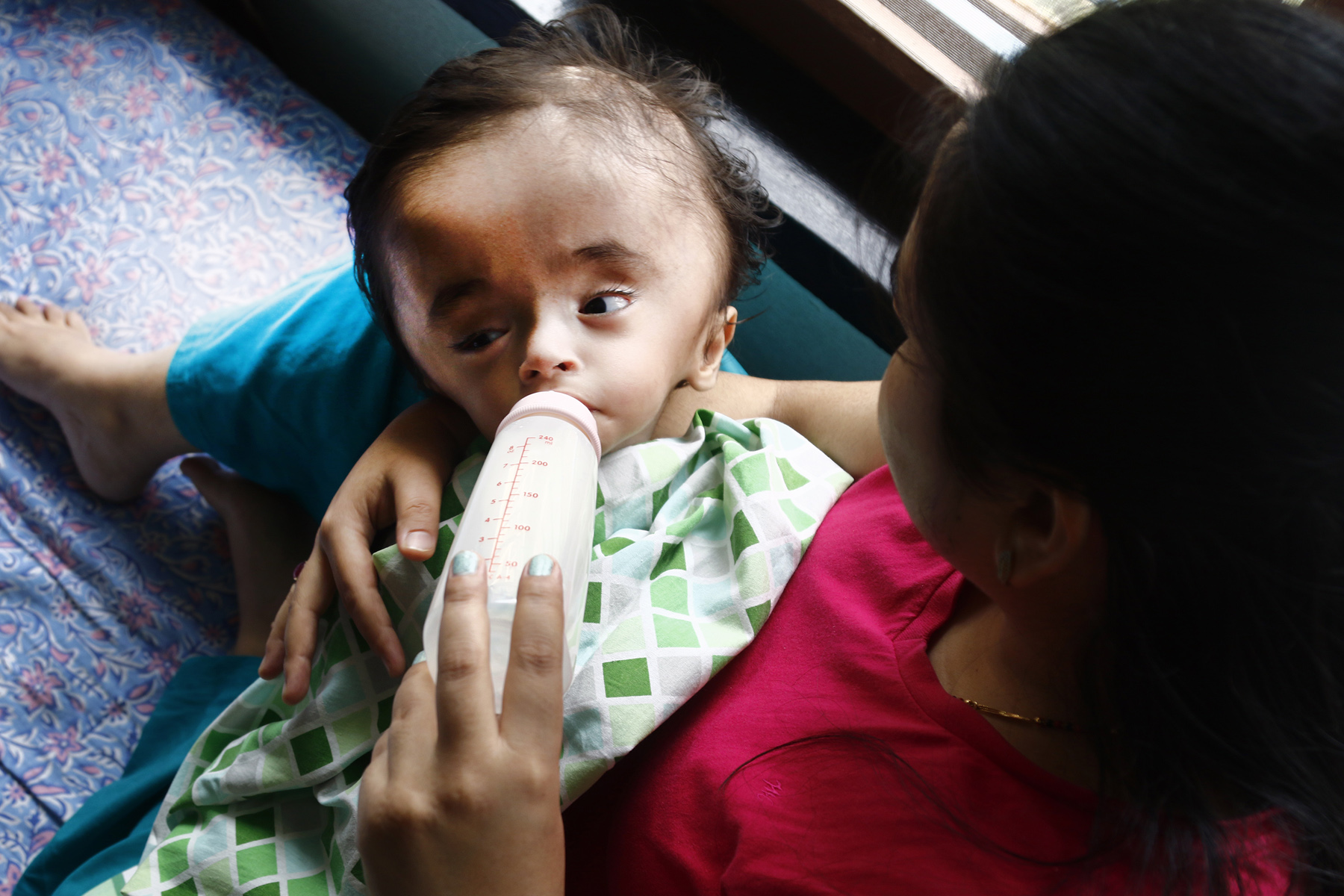 From the moment he was born, Rihan suffered from a series of complications, which, his parents say, were exacerbated by doctors at Grande International Hospital. Keshav Thapa/TKP
Published at : October 18, 2019
Updated at : October 19, 2019 09:47
On the third floor of a house in Kapurdhara, behind the British Embassy in Lainchaur, 15-month-old Rihan is lying on his side. His head is disproportionately large and his body is dangerously thin and malnourished. His arms and legs appear wasted and his eyes have narrowed. He stares out of the window but it is difficult to tell whether he can hear or not. He doesn't seem bothered by the noise even when a lot of people enter his room. In the past five months, ever since he was discharged from the hospital, his daily routine has been to wake, eat, sleep and repeat.
Rihan was born to Ekata Ghimire and Sanjeev Neupane on June 26, 2018 at Grande International Hospital in Dhapasi. They had been visiting the hospital ever since Ekata conceived, regularly meeting and following up with their attending consultant Dr Abha Shrestha Shakya. Rihan was born slightly early, at 36 weeks and a day, weighing 2.85 kgs.
But from the very moment he was born, Rihan suffered from a series of health complications, which, the parents say, were exacerbated or mistreated by a team of doctors at Grande International. In nearly a year at the hospital, Ekata and Sanjeev watched helplessly as the hospital committed malpractice after malpractice, often due to simple oversight and at other times, carelessness. In the end, their newborn would end up the way he is today—catatonic.
Rihan's struggles began just as he was born with a pneumonia infection and had to be placed in the Intensive Care Unit of the hospital immediately. After no signs of improvement, he was moved to a mechanical ventilator, which would turn out to be the biggest misfortune of his new life.
"I was ready to be discharged in three days after a Cesarean operation," said Ekata. "But I wasn't ready to go home without my baby so I stayed at the hospital after asking the doctors to not discharge me for a few extra days."

After six long days, Rihan was ready to be taken off the ventilator and Ekata too was going to be discharged.
"I had expected that the hospital would hand over my baby after taking him off the ventilator," said Sanjeev. "But instead, they told us that another complication had surfaced."
Rihan had a Klebsiella bacterial infection, said the doctors. He had acquired it while on the ventilator, a hospital-imparted infection.
The doctors, however, told Sanjeev to keep this information to himself. Ekata, who was still recovering from the Cesarean operation, would only be worried, they said.
To control the infection, Rihan had to be given antibiotics for 14 days and placed in the ICU. Sanjeev and Ekata thus returned home leaving their baby in the care of the hospital's doctors and nurses.
Over the next two weeks, Sanjeev and Ekata developed a new routine to their day. They would reach the hospital every morning, enquire about Rihan's condition, spend the entire day at the hospital, and return home in the evening. Rihan's 'nwaran', or naming ceremony, was done at the hospital itself, on the eleventh day.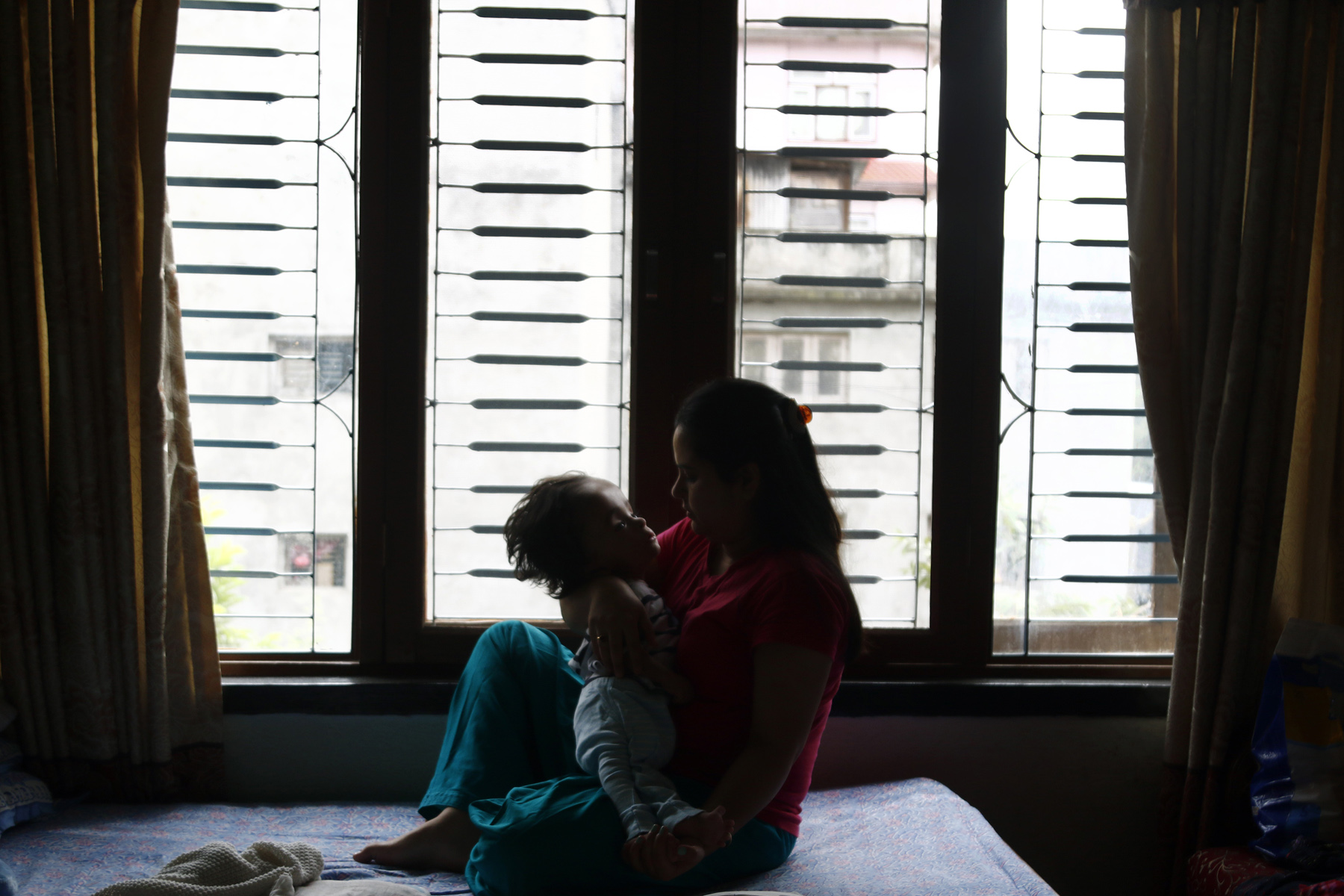 Rihan with his mother Ekata, whose life for the past few months has been a constant fight to save her sons's life. Keshav Thapa/TKP
After 21 days in the hospital, Rihan was finally discharged. The new parents were elated to be able to finally bring their baby home after such a harrowing stay at the hospital. The first two days went by without incident, but on the third day home, Rihan developed a fever. Sanjeev anxiously called a doctor, who advised that the child be admitted to the hospital.

Once again, Rihan was admitted to Grande Hospital for 24-hour observation.
"When I saw the pus pulled from Rihan's spinal cord, I was terrified," said Sanjeev. "But I consoled myself, thinking at least I had brought him to the hospital on time."
Rihan had meningitis, the doctors told him.
Rihan's next stay at the hospital would extend to 42 days, during which time Sanjeev learned the vocabulary of medicine. An ultrasound was conducted to see if the meningitis had had any impact on Rihan's brain. Radiologists looked at the report and said that there could be pus accumulated in the brain, said Sanjeev, but the doctors didn't pay much attention to the radiologists' report and continued to administer antibiotics. With no sign of improvement, a Magnetic Resonance Imaging (MRI) test was conducted. By then, Rihan had already been in the hospital for 40 days.
The night after the MRI test, doctors told Sanjeev and Ekata that a brain operation was required to remove the pus. Neurosurgeon Dr Amit Thapa took the responsibility for the surgery.
"As soon as the MRI report came, Dr Amit said there was an abscess in Rihan's brain and that it needed to be removed without delay. He said he would operate on the baby immediately," said Sanjeev. "We had no option but to comply."
Five days after the operation, Thapa and his team told Sanjeev that another surgery was required as the pipe installed in the baby's brain to drain the pus had become clogged.
"There is a lot of pus. We were planning to remove it all but we couldn't," Sanjeev recalled Thapa saying.
Sanjeev had hit rock bottom. His child had to undergo brain surgery twice within 50 days after birth. To further worsen matters, Sanjeev's father had died suddenly less than a month after Rihan was born.
"On the one hand, my wife had undergone surgery, and on the other, my infant son was battling for his life after two brain surgeries. And in these circumstances, my father passed away," said Sanjeev, tears welling up in his eyes. "I didn't even do the mourning rituals for my father. How could I?"
Two weeks after the second surgery, Rihan was taken to the operation theatre for the third time with doctors saying that the pus had failed to drain completely. And then, a fourth surgery was performed. Two pipes fitted to drain the pus in the third surgery were removed and new ones placed. The process is called VP shunting, where pipes are placed to collect excess cerebrospinal fluid from the brain.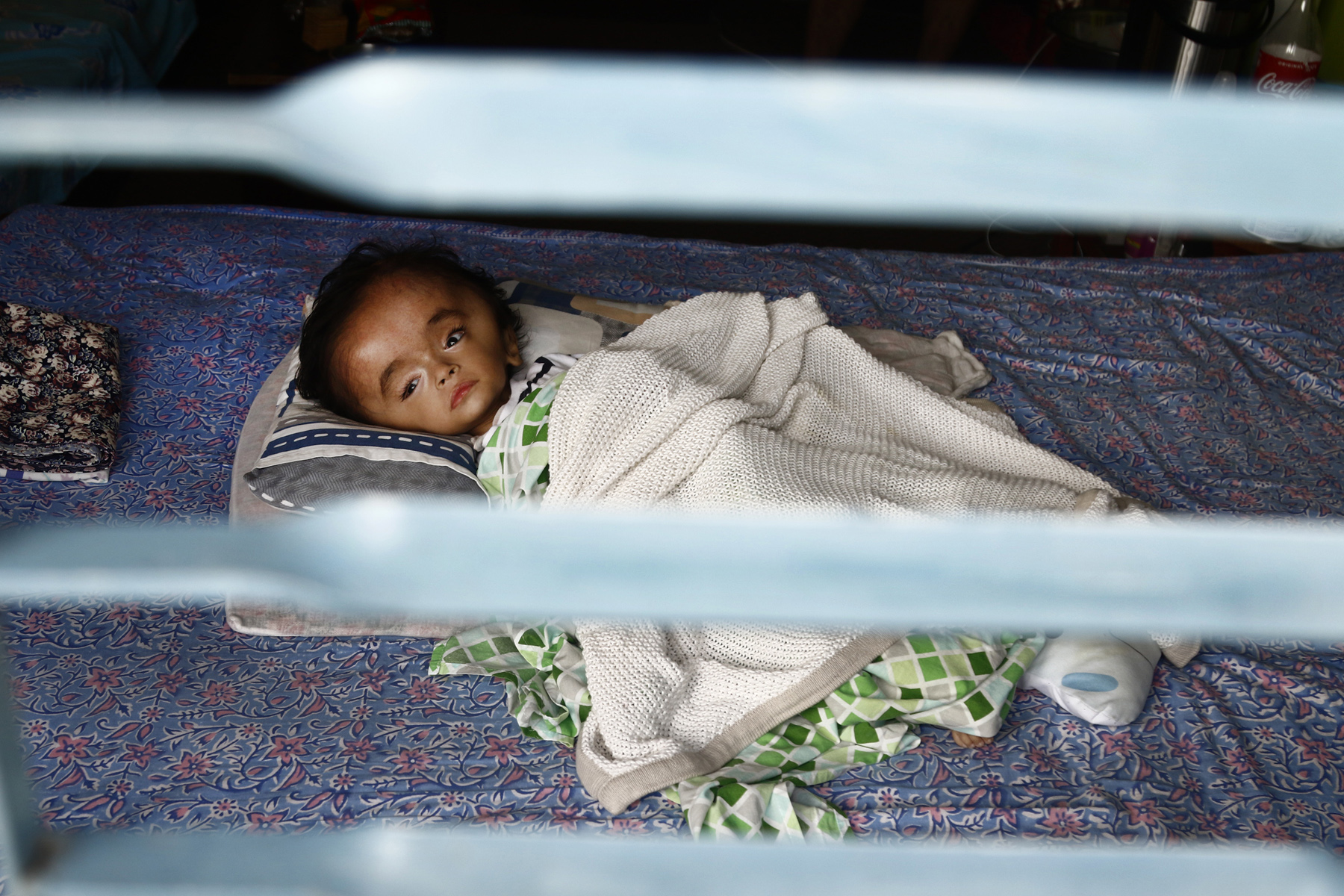 Keshav Thapa/TKP
After the fourth surgery, Rihan's condition improved. By this time, Rihan had been in the hospital for 67 days. He was permitted to be taken home on October 9, 2018. But it took some time for Rihan, who had been in the hospital for four months after his birth, to adjust to his home environment.
"He was accustomed to living in the constant temperature of the hospital. He became restless after arriving home. Sometimes, I wondered if I should take him back to the hospital again," Ekata said.
Ekata and Sanjeev had spoken to a lot of people and done their own research. They knew that their child might never be completely normal, given the infection, the multiple surgeries and the prolonged stay in the hospital. In spite of all that, as Rihan started to respond to external stimuli, they had hope.
Disillusioned with Grande, the parents took Rihan to other hospitals for check-ups. At Tribhuvan University Teaching Hospital, he underwent an ear check-up and an eye check-up at the Tilganga Institute of Ophthalmology.
"The condition of his eyes' outer portion was fine but we were told that nothing could be said about the condition of the nerves connected with the eyes until Rihan reached one year in age," said Sanjeev.
Rihan's condition was slowly improving and Sanjeev and Ekata were happy to see their infant getting better. But despite the improvements, Rihan appeared malnourished.
"His head was too small when he was brought home. People who came to see him never stayed very long because they felt uncomfortable. We were heartbroken," said Ekata. "But we had hope that our son was getting better."
On the advice of the doctors, Sanjeev was regularly measuring Rihan's head size. They had also been told to consult with the doctors and carry out health check-ups every month. Between the fourth and sixth months since birth, Rihan's head was normal. It was in the seventh month that his head suddenly started to enlarge.
An ultrasound showed hydrocephalus and an 8.2 cm long and 1 cm wide build-up of cerebrospinal fluid in the brain, said Sanjeev. But Amit Thapa, the chief doctor involved in Rihan's surgery, disagreed with the radiology report, saying that the build-up should be 8 mm long, not 8 cm.
"We were afraid when the radiologists said that the length of fluid was 8 cm long," Sanjeev said. "But Dr Amit assured us that it can never be that long, that it was only 8 mm. We believed the doctor."
Rihan's head started growing bigger and bigger every month. In the ninth month, an MRI was conducted. Rihan underwent a fifth surgery to place another shunt to drain the fluid.
"In the beginning, we were told that the fluid build-up was small," said Sanjeev. "Later, they told us to carry out an MRI and when the report came, we were told that the build-up was bigger and needed to be operated. We agreed. We wanted to do everything for the welfare of our child."
In the end, it turned out that Thapa was mistaken and that radiology report was right all along--the build-up was 8.2 cm long.
It was after this surgery that tensions began to grow between the parents and hospital. Sanjeev and Ekata had so far trusted the doctors and Grande Hospital but one incident led Sanjeev to doubt just how well the hospital was treating his child.
"We were in the cabin with Rihan when a nurse came to give him medicine," said Sanjeev. "The doctor had said that much medication was not required since it had been a bloodless surgery so we asked the nurse what she was giving to the child. She told us that it was paracetamol, but we were alarmed by the amount."
Sanjeev saw that the nurse was attempting to give Rihan, a months-old infant, a paracetamol dose of 66ml, which is a heavy dose even for a fully-grown adult.
"We asked her to check with the doctor and confirm the amount," said Sanjeev. "The nurse was visibly angry because of our request but when she came back after asking the doctor, she said that she was mistaken and gave a much smaller dose."
Sanjeev and Ekata were relieved, but when they overheard that Rihan must've received a 66ml dose in the ICU, they were shocked.
"The news had already reached the doctors," said Sanjeev. "We became puzzled after almost all of the doctors came one after another to see Rihan."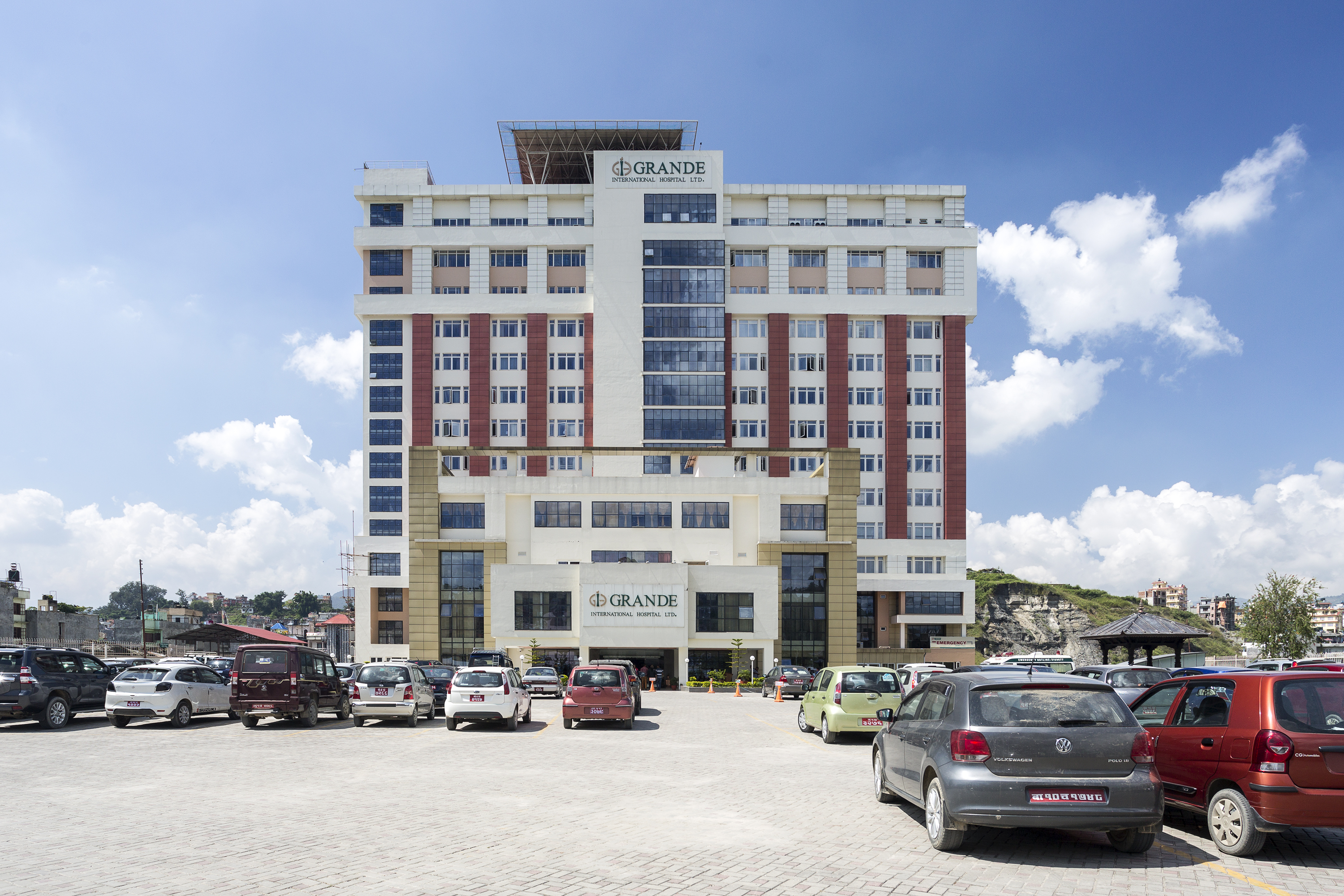 Post File
Dr Chakra Raj Pandey, a famed orthopaedic surgeon and director of Grande Hospital, himself came to enquire after Rihan's condition. Pandey accepted that there had been an overdose of paracetamol and that the hospital took full responsibility, said Sanjeev.
Pandey assured the parents that the hospital would do whatever it took to avert the danger the child was going to face, according to Sanjeev.
But problems compounded further when the hospital initiated efforts to reverse the effects of the overdose. An infection was seen in Rihan's urine, causing a fever. But because of the overdosing, Rihan could not receive any more paracetamol. The parents were told to regularly place a cold compress on Rihan's forehead to bring his temperature down. Sanjeev and Ekata spent long nights alternatively placing a cloth soaked in cold water on their son's forehead.
"But the fever became severe and when we asked the doctors, they said the only thing that could be done to bring down the temperature was to use a wet cloth," Ekata said. "We spent the whole night replacing the water-soaked cloth. None of the nurses came to help."
The next morning, an argument ensued between the parents and the hospital administration, which then arranged a room in the pediatric intensive care unit for Rihan. But Sanjeev had had it with Grande and its doctors. He suspected malpractice and took his child's medical reports to get a second opinion from doctors at other hospitals. While the doctors were unable to say if Grande had done anything wrong, they advised against moving Rihan to another hospital as that would only cause him more pain.
Sanjeev and Ekata reluctantly agreed to continue with the treatment at Grande but they also lodged a complaint with the Nepal Medical Council, accusing Grande Hospital and its doctors of serious negligence in the treatment of their child.
The council asked Grande International Hospital for an explanation and formed an ethical committee under Dr Ganesh Rai with Dr Gopal Raman Sharma and Dr Ganesh Dangal as members. During investigation, the committee discovered many mistakes on the hospital's part, including administration of an unnaturally high dosage of paracetamol to the infant, miscommunication between the hospital's radiologists and neurosurgeons, and withholding information from the patient's guardians regarding treatment procedures.
Based on the committee's findings, the council has announced that appropriate action will be taken against the medical personnel involved in Rihan's treatment.
However, Grande International Hospital's Medical Director Pandey has refuted any negligence on the part of the hospital while treating Rihan.
"We took good care of the child ever since the day he was born," said Pandey, "The child was suffering from neonatal pneumonia. The case took a wrong turn when the child acquired an infection while the doctors were treating him for pneumonia. The doctors involved in the child's treatment did everything that was medically possible."
Pandey said that the hospital cannot be blamed for the Klebsiella bacteria infection as it is a common gut bacteria that is primarily found in hospitals. Anyone visiting a hospital for treatment can contract an infection from Klebsiella, said Pandey.
"The chances of patients being infected by Klebsiella or other hospital-borne diseases is very low at Grande," he said. "We are ready to present our data, but some people are trying to defame the hospital by cherry-picking one or two instances of infection. We strongly object to this."
Pandey also claimed that there had been no misunderstanding between the hospital's radiologists and neurosurgeons.
"The doctors involved in the treatment took their decisions after reviewing multiple options and I don't think the doctors took any wrong decisions," said Pandey.
However, Pandey admitted that the paracetamol dosage had been bungled and that he would review the matter seriously. But even here, Pandey had a caveat.
"I reviewed the child's health condition and conducted all possible check-ups. The overdose did not harm the child in anyway," he said. "There is no doubt that the child was administered a high dose of paracetamol but we are certain that it did not cause any harm. Sometimes mistakes happen during treatment but it is not right to make an issue out of it."
Pandey and Grande might get away with their defence that "mistakes happen," but for Ekata and Sanjeev, these mistakes are unforgivable. Initially, Sanjeev only wanted the hospital to admit to its mistakes and apologise but they are now infuriated by Pandey's response and are consulting with lawyers to take the hospital to court.
For now, Rihan sleeps quietly, opening his eyes occasionally and looking around. But he is mostly unresponsive. His parents have done all they can, going through a harrowing ordeal in order to save their son's life. But now, there is little they can do but wait for the ultimate end: death.
Dear reader, we'd like to hear from you. We regularly publish letters to the editor on contemporary issues or direct responses to something the Post has recently published. Please send your letters to tkpoped@kmg.com.np with "Letter to the Editor" in the subject line. Please include your name, location, and a contact address so one of our editors can reach out to you.
---