Alumutairi quits as Nepal football coach
The Kuwaiti, who had a contract with national team until December 2023, has accused ANFA of violating the contract.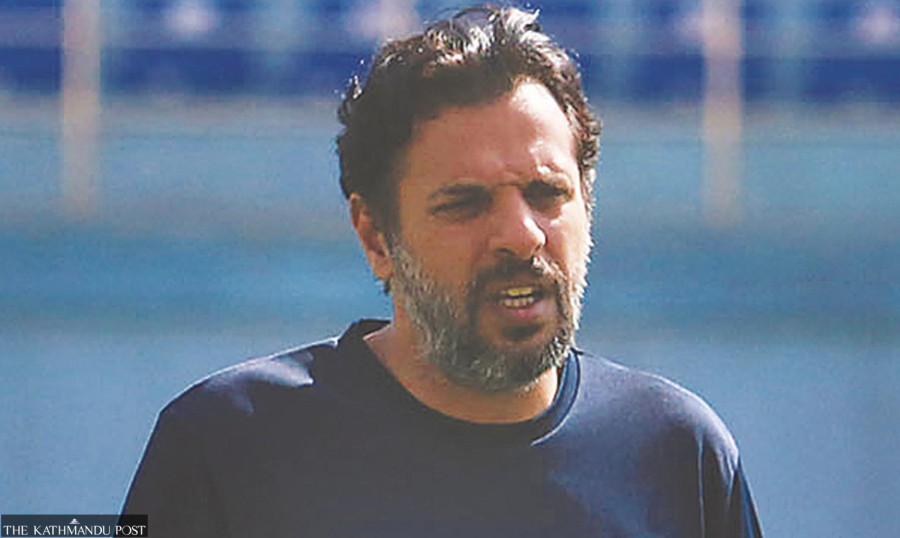 Abdullah Almutairi won five matches, lost 10 and drew two as Nepal national coach. Post File Photo
bookmark
Published at : September 11, 2022
Updated at : September 12, 2022 08:17
Kathmandu
Nepal national football team coach Abdullah Almutairi, perhaps more noted for his controversies than achievements, resigned from his position on Sunday.

The Kuwaiti national, currently at his home country on a three-month leave since June, announced through a Facebook post that he was leaving the hot seat nearly after one-and-a-half-year.
"After 525 days in the service of Nepalese football, I announce the end of my tenure as coach of the Nepal national team," Almutairi wrote. "Thank you to everyone who supported me on this journey that was not without moments of joy, love, sadness and pain. One Team, Jay Nepal [sic]."
Almutairi, believed to have close relations with the outgoing president Sherpa, had previously announced his resignation at least thrice through social media posts due to his spat with ANFA officials but has somehow managed to stick to his Nepal assignment.
However, this time, the All Nepal Football Association, the country's football governing body, confirmed that the Kuwaiti had submitted his resignation. "We received his resignation via email," Kiran Rai, ANFA's general secretary, told the Post.
Almutairi, sent to Nepal under grant by the Qatar Football Association in April last year, had his contract until December 2023. He led Nepal to 17 games and had an average stint with the national side winning five, losing 10 and playing draw in two matches. Nepal scored 17 and conceded 37 goals under him. He also gave debuts to 16 players.
He led Nepal for the first time against Iraq in a 6-2 defeat at an international friendly in May last year while his last match dates back to June 14 against Indonesia which Nepal lost 7-0 in the third round of Asian Cup Qualifiers.
Making into SAFF Championships final for the first time in the 28-year history of the sub-continental tournament was the highest point for Nepal under Almutairi. Nepal, however, lost the final 3-0 against India.
His position with Nepal has come under threat after Pankaj Bikram Nembang was elected the president of ANFA in June defeating sitting president Karma Tsering.
Moreover, a task force formed by the football governing body in May had also recommended ANFA to remove the Kuwaiti from the hot seat. ANFA had formed the task force to probe on the player-coach row which allegedly 'prompted Abdullah to axe 10 senior players' from the national team camp in April.
The footballers had left the camp ahead of the third and final rounds of the AFC Asian Cup Qualifiers. Senior players of the squad including then caretaker captain Rohit Chand, Sujal Shrestha, Bishal Shrestha, Bishal Rai, Anjan Bista, Ananta Tamang, Tej Tamang, Suman Lama, Dinesh Rajbanshi and Bimal Gharti Magar had left the closed camp after coach Almutairi allegedly asked them to leave, following differences over accommodation.
While announcing his resignation for the first time in July last year, the Kuwaiti had blamed then vice president and now elected president Nembang of foul play as the reason for his decision.
"Dear Nepali Fans ... I'm going to ANFA to resign and my resign because of the senior vice president, in the last 3 weeks every day he make drama to me. I hope you feel happy now Pankaj Nembang [sic]," Almutairi, 38, had wrote on the social networking site, tagging Nembang.
ANFA, though, had not directly asked Almutairi to leave his position, the football governing body had made it clear that they wanted to get rid of him. They had appointed a non-residential Nepali Pradip Humagain as a caretaker coach for Nepal's international friendly against Bangladesh, scheduled for September 27 at the Dasharath Stadium.
"Appointing someone else as caretaker coach when the regular coach is in place meant that ANFA no longer needed Almutairi's service," said a high level ANFA official on the condition of anonymity. "It was a clear indication for him to step down."
According to ANFA general secretary Rai, the Kuwaiti had also asked the football governing body to pay his salary until December 2023. "He also wrote to the ANFA to pay his salary until December 2023 accusing us of violating the contract," Rai said. "We would pay his salary as per the rule. But we don't think ANFA violated the contract because he decided to resign unilaterally. He should have discussed it with us before resigning."
---
---