A symphony of flavours
Inside the classic, regal premises of Maya Manor Boutique Hotel, the Maharajah Restaurant serves dishes fit for a feast.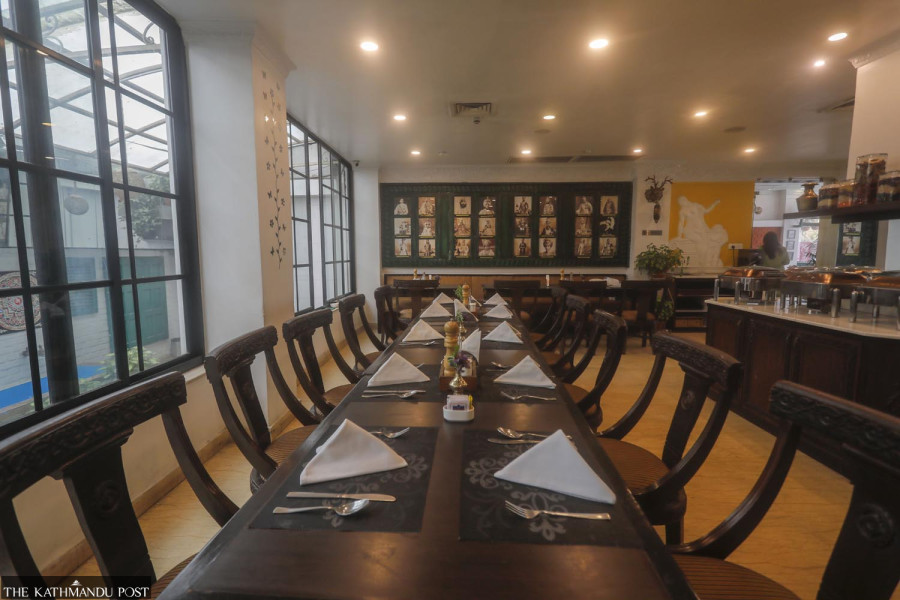 Elite Joshi/TKP
bookmark
Published at : August 17, 2023
Updated at : August 17, 2023 20:28
After googling Maya Manor Boutique Hotel right before I left my house (the concept of patience is a little lost on me), I had already prepared myself to be dazzled by its immaculate architecture and interior. If there was truth to the photos I had refrained myself from obsessively scrolling through, I knew that Maya Manor was a treat to look at. But despite the opulent imagery in my head throughout my 20-minute drive, I realised that nothing could've prepared me for the experience that awaited me there. Maya 'Manor' truly lives up to its name.
Polite and affable smiles greeted me as I walked through the crisp and quiet lobby and into the cosy and intimate restaurant. Maharajah Restaurant, on the hotel premises, exudes a kind of etherealness that I hadn't reasonably expected. The historical modelling of the hotel is impeccable—the restaurant's walls are adorned with photos of prime ministers, kings, and queens (I think you can tell the hotel has some kind of royal influence or origin). True to its archival design, the hotel was a mansion previously owned by a Rana commander before being bought by the Sakya Family of the KGH group. As I wait for the food to come, I immerse myself in the stories of historical photographs.
The restaurant also extended itself to the vibrant and tranquil garden, which made my lunchtime experience all the more relaxing. Eating at Maya Manor was a versatile experience—from the opulence of the gleaming hotel interior to the cosy and quiet comfort of the restaurant and the lush vibrancy of the garden, Maya Manor serves it all. Of course, it doesn't disappoint with food either—the restaurant proved to be an all-rounder, offering multi-cuisine dishes.
Tomato Egg Drop Soup
Rs390
Tomato soup in itself is a delicious delight of a meal. The hotel goes one step further by pairing it with healthy, protein-filled egg whites. The egg whites deliciously offset the sweet tanginess of the fresh tomatoes.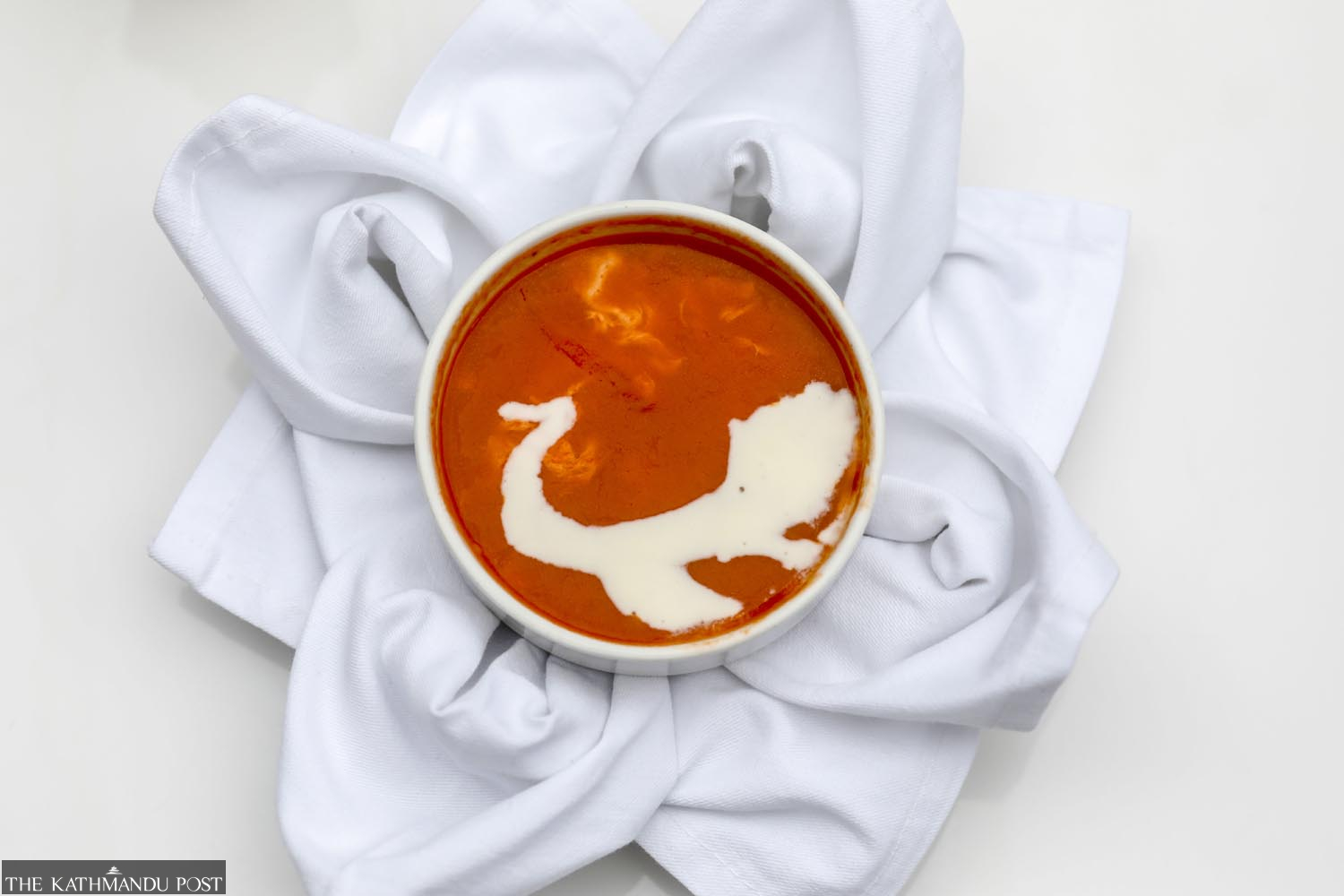 Elite Joshi/TKP
Served in a white dish with the stark redness of the tomato soup where the egg whites mildly floated around, the soup was a vibrant feast for the eyes as well. And one can't forget that it was served with crisp toasted bread. Dipping the bread in the thick, creamy and sweet tomato soup was exactly the light and flavourful starter I was looking for.
Maya Manor Salad
Rs780
Who says healthy food can't be tasty? Because the Maya Manor Salad is just as delicious as it is nutritious. I don't pride myself as an avid salad eater, but when it's done right, a good salad can be a game-changer. The salad gives itself personality with its sweet and tangy flavours, with a hint of fish sauce. The salad, with its simple plating, allowed the vegetables and fruits to pop out in colourful harmony.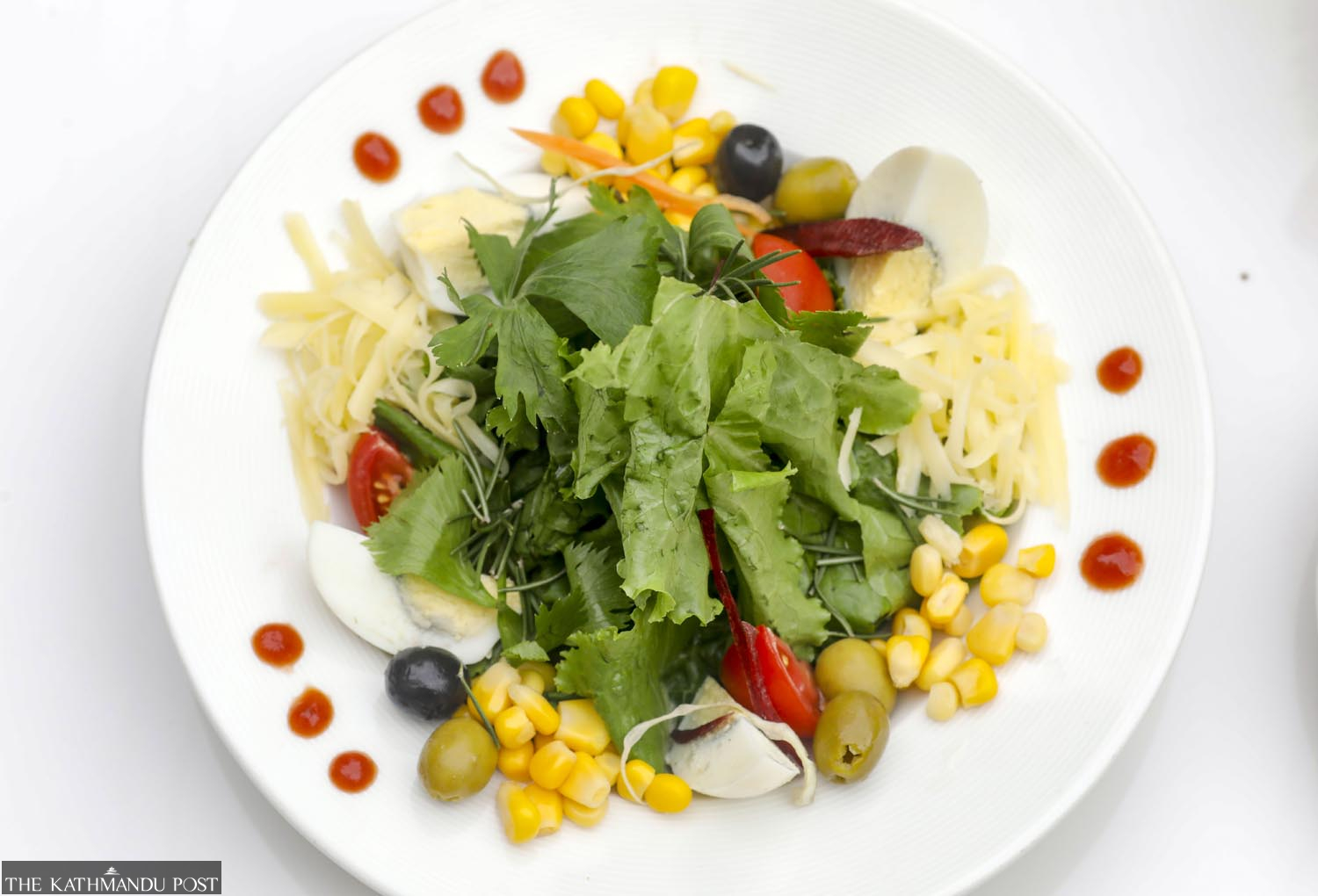 Elite Joshi/TKP
The lettuce, olives and fresh tomatoes, cheese, corn and pepper were brought together by the sweet and zesty dressing (undoubtedly the rope that bound all of it together) in a burst of refreshing flavours.
Makhamali Choila
Rs500
Served with chiura (flattened rice) and a side salad composed of carrots, radish, cucumber, tomatoes and peanuts, the Makhamali Choila is a beautiful dish with the perfect balance of spicy and rich. Marinated with ginger and garlic paste, the perfectly cooked buffalo meat melts right in the mouth. I am no stranger to spicy dishes; the perfect amount of spice is quite tricky to master—if my tongue-torture experimental dishes are any indication.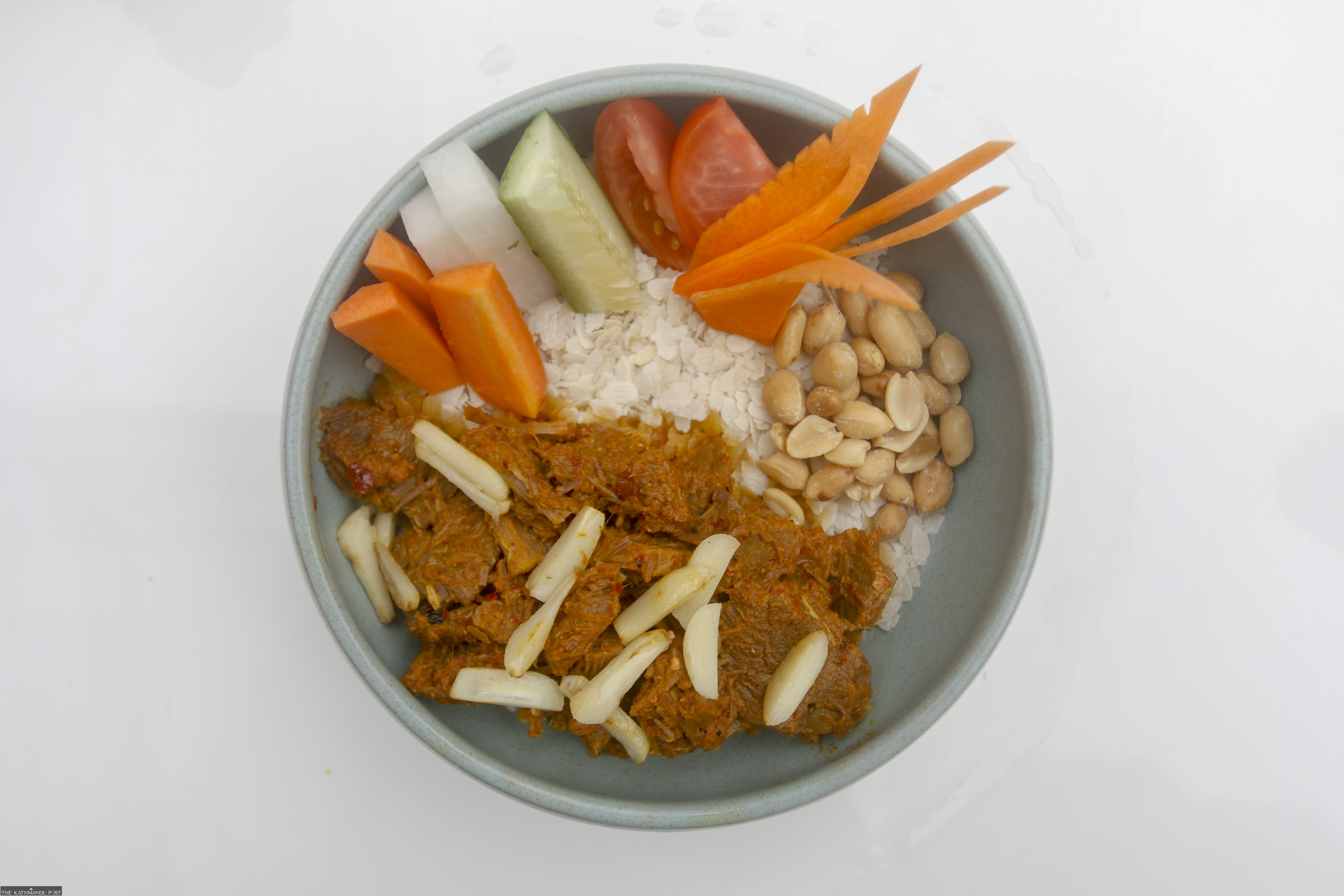 Elite Joshi/TKP
But with this dish, whatever spiciness is gathered from the Choila is tempered by the crunchy chiura. It was revealed that this was the chef's favourite dish, possibly because Makhamali Choila shines through with that unique, delectable mixture of spicy and savoury, not to mention the fall-of-the-bone texture of the meat, which was unlike anything I had experienced before.
Paneer Tikka
Rs700
I'd be lying if I said that the Paneer Tikka didn't grab my attention first amidst all the food. The thick marinated chunks of paneer (cottage cheese) were even more tender and tastier than I had expected (and I had expected quite a lot). Served with slices of onion, tomato, and bell pepper, a side of salad, and thick green chutney, the plate was a rainbow of colours and flavours.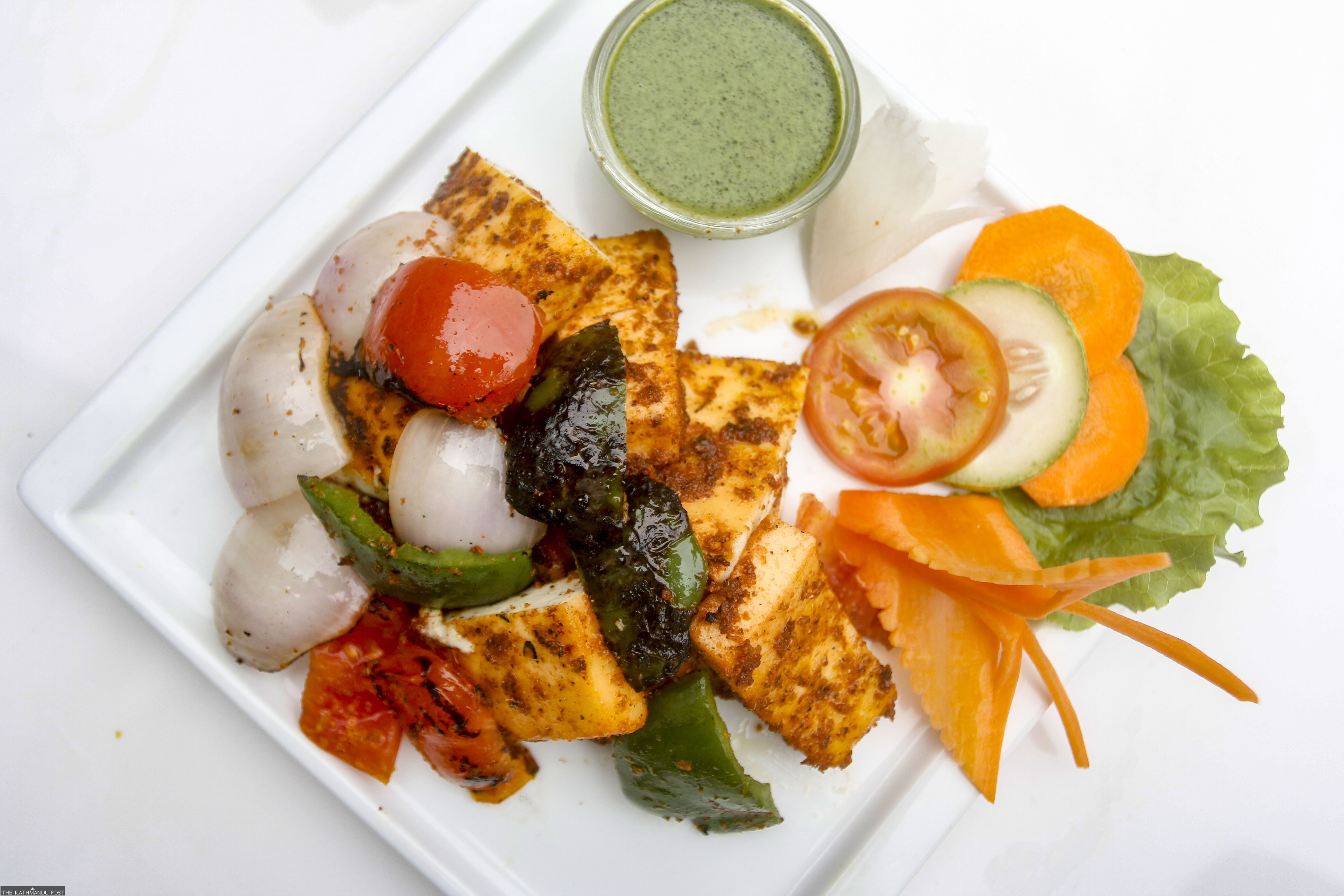 Elite Joshi/TKP
Of course, I couldn't deny myself the pleasure of taking the ultimate bite. Bringing together the paneer, onion, bell pepper and tomato, topped with a thick drizzle of mint chutney, I took a big bite; and was gifted with an explosion of savoury, spicy and sweet. The juicy, silken and almost weightless paneer with its salt, pepper, curry powder, and lemon juice marinade was a harmony to the taste buds.
Maharajah Khana Set (Non-Veg)
Rs1,430
Served on a traditional bronze dish, the Maharajah Khana Set truly lives up to its name. With rice, dal, chicken, spinach, jeera aloo (cumin potatoes), paneer gravy, shredded radish pickle, fried egg, side salad, and yoghurt—there were endless amounts of food and flavours to sort through.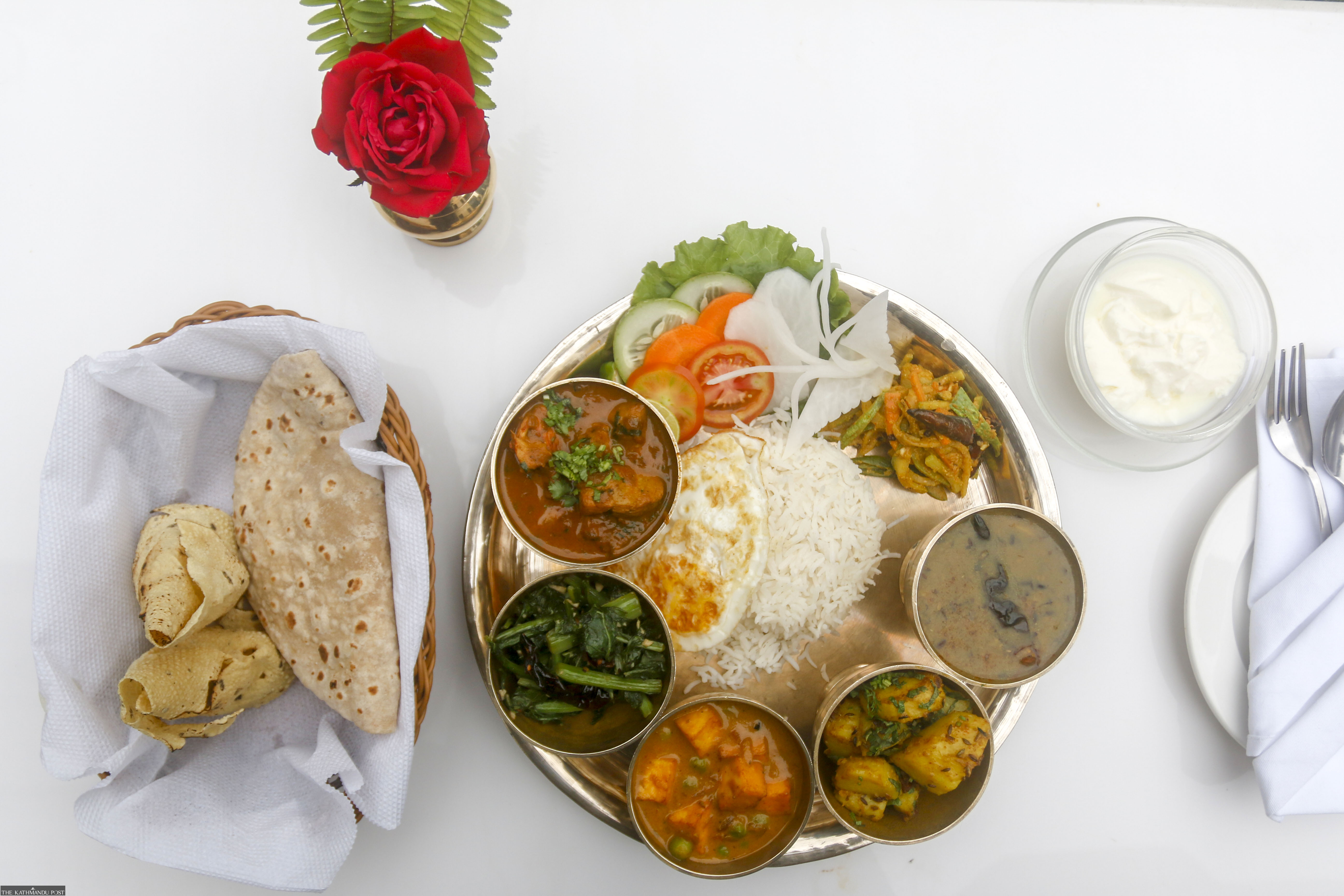 Elite Joshi/TKP
As I dug through the feast, I found myself time and again returning to the well-cooked chicken gravy and the refreshing, albeit slightly bitter, mustard greens. Pairing the chicken with the rice and greens in addition to the tangy and spicy pickled radish felt like a classic and balanced bite.
Chunla Jaa
Rs860
Chun La Jaa, a traditional Newa dish, is served with rice, and what makes it stand out is the thick keema (minced meat) curry it's drenched in. I had never tried minced meat with rice before this (I wonder why not cause that's a rather genius idea), but the chewy little meaty bites, with the rice, taste amazing—accompanied by the spicy gravy and jeera aloo (cumin potatoes) and a side of salad.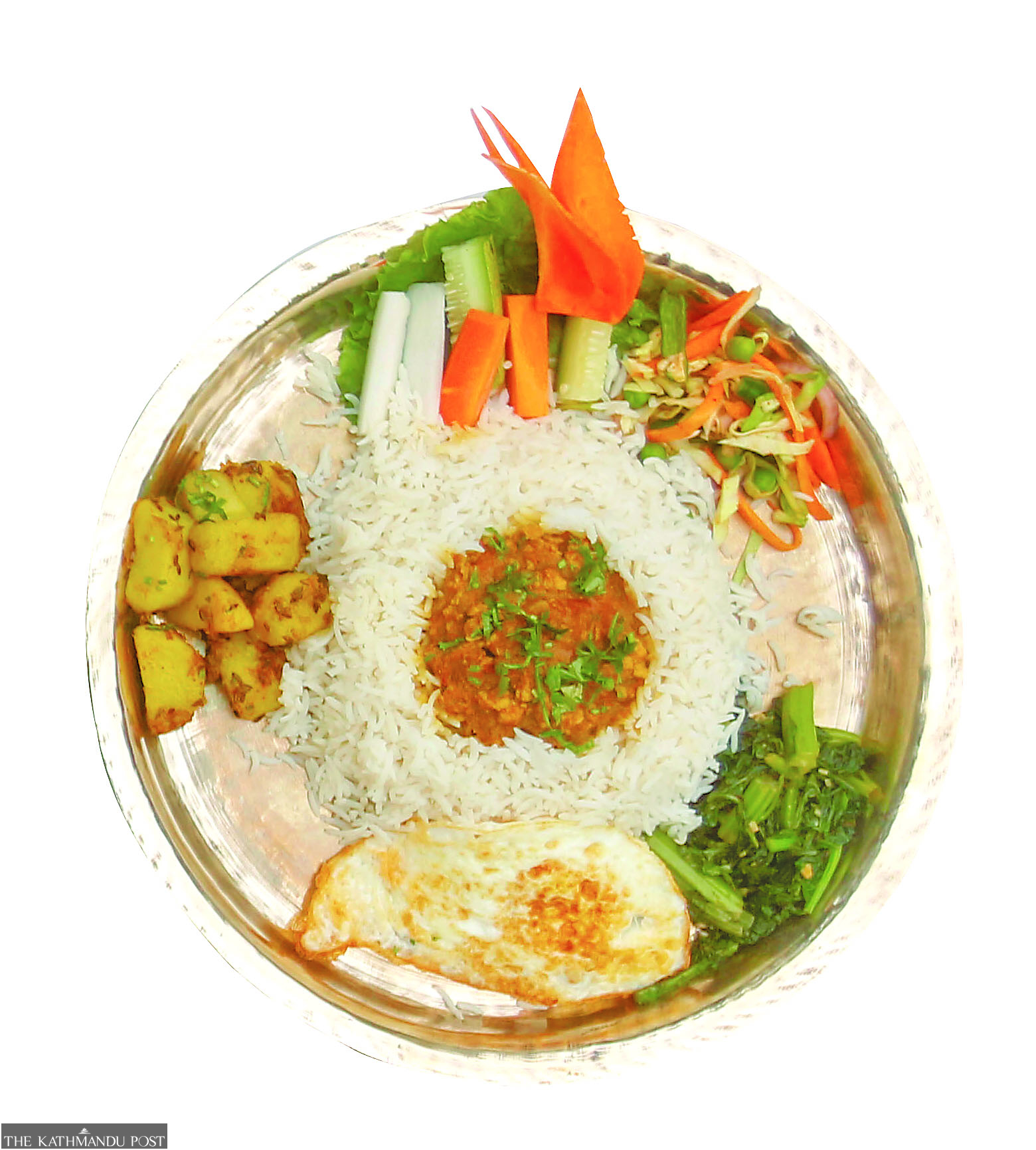 Elite Joshi/TKP
The restaurant is incredibly generous with their servings, as I was given heaps of rice that I gladly ate my heart's desire through.
Apple and Banana Fritters
Rs280
Served on a large rectangular plate, the doughy apple and banana fritters were generously drizzled in honey syrup and chocolate chips with hints of powdered sugars. Apple fritters would have been delicious by itself, but bringing in banana fritters, was a party of sweet treats I could always get on board.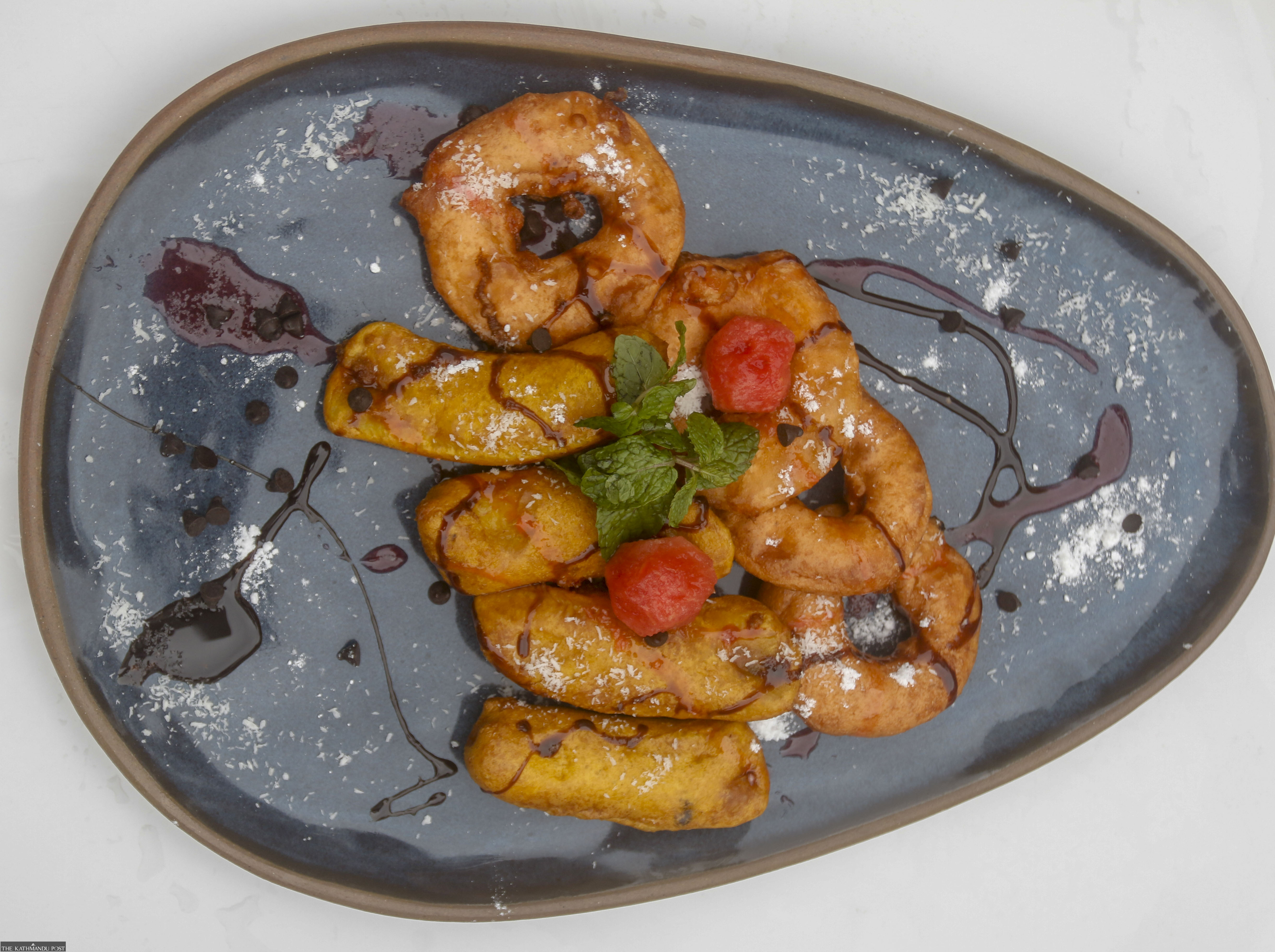 Elite Joshi/TKP
The sweet fried dough was filled with delicate and fleshy bites of apples, making it sweet without being too overpowering. The banana fritters were blanketed with the pillowy, melty texture of mashed bananas. The filling dessert was the perfect way to end the meal.
Maya Manor Boutique Hotel
Location: Naxal, Kathmandu
Time: 7:00 am to 9:30 pm
Price: Inclusive of all taxes
Delivery: Not available
Parking: On the hotel premises
---
---