Doing street food right in Janakpur
When it comes to great eatings most people don't think of Janakpur, but they should.

Post file photo
bookmark
Published at : October 11, 2019
Updated at : October 11, 2019 13:33
Janakpur
Janakpur's street-based fare rarely comes up when food around the country is discussed. Though the city had been fairly famous for now-defunct cigarette factory Churot Karkhana and its creamy-sweet peda, there's so much more Janakpur has to offer. The street food in the city, influenced by Maithili, Marwari, Mughal and Tharu cuisines, is unique and has a blend of flavours from all these cuisines. Here's a list of must-try things in Janakpur.
Bhaja
Kathmandu has its chatpate and Butwal has its fulki, but Janakpur has bhaja. Bhaja is very similar to chatpate, except no additional sauces are used. Puffed rice is tossed with salt, chilli and mustard oil, then eaten with a pulse-based curry with green chillies. Unlike chatpate, Bhaja mostly emphasises the salty and spicy facets of flavour, rather than any sour elements. Bhajas are eaten as a morning, afternoon or evening snacks in Janakpur.
This street food is a reminder of the city's love for spicy food. Bhaja stalls can be found on each and every chowk of Janakpur. However, Murli Chowk and Janak Chowk are the most popular bhaja hubs, with two or three stalls standing at all times selling them for between Rs30 and Rs50 per portion.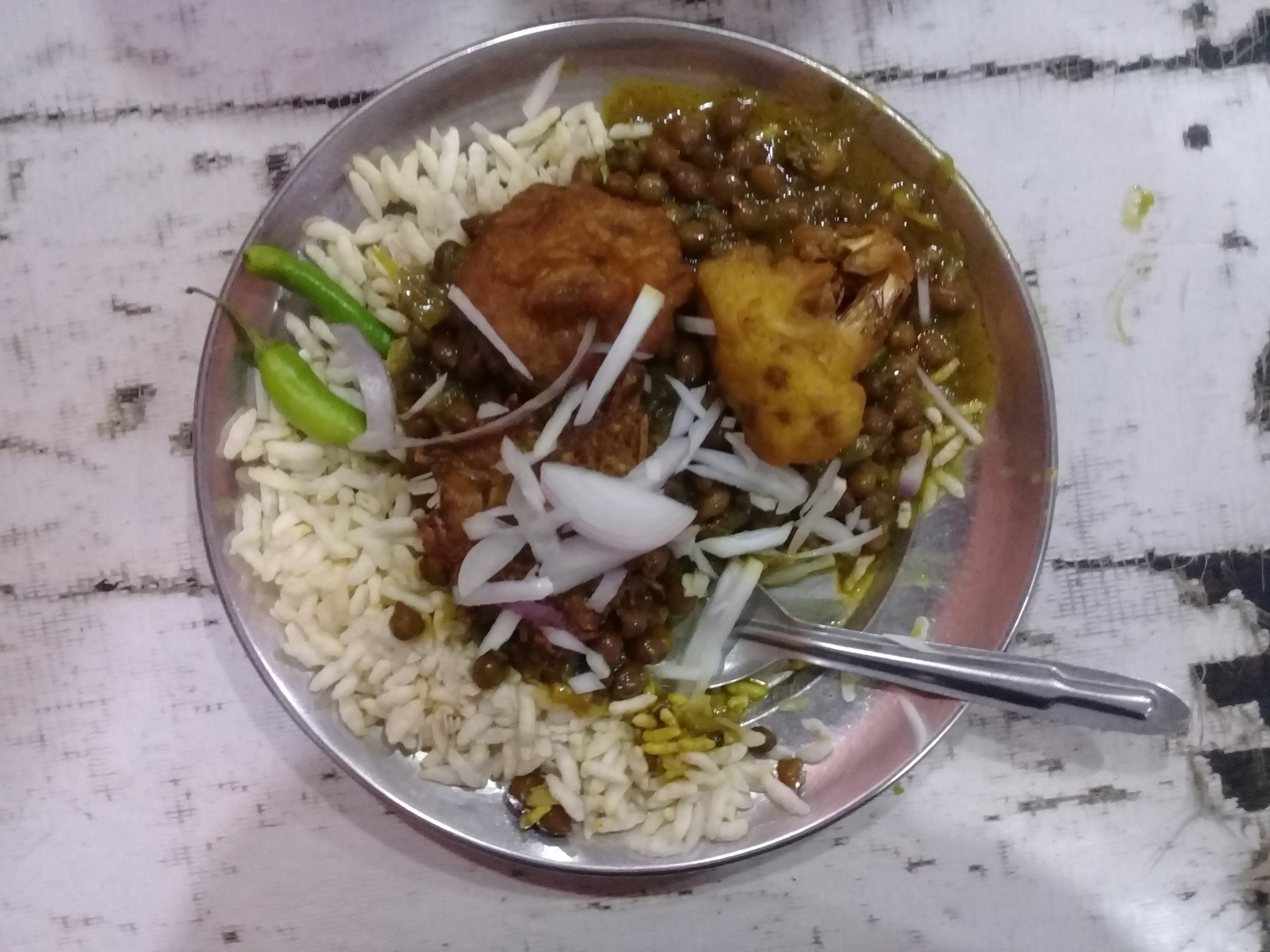 Sweksha Karna/TKP
Lassi
After a plate of hot, spicy bhaja on a hot summer's afternoon, there is nothing more refreshing and soothing than a glass of lassi. Five minutes away from the Ganga-Sagar Pond, Hum Yahi Peete Hai Lassi shop stands. Famous not just in the city, but in close-by districts too, this lassi from Janakpur is everyone's favourite. At least 200 hundred glasses are sold here every day, starting from Rs80.
Lassis are a blend of yoghurt, water and flavours. But what makes the lassis in Janakpur stand above the rest is that the shop owners barely use water, giving it a thicker, viscous consistency. So, the lassi is far from runny and the curd's natural sweetness isn't watered down—another plus is that not a lot of sugar is added in the mix either. Instead of sugar, lassis in Janakpur are topped with thickened milk, khuwa, and dry fruits, lending them an added element of textural luxury.
Sweksha Karna/TKP
Litti
Litti is something one can find almost in every street in the city. But, it's the street next to the northern gate of the Janaki Mandir where Littis sell like hotcakes. While the left side of the road banks the Aragaja pond, the other side of the road is lined with shops that sell samosas, littis and others. Raghupati Misthaan Bhandaar and Banarasi Litti Pasal are the two most popular litti shops, which sell an average of 150 littis a day, for Rs40 a plate or Rs25 apiece.
Litti are already a very popular street food in Bihar, Jharkhand and Rajasthan, where they are mostly known as Baati. Litti are doughballs filled with saattu—roasted chickpea flour mixed with herbs and spices. These spices include onion, garlic, ginger, coriander leaves, lime juice, carom seeds, nigella seeds and salt. Traditionally littis are roasted over wood, with lots of ghiu. However, here they are deep-fried in mustard oil, giving the balls a much stronger flavour. Unlike other places where littis are eaten with chokha, Bihari cuisine's spicy mashed potato, and yoghurt, in Janakpur, littis are eaten with a sour and spicy chutney made of raw mangoes.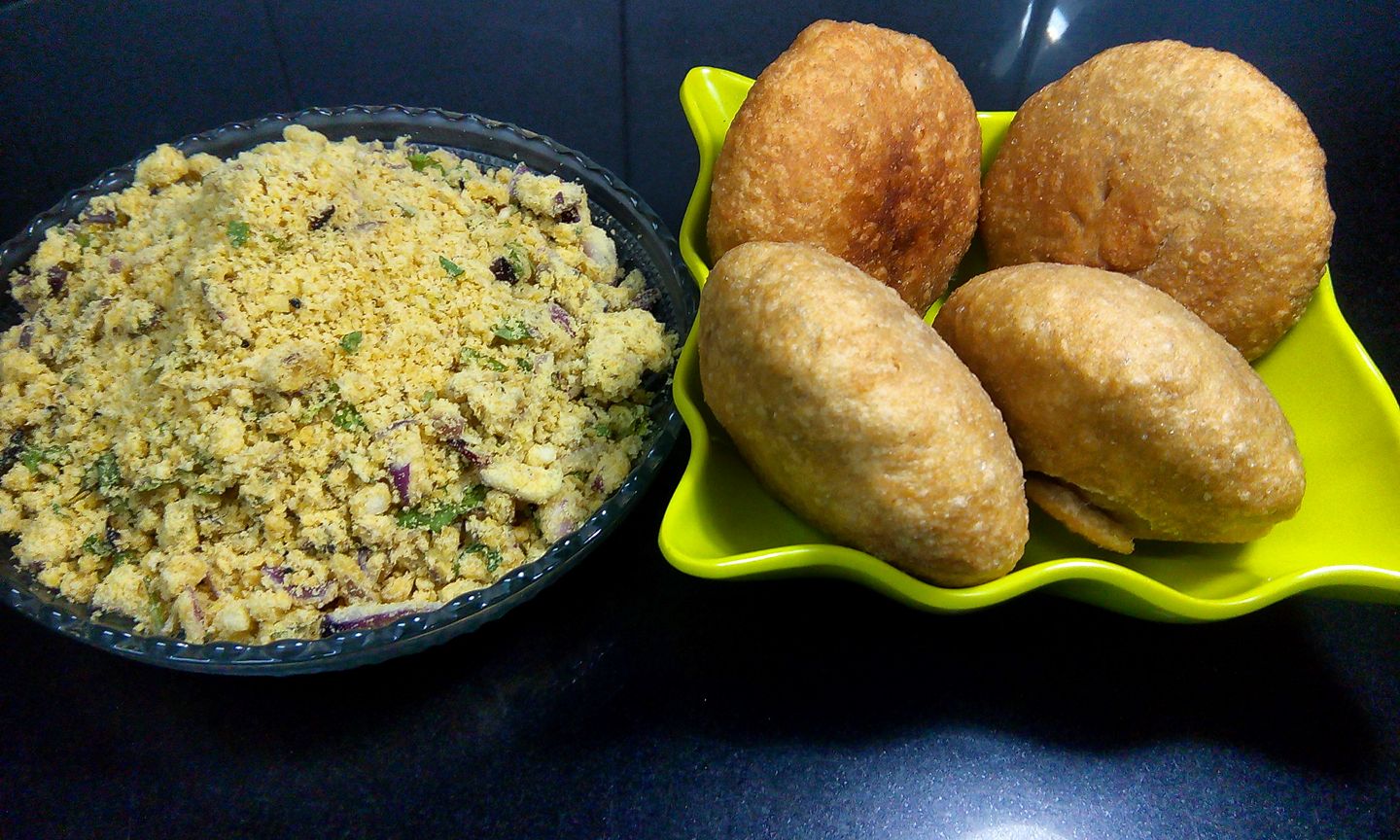 Sweksha Karna/TKP
Ghevar
Ghevar is a disc-shaped cake made up of flour-based dough and then soaked in sugar syrup. The dessert is said to have originated in Rajasthan and is famous in Indian states of Maharashtra and Bihar.
A batter is prepared by mixing plain flour, water and creamy ghiu. Then, it is poured into moulds which are placed in a large kadhai of hot ghiu. This batter soon spreads like a fan, spreading to the edges of the vessel. Frying in the oil, the mixture becomes porous because of the froth-inducing heat. This is what gives it lace-like appearance. The batter turns a pale golden colour and the next layer is poured. The process is repeated until the needed thickness is acquired and it almost looks like a beehive. The ghevar is then taken out of the ghiu and sugar syrup is poured on top, which it quickly soaks up. Khuwa, chocolate, dry fruit and cream can also be added as toppings. A bite into ghevar will satisfy your sweet tooth and before you know it, you will be craving more.
The dessert is essential for Teej and Raksha Bandhan in the region, so is mostly available in the months of Shrawan and Bhadra in the stalls and sweet shops. It is believed that eating ghevar in these months creates a calming effect on the body and mind. Besides the months of Shrawan and Bhadra, ghevar is pretty difficult to find anywhere except the banks of Aragaja Pond where multiple stalls freshly make ghevar and sell them at Rs60.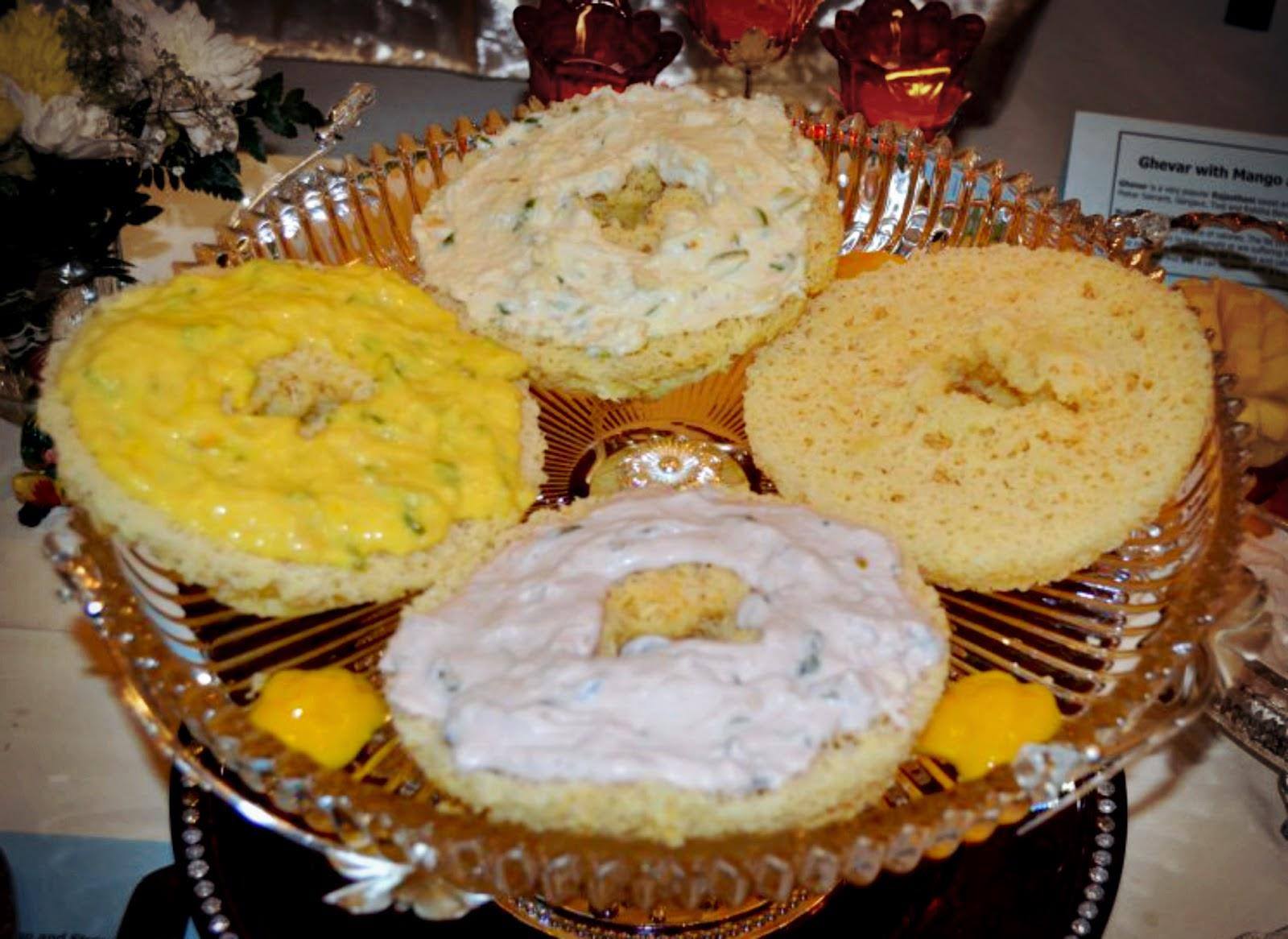 Sweksha Karna/TKP
---
---