What's wrapped in a leaf with a cherry on top? For paan lovers, everything.
The humble betel leaf plays the canvas for a myriad of tastes and textures, and paan shops around the Valley continue to be frequented by loyal paan lovers.

The bitter-sweet betel leaf parcel bursts with a cacophony of flavours when bitten. Post Photo: Sanjog Manandhar
bookmark
Published at : June 28, 2019
Updated at : June 28, 2019 09:41
At the Gupta family's paan store in Thapathali, ingredients are kept inside a small drawer. Aryan, the eldest son, calls these ingredients his family's "treasures". Outside the store, in big red letters, is the paan shop's name: Rajdhaani Ko Shaan Rajkumaar Paan.
To prepare paan, Aryan, who sits behind the counter in the tiny store, first cleans the marble countertop and lays betel leaves in a row, plucked from a bucket filled with cold water throughout the day. He then adds pasty, milky katta and chuna, white lime powder paste, to give the leaf its fresh crunch and flavour.
"For me, making paan is like creating art—you can use your own ingredients and package them in different styles and give it your own final touch," says Aryan. After applying chuna and katta on the leaves, Aryan adds minty paan chutney. Then comes the gulkand, a pasty mixture of honey and rose, followed by a generous sprinkling of desiccated coconut, fennel seeds, tooty-frooty mixtures, masala-like Nagina brand paan powder, cardamom powder, kasturi (aromatic deer musk extract—unclear if it's still the original extract), and a cherry on top.
Aryan, 27, learnt how to make paans from his father Rajkumar Gupta, who has been deftly making paans for the past three decades. In 1982, a 20-something Rajkumar, now 56, had come to Kathmandu from Bara with a hope of making a living for himself. Having learnt basic paan making skills in Kolkata when he was younger, he decided to open his own store when he came to Kathmandu, near Thapathali's Kalmochan Temple.
Back then, Rajkumar says, tobacco-based jarda paan was all the rage, but, with changing times, people's preferences changed and now people enjoy the taste of nutty meetha paan more—a light after-meal indulgence. Over the course of 30 years, the small store was run by solely run by Rajkumar, and now sons Aryan and Amit have joined to take shifts between 8am and 10pm.
One regular customer is Norvic Hospital employee Sandesh Karki. Every evening he drops by to have his post-dinner meetha paan, which Aryan makes according to his preference.
After filling and rolling the sweet, fresh mixture, Aryan makes his art, decorating the bulging leaf parcel with watermelon seeds and chocolate chips. The finishing touch is a floral spritz of rose water. Karki pops the entire paan in his mouth before paying Rs 35.
"The best thing about this particular shop is they don't add betel nut in the meetha paan, which other paan shops do. Without betel nuts, paan is easier to chew and swallow, unlike the jarda paan, which makes your mouth red and forces you to salivate and spit," says Karki. The bitter-sweet betel leaf parcel bursts with a cacophony of flavours when bitten. Sugar-coated fennel seeds add sweetness, further amplified by liberal use of gulkand, rose petal jam, and mint-flavoured paan chutney immediately cools and refreshes the mouth.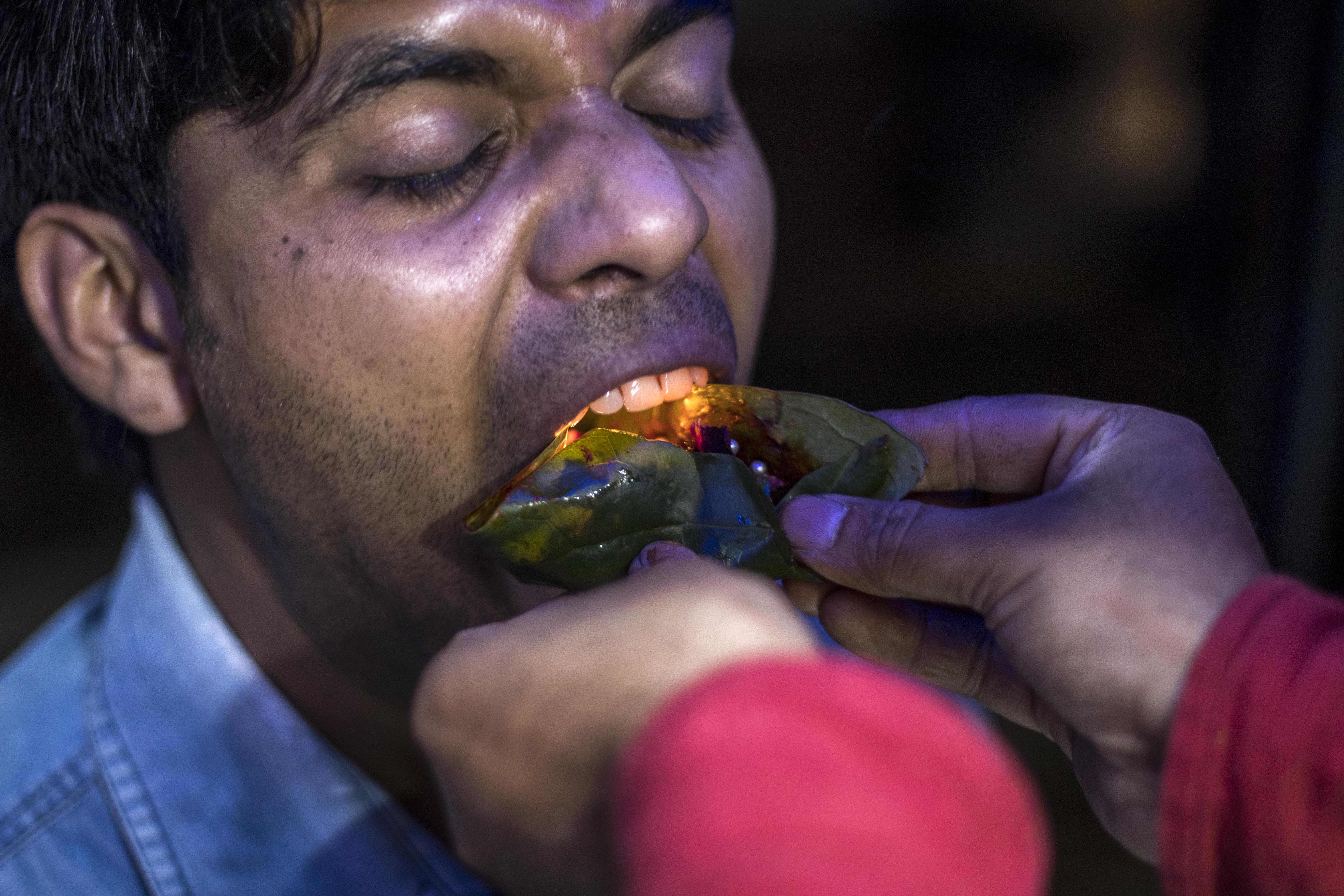 Post Photo: Sanjog Manandhar
Talking about paan-eating etiquette, Aryans says, "Many people do not know this but you eat paan by stuffing the whole thing inside your mouth while bending your back a little so that the paan doesn't drip all over your clothes."
Given the plethora of ingredients, the Guptas often struggle to pick the right price for their paans. They import everything from Kolkata at Rs 48,000 for a month, and sell over 50 paans a day—just enough to sustain the business, says Aryan.
Along with paans, the Guptas, like other paan shops, also sell other items, such as mobile recharge cards, junk food, cold drinks, cigarettes—a strategy to ensure profit. But the core of their business, Aryan says, is selling paans.
"We just want our customers to sweeten their mouths after a meal," says Aryan. Besides being a beloved mouth freshener, some of the spices used in paans are said to relieve constipation, digestion and gastric pain.
Over the past decade, paan's popularity has grown significantly in the Valley, meetha paans have become a part of weddings and various pujas, he says. "It is particularly during weddings that we do good business. We charge Rs 6,500 for 200 paans per event," says 18-year-old Ajay Kumar Yadav, who has been working at Top Prince Paan Palace for over six months now.
Self-dubbed fast learner Yadav already knows the secret to making the "best" meetha paan—or so he claims. The secret to the "best" paan is his special twist, which is a secret he cannot divulge, he says.
It's difficult to ascertain when and where the paan-eating culture came from, but many presume it started in the Mughal era, when royalty enjoyed the treat after dinner. That trend slowly became popular with the masses. Although the exact origination cannot be traced, one of the first recipes can be found in 16th-century medieval cookbook Nimmatnama-i Nasiruddin-Shahi—a literal translation to Book of Delights. The book, which was written during the Malwa Sultanate, describes the elaborate ways various varieties of betel leaves can be prepared.
"All the paan stores use the same ingredients but how we use it is what makes the difference," says Yadav. At his store, and others in the Capital, besides regular jarda and meetha paan, many other varieties of paan are on offer, including fire paan and ice paan—to entice regular customers.
Kamlesh Prasad Jaiswal, originally from Bihar, India, has a small paan store, Jaiswal Paan Bhandaar, on the bustling street of Khichapokhari in New Road—one of the busiest streets in Kathmandu. Before moving to Nepal 20 years ago, Jaiswal operated a small paan shop in Nagaland.
At Jaiswal's paan store in New Road, life is busy. Every day he sees at least two dozen customers, he says. "People mostly come for meetha pan, especially in the evenings, after a long, hard day," he says.
"There are few better ways to end the day than with some good food followed by a juicy meetha paan" he says, flashing a paan-stained smile.
---
---