Critical fortnight
Nepal's Covid-19 response needs to see a radical departure from the shot in the dark decisions to avert another crisis.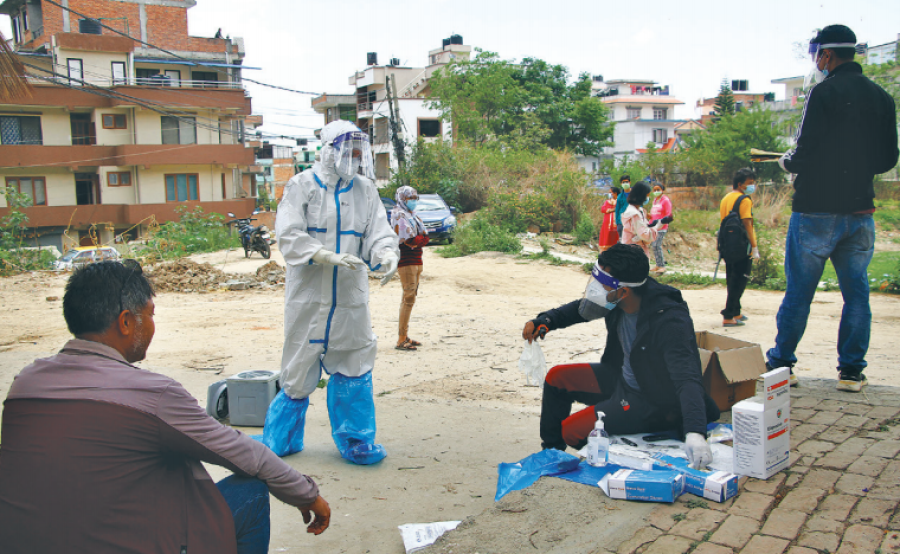 Health workers collect swabs from people who came in contact with infected persons at Bishnudevi Health Post in Kirtipur, Kathmandu on Saturday. Beeju Maharjan/TKP
bookmark
Published at : July 18, 2021
Updated at : July 19, 2021 14:30
Close to a year and a half into the Covid-19 pandemic, the government continues to gamble with people's lives. Like the Oli administration, the new Deuba administration has shown little grit or urgency to swiftly do what's needed to chart a prevention and exit strategy amid a never-ending threat of a new second virus wave peak. A public health emergency of this scale would warrant that prime minister Sher Bahadur Deuba immediately appoint a health minister and spearhead the country's Covid-19 response instead of leaving such an essential task in the hands of bureaucrats and security personnel. But continuing in his predecessor's footsteps, a complacent Deuba has also prioritised politics over public health.
As vaccines finally trickle in with new procurements and grants, the government seems to have forgotten the mayhem, which in May left the country's fragile health system collapsing and killed thousands of people, could repeat and trigger a surge in new infections and deaths. The miscalculations and missteps reflect in the recent government decisions as it plans to lift various restrictions even as the case positivity rate in the country continues to remain way higher than the permissible limit of 5 percent. The country's Covid-19 response direly needs to see a radical departure from these shot in the dark decisions, potentially keeping us in a loop of lockdown cycles and causing more tragedies.
Nepal's epidemiological profile shows that we have a critical fortnight ahead. In the week ending July 16, the effective reproduction rate of Covid-19 or the 'R' factor, based on a seven-day average, stood at an alarming 0.97. New infections are once again on the rise despite inadequate testing and contact tracing. On Saturday, the highest number of cases were found in Kathmandu, Sunsari, Morang, Kaski and Lalitpur districts. According to epidemiologists, the 'R' factor above 1 is dangerous as the number of new infections keeps increasing thereon, so Covid-appropriate behaviour and pandemic restrictions are essential to lower the infection rate and break the chain of transmission. But a botched reopening of the economy sans monitoring, combined with a possible spread of the highly contagious Delta variants of the coronavirus, has put the country at risk again.
The Deuba administration, foremost, needs to assess the country's epidemiological profile and immediately readjust public health measures supported by data and science. It needs to consult leading scientists, epidemiologists and infectious disease doctors and review current strategies and trends. Take testing, for instance. Both polymerase chain reaction and antigen tests are abysmally low to give us a clear picture of the scale of transmission. Without this crucial data, we risk making decisions that could derail our plan to contain the transmission. Therefore, we must change our approach of dealing with the situation when an outbreak occurs and adopt a reverse strategy instead, where we draw a calibrated roadmap to meet our goals of controlling the pandemic and keeping the economy afloat.
The past 15 months have shown that controlling the pandemic is not rocket science, but it will take science-guided government interventions and public discipline to lower the infections and ease restrictions.
---