Vaccine for all
The government cannot evade its primary obligation to the citizens.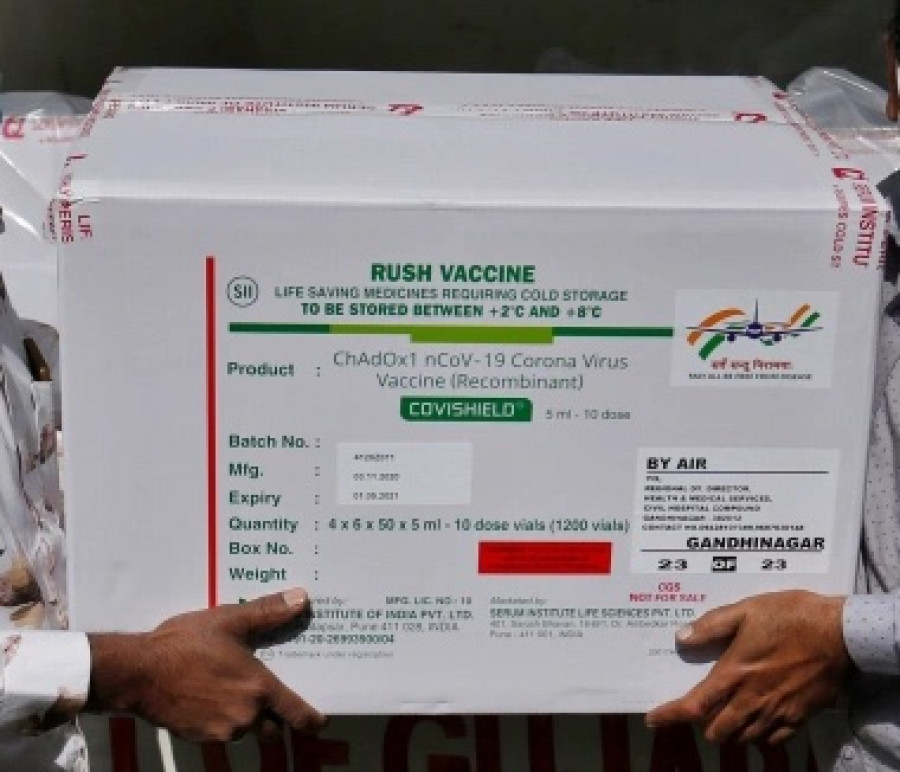 Covishield, one of the two vaccines made in India, is Nepal's choice against Covid-19. Reuters
bookmark
Published at : January 14, 2021
Updated at : January 14, 2021 22:22
The world's fight against the pandemic has entered a turning point with coronavirus vaccine rollouts in several countries. But the road ahead for Nepal is not easy as rich countries hoard vaccines amid limited production and bilateral vaccine deals. What's more, the government plans to spend billions of rupees on midterm polls at a time when it should be saving every paisa possible for buying vaccines and inoculating citizens.
While the government is hopeful about its plans to procure Covid-19 vaccines manufactured in India to vaccinate 52 percent of the country's population, there is concern that relying on just one country would make it difficult to procure all the required doses. There are also worries that India may coax Nepal into using Bharat Biotech's Covaxin, which is yet to complete its phase III trials. Making prudent decisions based on science amid uncertainties is more crucial than ever, but there is a fresh controversy as the government seeks funds to procure vaccines.
On Wednesday, the Ministry of Health and Population published a notice asking international donor agencies, businesses, non-governmental organisations and philanthropic institutions to contribute to the immunisation fund. Public health experts have criticised the move saying saving lives is a legal and moral responsibility of the government, which should mobilise internal resources instead and parallelly pursue financial assistance.
New infections are being reported daily, and people continue to die. According to epidemiologists, science doesn't dismiss the possibility that the coronavirus circulating in the country could mutate into a more infectious and lethal strain. Science is also clear that unless every single one of us is inoculated, the threat remains. The government must translate scientific knowledge into sound decisions and understand that we must procure and administer the vaccines as early as possible. There is no going back to normal without vaccines, and our economy faces further threat amid the already sagging revenue sources.
We cannot wait for funds to procure vaccines because it will only delay inoculation and increase our risks. In November last year, the cabinet had estimated that Rs48 billion would be required to inoculate 52 percent of the population. A decision was also made to procure coronavirus vaccines that have received emergency approval and administer them to people free of cost based on priority with those at risk getting vaccinated first. According to Health Secretary Laxman Aryal, the cabinet has also decided something about the vaccines, the details of which are not in the public domain yet.
The Oli administration, which has been accused of corruption and moral bankruptcy in handling the pandemic, has to get the last lap of Covid-19 right. There is an urgent need for clarity and transparency regarding the government's procurement of vaccines and the decision-making process of the cabinet. On Tuesday, Reuters reported that Russia intends to supply Nepal with up to 25 million doses of its Sputnik V vaccine, but the Health Ministry has said it is unaware of such a deal. The report has also been refuted by Dr Shyam Raj Upreti, who coordinates the Covid-19 Vaccine Advisory Committee.
The country witnessed the consequences of bad decisions, one after another, with the pandemic's onset last year. But the government cannot afford another mistake and continue to evade its primary obligation to the citizens. The Oli administration must ensure that we have a comprehensive plan to procure and safely deliver effective vaccines at the earliest which must be followed by nationwide free vaccine distribution and administration. Anything less, which compromises our fight against Covid-19 at the cost of citizens' lives or serves business interests, is unacceptable.
---