Enable the disabled
For people with disabilities, the cancel culture they have to endure all their lives is more than frustrating.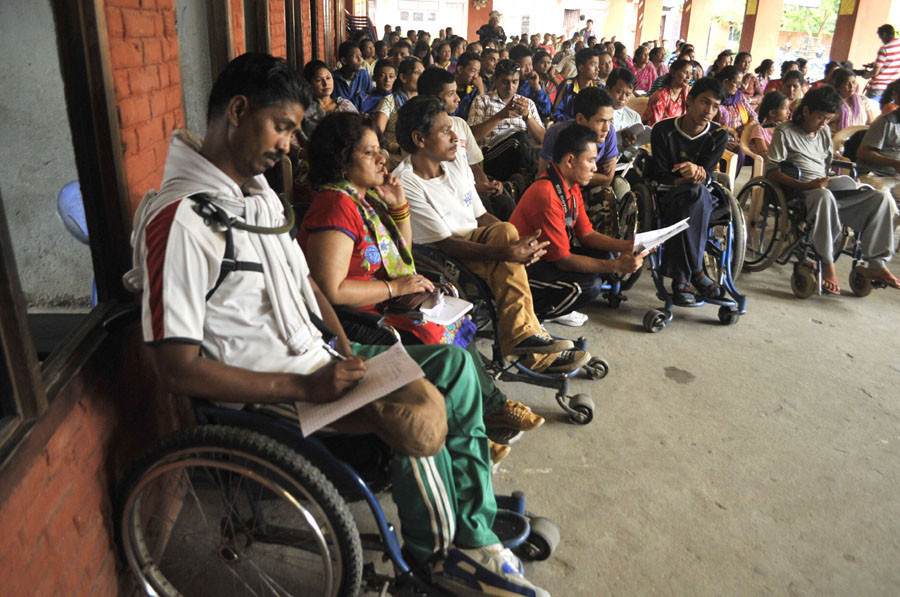 Post File Photo
bookmark
Published at : December 2, 2020
Updated at : December 3, 2020 00:27
Nepal has made significant strides by introducing and implementing policies in the area of disability issues to ensure that disabled persons can live a decent life, and also engage in the decision-making process. Real progress, however, lags far behind, clearly indicating that the inclusive policies born out of social and political developments in the country are yet to be institutionalised for them to work in the interests of the people they were designed for.
Earlier in August, the government issued 'Rules Relating to Rights of Persons with Disabilities 2020' to ensure that disabled persons can enjoy their inalienable rights as enshrined in the constitution. The new rules stipulate that the government mandatorily arrange and distribute assistive devices free of cost and provide community support service to disabled people, depending on the nature of their disability.
Provisions were also made to ensure free education with lodging facility, skill training, financial assistance including small business loans, reservation in civil service, free healthcare, rehabilitation and social security allowance. Disabled people are also entitled to a 50 percent discount on transport fare, and the children of disabled people will be provided scholarships, the new rules read.
While these developments suggest a change in the mindset, experience also shows that policies alone won't work. Foremost, the government and stakeholders need to understand that they are obligated to ensuring that disabled persons have equal rights in society and that they are not mere recipients of welfare. This requires a massive change in our attitude towards people with disabilities, and it is the first step to transform the lives of the disabled and see some real progress.
Life is already a struggle for people with disabilities, but our perception and superstitious beliefs about disabilities take a bigger toll on them. Let's look beyond a few instances portrayed in pop culture and some inspirational achievements by people with disabilities. A majority of them are far from visible in our social and professional settings and are often ridiculed and stigmatised. So much so that even family members consider them a burden. This highly insensitive attitude and stereotypes, which also reflect in our language, are a major hindrance for people who face life despite their conditions.
For people with disabilities, the cancel culture they have to endure throughout their lives is more than frustrating. Students are denied admissions, job seekers are turned down, and social circles, which are usually homogeneous, exclude them. These are just some of the hardships that people with disabilities have to navigate in their life. It is disheartening that we, as a society, fail to accept people with disabilities who accept their conditions and rise above all barriers to embrace life and make the most of it.
It is essential, therefore, to change the primitive mindset and the traditional welfare approach, and treat people with disabilities as equals instead. Disability discrimination is the biggest barrier we have to overcome to prioritise structural transformations that will ensure real empowerment over sympathy. And this has to reflect in our policies and intentions, which so far are more disabling than empowering because we have simply failed to adopt the inclusive policies.
Take, for instance, our public spaces which are not at all designed to accommodate people with disabilities. There are no ramps for ease of access and navigation. Getting on and off public transport or crossing the road is another nightmare. We are yet to design our environment to accommodate people with disabilities. How can we expect progress just by introducing policies and guidelines when we have done nothing to improve accessibility? The new rules are thus the start of facilitating the way forward and fixing the wrongs. We need to change our attitudes first, which is more disabling than the condition itself.
---