Stop peddling pseudoscience
Prime Minister Oli is just trying to be an outlier when the country is in despair.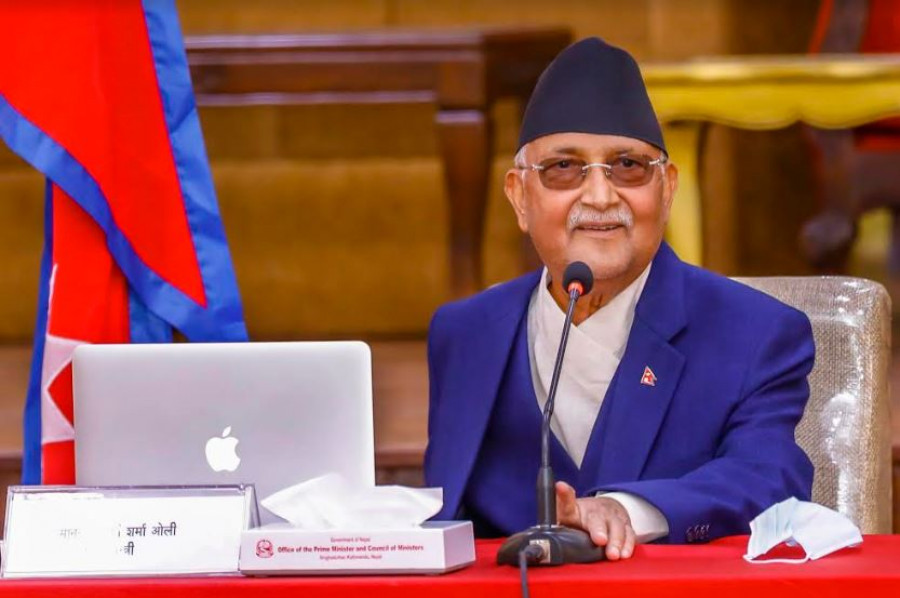 Photo courtesy: PM's secretariat
bookmark
Published at : June 19, 2020
Updated at : June 19, 2020 07:33
Apart from entertaining his audience with funny proverbs and jibes aimed at his opponents, Prime Minister KP Sharma Oli likes to be seen as an outlier. He doesn't mind peddling 'alternative facts' if they serve his purpose. Speaking in Parliament on Thursday, he claimed that the number of Covid-19 deaths, which stood at 20 when he spoke—it's 22 now—was an exaggeration in line with the WHO guidelines. As per his alt-facts, the actual number of the pandemic deaths was just two or three; the rest had died of their pre-existing ailments even though they had been infected by the virus eventually.
Ignorance is bliss; denial is dangerous. Even as the entire world follows the same guidelines to count the number of casualties, Oli wants it otherwise. And in his denial, he is doing the deceased a great dishonour. So pathetic is our response to the pandemic that polymerase chain reaction tests are being conducted only after the infected patients are dead. The dead surely can't come back to correct the PM and tell him that they had indeed been killed by the virus. But that doesn't absolve the PM of his failure. In failing to acknowledge where we've arrived today, he is underestimating the dangers that await us tomorrow. As such, we're not even anywhere near the curve of infections and deaths as yet.
What's more, Oli's alt-facts came a day after the Ministry of Health projected the number of infections to reach 40,000 by mid-July. According to the ministry, 80 percent of the infections will be asymptomatic, 15 percent will need hospital or isolation beds, and 5 percent will need ventilator support. That's 32,000 home isolation beds, 6,000 hospital beds and 2,000 ventilators. The Ministry has also detailed other requirements such as paramedics, medical staff, nursing staff and assistants in local quarantine and isolation centres to accommodate the ever-increasing number of infections. As of now, we're ill-prepared to meet these requirements, and the least we need right now is the advice of a pseudoscience-obsessed prime minister who says all you need to do is drink warm water and sneeze the virus out of your system.
The healthcare system is already buckling under pressure, having to care for 6,600 active-case patients and over 6,000 persons in isolation. With the lockdown eased and a possibly greater number of infections underway, the current rate of 6,000 daily tests is grossly inadequate. Although the ministry plans to make arrangements for 10,000 tests daily starting June 29, doubts persist whether it will materialise. The failure to regulate quarantines—and in effect turning them into virus incubation hubs—has already led to authorities coming up with a new modality of home quarantines or isolation facilities under the watch of the local level. This is not going to work either, for a large number of Nepali homes have no separate rooms for isolated living, even more so in cities where families live in one-room tenements and share toilets with other families. The new modality might just end up translocating the incubation hubs to individual homes, leading to an even greater number of infections.
However, rather than asking himself how to save more lives, PM Oli continues to undercount the casualties and mislead citizens. If the prime minister of the country can't gauge the magnitude of the crisis, healthcare professionals on the frontline are highly likely to hesitate to put their lives at risk testing and treating the Covid-19 patients. It'll be a great service to the country if the prime minister kept his alt-facts and pseudoscience to himself and let health professionals do the talking at this time of crisis.
---