Nepal needs to play catch-up
India is talking a new global language, where technology is a matter of national security.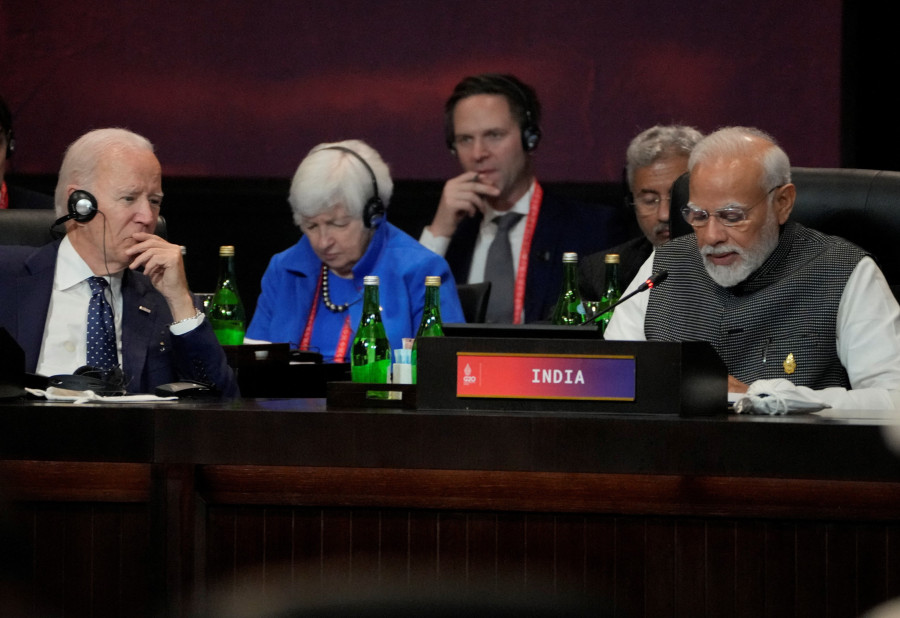 Reuters
bookmark
Published at : December 8, 2022
Updated at : December 9, 2022 07:09
Does our deep-rooted antagonism towards India—fuelled both by our political discourse and our national media—make us myopic in how we view India? Perhaps. Perhaps it also has to do with India's consistent oversight of Nepal's concerns regarding border management and other bilateral issues, and memories of the 2015 blockade. It could be a hangover from the heady days of King Mahendra's nationalism, or plain and simple hill chauvinism. Whatever the reason, anti-Indianism remains as convenient a political instrument today as in the past.
Although India dominates the public discourse here, the reality in Delhi is that Nepal does not figure too high on the current Indian establishment's immediate foreign policy goals. For sure, India would like to see Chinese influence contained, and a government in Nepal that is amenable to its interests. To that end, Delhi has expanded on the economic connectivity front and tried to deepen cultural links. But there is also a palpable sense of exhaustion among Indian policymakers with respect to Nepal.
At this particular moment in time, India is in a global sweet spot. It has assumed the presidency of the Group of Twenty (G20), chair of the Shanghai Cooperation Organisation, and the presidency of United Nations Security Council. Despite its unwillingness to align with the West in the Ukraine-Russia war, the United States and other Western nations are looking at India as a more reliable partner than China. The strategic partnership between the Quad grouping is deepening. If there was ambiguity in Delhi about China before June 2020, there is clarity now that Beijing will be its primary competitor. With all this, India is talking a new global language, where technology is a matter of national security.
This new language of diplomacy was best seen in India's External Affairs Minister S Jaishankar's address at the Global Technology Summit in Delhi last week. Arguing that India cannot be "agnostic" about technology, he said, "The key question is: Are you for collaborative globalisation or are you for a model that allows domination by a few players?" India's geopolitical choices, he said, would be determined by three questions: "Who gives us access? Who is our collaborator? And who is our market?" And finally, in what can also be seen both as India's agenda as G20 chair and in the years to come, he said that the rise of India is deeply linked to the rise of Indian technology. Thus, the agenda of digital public goods—where India has built up considerable heft—is one of the key drivers of India's G20 diplomacy.
The question for Kathmandu then is, can it speak the same language as India and the rest of the world?
Fragmented worlds
Beyond the US-China global contest in the realm of physical geopolitics, a few trends are clearly visible. The first is the dominant view that perceived separations between strategic and consumer technology were misplaced. There is increased securitisation of technology, as well as a rise in techno-nationalism. This can be seen in the US decision to restrict critical technological transfers to China via the CHIPS and Science Act. The Act intends to boost semiconductor manufacturing within the US, once the world leader but today accounting for only 12 percent of global supply, via federal subsidies worth $52 billion and tax breaks. The US intends to spend $280 billion over the next 10 years to pursue domestic R&D in such technologies. The catch, however, is that "Funding recipients are prohibited from expanding semiconductor manufacturing in China or any countries that pose a threat to US national security." The US has further tightened the screws on China by imposing new export restrictions in October. "Companies will no longer be allowed to supply advanced computing chips, chip-making equipment and other products to China unless they receive a special license." Further controls are mulled in sectors such as biotechnology and artificial intelligence.
The second is the growing understanding between the US and its partners that technology will be a critical part of security initiatives. Using shared democratic values between nations as the foundation, a September 2021 statement by the Quad nations outlined the principles that would govern their view on technology: It should yield tangible benefits for society; protect individual rights and dignity; and not be misused for malicious purposes. "Resilient, diverse, and secure technology supply chains—for hardware, software, and services—are vital to our shared national interests."
The third is Delhi's posturing that it can become a major partner in the American pursuit of decoupling from China in this sphere. To that end, Washington and Delhi signed the Initiative on Critical and Emerging Technologies (iCET) agreement in May 2022. It has been called a "clever, agile and far-sighted initiative" with the "potential to cut through red tape" that will allow the sector to grow "within and between" the US and India. Delhi is hoping it can leverage US capital and technology to synergise with Indian workforce, skills and markets to build up its own high-tech manufacturing sector.
Beyond open borders
There are few physical manifestations similar to the underlying Quad principles of tech ecosystems built on trust and openness as the Nepal-India border. However, whether due to the deep-seated mistrust on both sides, or an inability to take the conversation beyond bilateral issues, both countries are yet to view each other as partners. Here, Delhi's invitation to Bangladesh as a guest country at the 2023 G20 Summit is a pointed remark on the nature of Nepal-India ties.
One could, in fact, argue Bangladesh provides an excellent regional model on how to balance the expectations and demands of great power rivalry. In negotiating a robust defence partnership with China (Dhaka is the second largest buyer of Chinese arms) and multiple economic agreements including investments in critical infrastructure such as the Padma Bridge project, Dhaka has shown it is keen to expand ties with China. However, it has not done so at the expense of India's core security interests, especially those related to terrorism. Dhaka has built up on its ties with Delhi by opening discussions on an economic agreement to increase cooperation in critical technology sectors such as fintech and cybersecurity among others. The agreement is intended to be finalised in 2026, when Bangladesh will become a developing country. There is also a great degree of political trust between the two regimes.
However, the lingering trust deficit between Delhi and Kathmandu has withered any potential for our "special relationship" to grow beyond traditional spheres of cooperation. The Kathmandu elite loves to claim pyrrhic moral victories against Delhi, but is yet to provide a suitable roadmap to make the relationship grow beyond petty interests. The media is equally complicit: Any news that castigates India is presented as tabloids are wont to do. Of course, Delhi as a larger country can appear more benign to Nepali concerns, but this increasingly looks difficult in a world where India's ambitions are global, and its language of diplomacy has shifted. Nepal must realise how far behind the curve its discourse is. If it's happy to stay put, so be it. But if it wants to be counted among the world, it needs to play catch-up, and that too quickly.
---
---