Between domestic politics and diplomacy
It is interesting how political leaders and scholars have interpreted the MCC document differently.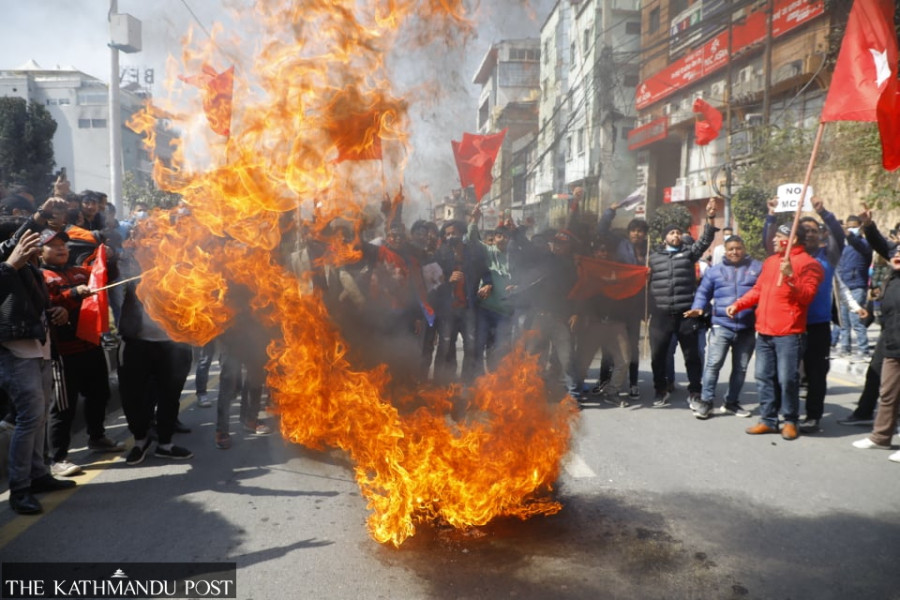 Post Photo: Hemanta Shrestha
bookmark
Published at : February 18, 2022
Updated at : February 18, 2022 20:35
The protracted controversy over the $500 million Millennium Challenge Corporation (MCC) Compact is a manifestation of deeply divided domestic politics. The confusion, delay, indecisiveness and division between the political parties and opinion makers on the MCC Compact have weakened the country on both the domestic and international fronts. The Compact is a Nepal-requested project. The United States government and Nepal's Finance Ministry reached an agreement in September 2017 which is now awaiting parliamentary ratification. Had this five-year-long project been ratified by Parliament right after the conclusion of the accord, it would have been completed by the end of this year. A cursory look demonstrates that deeply divided domestic politics, fast-changing geopolitical competition and polarisation of world politics have directly impacted the Compact.

The MCC project has consumed about a decade and Rs4.4 billion since it started in 2012. The major political parties and prime ministers have been involved in pushing the project forward since then. Controversy surfaced only after the government decided to get it ratified by Parliament. In September 2021, Prime Minister Sher Bahadur Deuba and Maoist chairman Pushpa Kamal Dahal Prachanda jointly made the latest commitment to ratify the agreement through a letter to the MCC. An effective disinformation campaign from various sides has overshadowed the actual wording and connotation of the agreement.
Political mess
It is interesting to note that democratic parties like the Nepali Congress and Madhes-based parties are for the project, and most of the communist and pro-king parties and groups are against it. The ruling alliance made up of five political parties is divided on the interpretation of the document. Only the Nepali Congress has demonstrated its willingness to ratify it. The main opposition CPN-UML has maintained silence.
A three-member intra-party task force formed by the then ruling Nepal Communist Party under prime minister KP Oli was divided in its report. Ostensibly, the division was on factional lines led by KP Oli and MK Nepal. An inter-party task force recently formed by the Deuba administration is likely to face a similar dilemma due to its composition. Neither Oli nor Deuba thought of creating an apolitical study group or asking for recommendations from independent think tanks. It is ironic that political leaders and scholars have interpreted and understood the same document differently and took contrasting positions. Some political parties shifted their stance when they changed from ruling to opposition parties and vice versa.
The political parties have not discussed the matter within their party committees due to lack of internal party democracy. But some party leaders and opinion makers, particularly those standing against the Compact, took to the media offensively. Supporters of the Compact, however, fear to speak out freely, including known vocal leaders of the Nepali Congress. The Nepali Congress has failed to explain and counter the opposing views before the people.
Considering current trends, any future foreign aid or loan project including the Belt and Road Initiative (BRI) will definitely face similar political challenges. Clearly, Nepal as a country lacks a clear strategy in handling its foreign relations on critical issues, but the political parties do, based on their ideological orientation. Ongoing public discourse on critical issues relating to India, China and the US clearly shows that political parties based on their ideology construct their perception and policy towards each of these countries.
Political leaders tend to make decisions in haste and regret it at leisure. They rush to sign an agreement without weighing its ramification, and later fail to convince the people and get Parliament to endorse it. Every external issue is over-politicised without understanding its sensitivity, importance and ramifications. The Arun III Hydropower Project and the MCC Compact are vivid examples of this unfortunate trend. Those who opposed these projects are regarded as nationalists, and those who supported them were labelled as anti-national. Indeed, it will take a long time to examine this. Those who opposed Arun III in the 1990s were hailed as nationalists then. After 20 years of indecision, the project has moved forward now.
Security means protection from threats to political, economic, social, military and environmental aspects. It doesn't only entail military matters. The trade war between the US and China under the Trump administration aimed at protecting their national security interests. Strategy is a plan involving ends, ways and means. Implementing a policy or a strategy requires tools such as diplomatic, informational, military and economic means. Their use ranges from lobbying or persuasion and inducement to coercion. The purpose is to get things done to achieve national security interests.
Geo-political influence
The great power competition between the US and China, and between India and China are heading towards containment coupled with competition and confrontation side by side. Their contrasting interests and Nepali's inability to demonstrate diplomatic maturity have made significant impacts. As Nepal's major political parties carry contrasting political ideologies–democracy and communism–the impact of the ongoing geopolitical confrontation, also based on ideology, has far-reaching consequences. Most communist leaders fear that any foreign aid project, particularly from the Western countries such as the MCC Compact, has the intention of containing China. Ostensibly, Nepal is at a strategic crossroads and unable to choose a direction.
Nepal has long adopted a non-aligned foreign policy and balanced its relations with its giant neighbours and the US. Strategic help from the US is related to securing United Nations membership, solving the Bhutanese refugee problem, and being an external balancer, among others. Balancing relations with these powers is in line with Nepal's development and security interests. The national security policy also prevents Nepal from joining a military alliance, and hence it withdrew from the joint military exercise of the Bay of Bengal Initiative for Multi-Sectoral Technical and Economic Cooperation (BIMSTEC). Nepal must stick to these policies and maintain cordial relations, particularly with these powers in the years ahead.
---
---