The elusive dream of a land-linked Nepal
Nepal is not economically strong and politically stable to be a bridge between India and China.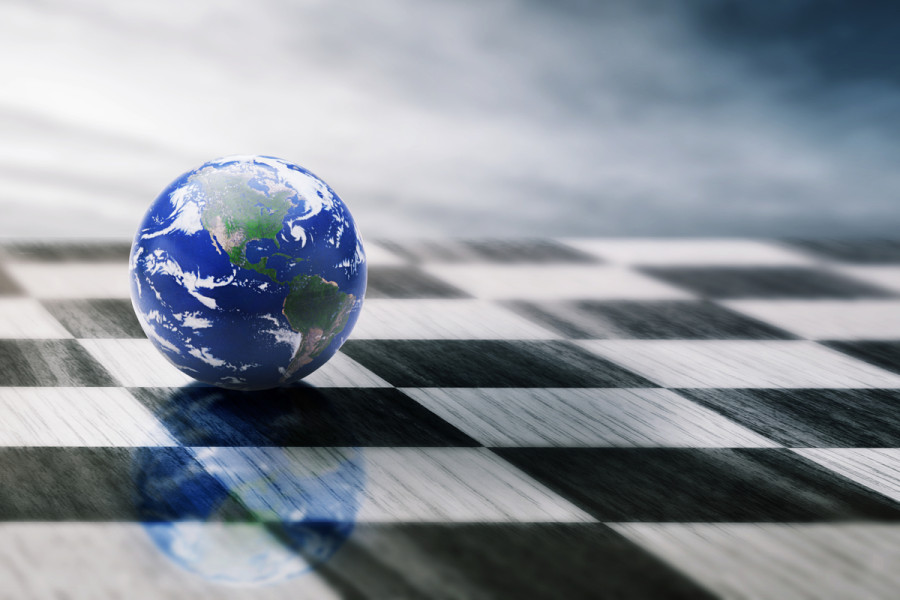 Shutterstock
bookmark
Published at : July 30, 2020
Updated at : July 31, 2020 07:36
In recent years, the idea of Nepal as a land-linked country has figured prominently in academia and policymaking circles. Numerous commentators have written about the benefits of utilising Nepal's position to emerge as a land-linked country between India and China, a solution to Nepal's current restrictive situation as a landlocked country sandwiched between two giant neighbours. These theories talk about trilateral cooperation between India, China and Nepal as it is mutually beneficial for them, and points towards the emergence of Nepal as a transit economy.
Such analysis relies on the fundamental premise of the economic interdependence theory, which states that two countries dependent on each other for trade will not likely go to war. Thus, China and India shall not engage in a fight as both countries are highly reliant on each other for trade. However, recent events in the Galwan Valley have shown the pitfalls of this strand of argumentation. Moreover, those propagating the idea of a land-linked Nepal connecting India and China have not given adequate thought to whether Nepal can dictate the terms of the partnership, taking into account its economic reliance on both countries and lack of political stability. Neither have they provided a contingency plan for such a transit economy if Nepal finds itself in a tight spot in case of an eventual India-China war or a bloody stand-off like Galwan.
Possibility of war
The idea of economic interdependence reducing the likelihood of conflict is highly contested and should not be taken as a given. Economic interdependence only reduces the likelihood and does not eliminate war as a possibility. Realists always point out that when the very fundamental strategic interests are under threat, countries will choose to ignore their economic interests. China and India do not have a demarcated border and are naturally poised as a threat to each other's primary strategic concerns. As Indian foreign policy analyst C Raja Mohan puts it, China and India are divided by their respective territorial nationalisms and irreconcilable conflicts of interest. It has proved right in Doklam and Galwan. Unfortunately, Galwan also saw blood spilled after decades at the Sino-Indian border.
The Galwan incident is a massive setback for India-China relations. However, at the same time, it is a setback for the idea of an Asian century. Today, it appears fanciful to think that India and China can cooperate significantly in other areas without demarcating their borders. There is always going to be stress and strain in relations without a demarcated border, and with each side claiming vast territories. That stress and strain will always hamper any substantial cooperation between these two giants, especially when it comes to the strategic region of South Asia.
Any move by China to gain influence in the South Asian region will always be viewed with suspicion in India, and this suspicion is not irrational. South Asia is strategically valuable to India and has remained its sphere of influence. It will not allow China a free ride in the region by cooperating with it. Even China recognises this and proposed the framework of 'China-India plus X' to work closely with India in South Asia and other regions. However, there are very few takers for this framework in India. Moreover, China's recent actions in Doklam and Galwan has put the last nail in the coffin in this regard.
In such a situation, it is not only futile but dangerous for Nepal to work towards the idea of a land-linked country. First, India would never come on board on this idea, and any such possibility is distant after the Galwan incident. Second, it is dangerous because Nepal is not economically strong and politically stable to work as a bridge between India and China. Nepal is not in a situation to dictate the terms of engagement with both these countries. The recent incidents in Nepal's domestic politics, including the meeting of the Chinese envoy with the leaders of various factions within the Nepal Communist Party at a time of crisis for Prime Minister Oli's government, and the Chinese Embassy's threatening the editor of a prominent Nepali newspaper for an unfavourable editorial, are proof that even China is interfering in Nepal's domestic politics now.
Indian interference was always a major irritant for Nepal. It shows that until Nepal is economically stable and marks a certain degree of political stability, any outside power that is investing significant funds and providing aid will try to interfere in its internal political matters. Sadly, Nepal has been mired in decades of instability, and there are no signs of an end to the constant power struggle. The fist-fighting among various factions of the Nepal Communist Party is a sign of worry for anyone who looked at the government led by Prime Minister Oli as the first stable government in years. Economically also, Nepal has failed to take advantage of its status of a least developed country to develop competitiveness in any economic sector.
The way forward
With a weak economy and political instability, Nepal should carefully plan its foreign policy as it can prove disastrous to make reactionary choices. It is not difficult to imagine a situation in which India and China are fighting for influence within Nepal by supporting rival factions and political actors. Nepal can also become a part of various conflicts with both India and China inside its territory if the relations take a sudden downward turn between India and China, like in Galwan.
At this point, Nepal's foreign policy should not be reactionary. It should manoeuvre for a long-term effective balancing strategy that keeps both India and China's undue interference at bay while engaging with them separately. Nepal should be wary of being seen as aligning with India or China at the expense of the other. Second, it should try to build its economy after the end of Covid-19 by identifying key sectors and bringing in expertise and funds from multiple sources. Third, Nepal's politics need to transcend partisan interests when it comes to national interests. The anti-India rhetoric used by Prime Minister Oli for his own partisan interests has proved disastrous for India-Nepal relations. Foreign policy should not be conducted with such public rhetoric; it only harms Nepal's interests. Nepal has time and again shown its resurgence, and has all the capabilities to emerge strongly in the post-Covid-19 world.
---
---