Peaceful social demonstration
Studies show that non-violent civil resistance is far more successful in creating change than violent campaigns.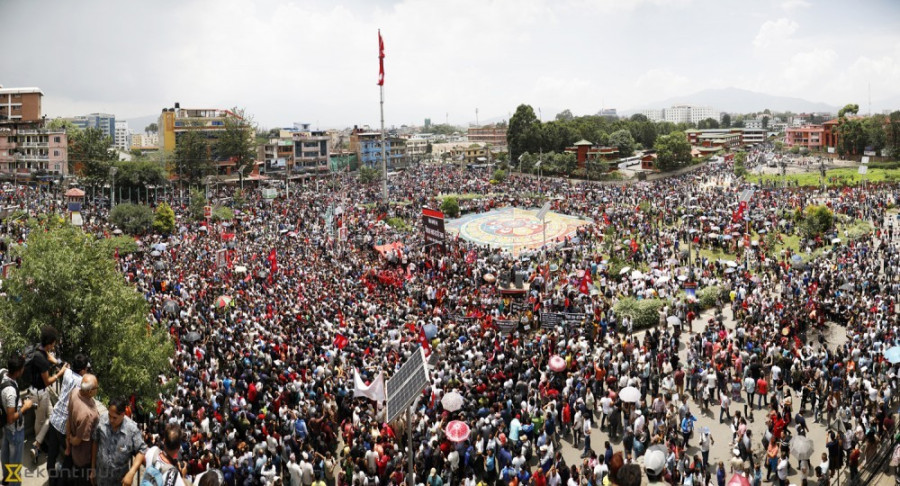 Post file photo.
bookmark
Published at : July 8, 2019
Updated at : July 8, 2019 09:44
A peaceful protest mainly by the Newar community of Kathmandu on June 19, the largest apolitical mass gathering seen since the 2006 People's Movement, compelled the two-thirds majority government to withdraw the proposed Guthi Bill. The demonstration was held to oppose the government's endeavour to obliterate the country's ancient traditions and religious customs. As people poured out into the streets of Kathmandu, peaceful protests were being witnessed in other parts of the world too. The Hong Kong populace obligated two members of the Executive Council to apologise and suspend the bill that would allow residents to be extradited and stand trial in mainland China for certain crimes.
People in the troubled Republic of Sudan are calling for the military government to step down and pave the way for a civilian authority to take over after the military coup. In 2010, Arab Spring 1.0 that pitted non-violence against violence brought down a dictatorship. These are examples of peaceful demonstrations for civil rights. Non-violent movements can lead to meaningful systematic change. There are many studies that propose that non-violent civil resistance is far more successful in creating broad based change than violent campaigns. Street protesters are finding new ways to challenge the people's representatives and repressive regimes in the face of brutal crackdowns.
There is an affirmative instance that non-violence works better than violence. The International Centre on Nonviolent Conflict's 'Special Report: Nonviolent Resistance and Prevention of Mass Killings During Popular Uprisings' states that nonviolent revolutions are three times less likely to come across mass killings than violent uprising. The twist from nonviolent to violent confrontation will enable more brutal armed groups to step into the political space first widened by peaceful protests as in Syria and Libya. Violent movements intimidate leaders and security forces alike, giving confidence to them to hold on to power at any cost. Non-violent campaigns have been found to be tough in many countries as the 2018 Global Peace Index shows that peacefulness has declined in eight of the last 10 years.
In the Nepali context, the questions are too complex for short or easy answers. Peaceful movements here have offered no guarantee of change, and violent resistance has accomplished something only with considerable external assistance, which brings its own interests but as problems. This self-same sort of clarity can be a provocation to revisit the fundamental choice between peaceful and violent methods in political change in Nepal.
The socio-political landscape has observed major mobilisation that attracted the Constituent Assembly for modification of the constitution with major changes to secularism, federalism and republicanism. The 2006 peaceful civil movement led by the Seven-Party Alliance was more effective in bringing political change than the 10-year violent conflict led by the Maoists that led to approximately 17,000 persons being killed. The People's Movement 2006 and the series of protests launched by women, Dalits, Madhesis and Janajatis and the recent demonstration in Kathmandu have brought about an impression that nonviolence is the method for substantive change in political, cultural, social and religious customs. Mass peaceful demonstrations do exhibit the sensitivities of preserving secularism, federalism and republicanism.
The end of the conflict and promulgation of the constitution brought about substantial accomplishments, but lack of political will in the anti-corruption drive, absence of good governance, inflation and the low standard of living remain as impediments. Will Nepal's path to consolidating core transformation lead to peaceful coexistence or see another non-violent protest to protect the people's political rights, their values and social customs? Or will it move with violent activities that would invite outside interference and lead to social collision?

Basnyat is a retired Nepali Army Major General and a political and security analyst.
---
---