A conversation of enchantments
'I want to correct the narrative that says a woman has to be submissive and obedient to be deemed good.'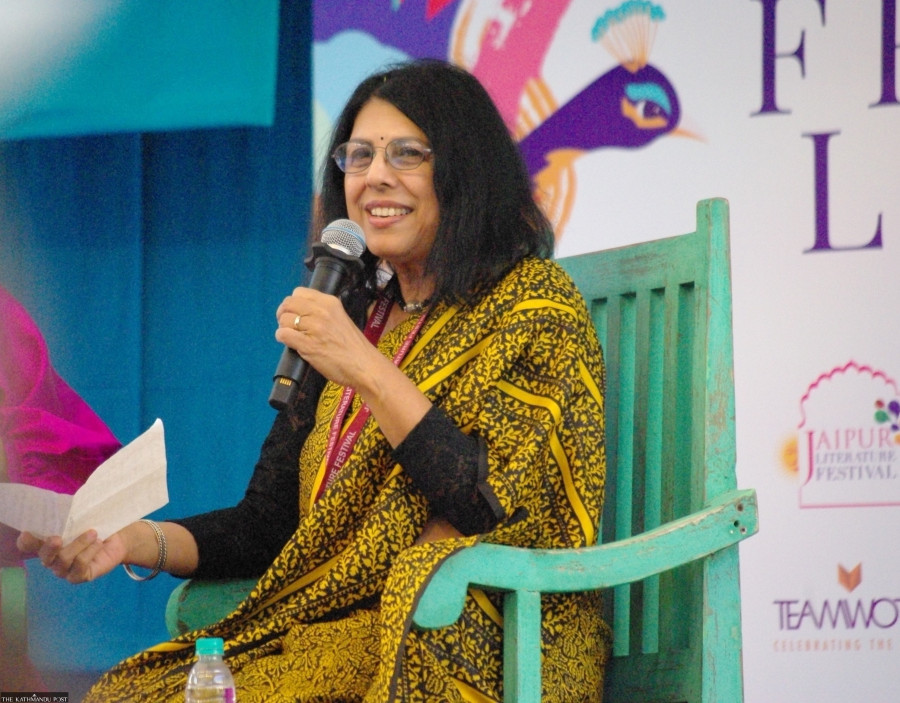 Mimamsha Dhungel/TKP
bookmark
Published at : January 25, 2023
Updated at : January 25, 2023 06:01
Having written some of the biggest books based on Hindu mythologies, Indian-American writer Chitra Banerjee Divakaruni is a an award-winning writer, activist and teacher. Mimamsha Dhungel of The Post caught up with her at the Jaipur Literature Festival 2023 and the writer told us a lot about retelling epics and correcting social narratives through her characters and stories.

Who is Chitra Banerjee beyond her words?
I am a very quiet person. Writing is a big part of my life, so I keep the rest of my life uncomplicated. I love teaching. I love my family. My activist work is really important to me. I like reading good books. I also enjoy watching good movies often with my family. I like going on nature walks and I love dancing to Bollywood music.
Congratulations on your new book, 'Independence'! Have you already started working on anything else?
I just finished Independence. But yes, I have started working on something else already. My next book is going to be a non-fiction based on the life of a woman and her family. I think it will be very inspirational and I want to show, as with the other women in my books, all the ups and downs of the lead character's life.
I don't believe in showing women as some kind of impossible perfectionist ideal. No one needs to be that immaculate. That's not human at all. Why should women expect to be perfect? So, in my new book, I talk of a woman who comes from a very humble background and becomes very powerful and successful. I want to trace her story because I think a lot of people will be inspired by her.
Most of the protagonists of your books are inspired by mythology or Hindu scriptures. How do you come up with the narratives for your stories?
I think what matters the most, in this case, is intention. These women who inspire my books are figures who have been pointed out to us as role models. I feel we do not understand their lives well as they are (always) shaped up to be compliant and obedient characters. And if they are not these things, then they are portrayed as women of questionable character.
I wanted to readjust this perspective. I wanted to show these women as they really were. I researched into the Mahabharata and the Ramayana a lot before writing 'Forest of Enchantments' and 'Palace of Illusions'. These epics have come down to us through several writers in different forms. I could vividly see that these women were much stronger than what we were told. They were fighters. I wanted that spirit (of powerful women) to be an inspiration for women living and growing today. I myself am constantly inspired by these women.
So, I want to correct the narrative that says a woman has to be submissive, obedient, or put up with whatever happens to her to be deemed as good by the society. That is neither our history nor our culture. We should never forget that.
What do you think is the essence of being a woman?
For me, the essence of being a woman is to stand on my own feet and live a life of dignity. This is something that I believe in myself and also for other women. This is what I fight for as an activist and what I try to create in my books as a writer.
What message do you intend to impart to your readers—especially women from the Indian subcontinent who are familiar with these texts—through your books?
If you are talking about the central message that I wish my readers would take away from my books, it comes across differently through different characters. However, the core theme is always to continue believing in yourself. If you have an ambition or a dream, go chase it. We are not born with a dream. It is an acquired pursuit. We develop it as we grow and understand ourselves. So, just be aware of the dream that is inside you and fight for it. The other thing that I always try to portray in my books is to not care when society is trying to demean your capabilities. Do not let anyone discourage you, tell you that you can not something or are not worthwhile. You are the one who will decide what you are capable of, not the society.
Among the many books and characters that you have curated, tell us about your favourites.
That's a very difficult question because all the characters I write are very close to my heart. But if I had to pick one, my new book, 'Independence' would be my choice for now. It is about three sisters who are live during the time of India's independence. They are my favourite characters because they are just ordinary girls when the story begins but in that one year when so many tumultuous things happened on the Indian subcontinent, they grow up and realize what it means to be truly independent.
Tell us about the research you do before writing your books.
Research has always been challenging for me. It was especially difficult to research for my first book, 'Palace of Illusions' because I didn't know where to start. I had to learn the entire process then. By the time I wrote, 'Forest of Enchantments', I was familiar with the process and just had to do the work.
The process begins with reading the oldest texts available whether it is the oldest Mahabharat or the oldest Ramayana. Then, you trace the other versions of these texts and analyze how are they being written. One thing we recognize as we research is that the same Mahabharata or Ramayana is portrayed differently in different versions. They definitely follow the main story but they focus on different things.
Something I learned during my research is that there has always been a tradition of retelling epics. I am following in the footsteps of many before me. I am a part of this important tradition and it is essential to embrace the story as your own when you write. The epic becomes yours and you become a part of the epic. You recreate the story for yourself. And that is what I have been doing.
Young girls who aspire to be writers look up to you. As a writer who has won so many hearts, what are the most difficult and the most enjoyable aspects of writing a book?
I am always very grateful and thankful to the people who read and enjoy my books. After writing a few books, I have learned that there is always a good and bad side to writing.
The difficult part about writing a book is when you get stuck. Halfway through the novel, I keep writing but I can feel that it is not coming out the way I want it to. That writing gets scrapped and I start again. This cycle of writing it, not liking it, throwing it, and starting all over again might go on for a while. Sometimes I can't write at all.
Interestingly, the most enjoyable part is the opposite of a writer's block. Some days you sit down to write and the words just come to you. It feels wonderful when you realize that you are just an instrument forthe words to flow through.
---
---