In Rajasthan, a meditation on obsession, dreams and poetry
Anukriti Upadhyay's Daura is an interesting work that reveals layers of possibilities and meanings under its folksy cloak.

Ricardo Frantz/ Unsplash
bookmark
Published at : August 3, 2019
Updated at : August 3, 2019 07:51
An idealistic District Collector is posted to a remote region in Rajasthan of North India—where he meets mysterious circumstances. Daura, by Anukrti Upadhyay, opens at this point, just as a medical officer is trying to get to the root of this curiosity.
As he interviews people and reads the district collector's diary, the novella begins to lead readers closer and closer to the truth—or, some would say, the myth. For Upadhyay's long fiction is a myth in itself, a fable, a folk tale reimagined and reinterpreted. Rich with the dialects of Dhoondhani and Mewati, tender in its rendition of the unforgiving Thar desert, cleverly entwining readers towards a spiralling end, Daura is bursting with rustic beauty. While it has its share of disappointments and absurdities, Upadhyay's first published work in English (released alongside another novella, Bhaunri), is a fresh, intricate, delicate addition to the literary world.
The novella follows an epistolary style, with multiple characters providing varied opinions of the district collector. The orderly introduces us to his Saheb with an odd liking for "queer places, uncouth people." He paints the picture of a flute-playing, people-loving, hard-working official with no sense of hierarchy or decorum. Next, the tehsildaar—a status quo lover, who drips sycophancy and irritation through his seeming compliance. One who resents the collector mingling with locals and is shocked at land rights being granted to women. He heavily hints at the collector having gone cuckoo in the desert. The Nat girls have a different story. These locals call the collector "a boon, better than the rains in Asadh." So we hear from the guard, the camel herder, and so on, till the medical officer gives us his report on the matter.
It is then that we learn the district collector is suspected of having a 'daura'—a bout of madness. It coincides with another meaning of 'daura'—a trip—which is what he makes to the village, refusing to go back to the headquarters. By coincidence, this word, in Nepali, refers to the traditional clothing for men, which the collector would undoubtedly wear in Nepal as a government official. This 'daura' then, is the crux of this work. What has caused the gentle collector to abandon the comforts of city life and take refuge under a tree in the village? Into the midst of this arrives an enigmatic character, the bard of all bards, the sarangiya whose instrument weeps as he plays, because its strings are "bathed in tears, in the heart's blood." This character arrives one day to sing about the exalted princess, and everything shifts at that instant.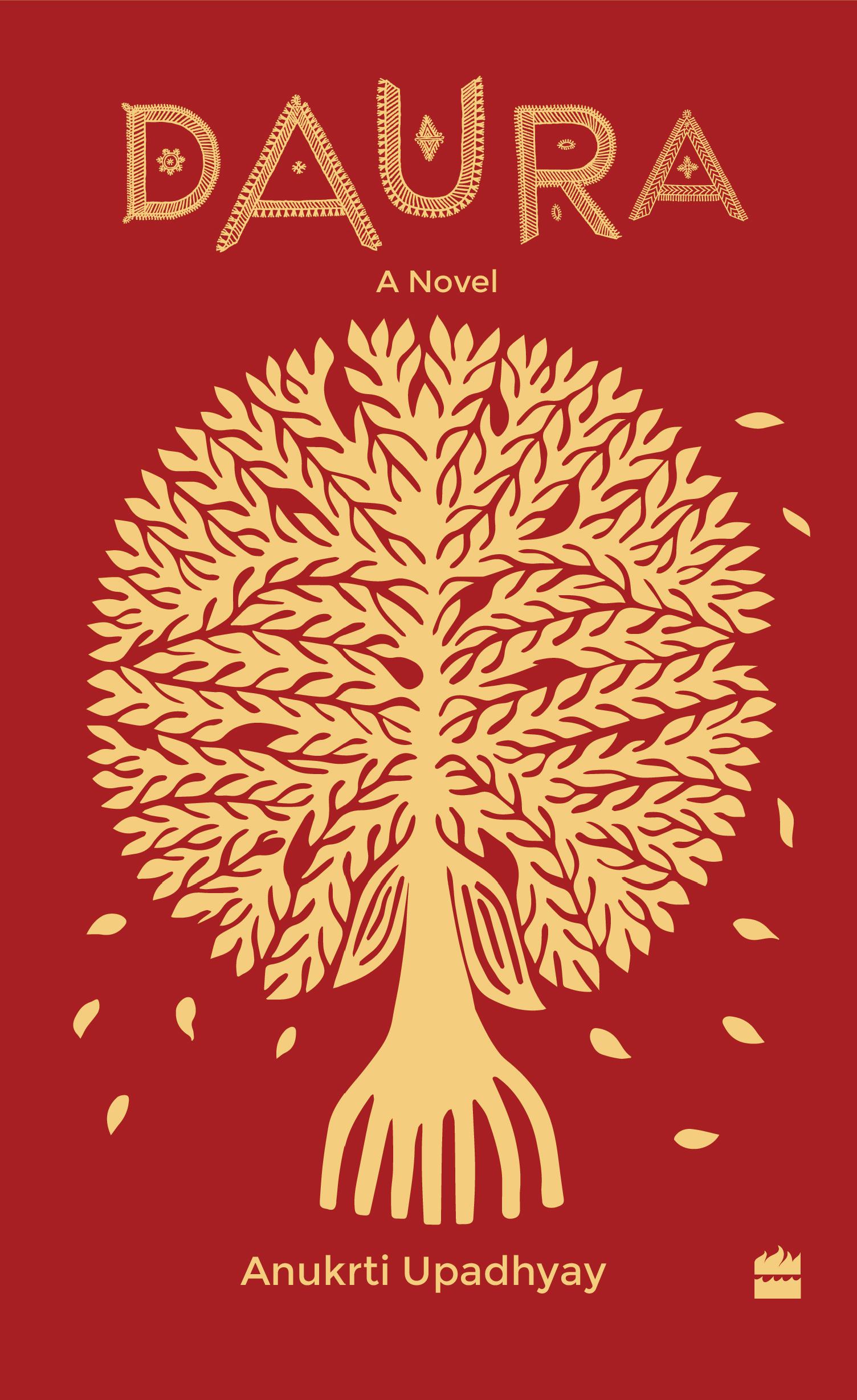 Daura is an interesting work in that it hides layers of possibilities and meanings under its folksy cloak. In the correlation drawn between trees and life-giving water, it is an appeal to be kinder to the earth. In the protest against the inhuman way local tribes are treated by so-called higher castes, it is an admonition to root out inequalities and caste-based discrimination. It is also a satire against the red tape and corruption that plagues bureaucracy, in the way the collector dares to work for the people instead of carrying out formal orders with no understanding of the local context. Above all, Daura is a sadhana, a meditation, on the power of art and creation. The idea of this novella begins and ends with an ode to music, the power of art to give birth to and destroy, the need to respect those who hold this power. The sarangiya—with hair white, like the silk-cotton of the semal tree, and face like a map of pain—as the kalavant whose art is for his own pleasure, is a tribute to artistry in all forms. "There are few true pleasures," says the guard, "and even fewer are those who are able to recognise them." The novella, then, exerts us to recognise them before it is too late and we end up like the unappreciative tehsildar or orderly, who "is blind to the beauty and invitation of the desert spring all around him."
The story is told with poetic rhythm, with a furling of reality and fancy that is a perfect complement to its tone. For example, this exploration of the desert's dhanis which is enough to transport readers: "The huts are small and built-in neat little clusters with whatever is handy—mud, cow dung, dried twigs and palm fronds. Their mud walls are decorated with murals from stories told in these parts, with turmeric or vermillion handprints of women and children. The women draw patterns on the floor with lime and red clay, a different one for each festival. These clusters of grass-and-mud huts are often screened by the dunes completely. You need to climb the soft sand slopes or descend into troughs to discover them. At times, what you take for a ripple in the sand detaches itself and rises, and you see that it is actually a camel's hump, and at others, what looks like a rounded mud roof turns out to be a dune."
There is a certain intimacy that Upadhyay has with the desert and its language, which seeps into her words and renders them fragrant. The author loves her cuisine, and describes dried beans and kadhi, bitter kankoda and ripe-smelling kachari, camel-milk kheer and hand-crushed bajra with near-reverence. With the same confidence, she sprinkles words in the local language generously throughout. Chaupad, chulha, tehsil, daaru, naashvaan, tikkad, baati, chaach, saavan, baoli, khejri, sangar. To speakers, learners and lovers of this language, the words are like cool, pleasant whisperings. To non-speakers, they will taste gritty and feel distant and might be a deterrent to reading on, for they are sans explanations in many places.
The novella, in its attempt to paint the Saheb as a good character, goes overboard at times. This saccharine sweetness, so difficult to digest, the constant repetition and assertion that the Saheb is a bhagwan, a daata, this grovelling servitude to the saviour complex just doesn't suit the flow of the book. It is also plain annoying that a work of fiction should have all these dashes that request you to fill in the blanks, with a coyness to not divulge the name of the tehsil, the date of the complaint, the location of the camel fair, and so on.
Beyond that though, Upadhyay is definitely a very different kind of writer who deserves to be welcomed. Daura, and the strong-willed girl's tale Bhaunri, both make for great short reads, whose depth and musicality linger in the mind for a long time.
Daura

Author: Anukrti Upadhyay
Publisher: Fourth Estate (Harper Collins)
Price: Rs 209
***
What do you think?
Dear reader, we'd like to hear from you. We regularly publish letters to the editor on contemporary issues or direct responses to something the Post has recently published. Please send your letters to tkpoped@kmg.com.np with "Letter to the Editor" in the subject line. Please include your name, location, and a contact address so one of our editors can reach out to you.
---
---