Beauty pageants for children: Exploitation or harmless entertainment?
Such beauty pageants are slowly gaining momentum in Nepal, but what purpose these events serve is yet to be decided.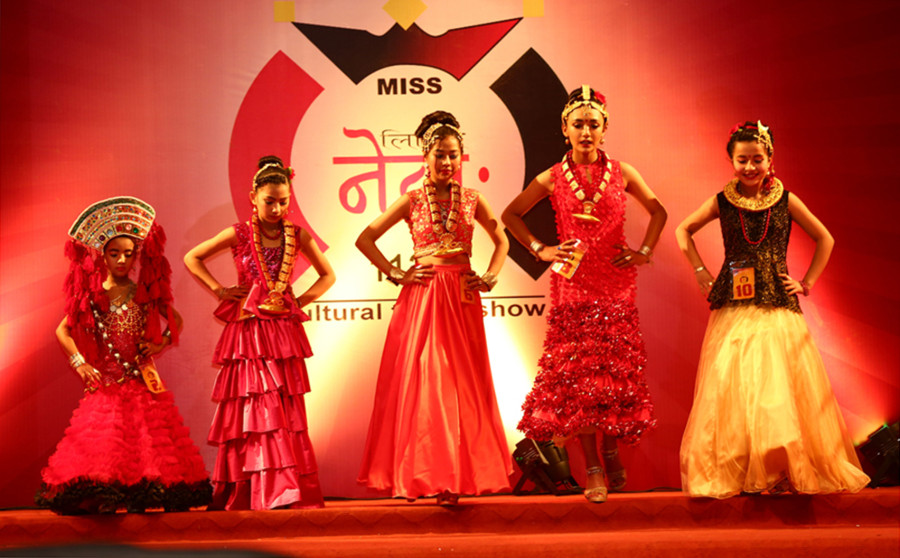 Participants at Miss Little Newa 2019. Photo courtesy: Pratima Shrestha Maharjan
bookmark
Published at : September 26, 2019
Kathmandu
When Revati Maharjan's name was called, she walked towards the centre of the stage and waved at the audience. Then, after posing for a few seconds, she turned away and took her place among other participants. She had been practising to present herself at a beauty pageant for a few weeks and was excited to finally 'catwalk' in front of an audience. Revati is only six-years-old.
Revati was one of the participants at this year's Miss Little Newa, where she bagged the 'Miss Culture Newa' subtitle. But her mother was more ecstatic than the little girl for her win. Revati was essentially living her mother's dream.
"I used to watch these types of pageants on YouTube. Growing up, I had a penchant for beauty pageants but I couldn't do them because of various circumstances," says Pratima Shrestha Maharjan, Revati's mother. "But I wanted my daughter to try."
Modern child beauty pageants are said to have started in the early 1960s in the US. Since then, the popularity of such beauty pageants has spread throughout the world. Generally, these events include a talent round, interviews, aptitude tests and catwalking, and children are said to be judged on their talents, confidence and individuality.
In Nepal, such beauty pageants for children have only just begun in recently. In the global scene, however, discourses surrounding child pageants have already sparked, with many saying such events are an act of child exploitation than harmless entertainment, as it is projected to be.
According to the parents of the children who participate in these beauty events, these events are a great way to encourage social interaction abilities in their children. These kinds of events also boost self-confidence, they say. But some past participants share that the event's emphasis on one's appearance can have long-term, grave consequences.
"We had a session where the judges judged our skin for a subtitle of 'best skin'," says 18-year-old Utsukta Subedi, who participated in the 7th Child Icon when she was 15. "I felt very conscious of my skin complexion because other participants were considerably fairer than me."
According to Subedi, there were sessions that focused on improving self-confidence and public speaking skills, but at the same time, the organisers and trainers emphasised on the appearance too.
"That was ridiculous. Beauty standards shouldn't be the priority of such pageants," says Subedi.
But Revati's mother Maharjan thinks otherwise. "I think I did a wonderful job by letting Revati participate in the event," she says. "She is now more confident. She has learned a lot of things about our culture and gained social skills."
By Maharjan's own admission, Revati was a kindergarten student and couldn't even write full sentences when she participated in the event—one of the reasons why Revati wasn't selected for the finals, she says. She asked the organisers, against their rulebook, to enroll her six-year-old into an event that only catered to girls between the age range from 9-to-12.
As the kids are subjected to competition and glamorisation at such a young age, psychologist at Norvic International Hospital, Krishangi Basnyat doesn't recommend parents allow their children to participate in such pageants before the age of 16. According to her, kids below that age aren't mature enough to filter what they are taught and how they are judged during such competitions.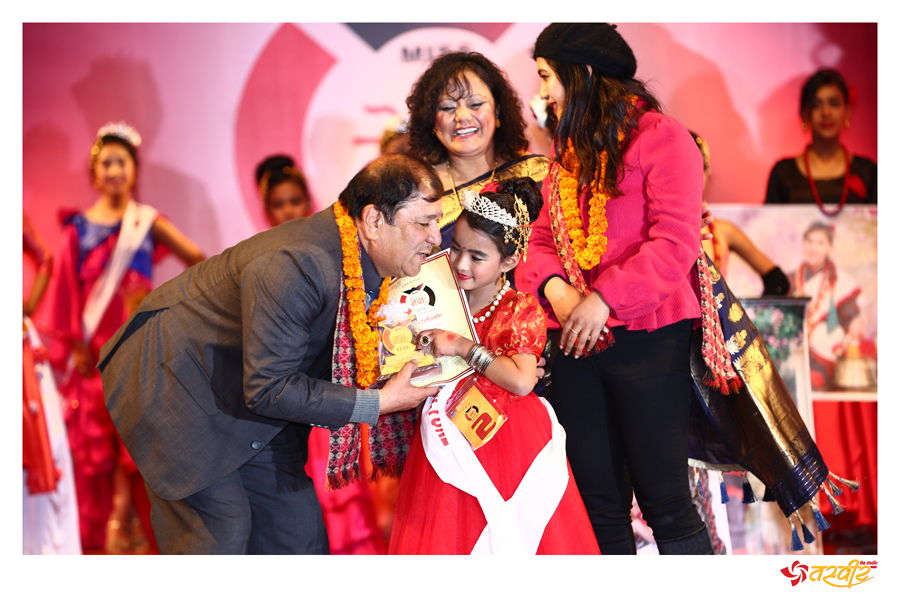 Six-year-old Revati Maharjan was awarded with 'Miss Culture Newa' at the event. Photo courtesy: Pratima Shrestha Maharjan
"When there is any competition, naturally kids will want to ace it. But given the nature of beauty pageants, the kids will not only be judged by their intellectual merits," Basnyat says. "And when they fail, especially with high expectations from parents, they might doubt themselves and develop low self-esteem."
But Roshan Manandhar, father of 11-year-old Lushwan, says that he encouraged his daughter to participate in 'Miss Little Newa 1139' only after consulting her.
"I had an interest in performing and showcasing my talents from a young age. Participating in the event boosted my confidence and has helped me learn a variety of skills," says Lushwan, who was the first runner up of the event she participated in.
But both parents and children agree these events take up a considerable amount of time from these children' normal day and also weighs heavy on the parents' pockets. Owing to the hectic and lengthy process of auditions and training, which in some events lasts up to three months, Lushwan says it did become tiring at times.
Revati, too, used to go for her training at the office of the Nepalese Fashion Home in Dillibazaar from her home in Samakushi every day after she finished school. Her mother paid Rs9,000 for her participation in the event.
But the overall expenses can be around Rs40,000 after accommodating the participants' costumes, makeup and travel expenses, says Riddhima Nepal, 14, who recently participated in Little and Teen Prince and Princess International 2019.
Apart from the expenses, Riddhima says that the focus on beauty, and especially on using heavy makeup, soured her experience at the pageant.
"I would have happily skipped using makeup if I was allowed to do so," says Riddhima.
Raj Phaiju, the event organiser of the pageant in which Riddhima participated, says the contestants are required to put on makeup because it makes them look good.
"It's not a hard-and-fast rule to have makeup on. If the contestants aren't okay with using extensive makeup, we don't insist on them using it. But mostly it's the parents of these kids who want us to use makeup and fancy outfits," says Phaiju.
But Riddhima says it's hard to ask not to wear makeup when all the other participants are doing it.
Revati's mother Maharjan doesn't see any problem in putting on makeup on her daughter for the competition. "It's not like she uses makeup every day," she says.
Even in the global discourse, some have put forward the viewpoint that parents should be trusted to make decisions for their children. But even in such cases, psychologist Basnyat advises parents to prepare their kids before they enroll them in such beauty pageants.
"The parents are responsible to make their kids understand all the intricacies of such events prior to participation," says Basnyat. "Children should only be encouraged to participate in such contests after teaching them about winning and losing, after telling them that losing isn't the end of the world."
---
---