Repositioning Nepal
Nepal has to believe that it is no longer the proverbial yam but an important regional player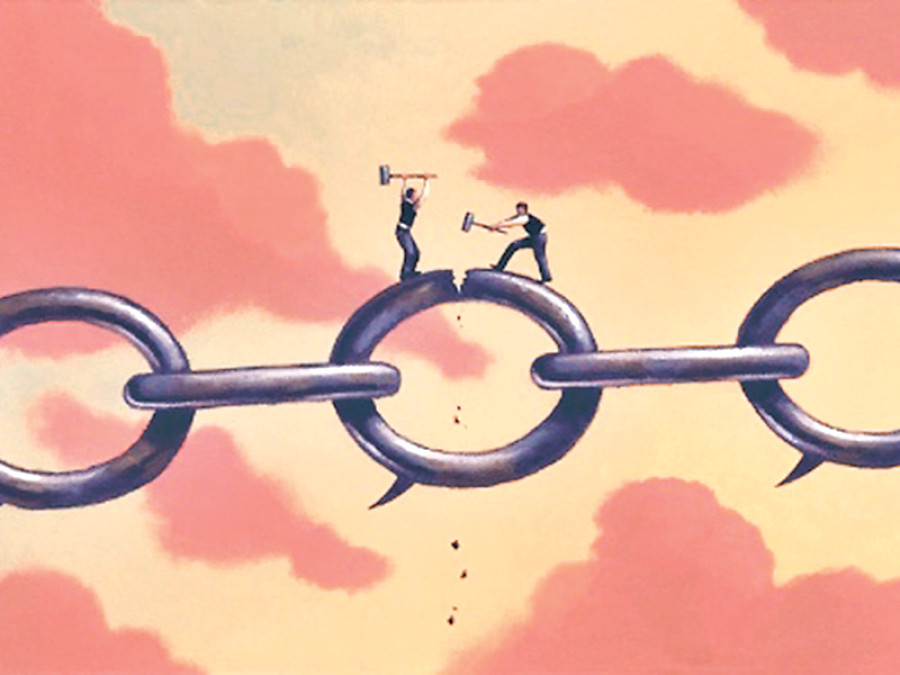 bookmark
Published at : June 1, 2016
The contexts of Prithvi Narayan Shah locating Nepal as a yam between two rocks have undergone a major transformation. From global order to regional conglomeration, trade and investment orientation to development dynamics and political systems to social conflicts, they have all gone through tectonic shifts. These are triggered by mass scale market orientations, frontier technological interventions, reinterpretation of humanitarian norms and realignments of global forces. In South Asia, the heterogeneous political systems have converged into more democratic forms, non-traditional security threats are more prominent and regional alignments are changing rapidly. Nepal is at the crossroads both in terms of grappling with its own domestic political turmoil and re-configuration of external relations and influences. This relatively under-developed country cannot afford to remain in a denial mode mesmerised by the same "yam mindset". It has to recognise its own capability, resilience and location to get the best deal in the ever changing trans-border development dynamics.
Ignored opportunities
This introspection should start with the changing character of its border. In Pashupatinagar adjoining Darjeeling, one's toes are in Nepal and the heel and sole are in India as one stands on the border. It is a literal free flow of goods, services, people, and natural resources. Thus, there is already an 'economic union' like situation—most matured form of regional cooperation and economic integration. However, in such physically, socio-culturally and commercially attractive and productive borders, why are the instruments of cooperation highly nascent and negligible?
Where is the discourse in Nepal to re-recognise and relocate borders as borderlands where there is an intrinsic interplay of natural resources, culture, societies, trade-commerce, tourism, migration, water towers, technology, roads, and communications? There is a need to move away from the orthodox expression of 'border' as a straightforward geometric line, and increasingly move to much broader notions of 'borderlands'. This will make borders softer and more interactive, and economic integration and people-to-people contacts, much more prolific. If the burgeoning economic growth of India and China is to be shared by Nepal, it would primarily happen through borders and cross-border linkages. This is where borders become opportunities.
Nepal could, in its assertion of sovereignty, adopt a comprehensive plan to convert these borders into a smart and prolific zone of prosperity. To do so, the first and foremost requirement is to disrobe its 'yam costume' and adopt a body frame of self confidence, big thinker, inclusive actor and effective player. This demands both political stability characterised by inbuilt inclusiveness and building of an array of institutions that cater to realising its national goals and peoples' aspirations.
In the nirghbourhood
Regional situations are fast changing. India's tangible shift to project-based sub-regional cooperation like Bangladesh-Bhutan-India-Nepal (BBIN) again refocuses on power-trading as a major instrument of cooperation. China's much publicised and all engulfing 'One Belt One Road' project also has energy as its core content. And Nepal could use its huge hydropower potential to leverage its pivotal position in South Asia. However, the story of blatant non-recognition of the cost of non-cooperation by Nepal has done a huge damage to its own development and prosperity. When will it durably recognise its own strength? Nepali policy makers must recognise what has happened in Bhutan in terms of both growth trajectory and ability to reach other South Asian countries.
Nepal started well. Somewhere it lost track and later the standard track became that of "don't do it yourself and don't let others do it". Both ways, Nepal lost the game in the name of a proud yam. Meanwhile, Nepal-India-China energy tri-junction has gradually emerged as a crucial geographical area for cross-border energy exchanges. Besides the politico-historical participation of India and China in the development of Nepal's hydel power resources, there are several factors that are likely to trigger vibrant energy exchanges among these countries. India and China have effectively participated in a range of power development projects in Nepal in the past. These include Gandak (15 MW), Trishuli (21MW), and Devighat (14.1 MW) built with the cooperation of India and Sunkoshi (10.05 MW) with the cooperation of China. These triggered a chain of debate and discourse on the pros and cons of commercial harnessing of hydel power resources in Nepal. There have been protracted negotiations between India and Nepal in harnessing Pancheswar, Rapti, Karnali and many other rivers and also the signing of the Mahakali Treaty. There have been major efforts from the Chinese side to invest in hydel power resources.
Despite much talked about high potentials and quite an early start, Nepal has not been able to make any significant dent into harnessing its resources. It started with 500 KW in Pharping project in 1911 and hovers around 1300 MW today, thereby adding a meagre 12 MW annually in the installed capacity. The latest load forecast shows that the demand for electricity will steadily increase to 2,072 MW by 2019-20 and 4,614 MW by 2030-31. This in a way indicates that for its own consumption also, Nepal has to rather speedily enhance its generation capacity.
All about power
The question however remains as to what has been the cost of non-development of hydropower resources? What does it mean for Nepal to further let go of such opportunities?
Both India and China have developed a huge network of power grids and transmissions lines that would not only provide access to various demand centres in their national markets but would provide inter connections to other neighbouring countries. The Super Grid concept and Smart Grid provisions have made the grid interconnections and market access both economical and easier. China's plans to build bulk power hybrid grids by 2020 will make the "trans-regional, large capacity, long-distance and low loss transmission" a reality. India's first national grid to national grid interconnection with Bangladesh through the Behrampur-Bheramara grid opens a new theatre of cooperation altogether. With Nepal, the 400KV D/C Muzzafarpur - Dhalkebar interconnection has been inaugurated.
Both these countries are now moving towards renewables, because of the global and domestic pressures on the reduction of the use of fossil fuels and also because of the cheaper options in terms of both production and import. Since 2011, China has emerged as the largest consumer of electricity. The 13th Five Year Plan of China (2016-2020) states that it is committed to reducing carbon intensity per unit of GDP by 50 percent below the 2005 levels by 2020. Its pledge to meet 20 percent of its energy needs with non-fossil energy by 2030 will require China to deploy an additional 800-1,000 GW of wind, solar, nuclear, and other zero emission power generation capacity by 2030. Nepal very well fits the bill.
Two recent studies by the Asian Development Bank (2015) and the World Bank (2016) also shed light on the benefits that would accrue to Nepal. Huge demands are supported by successful models of power exchanges in other regions. In Nepal's neighbourhood, these models, which are essentially based on specific projects, include: i) exclusive bilateral exchanges such as those between India and Bhutan, and Bangladesh and Nepal; ii) sub-regional initiatives like among the countries in Greater Mekong Sub-region (GMS); iii) regional power pool like that in Southern African Power Pool (SAPP); iv) highly local integrative exchange like generation-load centre location based model between Palatana (Tripura) and Bangladesh; and v) wheeling facilitator like that done by India between the Eastern and Western Bhutan through the adjoining territories of Darjeeling and Jalpaiguri Districts in West Bengal and Assam.
For all these to happen, Nepal has to be confident enough to harness its own resources without any national prejudices. It has to believe that it is no longer the proverbial yam but a decisive factor that partly determines the course of the future of electricity in the region.
Lama is a professor of South Asian Economies, Jawaharlal Nehru University, New Delhi and a member of the Eminent Persons Group (EPG) from India
---
---